Mistake to take Anil Deshmukh's resignation: Shiv Sena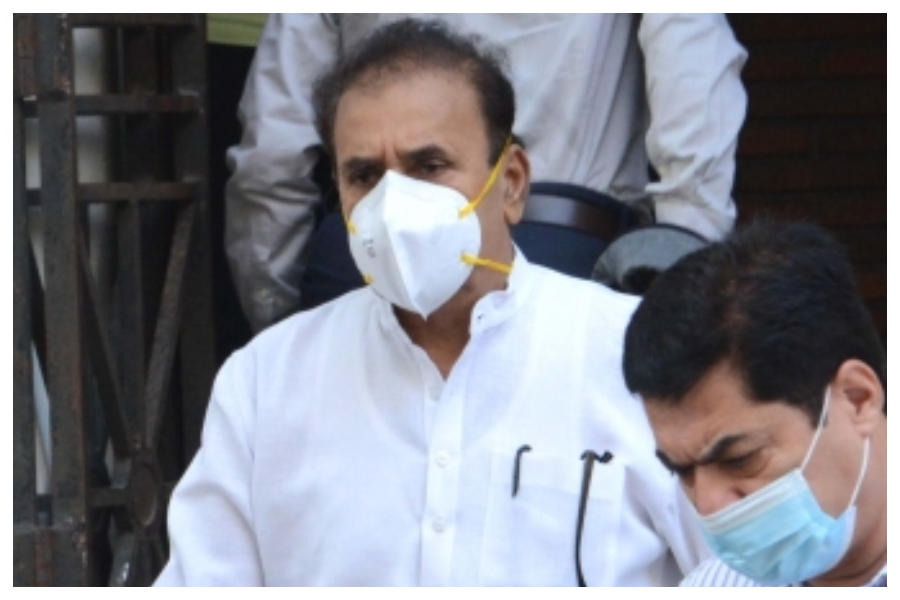 In a significant statement, the Shiv Sena on Tuesday said that it was a "mistake" to take the resignation of former State Home Minister Anil Deshmukh, who was nabbed by the Enforcement Directorate (ED) last November in an alleged money-laundering case.
"We have seen the kind of evidence available against Deshmukha His resignation was taken in haste (in April 2021), and it was a mistake. He was targeted and the central probe agencies like CBI and ED were let loose against him," Sena MP and Chief Spokesperson Sanjay Raut said.
He reiterated that "there's absolutely no question" of taking the resignation or sacking Minister Nawab Malik, also arrested by the ED in February in an alleged money-laundering case arising out of a tainted land deal with links to the absconder mafia don Dawood Ibrahim Kaskar.
"We have always said that the maximum activities of the central agencies are in Maharashtra and West Bengal. The ED has conducted over 23,000 raids in the past seven years. They are trying to create 'fear' and topple the Maha Vikas Aghadi government herea We shall not bow down before Delhi's diktats," Raut asserted.
The Sena leader pointed out that he had submitted evidence of around 100 cases to the Prime Minister Narendra Modi, "but why is the ED not taking action" in those matters.
"Even I have been threatened with ED actiona I am not scared and shall not be pressured by them. Several of our leaders are being harassed similarly by the Central agencies, but we shall continue our fight against them," Raut said.
Besides Deshmukh and Malik, at least half a dozen other leaders from Sena-NCP are under the scanner of various central agencies with probes progressing against them.
He was talking to mediapersons at the launch of a three-day mass-contact programme of the Shiv Sena launched in the state's eastern Vidarbha region as part of the party's outreach programme.
Navi Mumbai: CIDCO Gets New MD, Joint Managing Director
Anil Diggikar was appointed as the new vice Chairman and Managing Director of the City and Industrial Development Corporation (CIDCO) on June 5, 2023. He accepted the post's responsibilities from Dr. Sanjay Mukherjee, previous Vice Chairman and Managing Director of CIDCO at CIDCO's Nirmal office in Mumbai. Sanjay Mukherjee has been appointed as the new MMRDA chief.
On this occasion Shantanu Goel, who was appointed as Joint Managing Director of CIDCO, also accepted his post's responsibilities.
Anil Diggikar is a 1990 batch IAS officer
Anil Diggikar is a 1990 batch Indian Administrative Service (IAS) officer of the Maharashtra cadre. He is a graduate in Civil Engineering and has done professional education in Effective Methods and Operations Research for Public Policy and Management from the Indian Institute of Management (IIM), Bangalore. He has completed advanced courses in World Trade Organisation from Indian Institute of Foreign Trade, New Delhi, Ethics in Public Administration from Center for Governance, Pachagani, Leadership Development Program from Indian Institute of Management (IIM), Indore.
Started career in 1990 as assistant collector in Ratnagiri
Diggikar started his career in 1990 as Assistant Collector in Ratnagiri. During the years 1992-1994, while working as Assistant Collector in Latur, he did valuable work for the rehabilitation of earthquake victims. He has held various important posts like Commissioner of Pimpri-Chinchwad Municipal Corporation, Director General of Maharashtra Energy Development Agency (Mahaurja) in Pune, Additional Commissioner of Brihanmumbai Municipal Corporation, Chairman of JNPT, Managing Director of MSRDC, Principal Secretary and Special Task Officer in Chief Minister's Office.
Before accepting the charge of Managing Director of CIDCO, Diggikar was working as the Vice Chairman and Chief Executive Officer of MHADA. He is known as a creative administrative officer due to various citizen-oriented characteristic work.
Shantanu Goel is a 2012 batch IAS officer
Shantanu Goel is a 2012 batch Indian Administrative Service officer of Maharashtra cadre and was working as MGNREGA Commissioner in Nagpur before being appointed as Joint Managing Director of CIDCO.
Maha CM Eknath Shinde to launch cluster development scheme in Thane today
The launch of the much-talked cluster development scheme will be held on Monday, June 5 in the presence of Maharashtra chief minister Eknath Shinde and deputy chief minister Devendra Fadnavis. The Thane Municipal Corporation (TMC) said that this would be one of the biggest projects in the continent, and it is an ambitious project of CM Eknath Shinde.
The implementation of this plan, which has been on paper for many years, will finally fulfill the dream of the people in Thane who are staying in dilapidated and unauthorised buildings for a long time.The CM and the deputy CM on Monday will inaugurate the Kisan Nagar cluster, which is the home turf of CM Shinde. CIDCO will execute the project said an official from TMC.
Cluster development scheme will change lives
A cluster redevelopment office has also been constructed at Kashish Park near Teen Hath Naka to manage the operations of the cluster development scheme.
The officials from TMC said, "The integrated redevelopment project will be done on the lines of townships. The occupants will get a 323 Sq ft ownership house. Earlier CM said that the government is committed to rapid development of industrial corridors across the state even as the central committee on the National Industrial Corridor praised the infrastructure development work being carried out in Maharashtra at a review meeting last week."
Redevelopment of dilapidated buildings
TMC officials said, "A cluster scheme will be implemented for the redevelopment of dilapidated dangerous unauthorised and official buildings in Thane city with well-planned and complete civic infrastructure. A total of 45 urban regeneration schemes have been prepared with a total area of 1500 hectares. A regulation was prepared from the concept of CM Shinde for the collective redevelopment of unauthorized and official dangerous buildings. The redeveloped township plan includes well-equipped health, educational, sports, recreational, parking, mandi and civic facilities."
Mumbai Weather: IMD predicts light rainfall over next 48 hours, AQI good at 39
Mumbai: The city and its suburbs are likely to remain partly cloudy today. However, the city may experience light rain/drizzle over the next two days.
Mumbai's temperature on Monday morning is 31.4°C, while the humidity is 71%.
As per IMD's district-wise forecast, partly cloudy skies with light to moderate rain are likely in Mumbai, Thane and Palghar on June 5.
Mumbai Weather
The IMD said that the city would witness partly cloudy skies on Monday. However, rain or thundershowers could occur towards the evening or night on June 5, and 6.
The weather agency said maximum and minimum temperatures are likely to be around 34°C & 28°C.
Mumbai AQI
As per the System of Air Quality and Weather Forecasting and Research (SAFAR), the AQI in Mumbai is currently in the 'good' category, with a reading of 39.
For context, an AQI between 0 and 50 is considered 'good', 51 to 100 is 'satisfactory', 101 to 200 is 'moderate', 201 to 300 'poor', 301 to 400 'very poor', and 401 to 500 'severe'.
AQI of different areas in Mumbai
Colaba · 29 AQI Good
Mazgaon · 77 AQI Satisfactory
Malad · 33 AQI Good
Borivali· 50 AQI Good
Navi Mumbai · 92 AQI Satisfactory