Ex-Maha HM gave list of officials for transfer and posting, says ED charge sheet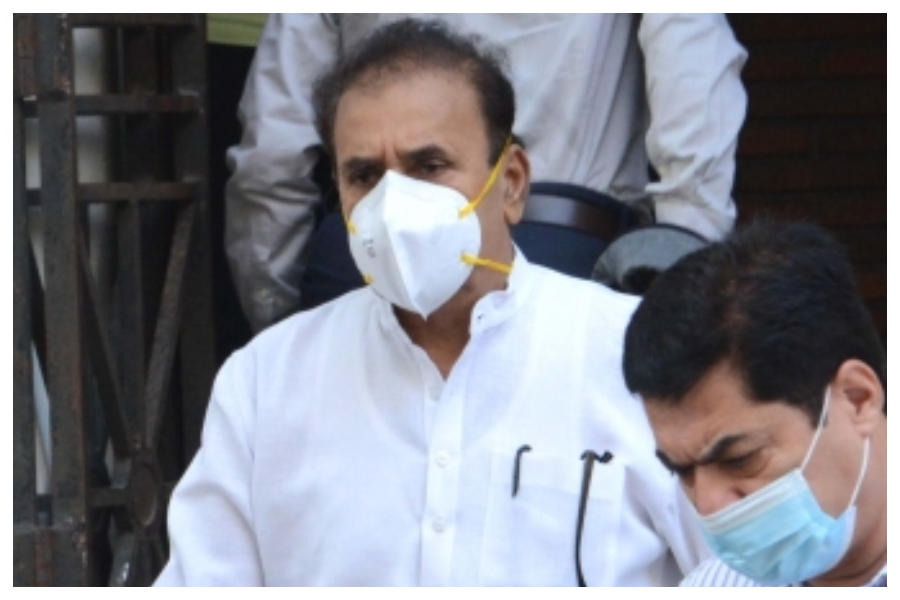 The Enforcement Directorate (ED) in its supplementary charge sheet filed against former Maharashtra Home Minister Anil Deshmukh and his two sons Hrishikesh and Salil, in 100 crore PMLA case, has alleged that Deshmukh used to prepare a list of his choice of police officials for transfer and postings. This list he would share with then additional chief secretary Sitaram Kunte and Mumbai Police Commissioner Param Bir Singh.
The list of 12 Mumbai Police officials including IPS officers is under the scanner of the ED.
The ED is trying to know whether money was collected from the police officials for their choice of posting, or was there any other form of money transaction.
Kunte and Singh have told in their statement recorded by ED officials that they were receiving unofficial list of police officials for posting and transfer from Deshmukh.
However, Deshmukh has said that he was given the said list by a Maharashtra cabinet minister.
Singh had stated that Deshmukh, a cabinet minister, used to meet him at Sahyadri Guest House where he was given list of officials for transfer and posting. Param Bir Singh had issued transfer order of 10 DCPs which was stopped by Deshmukh and transport minister Anil Parab.
Sachin Vaze who has also been arrested in the case has alleged that Rs 40 crore were collected by the officials who were on that list. This allegation is being looked into.
Sachin Vaze was taken back into Mumbai Police after the suspension of 16 years. Deshmukh reportedly played a vital role in his rejoining. Vaze was given a lot of sensational cases so that he could collect money, it has been alleged.
Deshmukh and Vaze used to talk on phone frequently. Between December 2020 and February 2021, Vaze collected around Rs 4.70 crore from the owners of Orchestra bar situated across Mumbai.
Deshmukh's PA Kundan Shinde allegedly collected the said amount from Vaze. Deshmukh's PS Suryankant Palande allegedly passed instructions on behalf of Deshmukh.
The supplementary charge sheet running over 7,000 pages was filed before the special PMLA court of Mumbai in December.
Former Mumbai Police Commissioner Param Bir Singh had accused Deshmukh of misusing his post. He had alleged that it was Deshmukh who was forcing him to collect Rs 100 crore every month from bars and restaurants in Mumbai. He made these allegations when he was removed from police commissioner post after Antilia case. Deshmukh has denied all the allegations levelled against him.
Maha CM Eknath Shinde to launch cluster development scheme in Thane today
The launch of the much-talked cluster development scheme will be held on Monday, June 5 in the presence of Maharashtra chief minister Eknath Shinde and deputy chief minister Devendra Fadnavis. The Thane Municipal Corporation (TMC) said that this would be one of the biggest projects in the continent, and it is an ambitious project of CM Eknath Shinde.
The implementation of this plan, which has been on paper for many years, will finally fulfill the dream of the people in Thane who are staying in dilapidated and unauthorised buildings for a long time.The CM and the deputy CM on Monday will inaugurate the Kisan Nagar cluster, which is the home turf of CM Shinde. CIDCO will execute the project said an official from TMC.
Cluster development scheme will change lives
A cluster redevelopment office has also been constructed at Kashish Park near Teen Hath Naka to manage the operations of the cluster development scheme.
The officials from TMC said, "The integrated redevelopment project will be done on the lines of townships. The occupants will get a 323 Sq ft ownership house. Earlier CM said that the government is committed to rapid development of industrial corridors across the state even as the central committee on the National Industrial Corridor praised the infrastructure development work being carried out in Maharashtra at a review meeting last week."
Redevelopment of dilapidated buildings
TMC officials said, "A cluster scheme will be implemented for the redevelopment of dilapidated dangerous unauthorised and official buildings in Thane city with well-planned and complete civic infrastructure. A total of 45 urban regeneration schemes have been prepared with a total area of 1500 hectares. A regulation was prepared from the concept of CM Shinde for the collective redevelopment of unauthorized and official dangerous buildings. The redeveloped township plan includes well-equipped health, educational, sports, recreational, parking, mandi and civic facilities."
Mumbai Weather: IMD predicts light rainfall over next 48 hours, AQI good at 39
Mumbai: The city and its suburbs are likely to remain partly cloudy today. However, the city may experience light rain/drizzle over the next two days.
Mumbai's temperature on Monday morning is 31.4°C, while the humidity is 71%.
As per IMD's district-wise forecast, partly cloudy skies with light to moderate rain are likely in Mumbai, Thane and Palghar on June 5.
Mumbai Weather
The IMD said that the city would witness partly cloudy skies on Monday. However, rain or thundershowers could occur towards the evening or night on June 5, and 6.
The weather agency said maximum and minimum temperatures are likely to be around 34°C & 28°C.
Mumbai AQI
As per the System of Air Quality and Weather Forecasting and Research (SAFAR), the AQI in Mumbai is currently in the 'good' category, with a reading of 39.
For context, an AQI between 0 and 50 is considered 'good', 51 to 100 is 'satisfactory', 101 to 200 is 'moderate', 201 to 300 'poor', 301 to 400 'very poor', and 401 to 500 'severe'.
AQI of different areas in Mumbai
Colaba · 29 AQI Good
Mazgaon · 77 AQI Satisfactory
Malad · 33 AQI Good
Borivali· 50 AQI Good
Navi Mumbai · 92 AQI Satisfactory
Mumbai News: CBI arrests SoBo developer in connection with ₹280 crore fraud with SBI bank
Mumbai: The Central Bureau of Investigation (CBI) on Monday arrested Harresh Mehta, a prominent developer from South Mumbai and director of Rohan Lifespaces Ltd, in connection with a fraud case. The case involves an alleged scam of Rs 280 crore, defrauding a leading public sector bank. The arrest was carried out by the CBI's Economic Offences Wing (EOW) in Mumbai.
Details on the case
The CBI's EOW Mumbai unit initiated the probe in 2016 based on a complaint filed by the Thane branch of the State Bank of India (SBI) against the directors of Rajput Retail Ltd (RRL), Vijay Gupta, and Ajay Gupta. The complaint stated that the accused directors conspired with unknown government servants and availed three loans from the bank using forged documents, resulting in a fraud of Rs 280 crore.
Involvement of Harresh Mehta in the case
During the investigation, the role of Harresh Mehta from Rohan Lifespaces Ltd and Rohan Constructions Ltd emerged. The CBI conducted searches at Mehta's offices and residences, as well as at Ruby Mills Ltd. It was revealed that loans totaling Rs 155 crore were sanctioned for the purchase of premises in a building called The Ruby.
Legal proceedings in the case
Mehta is currently in judicial custody, and the CBI had submitted a chargesheet in the case in July 2018. Mehta's lawyers argued against extending his custody, claiming that he had cooperated fully with the agency. They also contended that Mehta was not involved in forgery, fabrication of documents, or cheating, asserting that his arrest by the CBI was unlawful.
Another case taken over by CBI recently
In another development with the investigative agency, the CBI has taken over the investigation of a graft case wherein an Income Tax officer had allegedly demanded a bribe from a doctor for not taking action on a complaint against him for non filing of income tax returns. The accused was caught red-handed by the Maharashtra Anti-Corruption Bureau (ACB) in December 2020 while accepting a bribe of Rs10 lakh from the complainant.