Amarnath pilgrims should have hassle free Darshan: Amit Shah
Union Home Minister Amit Shah on Tuesday directed all stakeholders to ensure a hassle free Darshan during the upcoming Amarnath Yatra.
Reviewing the preparedness for this annual pilgrimage at a meeting here, he directed that arrangements should be made for all essential facilities including movement, lodging, electricity, water, communication, and healthcare of the pilgrims.
Noting that this is resumption of the pilgrimage after the Covid-19 induced lockdowns, he said that adequate arrangements must be made to deal with the health-related issues of the pilgrims due to the high altitude.
Shah has asked the telecom department to set up a sufficient number of mobile towers on the Yatra route for better communication and dissemination of information. He ordered the deployment of equipment to open the route immediately in case of landslides.
The Home Minister instructed to have adequate numbers of oxygen cylinders and medical beds at altitudes above 6,000 feet and deploy ambulances and helicopters in case of any medical emergency.
The Chief Secretary of Jammu and Kashmir informed that for the first time, every Amarnath Yatri would be given a Radio Frequency Identification (RFID) card and they would be insured for Rs 5 lakh each. Earlier, the RFID was was given to a vehicle.
"A tent city, WiFi hotspots and proper lighting will be arranged on the Yatra route along with online live Darshan of the holy cave, and live telecast of the morning and evening aarti at the Amarnath cave will be organised at the Base Camp," he informed.
The meeting was attended by Manoj Sinha, Lieutenant Governor of Jammu and Kashmir, Union Home Secretary, Director of Intelligence Bureau, Chief Secretary of Jammu and Kashmir and senior officials of various ministries and departments of the Central government to discuss the logistics.
The Union Home Minister held a separate meeting with National Security Advisor Ajit Doval, LG Manoj Sinha, Union Home Secretary, Director of Intelligence Bureau, Chief Secretary of Jammu and Kashmir and senior officers of security agencies to discuss security matters related to the Yatra.
Govt provides 'Y+' security cover to 15 rebel Sena MLAs
The Union government has decided to provide 'Y+' category security cover of armed Central Reserve Police Force (CRPF) personnel to 15 rebel Shiv Sena MLAs who have revolted against the Uddhav Thackeray government in Maharashtra.
Sources said that 'Y+' category security cover of armed CRPF personnel has been provided to 15 Shiv Sena MLAs which include Prakash Surve, Sadanand Sarvankar, Yogesh Dada Kadam, Pratap Sarnaik, Ramesh Bornare, Mangesh Kudalkar, Sanjay Shirsat, Latabai Sonawane, Yamini Jadhav, Pradeep Jaiswal, Sanjay Rathod, Dadaji Bhuse, Dilip Lande, Balaji Kalyanar and Sandipan Bhumare.
These leaders have joined Eknath Shinde's camp in the ongoing political crisis in Maharashtra.
The centre's decision came a day after Shinde in a letter to Chief Minister Uddhav Thackeray alleged that the security cover provided to the family members of the rebel Shiv Sena MLAs had been withdrawn.
The Maha Vikas Aghadi (MVA) government had rejected the charges. Shinde claimed to have the support of more than two-thirds of the Shiv Sena MLAs.
Even as the BJP has officially kept itself away from the Shiv Sena's internal tussle, it is being reported that rebel leader Shinde, who is camping in Guwahati and Maharashtra former Chief Minister Devendra Fadnavis may have met Union Home Minister Amit Shah at an undisclosed location in Gujarat's Vadodara.
BJP bags 3 seats in Tripura bypolls, CM Manik Saha wins from Town Bordowali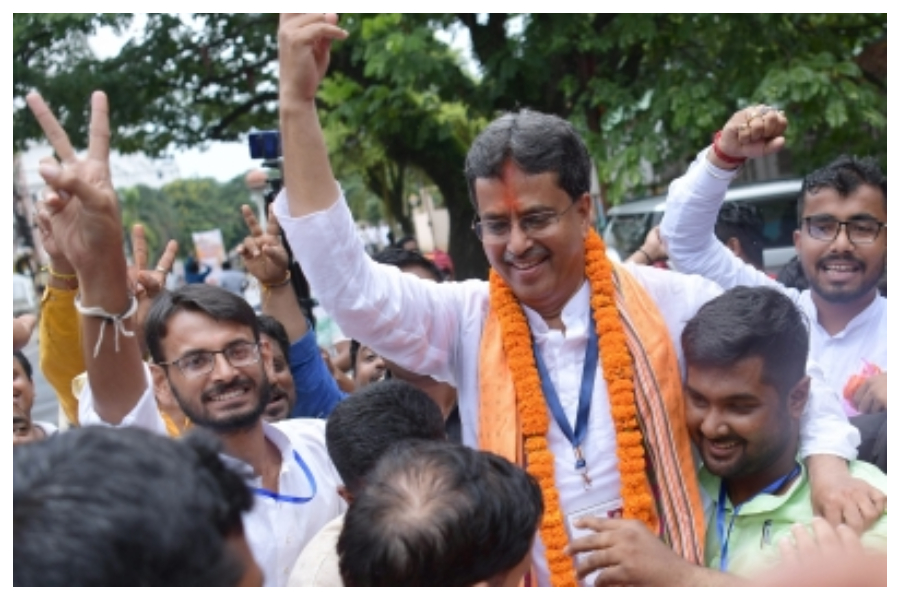 The ruling BJP won three seats including that of Chief Minister Manik Saha who has been elected to the state assembly for the first time from Town Bordowali while the opposition Congress won one seat in Tripura, where the bypolls were held on June 23 in the four politically-crucial Assembly constituencies.
According to the Election Commission, Saha, 69, who secured 17,181 votes, won the Town Bordowali seat defeating Congress candidate Asish Kumar Saha by a margin of 6,104 votes. As per the EC, the BJP candidate Malina Debnath won the Jubarajnagar seat defeating her nearest CPI-M rival Sailendra Chandra Nath by a margin of 4,572 votes.
BJP nominee Swapna Das (Paul) bagged the Surma (SC) seat thrashing her independent rival Baburam Satnami by a margin of 4583 votes.
In a significant political development, BJP turned Congress leader Sudip Roy Barman retained his Agartala constituency defeating his BJP rival Ashok Sinha by a margin of 3,163 votes. With the victory of Roy Barman, Congress re-entered into the 60-member state assembly after several years.
Over 78.58 per cent of the 1,89,032-strong electorate cast their votes on Thursday in the by-elections to four Assembly constituencies in Tripura. In all 22 candidates including seven women fought the by-elections.
The by-election is being termed by the political pundits as a "semi-final" before the 60-member Assembly's general elections, which is just eight months away.
The focus of the by-elections was mainly on the Town Bordowali Assembly constituency where Manik Saha contested against five other candidates. Saha, BJP's state president and a Rajya Sabha member who assumed office on May 15, a day after Biplab Kumar Deb's resignation from the post of chief minister, contested the election for the first time.
Maharashtra Governor conquers Covid, back home to Raj Bhavan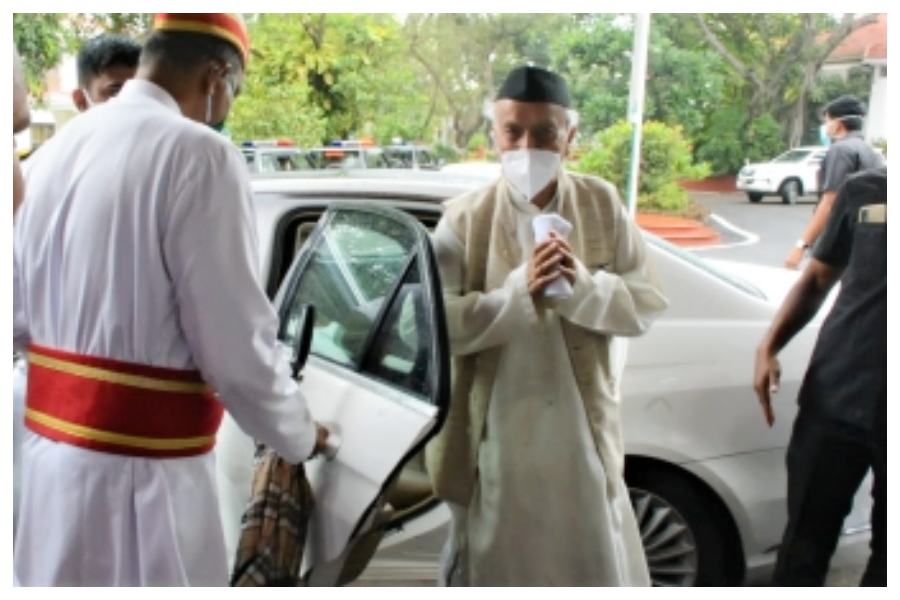 Maharashtra Governor Bhagat Singh Koshyari returned to Raj Bhavan after conquering a Covid-19 infection for four days, here on Sunday.
Koshyari, 80, was discharged from the Sir HN Reliance Foundation Hospital in south Mumbai where he was admitted on June 22.
Appearing cheerful as he was welcomed by the Raj Bhavan staff, the Governor said he was feeling "perfectly fine" now – as he prepares to grapple the huge political crisis engulfing the Maha Vikas Aghadi government.
"I got discharged from the hospital after four days. I am perfectly fine now. However, I have been advised to rest for a couple of days more. I would like to thank all my well-wishers," tweeted Koshyari.