Maharashtra Governor to Amit Shah — 'Can't dream of slur to any icon'
The beleaguered Maharashtra Governor Bhagat Singh Koshyari has written to Union Home Minister Amit Shah explaining his position vis-a-vis the political storm raging in the state, and asserting that he "can't dream of any slur on icons".
Addressing him as 'Respected Shri Amitbhai ji' in the two-page letter in Hindi dated December 6, the Governor has drawn attention to his recent speech, and contended that certain small portions from that address were separated to criticise him.
Koshyari said he had cited instances of Mahatma Gandhi, Pandit Jawaharlal Nehru and Subhash Chandra Bose who were inspiring icons when "we were students", and the modern day students also want to know the current era personalities who could be their 'ideals'.
"In that context I had given the examples of personalities like Dr B. R. Ambedkar to (Union Minister) Nitin Gadkari…..It also implied that students could even take (the late President) Dr APJ Abdul Kalam or (nuclear scientist) Dr Homi Bhabha as their idols". If someone considers Prime Minister Narendra Modi who has raised India's status in the world as an "ideal", it doesn't mean disrespect to the earlier 'Maha Purush'… It's not even a subject of comparison," Koshyari said.
In an indirect swipe at his bete-noire, the Shiv Sena (UBT) President Uddhav Thackeray but without naming him, the 80-year-old Governor said that during the Covid-19 pandemic, "when many 'big-big people' were not stepping out of their homes, at my age, I had gone on a pilgrimage on foot to places like Shivneri, Sinhgad, Raigad, and Pratapgad".
As far as Chhatrapati Shivaji Maharaj is concerned, he is the pride of not only Maharashtra but the whole country and Koshyari recalled his trip to the birthplace of Shivaji's mother, Mata Jijibai in Sindhkhed, becoming the first Governor in over 30 years to go there, and that too walking.
"Respected Amitbhaiji, you will recall that in 2016, I had expressed a desire not to contest elections in 2019, and keep away from all political offices. At that time the honourable PM-ji and yourself had expressed your affection and faith in a humble worker like me due to which I accepted the post of Maharashtra Governor," the Governor said.
Koshyari added that all the dignitaries are aware that if he commits any error he never hesitates to express regrets or apologise for his remarks.
"I cannot even dream of insulting the great people like Chhatrapati Shivaji Maharaj, Maharana Pratap or Shri Guru Gobind Singh who made sacrifices during the Mughal era… I appeal to you that in the current situation, please take the trouble to provide appropriate guidance," the Governor urged.
However, the Governor's letter failed to impress leaders of the Congress, Shiv Sena (UBT), Nationalist Congress Party and others who remain firm that Koshyari should be shunted out of the state.
Thane Crime: Man Held For Strangling His Mentally-Challenged Daughter To Death In Dombivli
Thane, September 25: A 35-year-old man has been arrested for allegedly strangling his 10-year-old mentally-challenged daughter to death in their house in Thane district of Maharashtra a day before, police said on Monday. The couple has four daughters, aged between 5 to 14, and the youngest of them lives with her grandparents in their native village, a police official said.
Agrahari is an alcoholic and used to beat his wife
The accused Manoj Agrahari allegedly strangled his daughter, Lovely, at their home in Dombivli when other members had gone out, an official said quoting the FIR. Agrahari is an alcoholic and used to beat his wife, he said.
The accused works at a grocery shop while his wife is employed at a company
The accused works at a grocery shop while his wife is employed at a company in the MIDC area of Dombivli. The victim, Lovely, has been mentally challenged and also speech and hearing impaired since her birth.
When the girl rushed home she saw her sister lying dead on bed and alerted her mother
According to the complaint, Agrahari went to the scrap shop where his 14-year-old daughter was working on Sunday and told her that Lovely was dead. When the girl rushed home she saw her sister lying dead on bed and alerted her mother, the official said. Police have registered a case of murder under the Indian Penal Code and conducting further investigation.
Bombay HC To Hear Fresh Plea Challenging Renaming Of Aurangabad, Osmanabad; Case Listed On Sept 29
Mumbai: Bombay High Court has agreed to hear a fresh petition challenging the renaming of Aurangabad, Osmanabad districts, revenue areas. The hearing for the same has been scheduled on September 29. Earlier, a plea was withdrawn as the Maharashtra government said it had not issued final notifications for their renaming.
This is a breaking news. More details are awaited.
'Congratulations Trolling Gang…': Maha BJP Hits Back At Opposition For Sharing Video Of Fadnavis Allegedly Pushing Nagpur Citizen During Floods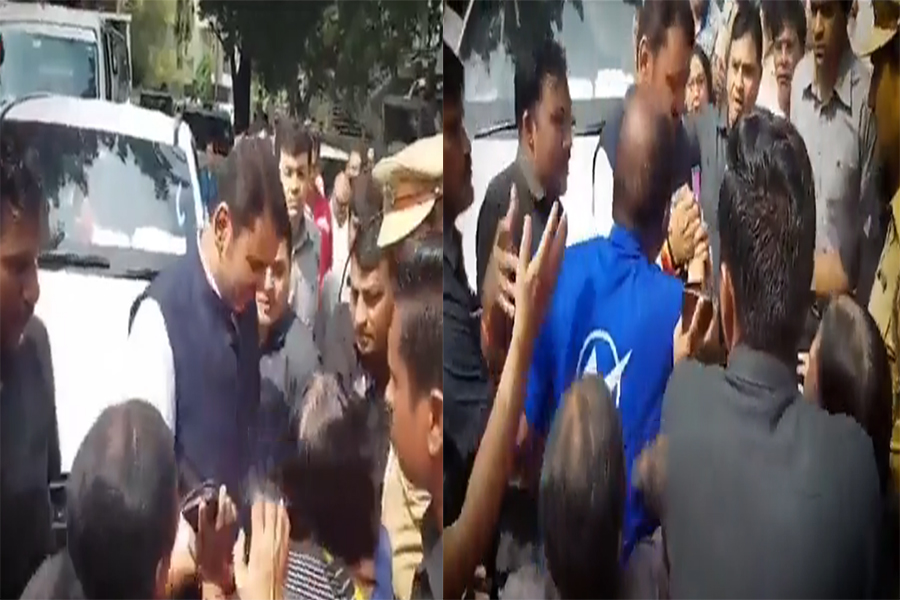 The Bharatiya Janata Party (BJP) has responded to allegations made by the opposition regarding the alleged manhandling of citizens during Deputy Chief Minister (DCM) Devendra Fadnavis' visit to Nagpur on Sunday. Videos were released by the BJP to refute these accusations.
During the visit, it was reported that some citizens wanted DCM Fadnavis to visit their homes, but police appeared to prevent them. However, Devendra Fadnavis took the initiative to visit their homes. The party stated that only a selective portion of the video was circulated by the opposition to support their claims.
BJP's Scathing Response To Opposition
The BJP did not mince words when responding to the opposition's actions. They congratulated former Chief Minister Uddhav Thackeray and the Congress for seemingly prioritising the work of the so-called 'trolling gang' over constructive opposition duties.
Viral Video Sparks Controversy
A video of Devendra Fadnavis engaging with distressed citizens in Nagpur went viral on social media platforms. In the footage, he can be seen talking to residents who were expressing their dissatisfaction with the authorities' response to the city's flooding crisis. The video takes a controversial turn when Fadnavis appears to forcefully push a man who was attempting to communicate with him.
Opposition Criticises Fadnavis
Maharashtra Congress took to social media to criticize the Deputy CM's actions, calling him 'arrogant' for his behaviour toward citizens reporting flood damage. They questioned whether such actions were indicative of an abuse of power.
Shiv Sena (UBT) also condemned DCM Fadnavis' actions, labeling them as 'arrogance of power.' They emphasized the Deputy CM's push to a flood-affected citizen asking for help.
Nagpur Gripped by Flooding
The incident occurred amidst severe flooding in Nagpur, Maharashtra's second capital, caused by relentless rainfall. Thousands of residents were forced to evacuate their homes as floodwaters submerged entire neighbourhoods.
Approximately 10,000 residences were breached by the floodwaters and distressing visuals showed citizens wading through knee-deep water on the streets. Tragically, four lives were lost and at least 400 individuals had to be relocated to safer areas from the affected regions.