Trinamool's national ambitions come unstuck after drubbing in Goa, Tripura
Soon after assuming charge as the Trinamool Congress's national general secretary following the 2021 West Bengal assembly elections, Chief Minister Mamata Banerjee's nephew and party MP Abhishek Banerjee said that henceforth his party will target expansion in those states where it will have the chance to form the government or be an extremely strong opposition.
He added that henceforth the party's focus will not be on just getting a couple of MLAs in a couple of states outside West Bengal.
Since then, Abhishek Banerjee has tried to achieve this thrice — the assembly elections in Goa, municipal elections in Tripura and the latest in the by-polls in Tripura. In the Goa assembly elections the Trinamool Congress was unable to open its account. In the Tripura civic elections, it failed to emerge as the major opposition party. In the Tripura by-polls the Trinamool Congress candidates finished in the fourth position in all the four assembly constituencies with their deposits forfeited. In two constituencies the votes secured by the party candidates did not cross the 1,000-mark.
In this backdrop two questions arise. The first is how far the Trinamool Congress will be able to expand its base outside West Bengal in the 2024 Lok Sabha polls? The second is how far Mamata Banerjee can become a key player in deciding matters in the ruling or opposition coalition, depending on the results, after 2024?
According to Trinamool Congress spokesman Kunal Ghosh, the latest by-poll results in Tripura cannot be taken as an indicator for the future considering that the party contested without much groundwork. Secondly, according to him, the Lok Sabha polls are always different from the assembly or civic polls, with bigger national issues.
"Since our chief minister Mamata Banerjee has already established herself as the face of a relentless movement against the Union government's anti-people policies, no anti-BJP force would be able to undermine her in 2024," he said.
Meanwhile, Leader of the Opposition in the West Bengal assembly, Suvendu Adhikari has said that it would be better for Mamata Banerjee to concentrate on saving her chief minister's chair rather than trying to be a key player in the ruling coalition after the 2024 polls.
"The game has begun with Maharashtra. We will reach West Bengal via Rajasthan and Jharkhand in 2023," he said.
Political observers feel that there is a remote chance that Mamata Banerjee or the Trinamool Congress would be able to get established as key national players be it in the ruling coalition or in the opposition front.
According to political observer Rajagopal Dhar Chakraborty, Abhishek Banerjee's announcement that his party will target expansion in those states where they will have a chance to emerge as the ruling party or an extremely strong opposition, was an over ambitious one.
"Trinamool Congress earlier managed to get MLAs in Tripura and later in Meghalaya. However, none of these MLAs were elected as Trinamool Congress candidates. They were just turncoat MLAs from the Congress or other regional parties, who at the first opportunity deserted the Trinamool.
"But when it came to contesting in states outside West Bengal, the results for the Trinamool have been pathetic. That is because the Trinamool Congress contested those elections without prolonged groundwork just depending on vote strategist Prashant Kishor and his organization I-PAC. No vote strategist can do wonders for any political party in any state unless that party has a sufficient and strong organizational network of its own in that state," he said.
Secondly, he added, considering the Trinamool Congress's pathetic performance in states outside West Bengal, it is unlikely that regional parties there will allow space to the Trinamool in any seat sharing agreement, however close their official relationship with Mamata Banerjee might be.
Political analyst Santanu Sanyal feels that before the 2024 Lok Sabha polls, the Trinamool Congress will be so busy in its own turf of West Bengal that it will hardly have any opportunity to concentrate on other states.
"The Trinamool Congress leadership including the chief minister knows quite well that their importance in national politics, be it be as a part of the ruling coalition or the opposition front, will depend on how well the party can perform in West Bengal. So, in my opinion, in the 2024 polls the Trinamool Congress' concentration will be solely on West Bengal and not on other states," he said.
Jawaharlal Nehru Death Anniversary: PM Modi, Rahul Gandhi, Kharge & others pay tribute to the former prime minister of India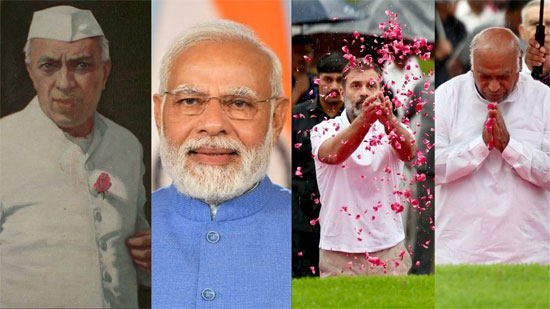 On May 27 in 1964, India's first prime minister Jawaharlal Nehru, fondly known as 'Chacha Nehru' breathed his last after suffering a cardiac arrest. On his death anniversary, several leaders paid their tributes to Nehru and offered their respects to him. While Congress leaders Rahul Gandhi and Mallikarjun Kharge offered flowers and prayed at the Shanti Van memorial in New Delhi on Saturday. Meanwhile, present PM Narendra Modi shared tweet marking the day.
PM Modi on Nehru's death anniversary
"On his death anniversary, I pay tributes to our former PM Pandit Jawaharlal Nehru," PM Modi tweeted in memory of the former leader on his 59th death anniversary.
Congress pays floral tribute
Congress President Mallikarjun Kharge and former party leader Rahul Gandhi paid floral tributes along with party treasurer Pawan Bansal, and others at the Shanti Van memorial in the national capital.
The party shared several tweets to remember Nehru on his death anniversary. After sharing visuals from the memorial, Congress on Twitter shared quote-based greetings to mark the significant day.
About the first PM of India
Nehru played a prominent role in India's freedom struggle. He also went on to become India's first Prime Minister after Independence in 1947. He was among the key leaders of the Indian National Congress (INC).
On May 27, 1964, the first Prime Minister of India took his last breath. He served for over 16 years from 1947 to 1964 till he died at the age of 74.
He had a great fondness for kids, and children use to call him Chacha Nehru and his birthday is celebrated as Children's Day every year.
CM Shinde inaugurates 2nd phase of Mumbai-Nagpur Samruddhi Expressway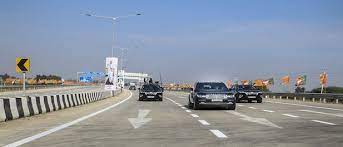 Shirdi: The second phase of Mumbai – Nagpur Expressway, between Shirdi and Bharvir (17 kms off Igatpuri) was inaugurated on Friday by Chief Minister Eknath Shinde. The stretch opened on Friday spans 80 km, of the 701 km of overall Expressway between Mumbai and Nagpur. Now, only 100 km of portion between Bharvir and Mumbai remains to be completed. The first phase was inaugurated by Prime Minister Narendra Modi in December 2022.
Cost of the 2nd phase of 80 km Rs 3,200 crore
The second phase of the Expressway has 7 major bridges, 18 minor bridges, 53 underpasses, 3 interchanges, 56 toll booths, 6 weigh bridges among others.
The cost of the second phase of 80 km is Rs 3,200 crore.
Touted as a game changer project as it connects 24 districts of Maharashtra from the regions of North Maharashtra, Marathwada and Vidarbha. This green field alignment passes through 392 villages in 26 talukas of 10 districts.
With the opening of the second phase, the travel time taken between Shirdi and Nashik will come down by half to five to six hours instead of over 12 hours, so far.
"It is proposed to set up 18 agricultural development centres along the entire Expressway stretch," said a Maharashtra State Road Development Corporation (MSRDC) official.
Weather update: India to witness normal monsoon rains in 2023, reports IMD
India Meteorological Department (IMD) on Friday predicted that the country need not worry about severe or unlikely monsoons this year. The weather agency noted that India would witness normal monsoon rains in 2023 in most regions, and thus no major warnings or alerts were issued for the upcoming rainy season.
What is El Nino?
Noting the monsoon period across Indian states and UTs, IMD stated in a release that "Normal monsoon rains are likely in 2023 despite the likely emergence of the El Nino weather phenomenon."
El Nino typically means trouble for the Pacific and a break for the Atlantic coast and the Caribbean. This climate phenomenon is highly likely to form this year.
Monsoon across India
IMD has predicted a below-normal rainfall in Northwest India i.e. less than 92% LPA whereas normal rainfall in North east India, Central India, and South Peninsular India.
Reportedly, the southwest monsoon over the Indian mainland is marked by monsoon onset over Kerala and is an important indicator characterizing the transition from a hot and dry season to a rainy season. The southwest monsoon was expected from June to September with a normal rainfall i.e. 96 to 104 percent of Long period average (LPA).
"Once the monsoon will get established strong, we are expecting the monsoon to arrive in Kerala around June 4. Before June 1, we are not expecting monsoon to arrive," the weather agency stated.