Swapna Suresh's allegations: Protests against Kerala CM enter day 3
Protests demanding resignation of Chief Minister Pinarayi Vijayan, after gold smuggling case accused Swapna Suresh alleged that the CM and his family were also involved, entered day three on Monday.
The protest that started from Kottayam on Saturday continued on Sunday and on Monday, the situation was no different in Kannur– his home town.
Last week, Swapna had claimed that Vijayan, his wife and their daughter had a role in smuggling currency and gold. Since then, the Congress and the BJP are up in arms demanding Vijayan's resignation.
In the wake of the agitations, the state government has directed people against wearing a black mask or a black outfit to any function presided by Vijayan.
Across the six districts he travelled by road since Saturday, all those who waved black flags at him, were taken into custody by police, who are out in large numbers.
In Kannur, members of youth wing of the Congress party who were protesting in front of the Government Guest house where Vijayan was staying, were roughed up by police.
In another incident, a student activist of the Congress party, who was waving a black flag at Vijayan's convoy, was taken into police custody, while two CPI-M workers beat him up.
Likewise, the police caned the protesters closer to the venue where Vijayan had a function.
Meanwhile, the TV channels in the state are having a field day as they are replaying all the old statements made by Vijayan with regards to his demands that the then Chief Minister Oommen Chandy if he has any morals left, he should quit after a flyby way operator Saritha Nair selling solar panels links with his staff surfaced.
They are also airing a clip of 2014 in which Vijayan can be seen saying that it's common practise to wave a black flag to protest and what's the big deal in it.
Veteran Congress legislator Ramesh Chennithala remarked that Vijayan has become a "nuisance" as he has disturbed the peace and tranquillity in the state as the ordinary people are finding it difficult to even move out.
With Congress leading from the front in their demand asking Vijayan to quit and the court also looking into a few petitions of Swapna and others, the protests is likely to mount. The development is also likely to rock the state Assembly which is scheduled to start on June 27.
FIR filed against Vijay Mallya in cheque bounce case
A fresh FIR has been filed against fugitive economic offender Vijay Mallya by Delhi Police for not appearing before a special court in connection with a cheque bounce case.
The hearing was going on in Rouse Avenue Court. The court noted that the accused was skipping the trial and was not willing to appear before it. The court then directed the Delhi Police to lodge an FIR against the accused.
A senior police official said that they lodged a case under section 174 A of the Indian Penal Code against Mallya following the court direction. The FIR was filed at Connaught Place Police Station of New Delhi District.
Delhi International Airport had accused Mallya in cheque bounce. This case was being heard before the court.
The Delhi Police has now filed an FIR which has become one new case against him.
IPC section 174 A says non-attendance in obedience to an order from public servant may attract jail term of six months if held guilty.
26 killed as tractor-trolley falls in pond near Kanpur
At least 26 people were killed while several injured after a tractor-trolley carrying devotees overturned and fell into a pond near a village in Uttar Pradesh's Kanpur district on Saturday evening.
The devotees, all residents of Kortha village under Sadh police circle, had gone to the Chandrika Devi temple in Fatehpur in the tractor-trolley. There were about 40 people in the vehicle. While returning, the trolley overturned into a roadside pond between Sadh and Gambhirpur village.
The injured were rushed to a community health centre (CHC) in Bhitargaon. The police and senior officials have reached the spot and are supervising the rescue operation.
Prime Minister Narendra Modi, Union Home Minister Amit Shah and Uttar Pradesh Chief Minister Yogi Adityanath have expressed grief over the incident.
"Distressed by the tractor-trolley mishap in Kanpur. My thoughts are with all those who have lost their near and dear ones. Prayers with the injured. The local administration is providing all possible assistance to the affected," Prime Minister Modi said in a tweet.
"The road accident in Kanpur, Uttar Pradesh is very sad and heart-wrenching. The local administration is providing treatment to the injured. I express my condolences on the irreparable loss of those who have lost their loved ones in this incident. May God give strength to his family to bear this loss," Shah said in a tweet.
Chief Minister Yogi Adityanath has instructed officials to provide proper treatment to those injured in the accident.
The Chief Minister also appealed people to not carry passengers on tractor-trolley. He asserted that tractor-trolley should be used only for agricultural works and freight. "Life is priceless, please don't be careless," he said in a tweet.
Mumbai: 1 dead in post-Navratri firing, cops launch manhunt for assailants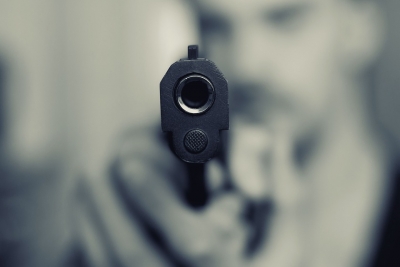 In a horrifying incident, two persons indiscriminately fired at a crowd dispersing after Navratri celebrations in Mumbai's Kandivali west suburb, killing one and injuring at least three others, on Saturday.
Kandivali police, which is probing the incident, said that they have launched a manhunt for the unknown assailants.
According to an official, at around 12.15 a.m., the two men sped to the Laljipada area and started shooting at the people dispersing after a local Navratri programme.
Amidst the chaos, the assailants' bullets managed to kill one and wounded three others, said the official.
The victim was identified as Ankit Yadav, who died on the spot, while Abhilash Dabholkar, Prakash Narain and Manish Gupta who sustained gunshot injuries, have been admitted to the BMC's Shatabdi Hospital for treatment.
Locals claimed that the assailants may be youths living in the vicinity, while the police ruled out the possibility of a gang war and suspect it to be vendetta for some previous enmity.
Deputy Commissioner of Police-11 Vishal Thakur said that teams were on the lookout for the killers, scanning CCTVs in the area, probing various angles, including from where the guns were acquired, the exact number of rounds fired, and other issues.