Report claiming shortage of Pneumococcal vaccine false and misleading: Health Ministry
Responding to a media report in a national daily that has claimed shortage of Pneumococcal (PCV) vaccine across the country, the Union Ministry of Health and Family Welfare on Saturday said that the report is ill-informed and provides erroneous information.
The report had quoted State health officials (including SIO, Maharashtra) noting that tendering delay has led to the disruption in schedules of tens of thousands of children across the country for over a month.
The ministry said in a statement that as per data available till October 7, 2022, sufficient doses of PCV Vaccine are available.
"A total of 70,18,817 (70.18 lakh) doses of PCV are available with all States and UTs. This includes 3,01,794 (3.01 lakh) doses of PCV with the State of Maharashtra", Health Ministry clarified.
"Further, as per the HMIS data of Union Ministry of Health & Family Welfare, in the period January 2022 to September 2022, a total of 3,27,67,028 (3.27 crore) doses of PCV supplied by the Union Government have been utilised by all the States and UTs. This includes 18,80,722 (18.80 lakh) doses of PCV utilised in the State of Maharashtra. The supplies against procurement of PCV for the year 2022-23 have also commenced to the States & UTs", said the ministry.
The ministry said that pneumonia is one of the major causes of child mortality and Government of India has taken proactive steps to effectively address this problem.
Pneumococcal Conjugate Vaccine (PCV) was introduced by Government of India in 2017 in a phased manner across the most affected five states of Bihar, Himachal Pradesh, Madhya Pradesh, Rajasthan and Uttar Pradesh.
"Thereafter, the PCV under the Universal Immunization Programme (UIP) has been expanded throughout the country.
"The PCV is now an integral part of India's Universal Immunization Programme (UIP) and is available free of cost to the entire birth cohort of 27.1 million. It is given in three dose schedule (6 weeks, 14 weeks and booster at 9-12 months)", the ministry said.
Maharashtra: Locomotive Detaches From Borivali-Ahmedabad Express At Vaitarna Station
Palghar: A locomotive attached to the tail end of a long-distance train decoupled when it departed after halting at the Vaitarna station on Saturday. A mishap was averted as the train hadn't attained speed, but the episode resulted in one-hour delay.
The incident took place at around 2.15 pm when the 19417 Borivali-Ahmedabad Express stopped at the Western Railway's (WR) Vaitarna station. As it started to pull out, the locomotive detached and skidded 20 metres away from the train.
The passengers experienced a strong jerk and heard a loud noise due to decoupling, said Jitu Mehta who was onboard at the time of incident. The shocked travellers converged at the tracks and platform. Passenger activist Shilpa Jain said, "Although most passenger trains have been upgraded to express category, the standard of coaches and locomotives remains the same. Despite paying extra fares, passengers are deprived of express train facilities. The condition is same with the Valsad Express which is a lifeline for thousands of daily passengers commuting from Gujarat to Mumbai."
However, WR chief spokesperson was unavailable for comments.
Understanding Cauvery Water Dispute: A Century-Old Struggle Between Tamil Nadu & Karnataka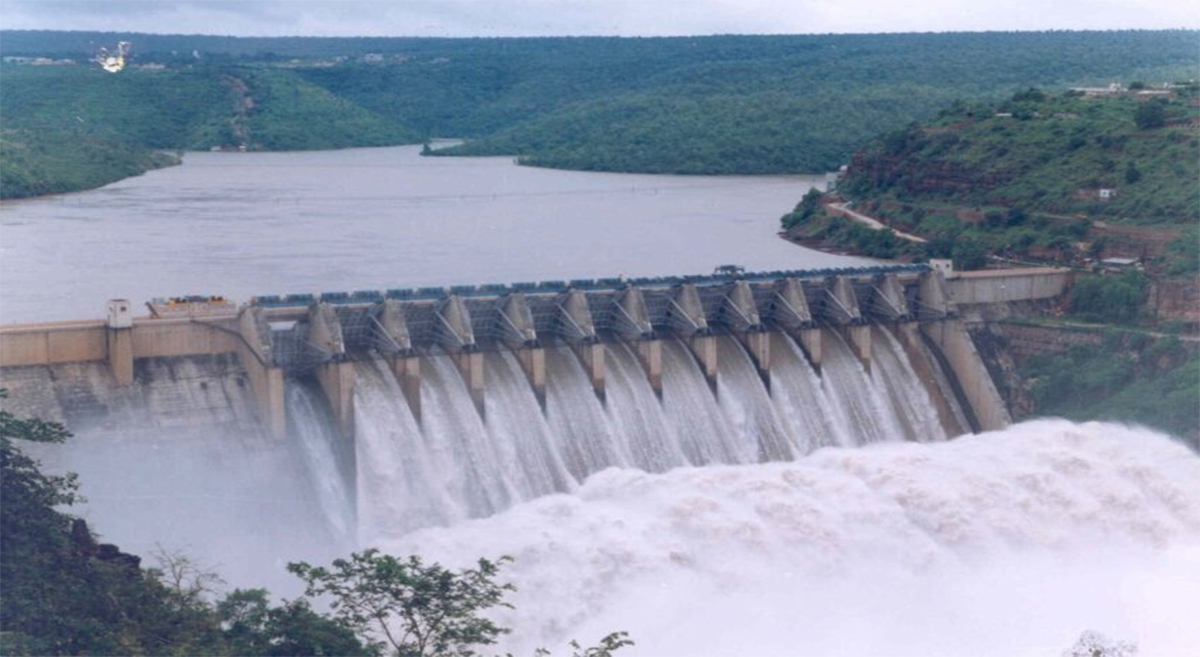 The Cauvery River, traversing the southern Indian states of Karnataka, Tamil Nadu, Kerala, and the Union Territory of Puducherry, has been at the center of one of the most heated water disputes. This enduring clash, referred to as the Cauvery water dispute, originates from historical accords and conflicting requirements.
In recent developments, this issue has resurfaced, causing significant turmoil in Karnataka. Kannada groups have launched protests throughout the state, disrupting normal life on numerous occasions. Similarly, Cauvery water plays a crucial role in sustaining Tamil Nadu's farming community, especially during the cultivation of their 'Kuruvai' crop. Around 30 lakh acres of agricultural land in the Cauvery delta region rely on the river's water for their farming endeavors.
Farmers from both Karnataka and Tamil Nadu have mobilised, advocating for the resolution of the Cauvery water-sharing dispute.
What reignited the controversy?
The recent dispute arose when Karnataka refused to comply with previously agreed-upon water release quotas. Tamil Nadu insisted on a release of 10,000 cusecs of water over a 15-day period, while Karnataka proposed a lower release of 8,000 cusecs for the same duration. Karnataka justified its stance by pointing to inadequate inflow caused by reduced rainfall in the Cauvery catchment area, including its source in Kodagu. The state government stated that from June to August, Kodagu experienced a rainfall deficit of 44%.
To assert its demand, Tamil Nadu approached the Supreme Court to ensure Karnataka's release of 24,000 cubic feet per second (cusecs) of water from its reservoir. In response, Karnataka argued before the Supreme Court that Tamil Nadu had failed to acknowledge that 2023 constituted a "distressed water year," not a "normal water year."
Karnataka's Deputy Chief Minister, DK Shivakumar, subsequently requested a reconsideration of this decision due to water scarcity issues in the Cauvery basin area since the onset of this year's monsoon season. Consequently, the state formally wrote to the Cauvery Water Management Authority (CWMA), urging them to review the order to release 10,000 cusecs to Tamil Nadu.
Following discussions during a meeting held on Tuesday, the Cauvery Water Regulation Committee recommended that Karnataka initiate a release of 3,000 cusecs at Biligundlu, commencing from September 28th until October 15th.
History of the dispute
The Cauvery River, known as the "Ganges of the South," holds immense importance as a crucial water source for the southern states. Its primary usage lies in irrigation, supporting the livelihoods of countless farmers.
This conflict has its origins in the colonial period, during which the British administration formulated agreements to distribute the river's waters between the princely states of Mysore and Madras Presidency (present-day Karnataka and Tamil Nadu, respectively).
1892 Agreement: The 1892 Agreement between the State of Mysore and Madras pertained to the initiation of new irrigation projects along the river's course. However, it did not hold the same significance as the 1924 agreement, which would eventually become the root cause of the dispute.
1924 Agreement: In 1910, Mysore proposed the construction of the Kanambadi dam on the Cauvery River. Concurrently, Madras also put forth an irrigation project on the same river. When Madras raised objections to the second phase of the Kanambadi project, it led to the intervention of the Indian government.
Initially, there was hope that the two states could reach a mutually acceptable agreement. However, when this proved unfeasible, a Court of Arbitration, presided over by Sir Henry Griffin, was appointed to address the matter.
Under Griffin's supervision, an agreement was fashioned on February 18, 1924, intended to remain in effect for the subsequent 50 years. Comprising ten clauses, the 1924 agreement stipulated that, for at least the following five decades, Tamil Nadu and Puducherry would receive 75 percent of the Cauvery water allocation, while 23 percent would be allocated to Mysore, with the remaining share flowing into Kerala, then known as Travancore.
Dispute continues in independent India
Following the state reorganisation in 1956, Tamil Nadu obtained 75 percent of the Cauvery water allocation, which led to an expansion of its irrigated areas. However, the issues continued to persist.
To address the ongoing disputes, the Cauvery Water Disputes Tribunal (CWDT) was established in 1990 with the purpose of arbitrating the water-sharing matter. The tribunal issued its final order in 2007.
According to the tribunal's ruling, Kerala received an allocation of 30 tmc (thousand million cubic feet), Karnataka was allotted 270 tmc, Tamil Nadu received 419 tmc, and Puducherry was granted 7 tmc.
On February 16, 2018, the Supreme Court issued a unanimous verdict that resulted in a reduction of Karnataka's annual water releases from 192 TMC to 177.25 TMC, consequently diminishing Tamil Nadu's water allocation as well.
In accordance with the court's directives, the Cauvery Water Management Authority was established by the Central government on June 1, 2018, to enforce the judgment.
The present
On August 14, the Tamil Nadu government approached the Supreme Court, seeking its intervention to compel Karnataka to promptly release 24,000 cubic feet per second (cusecs) of water from its reservoirs.
Tamil Nadu urged the Court to instruct Karnataka to adhere to the release of 36.76 TMC of water, as mandated for September 2023 by the final award of the Cauvery Water Disputes Tribunal (CWDT) in 2007.
Karnataka argued that diminished rainfall in the Cauvery catchment area, encompassing regions in Kerala, had resulted in insufficient inflow into its reservoirs.
Chief Minister Siddaramaiah elucidated that historically, whenever there was an excess of water in the reservoirs, Karnataka willingly supplied it to Tamil Nadu. However, unfavorable conditions this year have left Karnataka unable to do so.
Upon reaching the court, the Supreme Court declined to interfere with the orders of the Cauvery Water Management Authority and Cauvery Water Regulation Committee.
These directives mandated Karnataka to maintain the release of 5,000 cusecs of water to Tamil Nadu.
On September 18, the Cauvery Water Management Authority reaffirmed the necessity for Karnataka to persist with the release of 5,000 cusecs (cubic feet per second) of water to Tamil Nadu, aligning with the prior order issued by the Cauvery Water Regulation Committee on September 12.
Contending Perspectives
The Karnataka government maintains that the terms of the 1924 agreement, which had a 50-year expiration date, should not be applicable to the current water distribution scenario.
Karnataka also argues that when the agreement was forged, Tamil Nadu was under British governance, while Karnataka was a princely state, potentially limiting its ability to effectively assert its interests.
In contrast, Tamil Nadu asserts that making fundamental alterations to the 1924 agreement would prove detrimental to both regions. Tamil Nadu contends that the original understanding during the negotiation of the agreement was for its clauses to be reviewed after 50 years rather than completely overhauled.
Ganesh Visarjan 2023: Famous Pandals Across City See Last-Minute Rush
Mumbai: Scores of devotees on Wednesday queued at the city's famous pandals to catch a glimpse of Lord Ganesh as the deity bids adieu today. Fondly known as Bappa, the elephant-headed god is immensely adulated during the 10-day Ganeshotsav. Anant Chaturdashi, which marks the end of the spirited festival, and Ganpati idols are immersed on this date, falls today.
On Wednesday, Akshay Kokate came all the way from Diva in Thane district to give a devotional farewell to Lalbaugcha Raja. Summing up his experience, an elated Kokate said that he felt twice as lucky because he got 'mukh darshan' (face glimpse), but was also present during 'aarti'. "This is the second time I managed to get 'mukh darshan' during 'aarti'. Last year, too, this had happened. I also got 'darshan' within 20-40 minutes as there was not much rush," he said.
'Last minute rush is less this year'
Another devotee Prathamesh Harer, who accompanied his mother to Lalbaug, said, "This year, people seem to have come on the first few days to take 'darshan' hence last minute rush is less." His mother Sangeeta makes it a point to visit prominent Ganpatis in Chinchpokli-Lalbaug belt every year. She fondly remembers her wish being fulfilled when her husband returned home safely from service in Kashmir. "He was in Kashmir for two years during the 2000s as part of the civil defense service. I had stood in the 'navas' (wish-fulfilling) queue, praying that he would come home safely and he did," recalled a barefooted Sangeeta.
Devotees walking barefoot and their forehead smeared with 'gulaal' (coloured powder) was a common sight on Wednesday at the Chinchpokli-Lalbaug belt which has famous pandals like Lalbaugcha Raja, Ganesh Galli Ganpati, Chintamani Ganpati and Tejukaya Ganpati. "We have been to Chintamani and now will be heading to Lalbaug. If we are lucky, we should be able to get 'darshan'," said Khushi Rai,18, who had come along with her friends.
Lalbaughcha Raja idol immersion
Talking about the idol immersion, Lalbaugcha Raja Sarvajanik Ganeshutsav Mandal President Balasaheb Kamble said, "We will be having a morning aarti and leave by 11am or so (today)." While the Ganpati will leave tomorrow, it will reach the immersion point at Girgaon Chowpatty on Friday morning. Andhericha Raja is one of those Ganpati idols that doesn't go for immersion on Thursday. "Our Ganpati was of mill workers whose mill had shut down. They had a wish that if their mills restarted, they would keep Ganpati till 'Sankasthi', which happened. Hence, the trend of going later for immersion continues," explained Azad Nagar Sarvajanik Utsav Samiti spokesperson Uday Salian.