India reports 2,424 fresh Covid cases, 14 deaths
India reported 2,424 fresh Covid cases in the last 24 hours, against 2,756 recorded on the previous day, said the Union Health Ministry on Monday.
In the same period, the country recorded 15 more Covid related deaths, taking the national toll to 5,28,814 as per the report.
The active caseload presently stands at 28,079 cases, accounting for 0.06 per cent of the country's total positive cases.
The recovery of 2,923 patients in the last 24 hours took the cumulative tally to 4,40,57,544. Consequently, India's recovery rate stands at 98.75 per cent.
Meanwhile, India's daily positivity rate has been reported to be 2.65 per cent, while the weekly positivity rate currently stands at 1.27 per cent.
Also in the same period, a total of 91,458 tests were conducted across the country, increasing the overall tally to over 89.70 crore.
As of Monday morning, India's Covid-19 vaccination coverage exceeded 218.99 crore.
Over 4.10 crore adolescents have been administered with a first dose of Covid-19 jab since the beginning of vaccination drive for this age bracket.
Erdogan calls for promoting dialogue over Turkey's accession to EU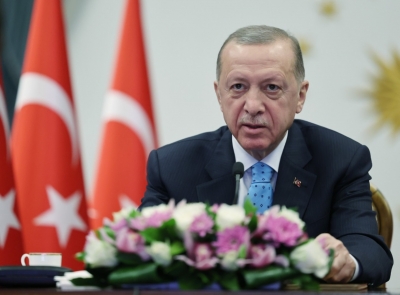 Turkish President Recep Tayyip Erdogan highlighted the necessity of promoting dialogue for his country's accession to the European Union (EU) in a phone talk with Charles Michel, the president of the European Council.
"It is necessary to increase contacts at all levels with a concrete and positive agenda in the direction of Turkey's full membership to the EU, which has great strategic value for Europe," an official statement quoted Erdogan as saying.
The EU's "fair treatment and supportive perspective" for Turkey's full EU membership would open up new horizons in relations between Ankara and the block, the statement said.
During the phone conversation, Erdogan also underlined the importance of updating the customs union agreement between Ankara and Brussels, ensuring visa-free for Turkish citizens within the EU, and strengthening bilateral cooperation on migration management and counterterrorism, it added.
Turkey started accession talks with Brussels in 2005, which have been at a standstill for several years following a prolonged state of emergency declared by Erdogan in the wake of a botched coup aiming to topple his government in 2016.
Gujarat: Cardiologist Dr Gaurav Gandhi, Who Performed Around 16,000 Surgeries, Dies Due To Heart Attack At 41
Dr Gaurav Gandhi, a prominent cardiologist hailing from Jamnagar, Gujarat, tragically passed away early Tuesday morning due to a heart attack. With a career spanning numerous successful surgeries, Dr Gandhi, 41 years old, had performed operations on around 16,000 individuals throughout his medical tenure.
Sudden Demise Of The Cardiologist
According to reports by Aaj Tak, Dr Gandhi attended to patients as usual on Monday and returned home to Palace Road in Jamnagar that evening. He had dinner and went to bed without displaying any complaints or changes in his behavior. However, the next day at 6 am, when family members went to wake him up, they discovered him unconscious and immediately rushed him to the hospital.
Gandhi Was Pronounced Dead At The Hospital
Despite the swift response and medical intervention, Dr Gandhi was pronounced dead at the hospital, leaving behind a void in the medical community and the lives of his loved ones.
A Notable Career
Dr Gaurav Gandhi earned his basic medical degree in Jamnagar and specialized in cardiology in Ahmedabad before returning to his hometown to establish his practice. He was actively involved in the 'Halt Heart Attacks' campaign on Facebook, showcasing his dedication to raising awareness about heart health and prevention strategies.
Mumbai News: State signs MoUs to generate 13,050MW through green tech
Mumbai: The Maharashtra government on Tuesday signed memoranda of understanding (MoU) with the National Hydro Power Corporation and Torrent Power to generate 13,050MW through Hydro Pumped Storage Projects (HPSP).
While National Hydro Power Corporation will generate 7,350MW power, Torrent Power will produce 5,700MW. The project is expected to attract an investment of around Rs44,000 crore and Rs27,000 crore, respectively, and collectively generate 30,000 jobs.
HPSP technology
"The state government is laying more thrust on Hydro Pumped Storage Projects technology in order to ensure energy security, looking at its potential of power storage," Deputy Chief Minister Devendra Fadnavis said after the MoUs were signed.
Under the HPSP technology, two water reservoirs at different heights are connected through a tunnel or underground pipe. Whenever there is more electricity production and less demand, these projects pump water from the downward reservoir to the upward reservoir. Whenever higher energy is required, water is released from the higher reservoir to the lower one via a turbine to produce the requiredpower instantly. The water can be moved to upward reservoir using renewable energy. This makes it a green project. The technology isalso referred to as natural batteries, since it gives capability to instantly generate power the moment it is needed the most.
HPSPs prove to be helpful as they can stabilise power grids: Fadnavis
HPSPs have earned acceptability world over. It works well for grid stability and maintaining peak power. The Sahyadri ranges give a natural advantage to the state due to the difference of levels between the reservoirs.
Fadnavis, who also holds the power portfolio, said, "HPSPs prove to be helpful as they can stabilise power grids within a minute."
The Centre had earlier this year issued the draft guidelines for HPSPs. The Union Ministry of Power had indicated that 103 Giga Watt can be produced through HPSPs. At present, the ministry has eight projects of a total capacity of 4.7GW under it.
Savitri (2,250MW), Kalu (1,150 MW), Kengadi (1,550MW) and Jalond (2,400 MW) are the four sites allotted to NHPC for on-stream HPSP projects, while Karjat (3,000MW), Mawal (1,200 MW) and Junnar (1,500 MW) are the sites allocated to Torrent Power for development of off-stream HPSP projects.
Pointers:
-Rs44,000 crore: Investment that the National Hydro Power Corporation project will attract
-Rs27,000 crore: Investment that Torrent Power will attract
-30,000: Number of jobs that the two projects will generate