Reform, perform, transform define today's governance: PM Modi
Prime Minister Narendra Modi on Thursday said reform, perform and transform mantra define today's governance in the country.
He said during the last eight years, the government with the political willpower brought reforms and they yielded results on the ground due to people's participation.
He said this while addressing 20th anniversary celebrations and graduation ceremony of the Post Graduate Programme of Class of 2022 at the Indian School of Business (ISB) here.
Addressing students of both Hyderabad and Mohali campuses of the ISB, he said that while the need for reform was always felt in the country, there was always a lack of political willpower.
"Due to the continuous political instability in the last three decades, the country has seen a lack of political willpower for a long time. Because of this the country stayed away from reforms and from taking big decisions. Since 2014, our country is seeing political will and also, reforms are being done continuously. We have shown public support and popular support is assured when reforms are undertaken with determination and political will," he said.
He cited the example of adoption of digital payments among people. He said in a country where banking was considered a privilege, fintech has changed the life of the common man. He pointed out that today 40 per cent of the world's digital transactions are happening in India.
The Prime Minister noted that today, India is the fastest growing economy in the group of G20 countries. In the case of smartphone data consumers, India is at number one. India is second in the world in terms of the number of Internet users. India is also second in the world in the Global Retail Index. The world's third largest start-up ecosystem is in India. The world's third largest consumer market is in India.
He claimed that even amid Covid pandemic, India proved its resilience. The century's biggest health crisis disrupted the global supply chain and the war added to the problem.
"Despite all this India is emerging as a major centre of growth today. Last year, the highest ever recorded FDI came into India. Today the world is realising that India means business."
Modi said it was not the success of the government alone but business schools like ISB, professionals who passed out from such institutes and youth played a big role.
"Be it start-ups or traditional business, manufacturing or service sector, India youth proving they can lead the world. Today, the world is looking at India's youth with confidence and respect," he said.
The Prime Minister pointed out that Indian solutions are being implemented globally. "Today on this important day, I would like to ask you to link your personal goals with the goals of the country," he told the business graduates.
Modi said that resilience and strength of the health sector was proved during the pandemic. He recalled that there were no PPE manufacturers but the country produced 1,100 manufacturers and the Covid infrastructure in no time. There were only a couple of labs for testing but the number went up to 2,500.
"Regarding the Covid vaccines, concerns were being raised here whether foreign vaccines would be available or not. But India developed its own vaccines. In India more than 190 crore doses have been administered. India has also sent vaccines to more than 100 countries of the world," he said.
Referring to the expansion of medical education in the last eight years, he said the number of medical colleges increased from 380 to over 600 while the number of graduate and post-graduate medical seats went up from 90,000 to over 1.50 lakh.
The Prime Minister stated that bureaucracy has also made firm contributions in the reform process.
"System is the same but results are encouraging. People are coming forward to increase the pace of reforms. When people cooperate, quick and better results are assured. In the system now, the government brings reforms, bureaucracy performs and people's participation leads to transformation," he said, and advised the ISB students to study this mechanism of reform, perform and transform as a case study and show it to the world.
He also cited the sport ecosystem transformation. He said after 2014 there has been phenomenal performance in every sport due to the confidence of athletes.
"Confidence comes when the right talent is discovered, when there is handholding of talent, when there is a transparent selection and a better infrastructure is available for training, competition. We can see transformation in sports due to reforms like Khelo India and Olympic Podium Scheme."
He also cited the Aspirational District Programme as a great example of transformation. He said districts which were once branded as backward were performing better than the districts which were once considered as progressive.
The Prime Minister said that the definition of business is changing and its landscape is widening. Formal, informal, small and large businesses are expanding their horizons and giving employment to lakhs and crores of people.
He stressed the need to give more opportunities for growth to small businesses. He said students passing out of business schools can help them in connecting with the new local and global markets and with technology.
Earlier, Modi paid tributes to those who have contributed to take the institute to its current glory. He recalled that former Prime Minister Atal Bihari Vajpayee dedicated this institution to the country in 2001.
Since then, about 50,000 executives have passed out from ISB. Today, ISB is among the top business schools of Asia.
Professionals passed out from ISB are helming top companies and giving momentum to the county's business. Students from here have created many start-ups and played a role in creating several unicorns.
"This is an achievement of ISB and a cause of pride for the entire country," he said.
Govt provides 'Y+' security cover to 15 rebel Sena MLAs
The Union government has decided to provide 'Y+' category security cover of armed Central Reserve Police Force (CRPF) personnel to 15 rebel Shiv Sena MLAs who have revolted against the Uddhav Thackeray government in Maharashtra.
Sources said that 'Y+' category security cover of armed CRPF personnel has been provided to 15 Shiv Sena MLAs which include Prakash Surve, Sadanand Sarvankar, Yogesh Dada Kadam, Pratap Sarnaik, Ramesh Bornare, Mangesh Kudalkar, Sanjay Shirsat, Latabai Sonawane, Yamini Jadhav, Pradeep Jaiswal, Sanjay Rathod, Dadaji Bhuse, Dilip Lande, Balaji Kalyanar and Sandipan Bhumare.
These leaders have joined Eknath Shinde's camp in the ongoing political crisis in Maharashtra.
The centre's decision came a day after Shinde in a letter to Chief Minister Uddhav Thackeray alleged that the security cover provided to the family members of the rebel Shiv Sena MLAs had been withdrawn.
The Maha Vikas Aghadi (MVA) government had rejected the charges. Shinde claimed to have the support of more than two-thirds of the Shiv Sena MLAs.
Even as the BJP has officially kept itself away from the Shiv Sena's internal tussle, it is being reported that rebel leader Shinde, who is camping in Guwahati and Maharashtra former Chief Minister Devendra Fadnavis may have met Union Home Minister Amit Shah at an undisclosed location in Gujarat's Vadodara.
BJP bags 3 seats in Tripura bypolls, CM Manik Saha wins from Town Bordowali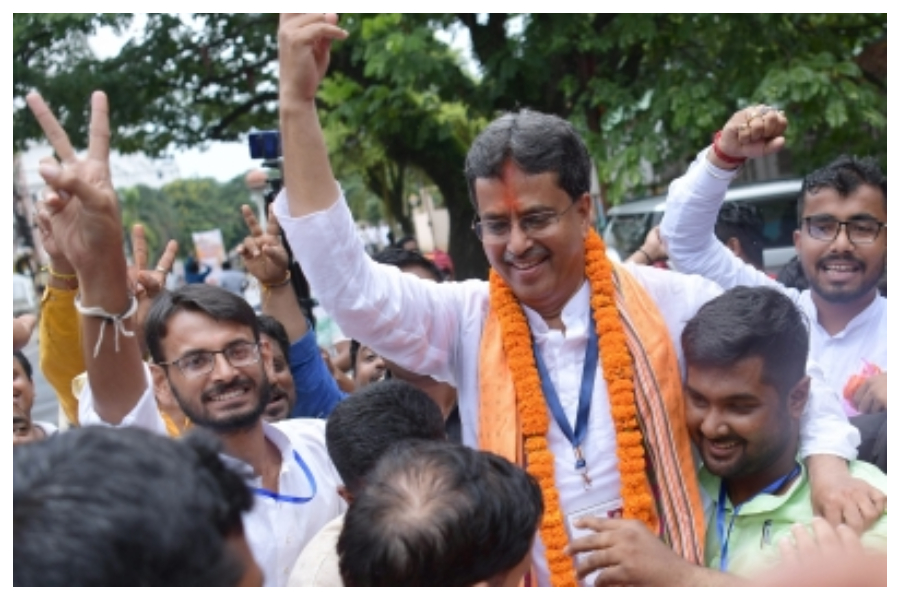 The ruling BJP won three seats including that of Chief Minister Manik Saha who has been elected to the state assembly for the first time from Town Bordowali while the opposition Congress won one seat in Tripura, where the bypolls were held on June 23 in the four politically-crucial Assembly constituencies.
According to the Election Commission, Saha, 69, who secured 17,181 votes, won the Town Bordowali seat defeating Congress candidate Asish Kumar Saha by a margin of 6,104 votes. As per the EC, the BJP candidate Malina Debnath won the Jubarajnagar seat defeating her nearest CPI-M rival Sailendra Chandra Nath by a margin of 4,572 votes.
BJP nominee Swapna Das (Paul) bagged the Surma (SC) seat thrashing her independent rival Baburam Satnami by a margin of 4583 votes.
In a significant political development, BJP turned Congress leader Sudip Roy Barman retained his Agartala constituency defeating his BJP rival Ashok Sinha by a margin of 3,163 votes. With the victory of Roy Barman, Congress re-entered into the 60-member state assembly after several years.
Over 78.58 per cent of the 1,89,032-strong electorate cast their votes on Thursday in the by-elections to four Assembly constituencies in Tripura. In all 22 candidates including seven women fought the by-elections.
The by-election is being termed by the political pundits as a "semi-final" before the 60-member Assembly's general elections, which is just eight months away.
The focus of the by-elections was mainly on the Town Bordowali Assembly constituency where Manik Saha contested against five other candidates. Saha, BJP's state president and a Rajya Sabha member who assumed office on May 15, a day after Biplab Kumar Deb's resignation from the post of chief minister, contested the election for the first time.
Maharashtra Governor conquers Covid, back home to Raj Bhavan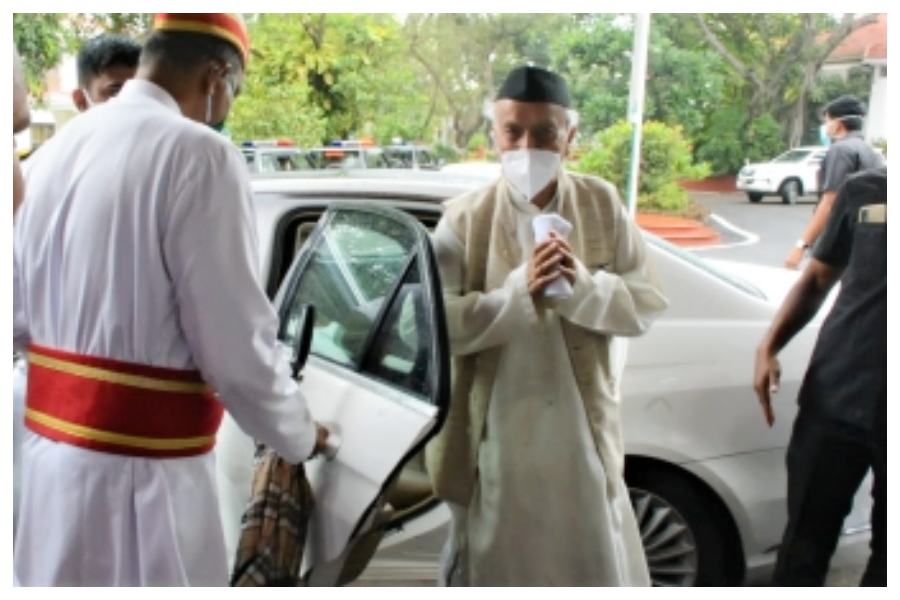 Maharashtra Governor Bhagat Singh Koshyari returned to Raj Bhavan after conquering a Covid-19 infection for four days, here on Sunday.
Koshyari, 80, was discharged from the Sir HN Reliance Foundation Hospital in south Mumbai where he was admitted on June 22.
Appearing cheerful as he was welcomed by the Raj Bhavan staff, the Governor said he was feeling "perfectly fine" now – as he prepares to grapple the huge political crisis engulfing the Maha Vikas Aghadi government.
"I got discharged from the hospital after four days. I am perfectly fine now. However, I have been advised to rest for a couple of days more. I would like to thank all my well-wishers," tweeted Koshyari.