It just gives you a completely new dimension: Gautam Gambhir on Ashwin's selection
Former Indian cricketer Gautam Gambhir said that off-spinner Ravichandran Ashwin's selection in the squad for the men's T20 World Cup gives the Indian team a completely new dimension. He added that Ashwin is a quality cricketer who should have played much more white-ball cricket.
Ashwin last played a T20I in July 2017 against West Indies and had been overlooked in the format since. With Washington Sundar unavailable due to finger injury, it opened doors for Ashwin to secure a place in the 15-man squad.
"Very happy for Ashwin. Probably, he shouldn't have been out of the white-ball cricket anyways, and now he's back. You will have to give it to the selectors and they've bought him back. It just gives you a completely new dimension," said Gambhir in a special T20 World Cup squad episode on Follow The Blues show on Star Sports on Thursday.
"He is someone, who can bowl with the new ball, he is someone who can bowl in the middle overs, he is someone who can bowl in the death as well – depending on the condition if he gets the game. For me, he is a quality cricketer, who should've played much more whit-ball cricket, as compared to what he has played," added Gambhir.
The 39-year-old was in full praise of batsman Suryakumar Yadav making it to the squad for the T20 World Cup and explained how Yadav is better than Shreyas Iyer, who was named in the reserves.
"Surya is a completely different class, as compared to Shreyas Iyer. He is much more versatile; he is much more unorthodox as well. In T20 cricket, you need people that are unorthodox; you want people who can hit that ball in different areas, and that is what T20 cricket is all about. He can lap you, he can late cut you, he can hit you over extra cover; he's got all the shots, especially at No.4, because sometimes No.4 is the most tricky position to bat in T20 cricket, probably the easiest is the top three, but No.4, because you might be in when you have lost two early wickets and you still want to continue the momentum."
"Sometimes you come into the middle, when you have got what 130 for 2, and you have got to continue with the momentum. So, Surya's got both kind of change, which probably Shreyas Iyer doesn't have. And again, you gotta be mindful that he is coming after a serious injury and you never know what kind of a form he would be in the second leg of IPL as well. So, they've gone with someone, who has done really well, since he has gone into international cricket," signed off Gambhir.
India will start their T20 World Cup campaign against Group 2 rivals Pakistan in Dubai on October 24.
ICC World Cup 2023: BCCI Secretary Jay Shah Presents 'Golden Ticket' To Bollywood Legend Amitabh Bachchan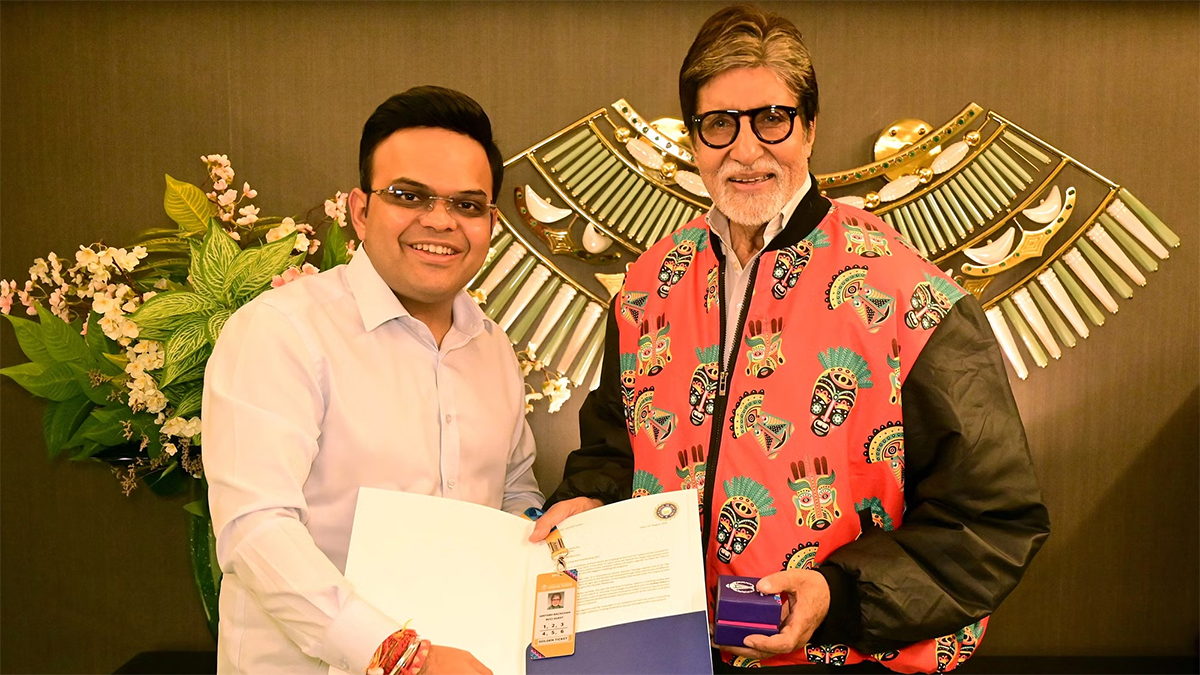 The Board of Control for Cricket in India (BCCI) secretary Jay Shah on Tuesday presented a Golden Ticket to Bollywood legend Amitabh Bachchan ahead of the ICC ODI World Cup 2023.
Amitabh Bachchan is a huge fan of Indian cricket and can now watch all the matches from the VIP stands for free, along with other luxuries that comes with the golden ticket.
"Golden ticket for our golden icons!
"BCCI Honorary Secretary @JayShah had the privilege of presenting our golden ticket to none other than the "Superstar of the Millennium," Shri @SrBachchan.
"A legendary actor and a devoted cricket enthusiast, Shri Bachchan's unwavering support for #TeamIndia continues to inspire us all.
"We're thrilled to have him join us for the @ICC @CricketWorldCup 2023," the BCCI posted on X.
India's World Cup Squad Announced
Meanwhile, the Indian squad for the ODI World Cup was announced by captain Rohit Sharma and chief selector Ajit Agarkar in Kandy on Tuesday.
The BCCI selectors has named a strong 15-man squad for the showpiece event in India starting October 5.
The team will be led by Rohit Sharma with all-rounder Hardik Pandya as the vice-captain.
India squad for ICC World Cup 2023: Rohit Sharma (c), Shubhman Gill, Virat Kohli, Shreyas Iyer, Ishan Kishan (wk), KL Rahul, Hardik Pandya (vc), Suryakumar Yadav, Ravindra Jadeja, Axar Patel, Shardul Thakur, Jasprit Bumrah, Mohammed Shami, Mohammed Siraj, Kuldeep Yadav.
GODSENT ROW FOR BJP: Sanatan Remarks Strike Right Into Hindu Heartland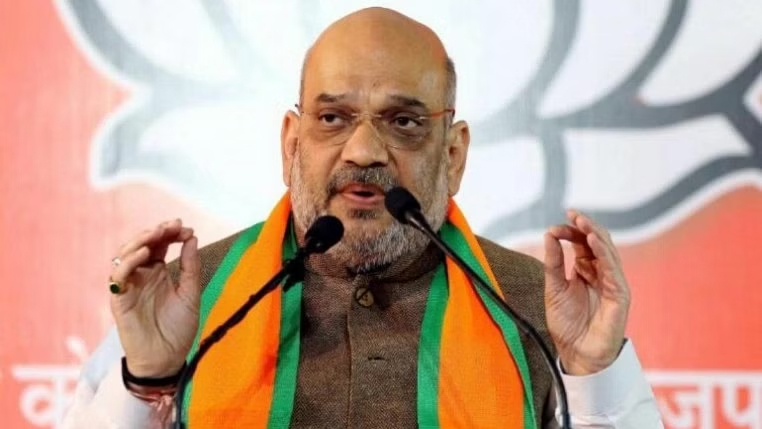 The Opposition has granted BJP a controversy on the platter with Udhayanidhi Stalin, son of Chief Minister MK Stalin, asserting that Sanatan Dharma is against the notion of social justice and must be "eradicated". Stretching the analogy further, he likened the creed to diseases like dengue and malaria, inviting sharp criticism from BJP leaders. Latching onto the statement, which could be godsend for the BJP just when elections in the Hindi heartland are around the corner, Union Home Minister Amit Shah said it was an attack ''on our heritage" and shows that the Opposition bloc "hates Hinduism."
Shah digs onto remark in poll-bound Madhya Pradesh
Addressing a public meeting in Beneshwar Dham in Dungarpur on Sunday, Shah asked the crowd if people were ready to accept Udhayanidhi's remarks on eradicating the Sanatan Dharma. These people have insulted 'Sanatan Dharma' and are talking about finishing it off for appeasement and vote bank politics, the BJP leader said. (Shah's statement resonated in poll-bound Madhya Pradesh)
"Is this the political strategy that the INDIA alliance drew up two days ago in Mumbai?" Shah was here to flag off the second Parivartan Yatra of Rajasthan BJP that will cover 52 assembly constituencies of Udaipur and Kota divisions in the next 19 days. Widening the ambit of his attack, Shah recalled Congress leader Rahul Gandhi's 2010 remark in which he had likened radical Hindu outfits to terrorist organizations and said that they were a bigger threat than Lashkar-e-Taiba.
"They also say there will be Sanatan rule if Modi wins"
Shah also alluded to former Home Minister and Congress leader Sushil Kumar Shinde's remark that the BJP and the RSS were fanning 'Hindu terrorism,'' to suggest that these comments were not off the cuff but were part of a well-thought out political gambit. Coming back to Sanatan Dharma, Shah insisted it rules the hearts of people. "They also say there will be Sanatan rule if Modi wins,'' he added, even as he clarified that PM Modi has underlined that India will be run as per the Constitution.
Accusing the Congress of blocking the construction of Ram Temple in Ayodhya, the Union Home Minister said, "The grand Ram temple will be ready in January at Lord Ram's birthplace. INDIA alliance cannot stop it. Congress had blocked it for years." Shah recounted the incidents of communal violence during the last five years in Rajasthan and accused the Ashok Gehlot-led Congress government of making the state hostage to vote bank politics.
He attacked Gehlot and said ''he is scared of a 'Lal Diary' which has the details of his government's corruption and black deeds.'' The BJP is taking out four pre-poll Parivartan Yatras from four prominent religious places in the state. The first of these Yatras was flagged off by BJP president JP Nadda from Trinetra Ganesh Temple in Sawai Madhopur on Saturday, and the second by Shah on Sunday, while the remaining two yatras will start in the next two days from Ramdevra and Gogamedi temples
'Superman Of Punjab' Kuwar Amritbir Singh Breaks Bruce Lee's Guinness Record For Most Push-Ups On Fingers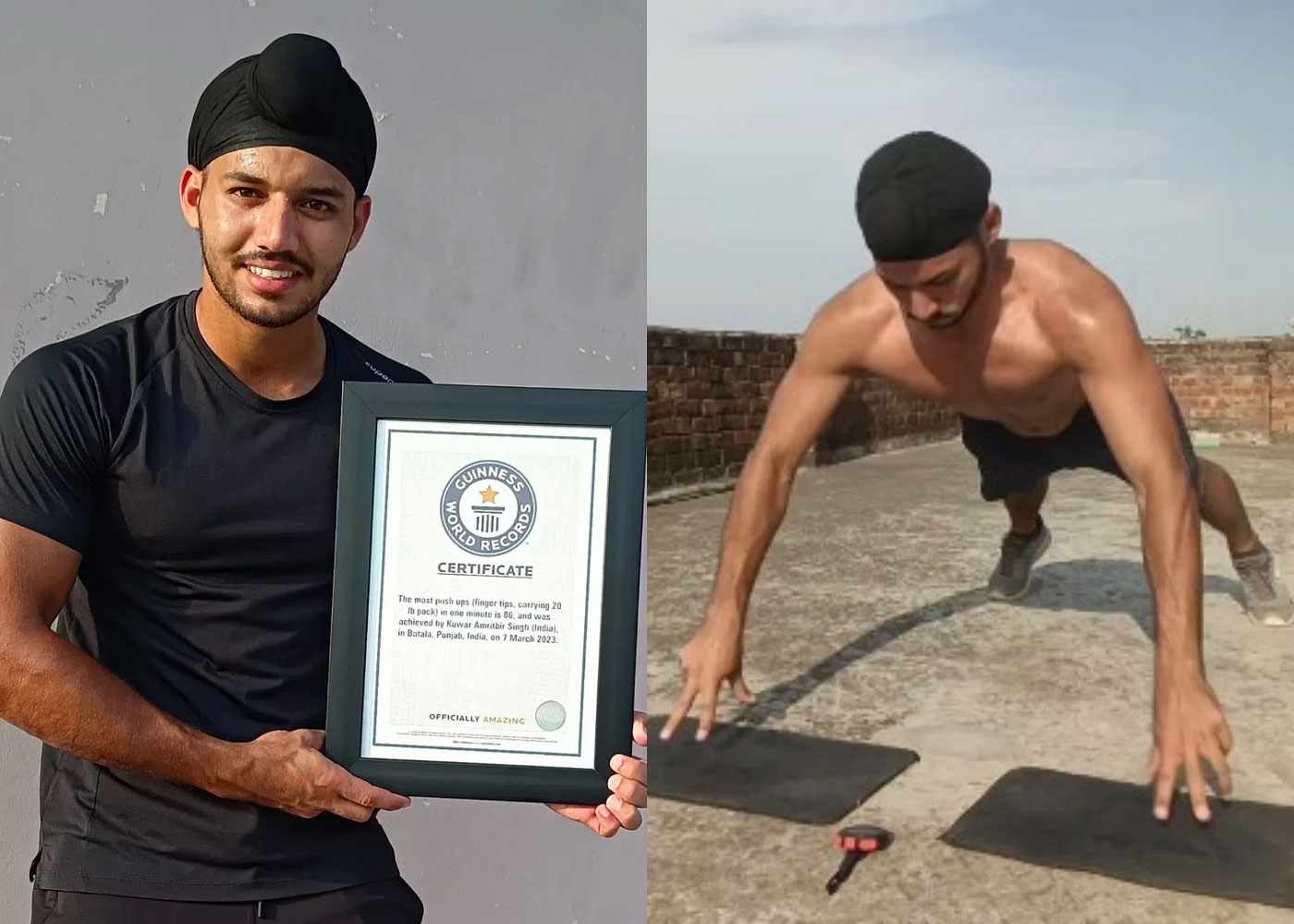 Punjab-based fitness enthusiast Kunwar Amritbir Singh has set another world record by doing the most number of push-ups on fingers in a minute, breaking Bruce Lee's record in the process.
21-year-old Amritbir Singh set a new Guinness World Record by doing 86 push-ups on finger tips while carrying a 20lb pack. Martial Arts legend Bruce Lee had managed 80 push-ups.
"The journey to make my 2nd Record in Guinness Book of World records was started on 9th February, 2023. & I have practiced for just 25 days to Attempt this Record & it wasn't tough for me to break this record ' Yesss !!
"Because it's a common thing for everyone that we have to work hard if we want to achieve our goals so working hard is not much tougher than the
"Patience, which we should have when we are done with our work!!" Singh posted on Instagram.
But this is not his first Guinness Record as he had achieved another remarkable feat last year when he did 45 push-ups with claps (finger tips) in a minute.
Who is Kuwar Amritbir Singh?
Also known as the Super of Punjab, Amritbir Singh has never been to the gym or hasn't had any formal training in the body-building.
Amritbir Singh is a student of Khalsa College in Amritsar and trains at home with the help of basic equipments.
Amritbir Singh is also a motivational speaker and a social media influencer. He started his fitness journey at the age of 17 and believes in natural training without any protein supplements.
He even uses basic techniques to train. "I used bricks, sand bags, plastic bags with cement etc as equipment to carry out my fitness regimen," says Amritbir.
He has over 238,000 followers on Instagram and has his own YouTube channel where he teaches workout techniques without the use of expensive gym equipment.
List of Guinness World Records held by Amritbir Singh
Most push-ups on finger tips with a 20lb pack in a minute – 86
Most push-ups with claps (finger tips) in a minute – 45
Most knuckle push-ups in a minute – 118
Most superman push-ups in 30 seconds – 35
Countless push-up in a minute