IPL 2022: Ashwin happy to contribute with bat and ball in Rajasthan Royals' win
Having helped Rajasthan Royals to a five-wicket win against Chennai Super Kings in Match 68 of IPL 2022 with superb all-round performance, off-spinner Ravichandran Ashwin was elated to get the chance to bat and make a 'double' contribution in the team's victory.
Ashwin claimed 1/28 with the ball as he helped Rajsthan Royals claw their way back into the game after CSK had blasted 75/1 in powerplay, thanks mainly to Moeen Ali, who smashed a 19-ball half-century.
Ashwin then came back to contribute with the bat as well, scoring 40 runs off 23 balls as Rajasthan Royals successfully chased 151.
"Feels like a million dollars. It was a special day for us. Finishing with a win and getting two bites of the cherry was important," said Ashwin after being adjudged Player of the Match for his all-round performance.
The seasoned off-spinner said he had been promised that he would be promoted up the order in batting and get a chance to play in the powerplay if he worked on his batting.
"The communication (from the team management) was clear before the season on what I needed to work on. The management had ensured my role was well defined, I opened in practice games. I was told I'll play in the powerplay but not at the death (laughs)," he said.
About bowling in T20 matches, Ashwin said his role is to force the batters to take risks.
"In T20, you can't chase wickets. I have to make batters take risks. Sometimes, they don't and I'll have to bowl for the other end. I have understood the game well and am innovative," Ashwin said.
The 35-year-old from Chennai said that the CSK trainers and strength specialists have encouraged him to work on his physical fitness, which has resulted in him hitting three big sixes on Friday.
"I don't have enough power, credit has to go to Rajamani (Prabhu, Strength Specialist) and Zubin Bharucha. They've understood my nature and that I don't bat the same (in) every game. They've encouraged me and I've practiced a lot," said Ashwin.
About playing for a new franchise, Ashwin said, "I want to play my A-game for all franchises I play for. It's a mark of respect. Glad we're in the playoffs," he said.
'I'm happy here': Cristiano Ronaldo pledges to continue at Al Nassr in Saudi Pro League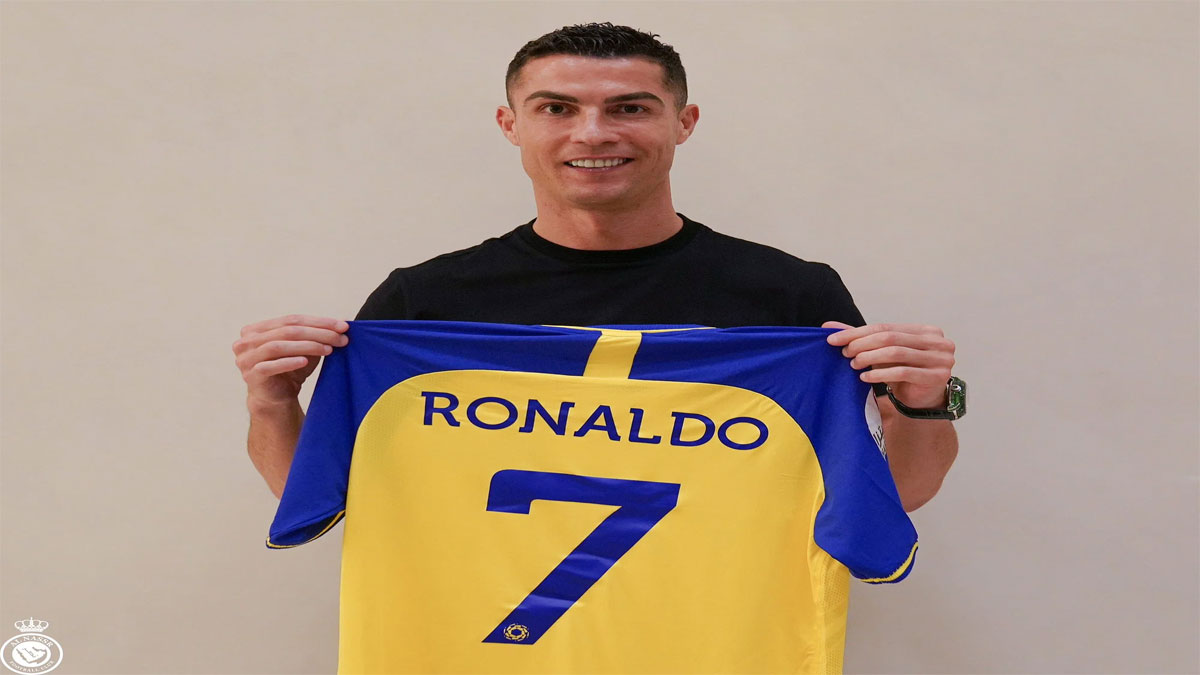 Portugese footballer Cristiano Ronaldo has vowed to continue at Al Nassr in Saudi Arabia despite walking away empty handed in this season. The 38-year-old has earmarked the tournament to be among the top five in the world.
Ronaldo, who signed a two and a half year contract with Al Nassr, scored 14 goals in 16 games in the season, with his side standing second behind Al Ittihad in the Saudi Pro league. However, there were speculations about how long will he stay as reports of swap deal with Saudi-owned Newcastle United emerged, who have now qualified for next season's Champions league.
In an official Saudi Pro League interview, the star footballer revealed:
"I'm happy here, I want to continue here, I will continue here. And in my opinion, if they continue to do the work that they want to do here, for the next five years, I think the Saudi league can be a top five league in the world. I expected to win something this year, but we didn't, but next year I'm really positive, but next year I'm really positive and confident that things will change and we go in a better way."
Cristiano Ronaldo suggests he is still adjusting to strange training timings in Saudi Arabia:
Ronaldo also revealed how contrasting the training timings in Europe and Saudi Arabia are, elaborating:
"In Europe, we train more in the morning, but here we train in the afternoon or evening and in Ramadan, we train at 10 at night. So this is strange but as I tell you, these situations are part of an experience, memories. I like to live these moments because you learn with these things."
With 837 goals in 512 games, Ronaldo is the combined highest goal scorer in history.
Lionel Messi to leave PSG at the end of the season, confirms club manager Christophe Galtier
Paris Saint Germain superstar Lionel Messi will leave the club at the end of the current season, manager Christophe Galtier confirmed on Thursday. Messi made 74 appearances for PSG in which he scored 32 goals and made 35 assists. In Ligue 1, Paris Saint-Germain has played 37 matches out of which they have won 27, lost six and drew four.
PSG had acquired Messi's services two years ago in a record transfer deal after he left FC Barcelona in 2021.
Messi, who's contract with PSG ends this season, is now being linked with with a move to Saudi Arabia while talk of a return to the Nou Camp has picked up in Spain in recent weeks.
The six-time Ballon d'Or winner will play his final match for PSG against Clermont Foot on Saturday.
"I had the privilege of coaching the best player in the history of football," Galtier said on Thursday. "This will be his last match at the Parc des Princes, and I hope that he will receive the warmest of welcomes."
Messi's envious record
In the Spanish La Liga football competition, Lionel Messi has scored 474 goals in 520 matches. In the French Ligue 1, Messi has scored 22 goals in 57 matches.
The 35-year-old while playing for Football Club Barcelona has scored 672 goals in 778 games. While playing for Paris Saint-Germain he has scored 32 goals in 74 matches.
No plan to bring Messi back: Barca president
FC Barcelona President Joan Laporta recently said that the club has re-established good relationships with Argentine legend Lionel Messi, but it would not pay any price to bring him back to the Camp Nou Stadium.
"I have spoken with Leo to somehow redirect the situation that occurred when I had to put the institution ahead of everything, including him, the best player in the world," said Laporta in a Monday morning TV show.
Protesting wrestlers to discard their medals in Ganga river today at 6pm, sit on hunger strike at India Gate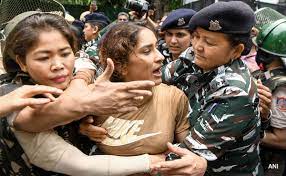 The protesting wrestlers demanding the arrest of Wrestling Federation of India (WFI) chief Brij Bhushan Singh over sexual allegations have threatened to discard their coveted medals in Ganga river in Haridwar on Tuesday at 6 pm. Their announcement came as the Delhi Police cleared all the signs of the wrestlers' month-long protest.
The likes of Sakshi Malik, Bajrang Punia, Vinesh Poghat, and Satyawart Kadian have been protesting for over a month, asking for Brij Bhushan Singh's arrest over sexual allegations of female athletes, including a minor. On May 28th, all the wrestlers suffered ill treatment from the police officials as they were dragged relentlessly, prompting an outrage among social media users over the behaviour towards the athletes.
On the same day, the police officials entered the wrestlers' tents at Jantar Mantar in Delhi to destroy them. Sakshi Malik, an Olympic Bronze medalist and one of the protestors condemned it by posting a clip on Twitter. She wrote on Twitter, stating 'After arresting all the wrestlers and old people, the cops have started to destroy our march. Our things have been started lifting. What kind of hooliganism is this?'
Hence, Malik, on Tuesday, issued a lengthy statement on Twitter in Hindi, announcing to dispose of their medals in Ganga river. 'These medals are our lives, our souls. There would be no reason to live after throwing them in the Ganga today. So, we will stage a hunger strike until death at India Gate after that.'
While Malik has an Olympic bronze medal won in 2016, wrestler Vinesh Poghat has two commonwealth golds, one Asian Games gold medal. She was also crowned Asian Champion in 2021 and won the World Championships Bronze in 2021. Meanwhile, Bajrang Punia won a bronze in the Tokyo Olympics in 2020. He also went on to win bronze in 2013, silver in 2018, and bronze in 2019.
Police officials blocked the wrestlers' march towards the parliament on Sunday:
On the day of the new Parliament building's opening, the protest produced devastating images as Delhi Police cracked down on them in the middle of their march.
Hundreds of police officers and paramilitary people obstructed the wrestlers' protest march as they attempted to progress towards the new Parliament House. A violent altercation between wrestlers and police officers occurred as the demonstrators attempted to break through the security perimeter.
Leading members of the opposition, such as Rahul Gandhi of the Congress, Priyanka Gandhi Vadra, Arvind Kejriwal of Delhi, and Mamata Banerjee of West Bengal, have criticised the central government for staying mum over Brij Bhushan Singh.