IPL 2022: Ashwin happy to contribute with bat and ball in Rajasthan Royals' win
Having helped Rajasthan Royals to a five-wicket win against Chennai Super Kings in Match 68 of IPL 2022 with superb all-round performance, off-spinner Ravichandran Ashwin was elated to get the chance to bat and make a 'double' contribution in the team's victory.
Ashwin claimed 1/28 with the ball as he helped Rajsthan Royals claw their way back into the game after CSK had blasted 75/1 in powerplay, thanks mainly to Moeen Ali, who smashed a 19-ball half-century.
Ashwin then came back to contribute with the bat as well, scoring 40 runs off 23 balls as Rajasthan Royals successfully chased 151.
"Feels like a million dollars. It was a special day for us. Finishing with a win and getting two bites of the cherry was important," said Ashwin after being adjudged Player of the Match for his all-round performance.
The seasoned off-spinner said he had been promised that he would be promoted up the order in batting and get a chance to play in the powerplay if he worked on his batting.
"The communication (from the team management) was clear before the season on what I needed to work on. The management had ensured my role was well defined, I opened in practice games. I was told I'll play in the powerplay but not at the death (laughs)," he said.
About bowling in T20 matches, Ashwin said his role is to force the batters to take risks.
"In T20, you can't chase wickets. I have to make batters take risks. Sometimes, they don't and I'll have to bowl for the other end. I have understood the game well and am innovative," Ashwin said.
The 35-year-old from Chennai said that the CSK trainers and strength specialists have encouraged him to work on his physical fitness, which has resulted in him hitting three big sixes on Friday.
"I don't have enough power, credit has to go to Rajamani (Prabhu, Strength Specialist) and Zubin Bharucha. They've understood my nature and that I don't bat the same (in) every game. They've encouraged me and I've practiced a lot," said Ashwin.
About playing for a new franchise, Ashwin said, "I want to play my A-game for all franchises I play for. It's a mark of respect. Glad we're in the playoffs," he said.
Suryakumar becomes highest run-scorer for India in a calendar year in T20Is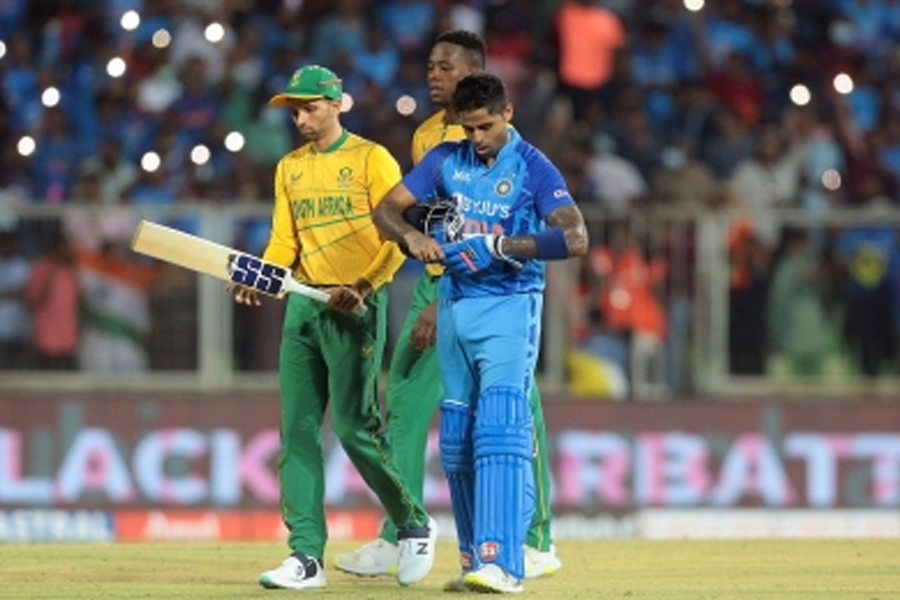 Charismatic India batter Suryakumar Yadav's string of fine performances in the last few series has seen him became the highest run-scorer for India in a calendar year in T20Is, which bodes well for Rohit Sharma's team as it aims to reclaim the T20 World Cup crown it won nearly 15 years back.
During the opening T20I against South Africa at Thiruvananthapuram on Wednesday, Suryakumar smashed another unbeaten half-century (50 off 33 balls) as India defeated the visitors by eight wickets with 20 balls to spare in a low-scoring game.
Chasing 107 for victory, opener KL Rahul's 51 followed by Surya's unbeaten 50 made the task of achieving the win a cakewalk and take a 1-0 lead in the three-match series.
Suryakumar continued his incredible run in T20Is this year, completing more than 700 runs in the format in the year, according to ICC. His tally of runs in T20Is in 2022 is a record for an Indian batter with Surya going past Shikhar Dhawan's 689 runs in 2018 in the format.
What makes his record even more glorious is the fact that the batter has scored these runs at a strike rate of more than 180 and an average more than 40.
Coming in at No.4 on Wednesday, with India reeling at 17/2 in the seventh over, Surya slammed two maximums off the first three balls he faced to ease the pressure and give the Indian innings a change in momentum after a sluggish start.
He remained unbeaten on 50 off 33 balls as India scaled the target with more than three overs to spare.
With the two sixes early in the innings, Surya also went past Pakistan's Mohammad Rizwan to record the most sixes in any calendar year in T20Is. Rizwan held the record for his 42 sixes in 2021 with Martin Guptill also smashing 41 sixes in 2021.
Surya has taken his tally of sixes to 45 in 2022 already, a record in all T20Is, with three more months to widen the gap with Rizwan. While Rizwan took 26 innings to make 42 sixes, Suryakumar has broken the record batting five times fewer.
Surya is up to second position in the latest ICC Men's T20I Player Rankings with 801 rating points after his half-century in the third and final T20I against Australia in Hyderabad.
1. Suryakumar Yadav 732 runs, 40.66 average, 180.29 strike rate, 2022.
2. Shikhar Dhawan 689 runs, 40.52 average, 147.22 strike rate, 2018.
3. Virat Kohli 641 runs, 106.83 average, 140.26 strike rate, 2016.
4. Rohit Sharma 590 runs, 36.87 average, 147.5 strike rate, 2018.
5. Rohit Sharma 497 runs, 29.23 average, 131.48 strike rate, 2016.
6. Rohit Sharma 497 runs, 26.15 average, 146.17 strike rate, 2022.
Virat Kohli one of the best chase masters in the world; his consistency is amazing: Ajay Jadeja
Former India cricketer Ajay Jadeja has called Virat Kohli as one of the best chase masters in the world of cricket, adding that the solidity the former skipper provides to the team is just unrivalled.
Virat played a pivotal role in helping India win the three-match T20I series against Australia in the last game at Hyderabad, scoring a 48-ball 63 that helped the hosts chase down the Kangaroos' competitive target of 187 to seal the series 2-1.
With his 104-run stand with charismatic batter Suryakumar Yadav (69), it was a treat to watch the two batters go about their task of punishing the visitors' bowling that had the likes of Pat Cummins, Josh Hazlewood and Cameron Green among others.
Ever during the Asia Cup in the UAE recently, Kohli, returning to the side after taking a month-long break from the game to recharge his batteries, was in peak batting form.
"I mean that's the key to Indian cricket. I mean it's been that for a while, for a long time. I mean there was a period where Virat Kohli would score runs and if there was anything, MS Dhoni would finish it off at the end," said Jadeja on Cricbuzz.
"But now with the personnel changing around Virat Kohli, it's made it easier for him and it's made it easier for everyone else around him to play at a whole different ball game and the solidity that Virat Kohli provides and for me it's always been the solidity of Virat Kohli, not the striking ability. That's why he was a chase master. He is a chase master. He understands the pace of the game."
Jadeja conceded Kohli might not be the best in terms of striking ability and hitting massive sixes, but his consistency is priceless.
"He may not have the striking ability that a lot of players have around the world and in that Indian team but there is no one else that I know who has the consistency of Virat Kohli," added Jadeja.
The former Indian batter also highlighted why Kohli is such a fearsome name in any cricketing echelons, pointing out, "So if consistency is what you want, this is your man and he's not shown it today, he's been showing it to you for 10, 12, 15 years. It's just that when you expect him to do what the others do, that's when the trouble begins."
2nd T20I: Rain threat looms large over India v Australia clash in Nagpur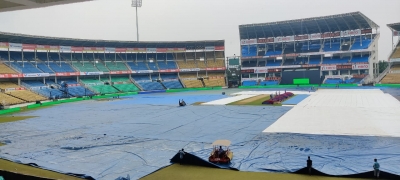 Friday's second T20I match between India and Australia at the Vidarbha Cricket Association Ground in Jamtha is likely to be impacted with rains that lashed the city overnight and early morning.
With Nagpur under a wet spell for the last few days, the bosses at the Vidarbha Cricket Association are spending their days in trepidation as rain is predicted for the match day too. The match tickets at the 45,000-capacity stadium is already sold out and they will have to refund the buyers in case the match does not go ahead.
Both the teams landed in Orange City on Wednesday afternoon and were greeted by heavy rain in the evening and the intervening night. There were showers early on Thursday morning and though the rain has abated around 10 am, heavy cloud cover over the city means, there is always a threat of more rain.
In such conditions, the sun did not bother to even take a peek at the City, thus further reducing the chances of the ground getting dry on Thursday itself.
The morning spell of rain forced both Australia and India to cancel their scheduled practice session in the afternoon and evening. The players did not travel to the stadium, engaging in a light gym session at the team hotel.
The groundsmen removed the covers around noon to check but with the threat of a drizzle looming, put them back soon. According to VCA officials, they are running the super sopper and ensuring there no leakage, hoping that there is no further rain on Thursday and Friday.
Nagpur is hosting its first international match in three years and there is lot of enthusiasm among fans, who purchased the tickets online within a few minutes. Even then the telephone at the VCA's oid stadium in the City is ringing off the hook with people still enquiring whether tickets were available offline.
The stadium is more than 20km far from the City and the VCA is facing some lots of issues regarding providing parking spaces for the spectators that take their own vehicles.