India, Hungary discuss Ukraine & engagement with European Union
The foreign ministers of India and Hungary on Friday discussed the ongoing conflict in Ukraine and India's engagement with the European Union.
Hungry's Foreign Minister Peter Szijjarto, who is on a day's visit to Delhi, met Minister of External Affairs S. Jaishankar here.
After the meeting, Jaishankar said, "Valued the assessment of the Ukraine conflict and its knock-on effects in different domains. Also acknowledged Hungary's steadfast commitment to an expanded Indian engagement with the European Union."
Jaishankar said that he appreciated the Hungarian support for 'Operation Ganga' and discussed admission of Indian medical students in Hungary colleges. He also recalled Hungary's early recognition of Covaxin and openness to travel arrangements. "Need to strengthen our longstanding cooperation in multilateral forums," he added.
The two countries reviewed further cooperation in Science & technology, education and cultural relations.
The Hungarian FM said that the economic cooperation between India and Hungary has been hitting records and last year, a record was hit when it came to the volume of trade. But geographical distance is still considerable, he added.
Szijjarto said that two contracts will be signed-for development of trade and attracting investment. There is going to be an energy supply crisis in Europe and maybe globally, and those countries will be safe who can produce the most of the energy they consume, he said.
Hungary is the newest member of the International Solar Alliance and both countries are working to strengthen bilateral trade and relations.
Minister of State Meenakshi Lekhi and Szijjarto inaugurated a business forum. "Our bilateral trade has seen rapid growth in recent years. This event is a step in realising our full potential in trade & investment & expanding our ties," Lekhi tweeted.
UP officer eulogizes Osama bin Laden despite suspension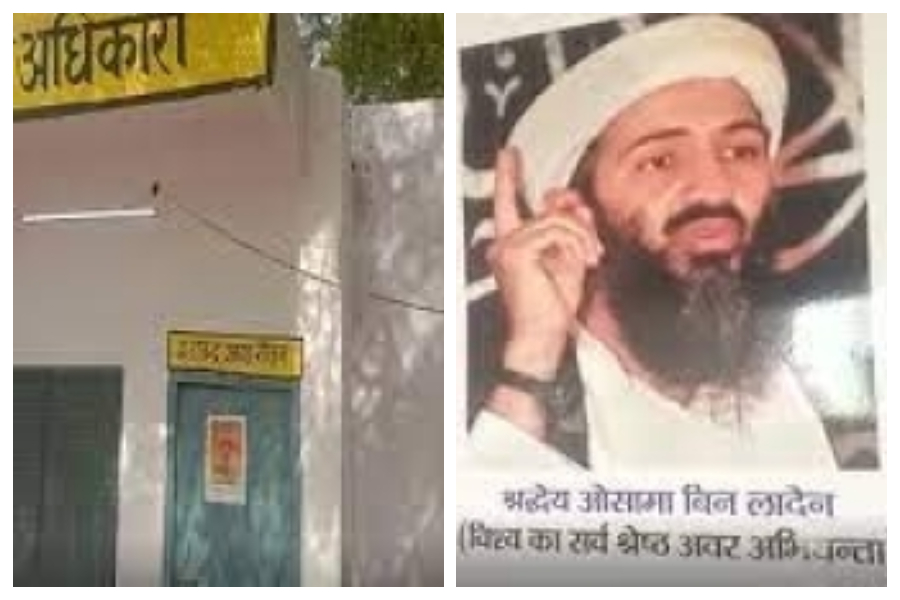 The Sub-Divisional Officer (SDO) of the Uttar Pradesh Electricity department, says he will still hail slain global terrorist Osama bin Laden despite getting suspended.
SDO Ravindra Kumar Gautam, who had earlier displayed a framed photograph of Osama bin Laden in his office at Nawabganj in Farrukhabad district, and wrote "Revered Osama bin Laden — World's best junior engineer" is facing suspension and disciplinary action.
He said, "I consider Osama bin Laden to be my 'Guru'. If the photo is removed, I will arrange another and hang it again. Everyone is free to choose his ideal."
The SDO had put up Osama bin Laden's framed picture in the waiting room of his subdivision office.
He was suspended after the photograph of the terrorist went viral on social media.
Farrukhabad District Magistrate, Sanjay Kumar Singh had sent a report to the state government following which Dakshinanchal Vidyut Vitaran Nigam Limited's Managing Director Amit Kishore suspended Gautam and recommended strict disciplinary action against him, saying his act has tarnished the image of the state Electricity department.
"Strict disciplinary action has been recommended against SDO Ravindra Kumar Gautam," said Kishore.
During suspension period, the SDO will be transferred to the Electricity Distribution Board, Kannauj. His act is contrary to the provisions of Government Servants Conduct Rules, 1958, the Managing Director added.
Sources in the state Electricity department said the SDO had put Osama's photo in office about a week ago, and though clerks, operators, two junior engineers and a dozen linemen visit it daily, no one raised an objection.
Chief Engineer Rakesh Verma said, "A committee has been constituted to probe the matter. A report has been sought and action will be taken against other employees also."
'Ukrainian grain must not be used as a weapon of war': Pope Francis
Pope Francis has appealed for an end to the blockage of grain exports from Ukraine.
At the conclusion of the Pope's weekly General Audience in the Vatican, the Holy Father again turned to the ongoing war in Ukraine, Vatican News reported.
"Of great concern," the Pope expressed, "is the blocking of grain exports from Ukraine, on which the lives of millions of people, especially the poorest countries, depend."
"I earnestly appeal for every effort to be made to resolve this issue and to guarantee the universal human right to food."
"Please do not use wheat, a staple food, as a weapon of war!"
He decried these shortages caused and worsening since Russia's invasion of Ukraine.
India is free but we are slaves: Imran Khan
Severely criticising Pakistan's incumbent federal coalition government, former Prime Minister Imran Khan said the "American slaves" had increased the prices of petroleum products, while India bought cheap oil from Russia and reduced prices.
"It showed India is free but we (Pakistanis) are slaves," The News quoted the Pakistan Tehreek-e-Insaf (PTI) Chairman as saying while addressing a workers convention at Sheikabad, Charsadda, on Sunday.
He lauded India for following an independent foreign policy, saying it imported crude oil from Russia despite American sanctions.
"Our government signed an agreement with Russia to buy oil at 30 per cent discounted rates. Our government was dislodged under a conspiracy," he said.
Khan said an independent foreign policy was imperative for speedy progress of Pakistan.
He warned that the nation would not forgive Prime Minister Shehbaz Sharif, Interior Minister Rana Sanaullah and Punjab Chief Minister Hamza Shehbaz for torturing peaceful protesters of his party and conducting raids at their houses.
The PTI chief reiterated that they all would be brought to book and sent behind bars soon.
Asking the youth to get ready for another long march, Khan said that his party would soon start marching towards Islamabad to bring down the "imported government".
He warned that his party workers would "snatch" their rights if they were denied it through peaceful means.