Heavy rain in Gujarat, alerts issued in many districts
Heavy rain lashed different parts of Gujarat on Tuesday, the Met Department said.
Amid the heavy rain, the department will issue an orange alert in eight districts and a yellow alert in seven districts of Gujarat on Wednesday.
Apart from this, an orange alert has also been issued in three districts of south Gujarat.
Heavy rain inundated Ahmedabad since Monday due to which the city is facing water-logging in several areas. Ahmedabad received nearly half an inch of rainfall since Tuesday morning.
According to the Met department forecast in Surat, there is a possibility of heavy to very heavy rain in south Gujarat till Thursday.
Surat has witnessed heavy rain since Tuesday morning. Two inches of rainfall has been recorded in Varachha since Tuesday morning while three inches of rainfall was witnessed in Udhana-Limbayat area from Monday evening till Tuesday 6 a.m.
The water in streams has reached danger levels due to the heavy rain. The Mithikhadi area of Limbayat has been completely inundated.
According to the forecast by the Met Department, an orange alert was issued in north Gujarat's Banaskantha and Sabarkantha on Tuesday.
An orange alert has also been issued in Saurashtra's Jamnagar while a yellow alert has been sounded in Patan, Mehsana, Aravalli, Surat, Navsari, Valsad, Kutch, Morbi, Dwarka and Gir Somnath.
There is a possibility of heavy rain in Surat, Navsari, Valsad and Kutch in south Gujarat on August 17. In the last 18 hours, 209 talukas received rain, with the highest in Vyara in Tapi district and Dolwan receiving 5.76 inches of rain.
Due to the rain, 74.62 per cent water capacity is currently available in reservoirs, including the Narmada dam in the state.
Due to this, the problem of agriculture and drinking water has been resolved in Gujarat for the upcoming year.
As much as 85.56 per cent of the season's rainfall has been recorded in Gujarat, which is the highest rainfall recorded till August 14 in the last eight years.
In 2021, the state recorded only 36.84 per cent of the season's average rainfall till August 14 with 12.18 inches. Therefore, the amount of rainfall this time is more than double as compared to that in 2021. This time more than 40 inches of rain has been recorded in 41 talukas of the state.
Kutch has received 137 per cent, south Gujarat 95 per cent, Saurashtra 78 per cent, north Gujarat 76 per cent and east central Gujarat 73 per cent of rainfall.
District-wise, Valsad has received 91 inches, Dang 77 inches, Navsari 70 inches and Narmada 53 inches of rainfall. Two talukas, Kaprada and Dharampur, have received more than 100 inches of rain, including 127 inches in Kaprada and 103 inches in Dharampur.
Six districts of Kutch, Gir Somnath, Devbhoomi Dwarka, Porbandar, Narmada and Valsad recorded more than 100 per cent of the season's rainfall, including Gir Somnath with 101 per cent received 38.74 inches of rainfall, Devbhoomi Dwarka with 100 per cent received 28.84 inches, Porbandar with 110 per cent received 33.30 inches, Narmada has received 127 per cent with 53.26 inches rainfall while Valsad has received 101 per cent with 90.94 inches rainfall.
In 43 taluks the seasonal rainfall is more than 100 per cent.
At present, 70 reservoirs in the state are on high alert, while 14 reservoirs are on alert with up to 90 per cent water capacity filled. As many as 15 reservoirs with 80 per cent water have been issued a warning.
As many as 107 reservoirs have nearly 70 per cent water. Nearly 1,04,000 cusecs of water is being received by the Narmada dam due to rain and water released from Indira Sagar dam upstream of Sardar Sarovar Narmada dam, due to which the water level of Narmada dam has reached 135.11 metre.
The maximum water level of Narmada dam is 138.68 metre, which is now only 3 metres away from the danger mark.
Mumbai Monsoon Update: Heavy rain alert in Palghar including Mumbai, Thane, thunderstorm likely on Friday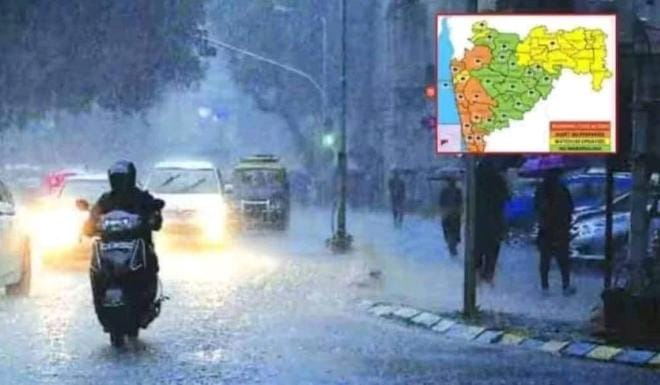 Mumbai: Climate in Mumbai Rains that had stopped for the last several days made a vigorous presence again in Mumbai city and suburbs since Thursday morning. It has been raining continuously in Mumbai since morning. Meanwhile, the Meteorological Department has warned of heavy rains in Mumbai, Thane and Palghar on Thursday and Friday. Due to this, rain is likely to continue in these areas for the next few hours. The weather department has also predicted rain with thunderstorms on Friday.
It had stopped raining for the past several days
However, the intensity of rain is likely to increase in the state due to the formation of a low pressure area in the Bay of Bengal. The Meteorological Department estimates that there is a possibility of heavy rain in most parts of the state for the next two to three days. The Meteorological Department has predicted heavy rain in Mumbai, Thane, Palghar and Raigarh, Ratnagiri and Sindhudurg districts for the next two days.
Delhi Rains: Waterlogging, Traffic Snarls in Many Parts After Heavy Rain Lashes National Capital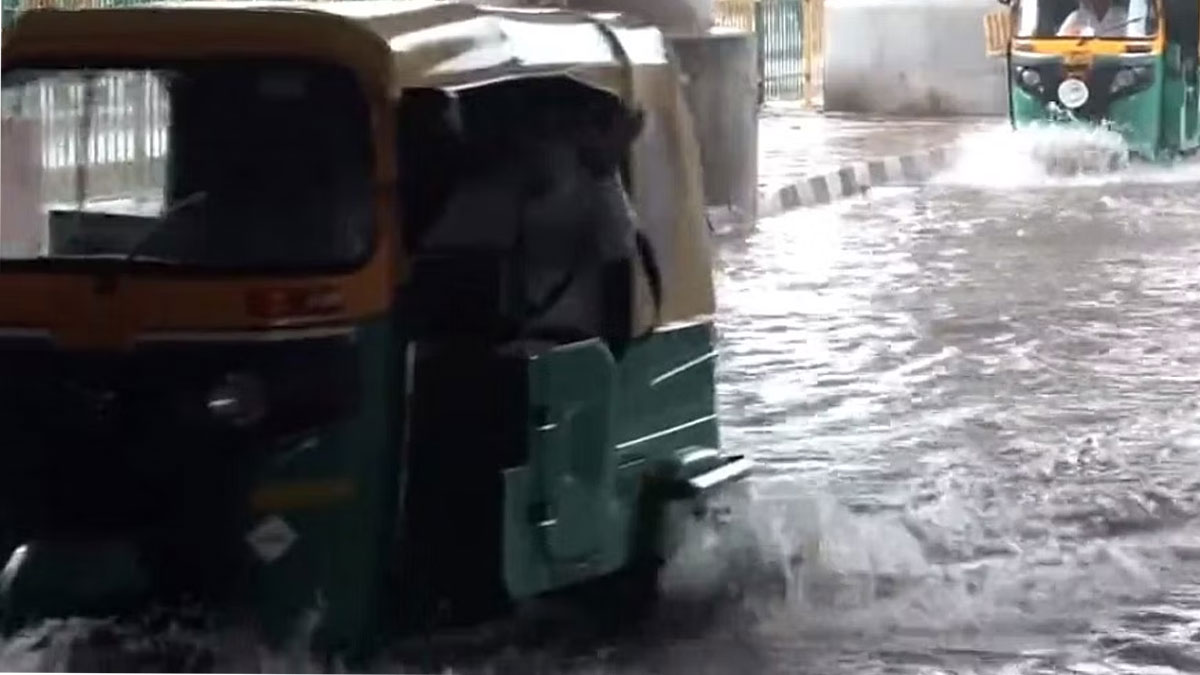 Heavy rain lashed the national capital on Saturday, leading to waterlogging and traffic snarls in several parts of the city. Waterlogging was reported at the Badarpur metro station, RK Puram, and AIIMS, while massive snarls were witnessed at the Mathura Road, Mehrauli, Peeragarhi in the morning.
The India Meteorological Department (IMD) had predicted that Delhi, Himachal Pradesh, Punjab and Haryana will experience light to moderate scattered rainfall with fairly widespread occurrences from Friday to Sunday.
Following the rainfall, the minimum temperature in the national capital on Saturday dipped to 25 degrees Celsius, two notches below the seasonal average. The IMD has predicted moderate rain through the day.
The maximum temperature is expected to hover around 34 degrees Celsius and the relative humidity at 8.30 a.m. on Saturday morning was recorded at 100 per cent.
Mumbai rains: After heavy rainfall IMD issues red alert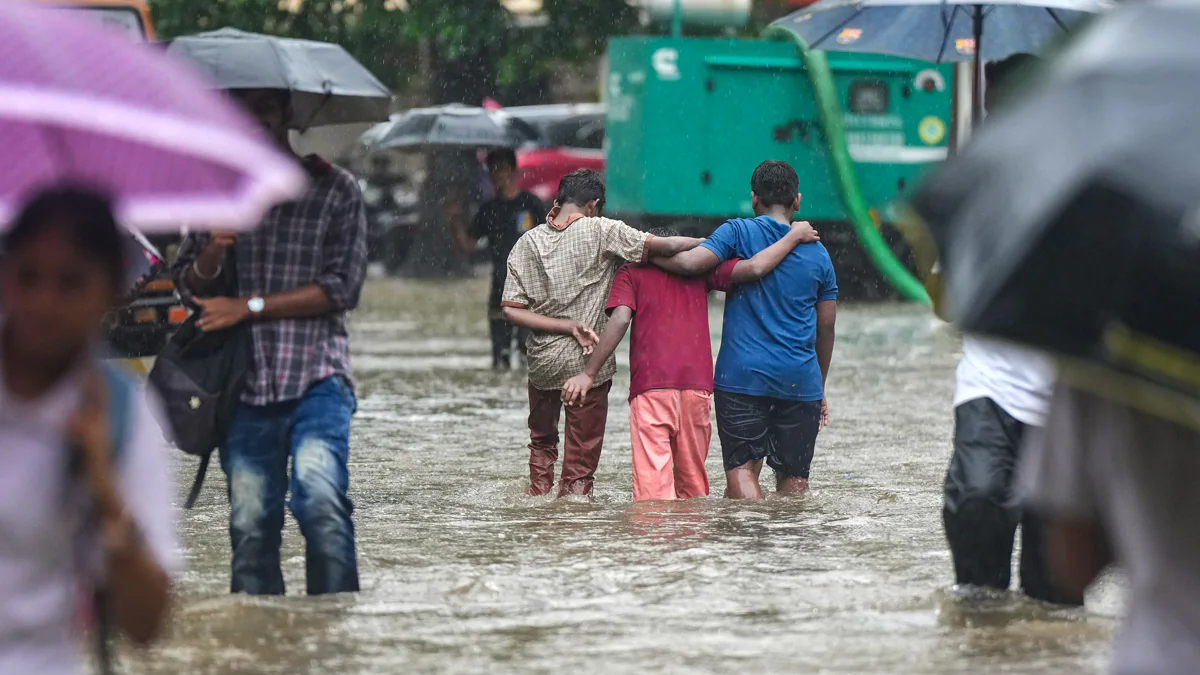 After witnessing heavy rainfall for more than a week, Mumbai is facing another episode of extremely heavy rainfall on Wednesday and Thursday. The Indian Meteorological Department has issued red alert for the Mumbai City and Suburban area from 8 pm on Wednesday till Thursday afternoon. In the wake of heavy rainfall, schools have been shut in the city. There is a high possibility of disruption in traffic, local train, and bus services. Know all updates about rainfall situation in Mumbai here.
Amid heavy rainfall, the collective water capacity of total 7 lakes of Mumbai was filled by 61.58% on Thursday, data released by BMC showed.
As the city continues to receive severe rainfall, the spokesperson of the Brihan mumbai Electric Supply and Transport (BEST) undertaking told that there was no bus route diversion anywhere in the city on Thursday.
Amid heavy rainfall, the Colaba observatory recorded  "extremely heavy" rainfall at 223.2 mm. The Santacruz observatory (representative of suburbs) recorded 145.1 mm rainfall in the 24-hour period ending at 8.30 am on Thursday, according to the IMD Mumbai.
Despite extreme rainfall, local trains are running on time in Mumbai. The Western Railway division informed that the trains are running normally in Mumbai Suburban route and Harbour line.Heavy rainfall continues to batter many parts of the city on Thursday. IMD has issued red alert for the city today.