FIR against Surjewala, Shivakumar, Siddaramaiah, 32 others for unlawful assembly in K'taka
Karnataka police have booked an FIR against 36 persons, including AICC General Secretary Randeep Surjewala, state Congress President D.K. Shivakumar and Opposition leader Siddaramaiah, in connection with assembling unlawfully to lay siege to Chief Minister Basavaraj Bommai's residence, police said on Monday.
The Congress had organised the programme on April 13 to lay siege to the CM Bommai's residence and Congress leaders were stopped midway. They were arrested and released later.
The agitation was staged demanding immediate arrest of former minister K.S. Eshwarappa following the suicide of a contractor who held Eshwarappa responsible for his death.
Cases were filed against the agitators under the Section 103 of the Karnataka Police Act (penalty for contravention of orders), IPC Section 341 (wrongful restraint), 143 (unlawful assembly).
Shivakumar has stated that: "The police had arrested us en route to CM Bommai's residence and released later. Now they have lodged an FIR. Former minister Eshwarappa violated prohibitory orders to carry out protest marches and staged protests. Why is there no case on him?" he questioned.
The ruling BJP is foisting cases on Congress leaders. Why has CM Bommai not ordered to lodge cases on those who recited Hindu prayers in a church? Muslims vendors were troubled in fares, no cases on them. Instead CM Bommai is asking what is wrong with moral policing. CM Bommai is supporting moral policing in the state, he charged.
CAG frowns at BMC in Special Audit of expenses during MVA rule
The Accountant General (Audit-I) Maharashtra has rebuked the country's biggest and richest civic body, BrihanMumbai Municipal Corporation (BMC), for certain lapses and irregularities in a Special Audit of 76 identified works worth Rs 12,000 crore.
The audit, covering nine key BMC departments, was performed for works carried out between November 28, 2019 – the day when Maha Vikas Aghadi (MVA) came to power in the state and Uddhav Thackeray took oath as the Chief Minister – and October 31, 2022.
Ordered on October 31, 2022 by the new government headed by Chief Minister Eknath Shinde, the audit also included the expenditure on 13 Jumbo Covid Centres, 24 ward offices, five major hospitals, six specialised hospitals, 17 peripheral hospitals, one dental hospital and others.
However, the BMC had sent a legal notice to the CAG on November 17, 2022, not to go ahead with any audit of acts, works or decisions taken for Covid management or expenditure of Rs 3,538.73 crore, referring to the Epidemic Act, 1897 and Disaster Management Act, 2005.
The state government, in November 2022, rubbished the BMC's contentions, and despite many reminders, the Mumbai civic body did not produce records related to Covid-19 management.
Accordingly, the Special Audit has omitted the Covid-19 management part on grounds that without the relevant records, no confirmation can be made in audit on the propriety, efficiency, economy and effectiveness of Covid 19 related expenditure by BMC.
"Needless to mention that non-cooperation of BMC in producing the Covid-19 management records for the purpose of Special Audit, apart from impinging on the Constitutional Aresponsibilities devolved on the Comptroller and Auditor General of India, also deprived BMC of crucial audit inputs. As per the powers and functions entrusted under Constitution and DPC Act and in keeping with legal replies filed as mentioned above, further appropriate steps, are reserved," said the Audit Report.
Established in 1873, the BMC administers an area of 480 sq km through three divisions, seven zones and 24 Wards, that makes up the country's commercial capital.
Developed INDIA with efforts of every single individuals by:PM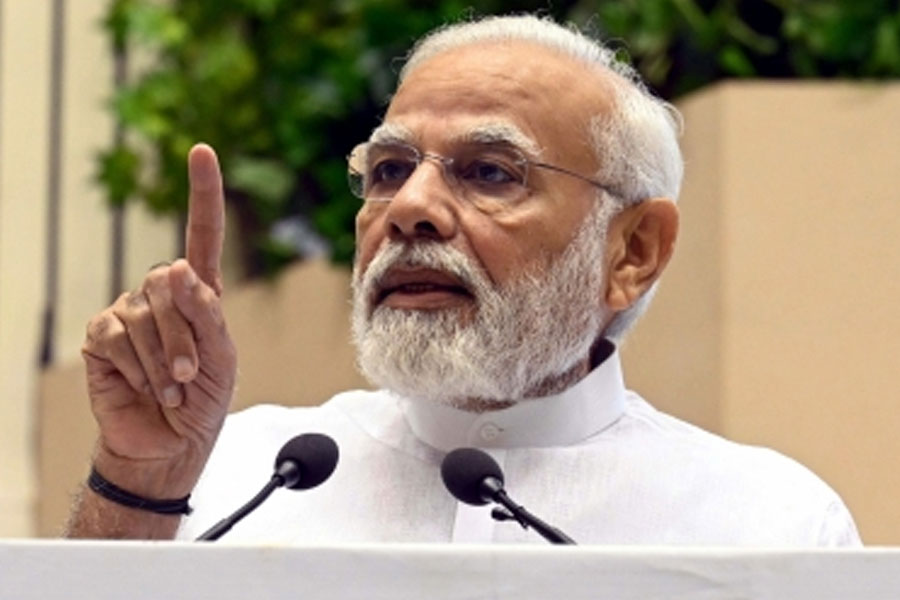 India will emerge as a "developed" nation by 2047 with efforts of every single individual, Prime Minister Narendra Modi said here on Saturday.
He was addressing a gathering after inaugurating Madhusudan Sai Medical Sciences and Research Institute of Satya Sai Ashram at Muddenahalli here.
"People ask how will India progress to become a developed nation within a short period by 2047, which marks the 100th year of independence? The answer with conviction and commitment would be "sab ka prayason se" (with the efforts of all).
The dream will turn into a reality with the hard work of every single individual of the country. The government is encouraging collective efforts. The role of social and religious institutions in this regard is also important, PM Modi stated.
There were less than 380 medical colleges in the country and after BJP took over, the number has increased to 650. Among them, 40 are located in the aspirational districts. The number of medical seats have been increased in the country considerably, PM Modi said.
Number of doctors who passed out in 75 years, will now graduate in 10 years. There are 70 medical colleges in Karnataka and a double engine government has established one in Chikkaballapur, he noted.
The previous governments were engaged in enacting games over languages. No step was taken to ensure medical and engineering education in Kannada language. No interest was shown. "Now, provision has been made to pursue medical education in all Indian languages, including Kannada," PM Modi explained.
The opposition has treated the poor as their vote bank. But, BJP made it the highest objective to uplift the poor. The BJP is providing them with medicines at a cheaper price through Pradhan Mantri Janaushad outlets. The poor did not dare to go to hospitals and the government has made arrangements to get free treatment up to Rs 5 lakh, PM Modi stated.
Anti-hijack drill conducted at Jammu Airport
An anti-hijack drill was jointly conducted by different agencies at Jammu airport to validate the processes by inter agencies during such crisis, a defence spokesperson said in a statement on Saturday.
"A Full Fledged Anti Hijack Drill was conducted by NSG at Jammu airport on March 24 with activation of Anti Hijack committee at Air Force Station Jammu," the statement said.
"This exercise involved all key stakeholders from Indian Air Force, AAI, state government, JKP, CISF, IOC and other key players."
The drill involved entire spectrum of events including negotiations with hijackers followed by intervention and overpowering of hijackers by a potent team of NSG.
"The exercise gave a unique opportunity to validate processes by inter agencies during such crisis. An Air India aircraft which landed at Jammu in the afternoon was utilised for the realistic drill. The exercise was successfully conducted bringing valuable lessons and training for all stakeholders," the statement added.