Amid Congress' Agnipath protests, Manish Tewari bats for defence reforms
Going against his party line, Congress MP Manish Tewari has come in support of the Central government's Agnipath scheme. This comes amid a major nationwide protest launched by the party, which is demanding its rollback.
Speaking to IANS, Tewari said, "The process of Defence reforms, including right sizing the military started in the US way back in 1975 when Donald Rumsfield was the Defence Secretary in the Ford Administration and every successive administration has seen it through.
"Rumsfeld initiated the conceptual basis of preparing the armed forces for future warfare as he could envision the changing nature of the battlefield.
"Even the Chinese started the process of right-sizing the PLA way back 1985."
"PLA's size was cut by 10 lakh in 1985; 500,000 in 1997; 200,000 in 2003; 300,000 in 2015 and from 2017 onwards the People's Liberation Army of China is being further right sized from 20 to 10 lakh by 50 per cent.
"The defence reform is a part of a larger strategic horizon and not merely an act of internal reorganisation," he said.
Tewari in his book '10 Flashpoints 20 Years' has mentioned about why the country urgently needs defence reforms. Out of every Rupee spent on defence in India 25 paisa goes towards pensions only. Salaries take away an additional substantive chunk leaving little room for capital expenditure on defence modernisation, Tewari said.
"The reforms now being implemented by the government were recommended by the Kargil review committee (KRC) in 1999 and the Group of Ministers constituted to vet the recommendations too had supported the reforms, including right sizing the armed Forces.
"Even the Naresh Chandra committee had also endorsed many of the recommendations of KRC and GOM that Defence Forces need to be leaner in their disposition," he said.
Tewari's remarks are in contrast to the official line of the Congress on the Agnipath system. Last week he said in a tweet, "I do empathise with youth who have concerns over Agnipath recruitment Process. Reality is India needs a younger armed force with lighter human footprint savvy on technology, equipped with state of art weaponry. Armed forces of Union shouldn't be an employment guarantee programme."
The MP from Anandpur Sahib has raised some concerns and tweeted, "As MP from a rural constituency I stand with Concerns /Fears of Youth desirous of joining Armed Forces, Politics apart-Rough calculation of impact of new recruitment paradigms on even largest employer Army shows issue not insurmountable if retirees are transitioned to CAPF's/SPF's.
"In ten years as a consequence of these new recruitment paradigms the size of the Army for example would only come down from the present 14 lakhs to 10,47,500 an attrition of 3,52,500 over ten years or 35,200 per year or to put it more simply 2933 per month. These many retirees that too after six years and not now can be easily accommodated in 10 CAPF's or the 30 odd state police forces. It is not really such an insurmountable issue if you de- horse the politics."
'Don't Have House In My Name, But My Govt Made Lakhs Of Daughters House-Owners': PM Modi In Gujarat
Prime Minister Narendra Modi on Wednesday said he does not have a house in his name, but his government turned lakhs of daughters in the country house-owners.
PM Modi, who has been on a two-day visit to Gujarat starting Tuesday, was speaking at the launch of various development projects worth over Rs 5,000 crore, including projects worth Rs 4,500 crore related to education sector, in Bodeli town of tribal-dominated Chhotaudepur district of Gujarat.
Don't have house, but gave houses to lakhs of daughters: PM Modi
"Since I spent significant time with you, I know the issues faced by the poor people and I have always tried to solve those issues. Today I am satisfied because my government has built four crore houses for the people across the country. Unlike previous governments, a house for the poor is not just a number for us. We work to provide dignity to the poor by building houses for them," he said.
"We are building houses as per the needs of the poor, that too without the presence of any middlemen. Lakhs of houses were built and registered in the names of our women. Though I don't have a house in my name, my government made lakhs of daughters house-owners,' he said.
PM invokes World Bank president's comment
Modi also noted that World Bank president Ajay Banga was so impressed with the Gujarat education department's command and control centre in Gandhinagar, called as 'Vidya Samiksha Kendra', that he urged him to start such centres across the country.
"The World Bank president (Ajay Banga) recently visited the Vidya Samiksha Kendra (in Gandhinagar). During out meeting, he urged me to start such centres in all districts of India and said the World Bank is ready to be a part of that project," he said.
The PM said the new National Education Policy (NEP), which was left in limbo for three decades, was finally introduced by his government.
Without mentioning any names, PM Modi also attacked the opposition saying "they indulged in politics of reservation".
"But until I became chief minister, no science school was functional in tribal areas of Gujarat…How will you get admission in medical and engineering colleges if you do not have science schools," he said.
Asaduddin Owaisi Challenges Rahul Gandhi To Contest Election Against Him From Hyderabad
Hyderabad, September 25: AIMIM Chief Asaduddin Owaisi has challenged Congress MP Rahul Gandhi to contest the 2024 Lok Sabha elections against him from Hyderabad and not from Wayanad. Participating in a rally on Monday, Owaisi said, "Is baar Wayanad se nahi Hyderabad mein muqabla karo" (This time fight from Hyderabad and not Wayanad). I am challenging you (Rahul Gandhi) don't go to Wayanad, come to Hyderabad and contest elections."
'Come to the ground and let's have a contest'
"You keep giving big statements, come to the ground and let's have a contest. People from Congress will say a lot of things, but I am ready. Come and face this man with beard and sherwani, you will know what a contest means," he stated. "Babri Masjid and Secretariat's mosque were demolished under the Congress regime," he charged.
The Congress people would do a lot of talking
"The same BJP MP who bad-mouthed in Parliament had also stood up against me to speak. I strictly told him to sit down. You can't face my sharp tongue. The Congress people would do a lot of talking. I am ready. I am also appealing before the people of Telangana, remember, the common man was harassed and attacked during the regime of Congress. With great difficulty, we have ensured peace in the city. This peace should be intact," Owaisi stated. Rahul Gandhi recently charged that BJP, Bharata Rastra Samithi (BRS) and AIMIM are collaborating ahead of the state Assembly elections.
BJP MP Ramesh Bidhuri Abuses, Calls BSP's Danish Ali 'Pimp', 'Terrorist' in Lok Sabha; Rajnath Singh Expresses Regret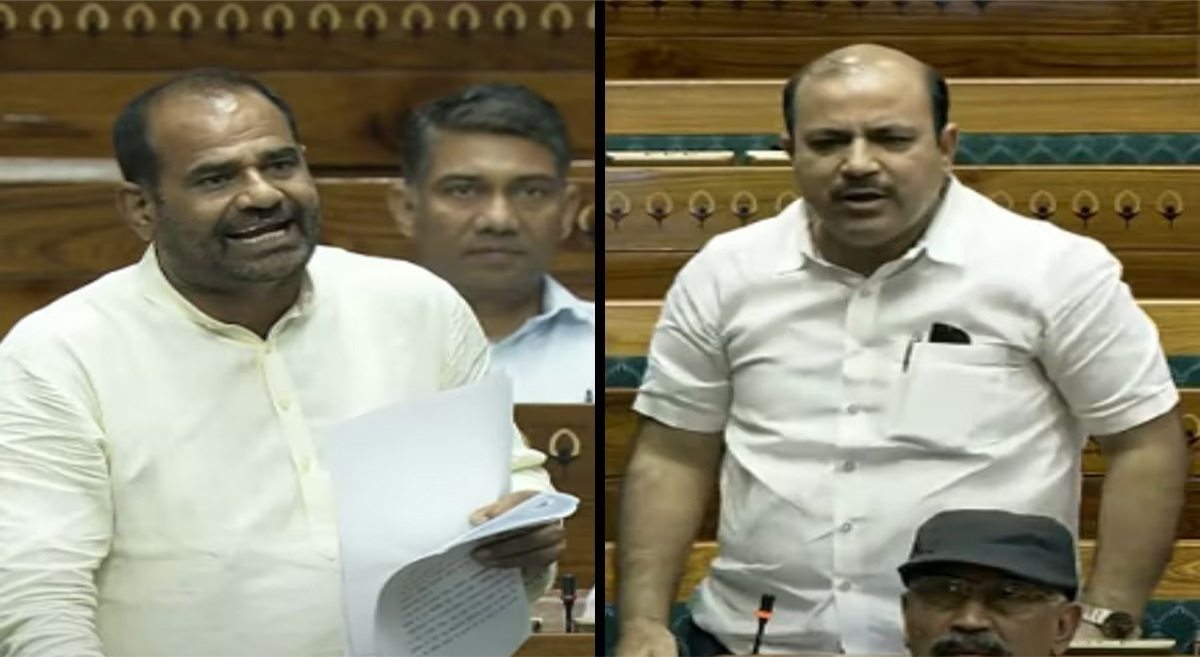 New Delhi: In a shocking use of unparliamentary language used in the Lok Sabha, BJP MP from Delhi, Ramesh Bidhuri, abused and used foul language on record against BSP MP Danish Ali. In the video which is being shared by parliamentarians of Opposition parties, it is evident that BJP MP Bidhuri used abuses and highly objectionable language for the BSP MP when he tried to reply to the BJP MP. Bidhuri made the remarks while participating in a discussion on the Chandrayaan-3 mission in the Lok Sabha and started his tirade after saying that "PM Modi was not trying to steal credit of the scientists…"
BJP MP Ramesh Bidhuri used words such as "extremist", "pimp" and "terrorist" and abused BSP MP Danish Ali while speaking in the Lok Sabha. "Ye Mulla aatankwadi hai (This cleric is a terrorist)" and "bahar pheko naa iss mulle ko (throw this cleric outside)," said the BJP MP even as Opposition raised objections against the filthy language used by Ramesh Bidhuri.
Shockingly, former Union Health Minister Dr Harshvardhan of the BJP was seen laughing and grining on Ramesh Bidhuri's highly objectionable remarks in the Lok Sabha. BJP MP Dr Harshvardhan was seated a row behind Ramesh Bidhuri.
Massive outrage across party lines
The comments by Bidhuri created massive outrage across MPs from across the party lines.
"Filthy language used by a BJP parliamentarian for fellow MP from BSP @KDanishAli. No shame left. This is sickening. Will speaker LS take note and take action?" posted UBT leader Priyanka Chaturvedi on X, tagging TMC MP Mahua Moitra.
Chairman, Media & Publicity Deptt of Congress party, also commented on the objectionable language used by Ramesh Bidhuri.
National Conference (NC) leader and former Jammu and Kashmir CM Omar Abdullah also criticised the MP for the language used against a fellow parliamentarian.
Rajnath Singh expresses regret over remarks
Raksha Minister Rajnath Singh on Thursday (September 21) expressed regret in the Lok Sabha for the "objectionable" remarks made by BJP MP Ramesh Bidhuri.
Congress member K Suresh, who was in the Chair when the episode played out in the Lok Sabha, said that he had already instructed the officials to expunge the remarks.
"I express regret if the opposition is hurt by the remarks made by the member," Raksha Mantri Rajnath Singh said in his comments.