Taiwan tensions spur US and Philippines to cement military cooperation
With Chinese extensive military deployment around Taiwan rattling the region, the Philippines is eager to strengthen defence cooperation with the US. The US, which already has troops in bases on Filipino territory, has assured the south-east Asian nation of protection in case of an armed attack.
In the Philippines on Saturday, US Secretary of State Antony Blinken said that the Philippines is an "irreplaceable ally" while the Philippines President Ferdinand Marcos Jr. reflecting on the Taiwan Strait tensions said: "…the visit of your House Speaker Nancy Pelosi coming here… I did not think it raised the intensity; it just demonstrated how the intensity of the conflict has been…".
China's aggressive posturing towards Taiwan, in the wake of US Speaker Nancy Pelosi's visit to Taipei, has shaken up the region. Countries in south-east Asia are worried as Beijing has territorial conflicts with many in the South China Sea (SCS).
In Blinken's visit, the highest-ranking US official to visit Manila after Ferdinand Marcos Jr became President this June, the two nations reaffirmed their decades-old defence alliance. They are governed by the Mutual Defence Treaty (MDT)–an agreement signed on 30 August 1951 that states that if either of the allies faces an armed attack, the other would come to its defence.
Emphasising that the US would defend its allies in south-east Asia, Blinken told journalists: "An armed attack on Philippine armed forces, public vessels, and aircraft will invoke US mutual defense commitments under that treaty. The Philippines is an irreplaceable friend, partner, and ally to the United States."
US and the Philippines relations had come under strain under previous President Rodrigo Duterte, who was opposed to the continued presence of US troops on Filipino soil. Duterte had tried to move closer to China at the cost of bilateral relations with the US. That scenario changed as Beijing began to assert itself in the region.
Duterte even watered down the historic arbitration case that the Philippines had won against Beijing over islands in the disputed SCS that belonged to Manila rather than Beijing. During his rule he also decided to unilaterally end the US-Philippines Visiting Forces Agreement that allowed for the deployment and rotation of American soldiers on bases in the country.
For almost a hundred years, the country has fallen back on the US for its security and defence needs. To that extent, Ferdinand Marcos Jr has restored the nation's foreign policy to what it had been for a long time–go back to the US.
The new president seems keen to restore ties with the US not just in the fields of defence but also in areas of technology and health cooperation.
With China unleashing live-fire drills with a vengeance and a blockade of Taiwan, the public mood in the Philippines which has largely always been positive towards the US is now beginning to swing further to the US. For President Ferdinand Marcos Jr. it will be a tight rope walk – doing the balancing act between two warring powers.
Jawaharlal Nehru Death Anniversary: PM Modi, Rahul Gandhi, Kharge & others pay tribute to the former prime minister of India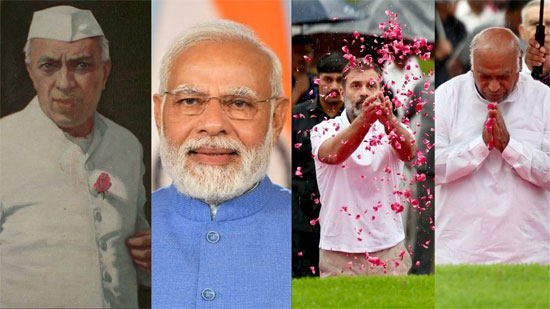 On May 27 in 1964, India's first prime minister Jawaharlal Nehru, fondly known as 'Chacha Nehru' breathed his last after suffering a cardiac arrest. On his death anniversary, several leaders paid their tributes to Nehru and offered their respects to him. While Congress leaders Rahul Gandhi and Mallikarjun Kharge offered flowers and prayed at the Shanti Van memorial in New Delhi on Saturday. Meanwhile, present PM Narendra Modi shared tweet marking the day.
PM Modi on Nehru's death anniversary
"On his death anniversary, I pay tributes to our former PM Pandit Jawaharlal Nehru," PM Modi tweeted in memory of the former leader on his 59th death anniversary.
Congress pays floral tribute
Congress President Mallikarjun Kharge and former party leader Rahul Gandhi paid floral tributes along with party treasurer Pawan Bansal, and others at the Shanti Van memorial in the national capital.
The party shared several tweets to remember Nehru on his death anniversary. After sharing visuals from the memorial, Congress on Twitter shared quote-based greetings to mark the significant day.
About the first PM of India
Nehru played a prominent role in India's freedom struggle. He also went on to become India's first Prime Minister after Independence in 1947. He was among the key leaders of the Indian National Congress (INC).
On May 27, 1964, the first Prime Minister of India took his last breath. He served for over 16 years from 1947 to 1964 till he died at the age of 74.
He had a great fondness for kids, and children use to call him Chacha Nehru and his birthday is celebrated as Children's Day every year.
CM Shinde inaugurates 2nd phase of Mumbai-Nagpur Samruddhi Expressway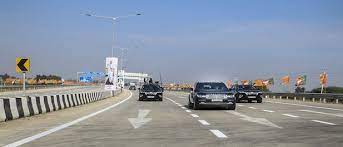 Shirdi: The second phase of Mumbai – Nagpur Expressway, between Shirdi and Bharvir (17 kms off Igatpuri) was inaugurated on Friday by Chief Minister Eknath Shinde. The stretch opened on Friday spans 80 km, of the 701 km of overall Expressway between Mumbai and Nagpur. Now, only 100 km of portion between Bharvir and Mumbai remains to be completed. The first phase was inaugurated by Prime Minister Narendra Modi in December 2022.
Cost of the 2nd phase of 80 km Rs 3,200 crore
The second phase of the Expressway has 7 major bridges, 18 minor bridges, 53 underpasses, 3 interchanges, 56 toll booths, 6 weigh bridges among others.
The cost of the second phase of 80 km is Rs 3,200 crore.
Touted as a game changer project as it connects 24 districts of Maharashtra from the regions of North Maharashtra, Marathwada and Vidarbha. This green field alignment passes through 392 villages in 26 talukas of 10 districts.
With the opening of the second phase, the travel time taken between Shirdi and Nashik will come down by half to five to six hours instead of over 12 hours, so far.
"It is proposed to set up 18 agricultural development centres along the entire Expressway stretch," said a Maharashtra State Road Development Corporation (MSRDC) official.
Weather update: India to witness normal monsoon rains in 2023, reports IMD
India Meteorological Department (IMD) on Friday predicted that the country need not worry about severe or unlikely monsoons this year. The weather agency noted that India would witness normal monsoon rains in 2023 in most regions, and thus no major warnings or alerts were issued for the upcoming rainy season.
What is El Nino?
Noting the monsoon period across Indian states and UTs, IMD stated in a release that "Normal monsoon rains are likely in 2023 despite the likely emergence of the El Nino weather phenomenon."
El Nino typically means trouble for the Pacific and a break for the Atlantic coast and the Caribbean. This climate phenomenon is highly likely to form this year.
Monsoon across India
IMD has predicted a below-normal rainfall in Northwest India i.e. less than 92% LPA whereas normal rainfall in North east India, Central India, and South Peninsular India.
Reportedly, the southwest monsoon over the Indian mainland is marked by monsoon onset over Kerala and is an important indicator characterizing the transition from a hot and dry season to a rainy season. The southwest monsoon was expected from June to September with a normal rainfall i.e. 96 to 104 percent of Long period average (LPA).
"Once the monsoon will get established strong, we are expecting the monsoon to arrive in Kerala around June 4. Before June 1, we are not expecting monsoon to arrive," the weather agency stated.