Noida Police declares Rs 25,000 bounty on Shrikant Tyagi
Noida Police on Monday declared a reward of Rs 25,000 for the person who gives information on the location of absconding politician Shrikant Tyagi accused of assaulting a woman during an argument, three days ago over the plantation of palm trees near his apartment here.
According to sources, an intense operation to nab the absconding accused is currently underway and multiple teams of the Noida Police are currently working in coordination to zero in on his location.
Sources told IANS that Tyagi's last location was traced in Uttarakhand between Haridwar and Rishikesh and multiple police teams went there but still he was not found.
Earlier in the day, the district administration, acting tough on the accused, demolished a structure that was illegally constructed by the self-claimed Bharatiya Janata Party (BJP) leader.
Tyagi had encroached the common area of the society and constructed a wooden shed that had multiple pillars below it.
Indian Woman Anju Celebrates Pakistan's Independence Day With Husband Nasrullah, Cuts Cake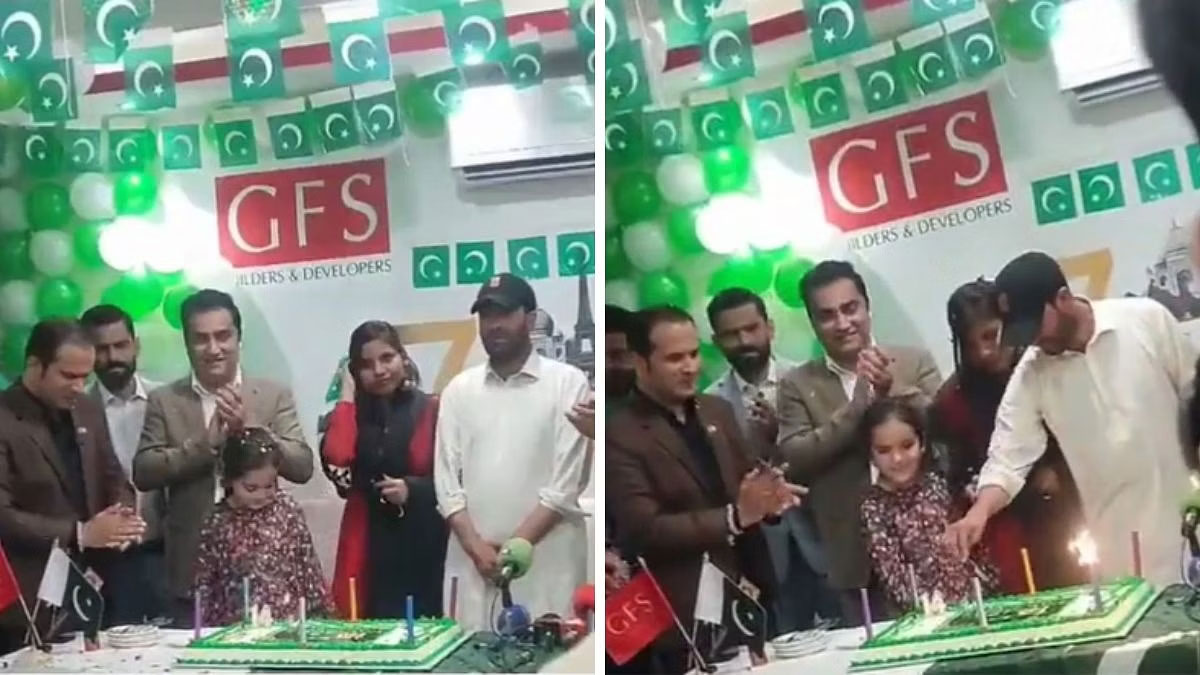 Indian woman Anju, who went to Pakistan to meet her Facebook friend Nasrullah, was seen celebrating Pakistan's independence day on Monday (August 14). Pakistan marks its independence day on August 14 every year, a day ahead of India's Independence Day. In a video shared on social media, Anju can be seen during the cake cutting along with Nasrullah to celebrate Pakistan's independence day.
Anju's story made headlines
Anju, a married woman with children, got to know Nasrullah of Pakistan on Facebook. As friendship grew between the two, Anju tried to get a visa for close to two years in India, said reports. Anju recently went to Pakistan after getting the visa. Reports claimed that she converted to Islam in Pakistan and also got married to Nasrullah. However, she denied the claims in a video she released and said she wanted to return to India.
Anju's father disowns her
Recently, Anju's father, fed up of constant media presence at this house had castigated Anju for her decision to cross borders for love and marrying Nasrullah, as reports claimed. Anju's father had said that he wished for her daughter not to return and said, 'Let her die there'.
Anju's husband in India was shocked when he learnt about Anju having gone to Pakistan to meet her Facebook friend Nasrullah. The husband had said that Anju had told her she was going to Jaipur and that she would return back in a few days. However, he was shocked when police came calling after reports that Anju had gone to Pakistan went viral.
Anju and Seema Haider, tale of two women
Anju's story emerged even as news about Pakistani woman Seema Haider's dramatic and suspicious entry into India along with her four children dominated news space. Seema Haider, a Pakistani woman, had entered India from Nepal and an investigation was carried out in the case. She married Sachin Meena who lives in Greater Noida.
Asains found guilty of smuggling migrants to UK
A 38-year-old Asian-origin man has been found guilty of being part of an organised crime group linked to the prolific smuggling of migrants, including minors, to the UK.
Najib Khan, 38, from Ilford was identified as being part of the network by the UK's National Crime Agency (NCA), following the arrest of his co-conspirator Waqas Ikram, 40, in March 2021.
Ikram, who was caught red-handed attempting to break into a heavy goods vehicle to put migrants inside, worked for a people smuggling organised crime group headed by Mokter Hossain.
An iPhone belonging to Ikram, seized following his arrest, contained numerous conversations with Khan outlining their involvement in a separate people smuggling network, charging migrants up to 7,000 pounds a head to bring them to the UK, the NCA said in a statement.
Phone evidence showed that Khan and Ikram had been involved in a successful crossing involving five migrants being transported into Harwich in March 2019, and two other attempts that had been foiled by border agents.
The first of these was in May 2019, when 15 Vietnamese and one Afghan migrant were found in a lorry at the Hook of Holland as it prepared to board a ferry to Harwich.
In the same year in August, 16 migrants including 11 minors, were rescued from a purpose built concealment in a lorry carrying 2,000 loose tyres.
The lorry was preparing to board a ferry from Dieppe to Newhaven, and officers reported the heat and the nature of the concealment made breathing difficult.
The lorry drivers involved in both would later be jailed in the Netherlands and France, but the NCA was able to prove Ikram's crime group had been involved in both attempts.
Further conversations between Khan and Ikram showed they were using GPS trackers to follow lorries that they had arranged to be broken into without drivers' knowledge to stow migrants.
One of the trackers was found at Khan's house when he was arrested by the NCA. In 2020, Khan and Ikram purchased a rigid hull inflatable boat for the purpose of smuggling migrants, and Ikram attended a course for piloting powerboats that June, the NCA said.
In July, the pair were encountered by Border Force off the coast of Suffolk in their RHIB.
They told officers they were scouting for scuba diving sites, and returned to Walton-on-the-Naze.
"Ikram and Khan had no regard for the safety and security of those they were transporting, they were only interested in making money from them," NCA branch commander Andy Noyes said in a statement.
"In at least one case it was only the fact that the migrants were discovered by border agents that prevented them being left in what could have been an incredibly dangerous, and potential fatal, situation," Noyes added.
Ikram was arrested by the NCA in 2021, charged with people smuggling offences and released on bail by the court. Both he and Khan were detained in connection with further offences by the NCA in July 2022 and charged with three counts of conspiring to facilitate illegal immigration.
While Ikram pleaded guilty to the charge, Khan went to trial, following which a jury at Reading Crown Court on Friday found him guilty on all three counts.
They will be sentenced on October 30.
Pakistan Drones Dropping Drugs In Punjab, Admits PM Shehbaz Sharif's Close Aide On TV Show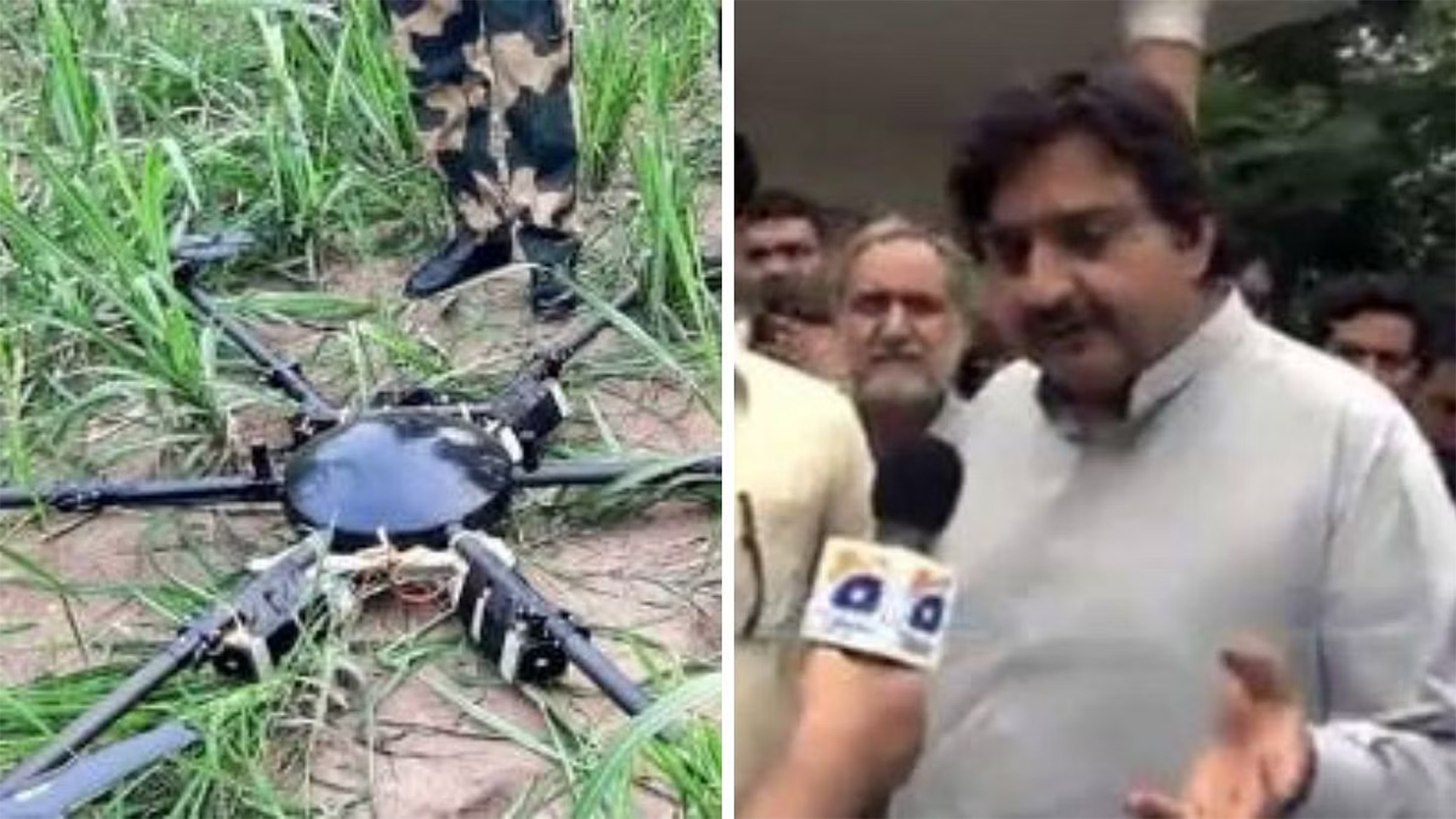 A senior official in the Pakistan government has admitted that Pakistani smugglers are using drones to smuggle illicit drugs, mostly heroin into Indian territory. Malik Muhammad Ahmad Khan, the Special Assistant on Defence to Pakistan Prime Minister Shehbaz Sharif made these remarks to Hamid Mir, a journalist associated with Pakistan's News.
Mir has posted a video on his Twitter handle of the interview with Khan, who is also the Member of Provincial Assembly (MPA) representing Kasur city, which borders the state of Punjab in India.
The Pakistani journalist tweeted on July 17, captioned as, "Big disclosure by PM's advisor Malik Muhammad Ahmad Khan. Smugglers using drones in the flood-affected areas of Kasur near Pakistan-India border to transport heroin. He demanded a special package for the rehabilitation of the flood victims otherwise victims will join smugglers."
Malik Khan Admits About Cross-Border Smuggling
In the video clip of the interview posted by the Pakistani journalist, Malik Khan is heard saying, "This (Kasur near LOC) is a rangers area. Due to some border regulations, there is some sensitivity." When the journalist asks the special advisor to Pakistan PM about the issue of cross-border smuggling of narcotics in Kasur he affirms the development. "Sure, it (smuggling via drone) is happening and it is very unfortunate. Recently there have been two incidents where 10 kg of heroin was tied to each drone and thrown across. Agencies are working on it." Indian security forces have brought down a number of drones in recent times carrying contraband.
Drug Smuggling Incidents In Border Areas This Year
In April this year, Jammu and Kashmir Director General of Police Dilbag Singh said that security forces have taken many counter-measures to tackle incidents of dropping of weapons and drugs by drones sent by Pakistan.
Earlier this month, on July 21, BSF and Punjab Police troops recovered a drone in broken condition from the farming field near Mastgarh village in Punjab's Tarn Taran district.
On specific information, BSF and Punjab Police launched a search operation and recovered the Pakistani drone from the outskirts of Mastgarh village. "The recovered drone belongs to Quadcopter, DJI Matrice 300 RTK model," officials said.
Multiple Drones Shot Down, Contrabands Seized
Earlier, the Border Security Force (BSF) foiled the nefarious design of smugglers by seizing 2.35 kg of heroin dropped by a Pakistani drone near the International Border in Punjab's Tarn Taran district.
During the detailed search, the BSF troops recovered one packet of narcotics suspected to be heroin weighing 2.35 kg wrapped with yellow adhesive tape from the farming field ahead of border fencing.
On June 29, BSF troops recovered approximately 5.120 kg of suspected heroin dropped by a Pakistani drone near the International Border in farming fields of Village- Khalra in Tarn Taran district.
Earlier, on June 24, the troops of the BSF shot down a Pakistani drone that had intruded into the Indian airspace in Punjab's Tarn Taran sector. Also, the BSF shot and brought down a Pakistani drone in Punjab's Tarn Taran district.
On June 22, the BSF in Punajb's Fazilka recovered a drone originating from the Pakistan side and two packets of suspected narcotics near the Abohar border.
"On specific information, alert BSF troops recovered a Pakistani drone (DJI Matrice 300 RTK) on June 22, during morning hours along with 2 kg (appx) suspected heroin near the international border in Jodhawala village of Fazilka district," BSF Punjab Frontier said.
BSF personnel in Rajasthan's Bikaner recovered a drone originating from the Pakistan side and two packets of suspected narcotics near the Rawla border.