Stokes would quite like Virat Kohli to be captain for rescheduled Test: Swann
As England's white-ball team soared to greater heights and became a force to reckon with, its fortunes in Test cricket were on a downward spiral, which hit the rock bottom when they were thrashed 0-4 in the Ashes in Australia and lost 0-1 to the West Indies.
With new appointments made to the men's cricket managing director positions as well as coaches and captains in both formats, the new regime of Brendon McCullum and Ben Stokes in Tests had a lot riding on them when New Zealand came calling.
Their talk of positive and attacking cricket with a shift in attitude came true when they defeated New Zealand 3-0, leaving former England off-spinner Graeme Swann impressed.
"I have been incredibly impressed by the way England have embraced this new, positive attitude. It was a crying outfit to be honest, we had become very stagnant and stereo in the last couple of years of Test cricket. McCullum and Stokes have injected joie de vivre and the confidence is contagious, going through the veins of all the players," said Swann in a virtual conference organised by Sony Sports.
Up next for England is the rescheduled fifth Test in Edgbaston against India, who are leading the series 2-1. "Whether they can maintain this against the Indian bowling attack, we have to wait and see. England did this (won 3-0) against New Zealand bowling attack, who are World Test champions at the minute. It's exciting that England are playing this brand of cricket and will be up against an Indian team, who are one of the best teams in the world," observed Swann.
Swann felt that a red-hot England have the upper hand over India ahead of the Edgbaston decider as they are coming off from facing New Zealand, while India, who last played a Test against Sri Lanka in March, played a four-day tour match against Leicestershire.
"It is a real bad time to play England because they just played these three games against New Zealand. There are chinks in the armour; the opening batting slot is still very weak. But nearly all the other spots are excellent.
"Even the spinner Jack Leach, who is under a lot of pressure, has got 10 wickets in a match at Headingley. England are in a very good position and I would say, they are slight favourites. The fact that India just had one (tour) game in Leicester, so they are coming in cold for the Test match, which is a bit of a disadvantage."
Just like England, India will also be led by a new captain-coach combination in Rohit Sharma and Rahul Dravid. But with Sharma in isolation due to Covid-19 positive test, Swann believes that England won't mind seeing senior batter Virat Kohli captain India in Test cricket again.
"You could say why not let Virat Kohli finish off the things he started and could have a final hoorah. Whether Virat would want to do that, I don't know whether India would do that. I don't think England will really mind. Maybe, if you think about Ben Stokes. He would quite like Virat Kohli to be captain as then he could directly compare to how Joe Root's team played against Virat's Indian team."
Swann concluded by saying that who will be captaining India won't bother England much. "England won't be worried too much about who would be India's captain. They would be looking for how they can put as much pressure on the Indian batsmen. The only way to beat India is to bowl them out.
"When we used to play against the Indian team, they had some of the greatest names of a generation in the team, we always used to worry about how to get them out for 200, 250, how to get them out. They will be thinking about how to get these guys out," said Swann ahead of the rescheduled Test which will be broadcast on Sony Sports Network from July 1-5.
'I'm happy here': Cristiano Ronaldo pledges to continue at Al Nassr in Saudi Pro League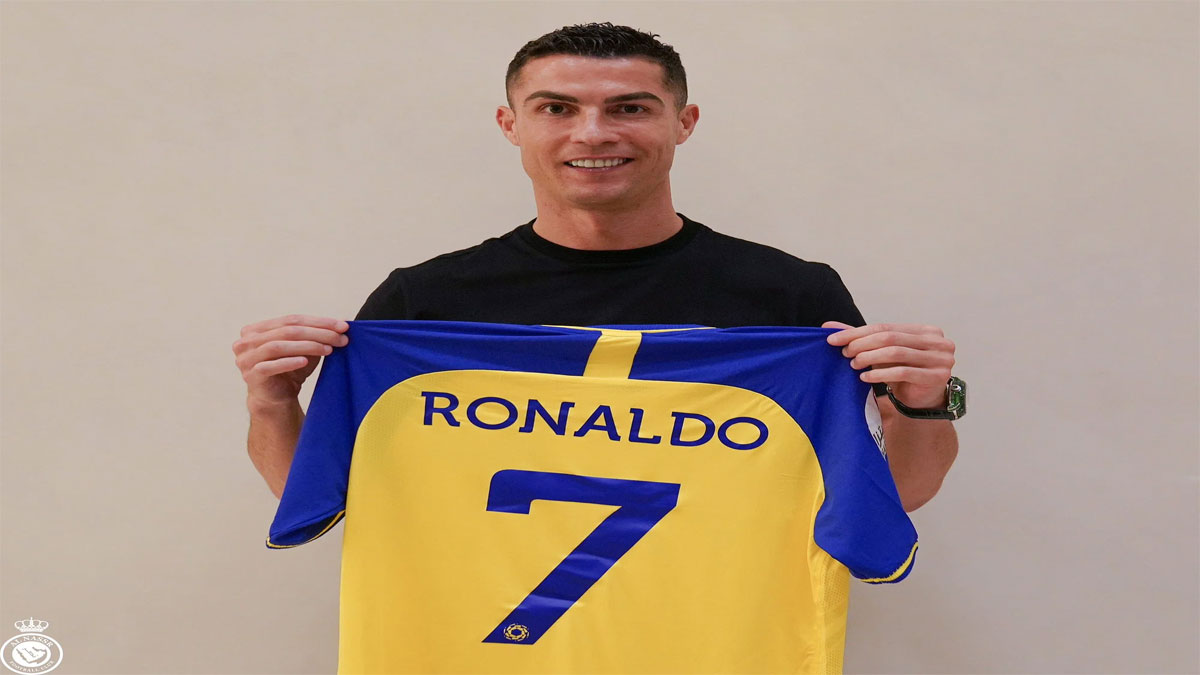 Portugese footballer Cristiano Ronaldo has vowed to continue at Al Nassr in Saudi Arabia despite walking away empty handed in this season. The 38-year-old has earmarked the tournament to be among the top five in the world.
Ronaldo, who signed a two and a half year contract with Al Nassr, scored 14 goals in 16 games in the season, with his side standing second behind Al Ittihad in the Saudi Pro league. However, there were speculations about how long will he stay as reports of swap deal with Saudi-owned Newcastle United emerged, who have now qualified for next season's Champions league.
In an official Saudi Pro League interview, the star footballer revealed:
"I'm happy here, I want to continue here, I will continue here. And in my opinion, if they continue to do the work that they want to do here, for the next five years, I think the Saudi league can be a top five league in the world. I expected to win something this year, but we didn't, but next year I'm really positive, but next year I'm really positive and confident that things will change and we go in a better way."
Cristiano Ronaldo suggests he is still adjusting to strange training timings in Saudi Arabia:
Ronaldo also revealed how contrasting the training timings in Europe and Saudi Arabia are, elaborating:
"In Europe, we train more in the morning, but here we train in the afternoon or evening and in Ramadan, we train at 10 at night. So this is strange but as I tell you, these situations are part of an experience, memories. I like to live these moments because you learn with these things."
With 837 goals in 512 games, Ronaldo is the combined highest goal scorer in history.
Lionel Messi to leave PSG at the end of the season, confirms club manager Christophe Galtier
Paris Saint Germain superstar Lionel Messi will leave the club at the end of the current season, manager Christophe Galtier confirmed on Thursday. Messi made 74 appearances for PSG in which he scored 32 goals and made 35 assists. In Ligue 1, Paris Saint-Germain has played 37 matches out of which they have won 27, lost six and drew four.
PSG had acquired Messi's services two years ago in a record transfer deal after he left FC Barcelona in 2021.
Messi, who's contract with PSG ends this season, is now being linked with with a move to Saudi Arabia while talk of a return to the Nou Camp has picked up in Spain in recent weeks.
The six-time Ballon d'Or winner will play his final match for PSG against Clermont Foot on Saturday.
"I had the privilege of coaching the best player in the history of football," Galtier said on Thursday. "This will be his last match at the Parc des Princes, and I hope that he will receive the warmest of welcomes."
Messi's envious record
In the Spanish La Liga football competition, Lionel Messi has scored 474 goals in 520 matches. In the French Ligue 1, Messi has scored 22 goals in 57 matches.
The 35-year-old while playing for Football Club Barcelona has scored 672 goals in 778 games. While playing for Paris Saint-Germain he has scored 32 goals in 74 matches.
No plan to bring Messi back: Barca president
FC Barcelona President Joan Laporta recently said that the club has re-established good relationships with Argentine legend Lionel Messi, but it would not pay any price to bring him back to the Camp Nou Stadium.
"I have spoken with Leo to somehow redirect the situation that occurred when I had to put the institution ahead of everything, including him, the best player in the world," said Laporta in a Monday morning TV show.
Mark Zuckerberg strikes gold against jiu jitsu fighters, posts pictures on Instagram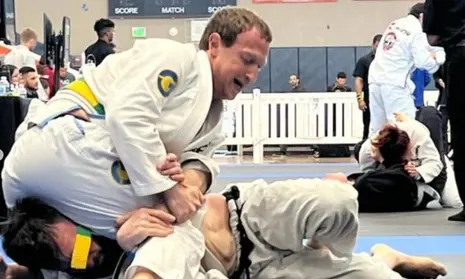 In the past, Facebook CEO Mark Zuckerberg has appeared helpless in front of the US Congress where he has been slapped by fines, and fired 11,000 vulnerable employees after being hit by falling revenues. But outside the business arena where Meta is facing tough competition from TikTok and other rivals, Zuckerberg is a huge mixed martial arts fan.
Contrary to setbacks in the tech sector, the Facebook founder has tasted victory in jiu jitsu.
Striking gold, but in a different arena
The billionaire who has trained with UFC fighters, posted pictures after winning jiu jitsu matches for the first time.
The billionaire who tried his hand at martial arts, revealed that he won a gold medal in the Gi categroy and a silver medal in the No-GI category.
His post on Instagram received comments from UFC featherweight and bantamweight category champions, as well as jiu jitsu hall of fame member Bernardo Faria.
Competitive or short tempered?
The entrepreneur turned sportsperson, who also enjoys surfing, was seen getting into a heated argument after losing a contest during the tournament in California as well.
On the work front, Zuckerberg's firm Meta also surprised the markets by bouncing back with strong earnings, after struggling with loss of ad revenue.