Virat Kohli one of the best chase masters in the world; his consistency is amazing: Ajay Jadeja
Former India cricketer Ajay Jadeja has called Virat Kohli as one of the best chase masters in the world of cricket, adding that the solidity the former skipper provides to the team is just unrivalled.
Virat played a pivotal role in helping India win the three-match T20I series against Australia in the last game at Hyderabad, scoring a 48-ball 63 that helped the hosts chase down the Kangaroos' competitive target of 187 to seal the series 2-1.
With his 104-run stand with charismatic batter Suryakumar Yadav (69), it was a treat to watch the two batters go about their task of punishing the visitors' bowling that had the likes of Pat Cummins, Josh Hazlewood and Cameron Green among others.
Ever during the Asia Cup in the UAE recently, Kohli, returning to the side after taking a month-long break from the game to recharge his batteries, was in peak batting form.
"I mean that's the key to Indian cricket. I mean it's been that for a while, for a long time. I mean there was a period where Virat Kohli would score runs and if there was anything, MS Dhoni would finish it off at the end," said Jadeja on Cricbuzz.
"But now with the personnel changing around Virat Kohli, it's made it easier for him and it's made it easier for everyone else around him to play at a whole different ball game and the solidity that Virat Kohli provides and for me it's always been the solidity of Virat Kohli, not the striking ability. That's why he was a chase master. He is a chase master. He understands the pace of the game."
Jadeja conceded Kohli might not be the best in terms of striking ability and hitting massive sixes, but his consistency is priceless.
"He may not have the striking ability that a lot of players have around the world and in that Indian team but there is no one else that I know who has the consistency of Virat Kohli," added Jadeja.
The former Indian batter also highlighted why Kohli is such a fearsome name in any cricketing echelons, pointing out, "So if consistency is what you want, this is your man and he's not shown it today, he's been showing it to you for 10, 12, 15 years. It's just that when you expect him to do what the others do, that's when the trouble begins."
We want to build the biggest league outside India, says SA20 Commissioner Graeme Smith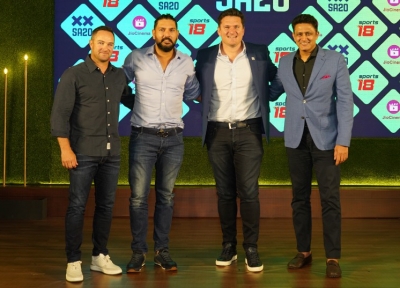 In 15 years of its existence, the Indian Premier League (IPL) has emerged as the most prominent T20 league in the world. With T20 leagues proliferating around the world, all new entrants want to emulate IPL and become as successful in their region.
That is what upcoming South Africa's domestic Twenty20 league aspires for — become the biggest league outside India.
With just over a month left for the start of the inaugural edition of SA20, commissioner Graeme Smith promised Indian fans an action-filled, world-class league.
"The goal of SA20 is to get South Africa cricket back to the place we all know it belongs – competing with India, competing with the likes of England and Australia and keeping the international game strong," said SA20 Commissioner Graeme Smith at an event with Viacom18 Sports in Mumbai.
In November, Viacom18 and SA20 announced a partnership to exclusively broadcast and stream South Africa's recently-launched premier T20 league in India.
Smith added, "We have that opportunity now through the partners we have been able to attract — the six teams, we are going to put sixty to eighty of South African players on the map and bring that fandom to India and the new heroes will come to the IPL and play for South Africa all around the world – that's our goal. We want to build something vibrant and being able to build the biggest league outside India is something that we would really love to achieve."
The six teams in SA20 — Durban's Super Giants, Joburg Super Kings, MI Cape Town, Paarl Royals, Pretoria Capitals, and Sunrisers Eastern Cape — are owned by IPL franchise owners. The popularity of South African players with Indian fans coupled with the pedigree of the team owners gives SA20 a robust platform to build one of the top international T20 leagues globally.
"SA20 is primed to become one of the most popular T20 leagues in the world," said Viacom18 Sports CEO Anil Jayaraj at an event celebrating the partnership. "At prime-time in India, the cricket-loving audience will watch South Africa's most revered players along with global superstars and our presentation will match the energy and excitement that will come with it."
The league features teams playing each other twice in a round-robin stage before the semis and final played over four weeks. MI Cape Town and neighbours Paarl Royals kickstart the tournament at Newlands on January 10. The opening game will be followed by Durban's Super Giants hosting the Joburg Super Kings at Kingsmead on January 11
The SA20 will see international superstars like Quinton de Kock, Faf Du Plessis, Kagiso Rabada, David Miller, Anrich Nortje, Rashid Khan, Jos Buttler, Eoin Morgan, Adil Rashid, Jason Roy, Liam Livingstone, Maheesh Theekshana, Jason Holder in action.
Bangladesh might have succumbed to pressure v India; not taking fake fielding issue any further: Sriram
Bangladesh coach Sridharan Sriram has conceded his team might have succumbed to pressure in the thrilling five-run loss to India in their Super 12 Group 2 match of the ICC T20 World Cup, and has also said he has no intention of taking the potential fake fielding incident involving Virat Kohli during the match any further.
Bangladesh were cruising along at 66 without loss in seven overs, with Litton Das coming out all guns blazing and snatching the advantage of making 184/6 from India through a breath-taking 59 not out off 26 balls — laced with seven fours and three sixes at a strike rate of 226.9 — when rain put a halt to his pyrotechnics.
Bangladesh's target was revised from 185 in 20 overs to 151 in 16 overs. They needed 85 more runs in nine overs to win the match, with all wickets in hand. India's bowling attack, which took a beating in the power-play, got the much-needed respite thanks to the rain break and they went on to win the match by five runs (D/L method).
Sriram agreed the rain delay and the revised target brought the pressure on his side and it crumbled.
"Well, it was quite frantic for that brief (last) 10-12 minutes (of the match), which is understandable. I think the boys, nine runs an over or 9.75 runs an over, definitely I think the pressure got to them a little bit. Yeah, it was a little bit of a frantic 15-20 minutes if I can put it, yes," said Sriram, the former Australia spin-bowling coach.
Bangladesh are scheduled to play their last Super 12 game against Pakistan on Sunday with a win not guaranteeing them a place in the last four, but the results of the remaining two Group 2 games — South Africa vs Netherlands and India vs Zimbabwe — could facilitate their semifinal entry.
Much heat has been generated over on-field umpires missing a potential fake fielding incident involving Kohli, which could have earned Bangladesh five runs in penalties and a victory against India, but Sriram said he is not here "to offer any excuses" for the defeat.
Wicketkeeper Nurul Hasan accused Kohli of fake fielding during the match, claiming that the umpires missed the incident and could have resulted in the opposition getting crucial five runs as penalty. The incident that Hasan talked about going unnoticed took place in the seventh over of Bangladesh's chase when Kohli feigned a throw while standing at point, as if he was relaying a throw coming from Arshdeep Singh from the deep off the bowling of Axar Patel.
Neither the on-field umpires, Marais Erasmus and Chris Brown, spotted it, nor did the two Bangladeshi batters, openers Litton Das and Najmul Hossain Shanto, out in the middle, pointed it out.
Law 41.5, pertaining to unfair play, prohibits the "deliberate distraction, deception or obstruction of (the) batter", and if an incident is deemed to be a breach, the umpire can declare that particular delivery as dead ball, and award the batting side five runs. But Hasan didn't mention if either of Das or Shanto spoke to him or to the team about distraction or deception from Kohli pretending to throw the ball to the keeper.
Shedding light on the controversy, Sriram said, "No, we are not here to offer any excuses. I did speak to the fourth umpire as soon as it happened, but I think it was the on-field umpire's call, and that's what we were told, but we're not here to offer any excuses."
Sriram said the focus now is to beat Pakistan and wait for the results of other matches to go in his team's favour.
"I've been very clear in all my press conferences. We're just taking it one game at a time, plan for one opposition at a time. Every game we want to go, we obviously want to win it, but we're aware of what challenges Pakistan present. We played them in New Zealand just recently (in the Tri-series), and we have high respect for that team, so we're going to turn up and be at our best on that day."
Adit, Nihaal lead a strong showing in third leg of US Kids Golf India; Five boys, two girls complete hat-trick of wins
Adit Veeramachaneni of Bengaluru landed three eagles in a superb winning effort of 7-under 65 in the third leg of the US Kids Golf India at the links-style Golden Greens.
Adit, winner of the first two legs of the India series, completed a treble in the U-9 category.
Veeramachaneni was one of the five players in the Boys section to complete a hat-trick of wins. Two other players in the Girls section also completed a similar feat of three wins in three starts.
Among the outstanding performances in the third leg was Nihaal Cheema in the Boys Under-6. He carded an incredible six birdies in his nine-hole competition for a 6-under 30 score.
Divjot Singh playing in Boys U-7 Category gave the US Kids Golf India Series a milestone moment by holing his second shot at the 275-yard Par-5 fifth hole for the Tour's first-ever albatross in India. Divjot's second shot from just over 100 yards disappeared into the hole sparking off a big celebration.
Divjot also avenged the defeat he had suffered earlier at the hands of Kabir Goyal, who finished second this time.
The excellent scores were indicative of the talent on view, as six winners and one second placed player shot under par scores and another two winners had even par rounds. It meant that the players with under par scores will have a chance to qualify for the US Kids Golf's World Championships in the US and the European events.
The six winners shooting under par at the Golden Greens included Nihaal Cheema (Boys U-6), Divjot Gupta (Boys U-7), Adit Veeramachaneni (Boys U-9) and Armin Paul Singh (Boys U-12) among boys and Amaira Gulati (Girls U-8) and Shambhavi Chaturvedi (Girls 11-12). Arnav Kumar (Boys U-9), runner-up in U-9, also shot 1-under.
The players completing a treble were: Nihaal Cheema (Boys U-6), Jot Sarup Singh (Boys U-8), Adit Veeramachaneni (Boys U-9), Chaitanya Pandey (Boys U-11) and Manyaveer Bhadoo (Boys 15-18).
Among the girls, Lucknow's Amaira Gulati (U-8) and Gurgaon's Mahreen Bhatia (Girls 13-14) made it three in a row.
Rajesh Srivastava, President of the US Kids Golf India, said, "It was a sensational day. Adit (Veeramachaneni) from Bengaluru and Nihaal Cheema carded brilliant scores of 7-under and 6-under. There was also the first-ever albatross in US Kids Golf India when Divjot Singh holed his second shot on the Par-5 in the U-7 category. The birdies and eagles also signalled the rising standards as the youngsters aim for berths at the World and European Championships, ahead of the Indian Championship later this month."
Amit Dube, the Tournament Director, a former pro and now a coach, added, "The standard shows that these youngsters are ready for big events and American Junior Golf Association (AJGA) events. We look forward to a high level of play and more youngsters coming out in future."
Fifty players teed up across the various age categories as they got ready for the Indian Championship, a three-day international event to be held from November 23-25, 2022. The Indian Championship, scheduled at the Classic Golf and Country Club, will have World Amateur Golf Ranking (WAGR) points.
Players shooting 72 and below in at least two Local Tour events will earn Level 11 status and will earn AJGA Performance Star.
The US Kids local Tour is the only tournament giving opportunity to Players to earn AJGA Stars. The youngsters are looking to accumulate Priority Level status for the US Kids Europe and World Championships and the AJGA stars, which helps them get into numerous international events.