Netflix actually losing long-term paid subscribers
Netflix is fast losing long-term subscribers — who have been with the streaming service for more than three years – further adding to its woes as the company faces stalled growth amid revenue slowdown.
According to a survey report by The Information, new data show that people who have been subscribers to Netflix for more than three years accounted for 13 per cent of cancellations in the first quarter this year.
The Information received data from US-based analytics firm Antenna.
The data showed that overall cancellations hit 3.6 million people in the January-March period – a massive jump from 2.5 million cancellations in the past five quarters.
Amid the cancellations, new accounts make up for a smaller share, another worry for Netflix that is struggling to retain users for longer periods of time.
Nearly 60 per cent of cancellations were done by new subscribers in the last quarter, according to the report that came out on Wednesday.
Amid slow revenue growth, Netflix has laid off nearly 150 employees, primarily in the US.
"As we explained on earnings, our slowing revenue growth means we are also having to slow our cost growth as a company. So sadly, we are letting around 150 employees go today, mostly US-based," a Netflix spokesperson was quoted as saying in reports on Tuesday.
"These changes are primarily driven by business needs rather than individual performance, which makes them especially tough as none of us want to say goodbye to such great colleagues," the company added.
Netflix saw its stock tumbling by 20 per cent after it reported a loss of 2 lakh paid subscribers in the first quarter of 2022, its first subscriber loss in over a decade.
Moreover, it now forecasts a global paid subscriber loss of 20 lakh for the April-June quarter (Q2).
Netflix last month laid off several experienced journalists and writers working for its entertainment site Tudum which it launched only in December last year.
To brighten up its future prospects, Netflix is reportedly planning to live stream its upcoming slate of unscripted shows and comedy specials.
Netflix has also fast-forwarded its plans to bring ads right into its TV shows and movies, along with curbing password sharing.
Developed INDIA with efforts of every single individuals by:PM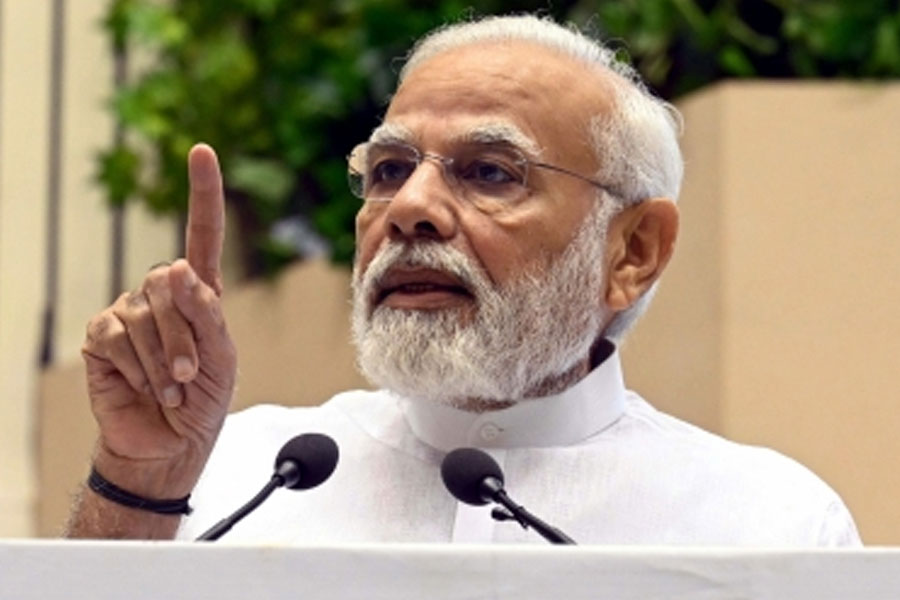 India will emerge as a "developed" nation by 2047 with efforts of every single individual, Prime Minister Narendra Modi said here on Saturday.
He was addressing a gathering after inaugurating Madhusudan Sai Medical Sciences and Research Institute of Satya Sai Ashram at Muddenahalli here.
"People ask how will India progress to become a developed nation within a short period by 2047, which marks the 100th year of independence? The answer with conviction and commitment would be "sab ka prayason se" (with the efforts of all).
The dream will turn into a reality with the hard work of every single individual of the country. The government is encouraging collective efforts. The role of social and religious institutions in this regard is also important, PM Modi stated.
There were less than 380 medical colleges in the country and after BJP took over, the number has increased to 650. Among them, 40 are located in the aspirational districts. The number of medical seats have been increased in the country considerably, PM Modi said.
Number of doctors who passed out in 75 years, will now graduate in 10 years. There are 70 medical colleges in Karnataka and a double engine government has established one in Chikkaballapur, he noted.
The previous governments were engaged in enacting games over languages. No step was taken to ensure medical and engineering education in Kannada language. No interest was shown. "Now, provision has been made to pursue medical education in all Indian languages, including Kannada," PM Modi explained.
The opposition has treated the poor as their vote bank. But, BJP made it the highest objective to uplift the poor. The BJP is providing them with medicines at a cheaper price through Pradhan Mantri Janaushad outlets. The poor did not dare to go to hospitals and the government has made arrangements to get free treatment up to Rs 5 lakh, PM Modi stated.
Anti-hijack drill conducted at Jammu Airport
An anti-hijack drill was jointly conducted by different agencies at Jammu airport to validate the processes by inter agencies during such crisis, a defence spokesperson said in a statement on Saturday.
"A Full Fledged Anti Hijack Drill was conducted by NSG at Jammu airport on March 24 with activation of Anti Hijack committee at Air Force Station Jammu," the statement said.
"This exercise involved all key stakeholders from Indian Air Force, AAI, state government, JKP, CISF, IOC and other key players."
The drill involved entire spectrum of events including negotiations with hijackers followed by intervention and overpowering of hijackers by a potent team of NSG.
"The exercise gave a unique opportunity to validate processes by inter agencies during such crisis. An Air India aircraft which landed at Jammu in the afternoon was utilised for the realistic drill. The exercise was successfully conducted bringing valuable lessons and training for all stakeholders," the statement added.
Bihar: 7-yr-old boy dies after brutal assault by teacher
A seven-year-old boy died in Bihar's Saharsa district on Friday after an alleged brutal assault by his teacher.
The victim, Aditya Kumar, was an LKG student at a private school in a village under the Sadar police station. He had been living in a hostel since the last 10 days.
His parents are residents of the adjoining Madhepura district.
According to the police, the school administration informed Aditya's parents that he became unconscious and was admitted to a private hospital.
By the time his parents arrived, the victim died.
"We sent our child to the school cum hostel in Saharsa district on March 14. We received a phone call on Friday that Aditya became unconscious and was admitted to a private hospital. When we reached the hospital, he was already dead," said Prakash Yadav, Aditya's father.
"We have sent the body for post-mortem to ascertain the actual cause of death. The family members alleged that he died due to the physical assault. We are also trying to arrest the owner of the school. He is absconding. We have lodged an FIR and efforts are on to nab him," said Brajesh Chauhan, Sub-inspector of Sadar police station.