Mumbai reports 10,661 new Covid-19 cases, 11 deaths
Continuing the alarming surge in Mumbai, 10,661 new Covid-19 cases were reported on Saturday while 11 patients succumbed to the lethal virus, officials said.On Friday, Maharashtra had reported 43,211 new Covid-19 cases with 11,317 infections being registered in the financial capital.
Meanwhile, Maharashtra Health Minister Rajesh Tope said the Centre should think about enforcing mandatory Covid-19 vaccination to tide over hesitancy among a segment of people.
The state has reported 238 new cases of the omicron variant of coronavirus, raising their overall count to 1,605, a health department official said. Maharashtra's positivity rate is 21.13 per cent, the official said.
Unabated cold wave continues in J&K, Ladakh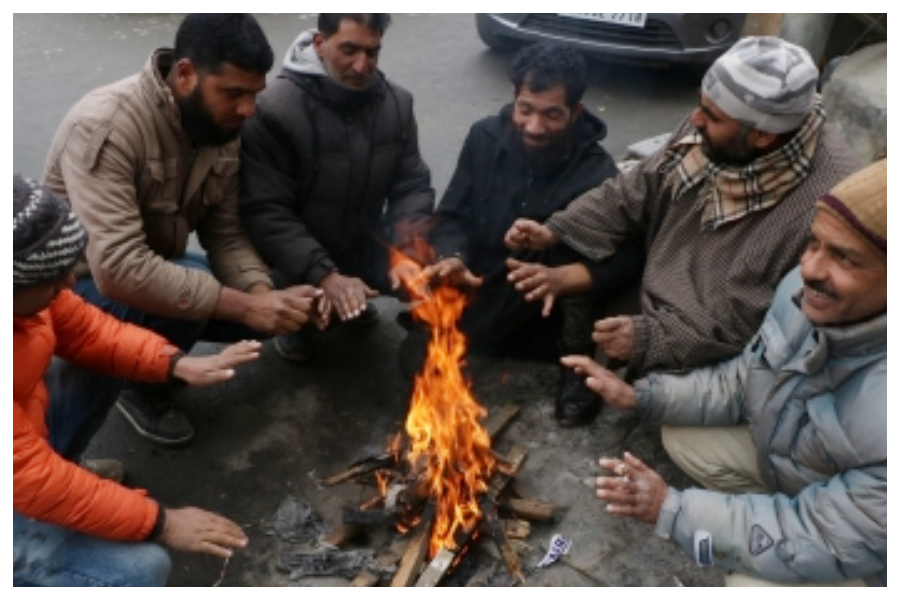 Intense cold wave continued in J&K and Ladakh on Saturday as morning fog covered most parts of Jammu city and its adjoining areas.
An official of the Indian Meteorological department (IMD) said cold wave continued in J&K and Ladakh on Saturday as morning fog added to the chilly conditions in Jammu city and its adjoining areas.
Srinagar recorded minus 4.5 degree Celsius, Pahalgam minus 11.4 and Gulmarg minus 9.5 degrees Celsius as the minimum temperature on Saturday.
In the Ladakh region, Drass town registered 27.6, Leh minus 16.3 and Kargil minus 18.6 as the minimum.
Jammu recorded 7.7, Katra 5.0, Batote 1.5, Banihal 0.8 and Bhaderwah minus 2.1 as the night's lowest temperature.
India Records 2.47 Lakh New Covid Cases In Big Jump, Positivity Up To 13%
In another significant spike, India recorded 247,417 new Covid-19 cases, pushing the cumulative nationwide tally to 36,317,927, the Union health ministry's data, updated at 8am on Thursday, showed. Major contributors included Maharashtra (46,723), Delhi (27,561), West Bengal (22,155), Karnataka (21,390), among others.
Also, the number of active patients crossed the 1 million-mark once again, rising by a massive 162,212 cases to 1,117,531, the bulletin showed. On the other hand, as many as 84,825 more people were discharged after recovering from the viral illness, taking total recoveries to 34,715,361. Daily fatalities, meanwhile, witnessed a fall, as 380 more patients succumbed due to the infection, taking the cumulative toll to 485,035
India logs 1,79,723 new Covid cases, 12.5% higher
Amid the unprecedented Covid-19 resurgence, India reported 1,79,723 new cases in the last 24 hours, which is 12.5 per cent higher than the previous day's figure, the Union Ministry of Health and Family Welfare said on Monday.
The nationwide death toll has increased to 4,83,936 after an additional 146 fatalities were also registered in the same period, the Ministry said.
The active caseload has jumped to 7,23,619, accounting for 1.66 per cent of the country's total positive cases.
Meanwhile, the Omicron case tally has climbed to 4,033, of which 1,552 have been discharged from hospitals.
So far total 27 states have reported the new variant, according to the Ministry.
The recovery of 46,569 patients in the last 24 hours has increased the cumulative tally to 3,45,00,172. Consequently, India's recovery rate stands at 96.62 per cent.
Also in the same period, a total of 13,52,717 tests were conducted across the country, bringing the total to over 69.15 crore.
Meanwhile, the weekly positivity rate has climbed to 7.92 per cent amid the sudden spike of new cases. The daily positivity rate stands at 13.29 per cent.
With the administration of over 29 lakh vaccine doses in the last 24 hours, India's Covid inoculation coverage reached 151.94 crore on Monday morning.