Maharashtra to probe police 'inaction' on Shraddha's SOS letter
Taking strong cognisance, the Maharashtra government has ordered a probe into the Palghar Police's 'inaction' on a letter written by Shraddha Walkar in November 2020, apprehending death threats from her live-in partner Aftab Amin Poonawala.
Deputy Chief Minister Devendra Fadnavis, who also holds the home portfolio, said he had seen the contents which were "very serious", and said the matter needs to be investigated.
"Without blaming anybody, we need to know the truth… If the police had acted in a timely manner, this (killing of Shraddha by Poonawala) could have been avoided," Fadnavis told mediapersons.
On November 23, 2020, Walkar had submitted a written complaint to the Tulinj Police Station expressing apprehensions from her Aftab and how he threatened to "kill and cut her into pieces".
The letter, which has just surfaced, was duly acknowledged by the local police, who also said that though they had probed the matter, Shraddha later gave another letter withdrawing her previous complaint, signalling an end to the issue.
In her hand-penned plea, she sounded distressed, stating that Aftab was beating her up, blackmailing her and was threatening to murder her and cut her body into pieces.
Nearly two years later now, Shraddha's worst fears proved true with Aftab's arrest on November 12 for her gory killing in Delhi on may 18, chopping her body into many pieces and then disposing them off over several weeks.
In her letter, Shraddha, then 25, mentioned how she and Aftab, then 26, were living together in Vijay Vihar Complex, but he had been abusing and beating her up for six months.
"Today he tried to kill me by suffocating me and he scared and blackmails me that he will kill me cut me up in pieces and throw me away.
"It has been six months he has been beating me. I did not have the guts to go to the police because he would threaten to kill me," she wrote in the letter.
In a shocking revelation, Shraddha said that Aftab's parents "are aware that he beats me and that he tried to kill me".
"They also know about we living together and they visit us on weekends. I lived with him till date as we were supposed to get married anytime soon and had the blessings of his family."
Apparently fed up, she declared that "henceforth, I am not willing to live with him, so any kind of physical damage should be considered coming from him as he has been blackmailing to kill me or hurt me whenever he sees me anywhere".
A police officer had even gone to the rented house in Vasai east, where the young couple resided, to conduct an enquiry but she categorically told them that said she didn't want to pursue the matter, according to local media.
Since she had already given a letter withdrawing her earlier complaint the police said they couldn't force her to pursue the case or even forcibly enter her home.
Horrific video! Man lifts his wife & jumps on Kolkata metro track on seeing train's arrival, here's what happened next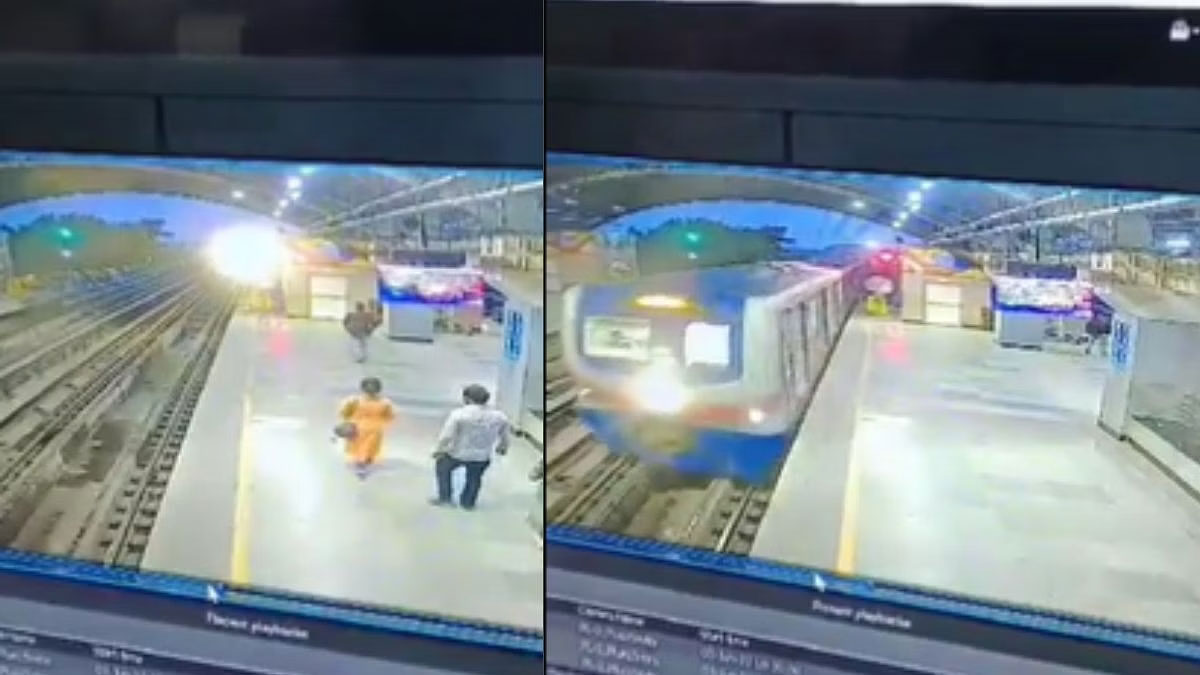 In a horrific incident in West Bengal, a couple was seen trying to die by suicide on metro tracks. A man at the Noapara station platform of the Kolkata metro, on seeing the train's arrival, hugged and lifted his wife and jumped in front of the transport with her.
Couple jumps before metro rail trying to die by suicide
In the video, we can see a couple casually walking on the metro platform and no sooner taking a drastic decision to end their lives. As the metro coach entered the premises, the man rushed towards his wife and jumped to the tracks with her. The duo was seen coming under the moving train, however, were rescued by the metro staff there.
Rescued by staff
The incident reportedly took place at 6.34 pm on Saturday, leading to a service disruption on the Kolkata Metro's North-South Line. Within an hour of the suicide attempt, the services resumed in the entire stretch – from Kavi Subhas to Dakshineswar.
Three men attack Punjab minister's pilot vehicle after parking dispute

Three drunk men allegedly pelted bricks at the pilot vehicle of Punjab Minister Balkar Singh in Jalandhar city after a parking dispute on Monday.
The accused allegedly chased and intercepted the minister's official vehicle accompanying the police pilot. They then attacked the pilot vehicle with bricks near Guru Ravi Dass Dham. At that time the minister and his wife were on their way home, the police said.
The accused were arrested. Their luxury car was also impounded. The incident happened at around 1 a.m.
The assailants were reportedly in an inebriated condition. The cause of the attack was arguments over the parking of the vehicle outside an eatery, a police official said.
"They have been booked under Sections 153 and 186 of the IPC," Police Commissioner Kuldeep Chahal told the media.
Mumbai News: CBI arrests SoBo developer in connection with ₹280 crore fraud with SBI bank
Mumbai: The Central Bureau of Investigation (CBI) on Monday arrested Harresh Mehta, a prominent developer from South Mumbai and director of Rohan Lifespaces Ltd, in connection with a fraud case. The case involves an alleged scam of Rs 280 crore, defrauding a leading public sector bank. The arrest was carried out by the CBI's Economic Offences Wing (EOW) in Mumbai.
Details on the case
The CBI's EOW Mumbai unit initiated the probe in 2016 based on a complaint filed by the Thane branch of the State Bank of India (SBI) against the directors of Rajput Retail Ltd (RRL), Vijay Gupta, and Ajay Gupta. The complaint stated that the accused directors conspired with unknown government servants and availed three loans from the bank using forged documents, resulting in a fraud of Rs 280 crore.
Involvement of Harresh Mehta in the case
During the investigation, the role of Harresh Mehta from Rohan Lifespaces Ltd and Rohan Constructions Ltd emerged. The CBI conducted searches at Mehta's offices and residences, as well as at Ruby Mills Ltd. It was revealed that loans totaling Rs 155 crore were sanctioned for the purchase of premises in a building called The Ruby.
Legal proceedings in the case
Mehta is currently in judicial custody, and the CBI had submitted a chargesheet in the case in July 2018. Mehta's lawyers argued against extending his custody, claiming that he had cooperated fully with the agency. They also contended that Mehta was not involved in forgery, fabrication of documents, or cheating, asserting that his arrest by the CBI was unlawful.
Another case taken over by CBI recently
In another development with the investigative agency, the CBI has taken over the investigation of a graft case wherein an Income Tax officer had allegedly demanded a bribe from a doctor for not taking action on a complaint against him for non filing of income tax returns. The accused was caught red-handed by the Maharashtra Anti-Corruption Bureau (ACB) in December 2020 while accepting a bribe of Rs10 lakh from the complainant.