Kerala High Court grants conditional bail to P.C. George in hate speech case
Already out on bail for making a hate speech, former seven-time MLA and Kerala Janapaksham Chairman P.C. George on Monday got a relief when the Kerala High Court granted him conditional anticipatory bail and asked the police not to arrest him till Thursday.
George on Saturday suffered a jolt, when a lower court here dismissed his anticipatory bail plea for his hate speech which he made early this month at an election meeting here.
Earlier this month, on May 1 after he was arrested, he was granted conditional bail by a local court in the state capital city for a similar offence.
And out on bail, a few days later George known for his provocative speeches, especially when it comes to attacking his adversaries, landed in trouble when he made a similar hate speech.
When Kochi City Police Commissioner C.H. Nagaraju said that George will be arrested as he has committed the same crime again, which is a violation of the bail conditions, George approached the Ernakulam District and Sessions Court seeking anticipatory bail, which was dismissed on Saturday.
But George was confident that he will get anticipatory bail from the High Court and he got it on Monday, subject to conditions.
George has been asked not to speak to the media and the court asked the police not to arrest him till Thursday, when the case will be disposed.
George pointed out that he has been a legislator for 33 years and he will not run away from the law.
Of late, in his political speeches, George has been going hammer and tongs against the Muslim community which has landed him in trouble yet again.
On May 1, George was arrested over hate speech charges from his house and granted conditional bail later by Thiruvananthapuram Judicial first class magistrate court (II), Justice Asha Koshy.
He was then charged under IPC Sections 153A and 295A.
On May 1, after securing bail, George told media persons: "The Judiciary in India is for justice and the Honourable Chief Minister of Kerala, Pinarayi Vijayan, and his police had arrested me as a Ramzan gift to Islamic terror groups."
George, who has been a legislator for seven terms, had lost the 2021 Assembly elections from his home constituency Poonjar and the one major reason why he lost is he antagonised the Muslim community in his constituency, who for long has been his mainstay.
Bengal Coal Scam: Abhishek Banerjee's Wife Stopped From Boarding Dubai Flight, Detained at Kolkata Aiport
Trinamool Congress national General Secretary Abhishek Banerjee's wife Rujira Narula Banerjee encountered another instance of being prevented from boarding a flight to Dubai at the Netaji Subhash Chandra Bose International Airport in Kolkata. She was detained at the airport due to her alleged involvement in the Bengal coal smuggling scandal.
Rujira Banerjee, accompanied by children, was stopped from boarding flight
Rujira, accompanied by her two children, was prevented from boarding her flight upon reaching the Kolkata airport at 7 AM.
Rujira Banerjee has received a summons from the Enforcement Directorate (ED) and is scheduled to be questioned in two days. Today, when she arrived at the airport to catch a flight to Dubai, the immigration department stopped her and refused to allow her to board the flight.
Based on information from the Enforcement Directorate (ED), sources indicate that Rujira was stopped due to the presence of an active look-out circular issued against her.
ED's allegations
According to the Enforcement Directorate (ED), Abhishek Banerjee and his family are linked to two companies, namely Leaps and Bound PVT LTD and Leaps and Bound Management Services LLP. The ED alleges that these companies received protection funds totaling Rs 4.37 crore from a construction company through individuals who are under investigation in the coal smuggling case.
Amit Banerjee, Abhishek Banerjee's father, serves as one of the directors of Leaps and Bound Pvt Ltd. Additionally, Rujira Banerjee, Abhishek Banerjee's wife, is a director of Leap and Bound Management Services Limited, along with his father.
Lawyer says she had informed ED about travel plan
According to Rujira Banerjee's lawyer, she had previously informed the ED by sharing her travel itinerary and a copy of her tickets a few days ago.
"Though not required to intimate, still to express her bonafide, Rujira Banerjee, wife of TMC leader Abhishek Banerjee informed ED through email of her upcoming visit to Dubia from June 5 to June 13 with her children. There was no response/communication from ED objecting to such a visit which they could not have in view of the orders of the Supreme Court," her lawyer said.
The lawyer, terming the move as gross violation of the Supreme Court's orders, said, "She was stopped at immigration along with her minor kids and informed that she cannot travel abroad. She was also handed over a copy of summon directing her to appear before the ED office in Kolkata on June 8. We will be moving to court as it has been a violation of SC order."
According to PTI's report, multiple attempts to obtain a statement from the airport and ED authorities were unsuccessful, as they did not provide a response.
Coal pilferage scam and connection to Rujira Banerjee
In relation to an investigation into a multi-crore coal pilferage scam, Rujira Banerjee has previously been interrogated by central agencies. The probe is linked to an FIR filed by the CBI in 2020 regarding the said coal pilferage scam.
The alleged illicit mining of coal occurred at leasehold mines in the Kunustoria and Kajora areas near Asansol, West Bengal, belonging to Eastern Coalfields. Investigations have indicated financial transactions amounting to Rs 1,300 crore, with a significant portion of the funds allegedly reaching various influential individuals, as per the CBI.
The investigation has revealed that the money was deposited into foreign bank accounts of these influential individuals through hawala channels. Last year, Rujira Banerjee was questioned by the ED in connection with the coal pilferage scam investigation. The CBI also questioned her in 2021 regarding the same case.
Viral Video Exposes Horrifying Domestic Violence Incident in Etawah, Uttar Pradesh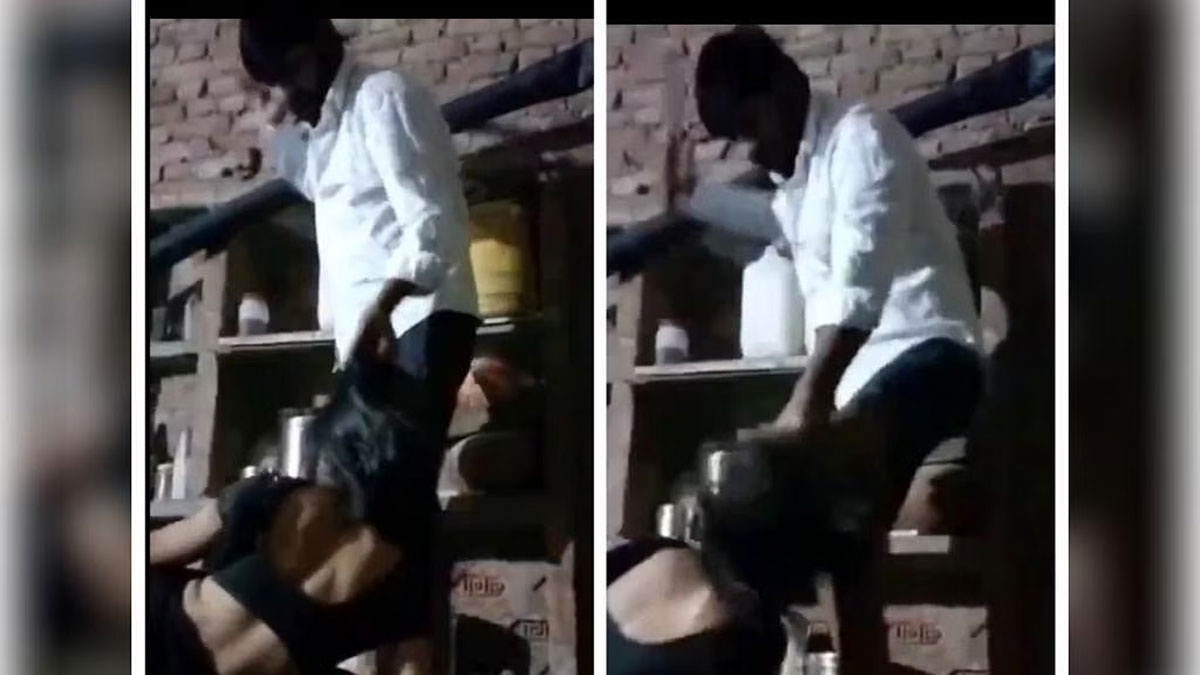 Etawah: A distressing video capturing an incident of domestic violence has been circulating widely on social media since Sunday. The video, reportedly originating from Etawah, Uttar Pradesh, depicts a man brutally assaulting his wife with a stick, accusing her of infidelity. Shockingly, the man recorded the entire episode on his phone, demonstrating a complete lack of remorse or empathy.
In the video, the man is seen gripping the woman's hair, mercilessly striking her with a stick. The woman, in extreme pain, can be heard crying out and pleading with the man to stop, while attempting to answer his inquiries about her interactions with someone else. Despite her desperate appeals, the man continues his vicious assault, displaying a disturbing level of aggression.
UP Police Take Cognisance In Matter
The Uttar Pradesh police has taken cognisance of the matter and it directed Etawah Police to take action on the viral video. The Etawah police responded to the incident stating that necessary action has been initiated by Bakewar police station in the matter and a probe is on.domestic
Horrific video! Man lifts his wife & jumps on Kolkata metro track on seeing train's arrival, here's what happened next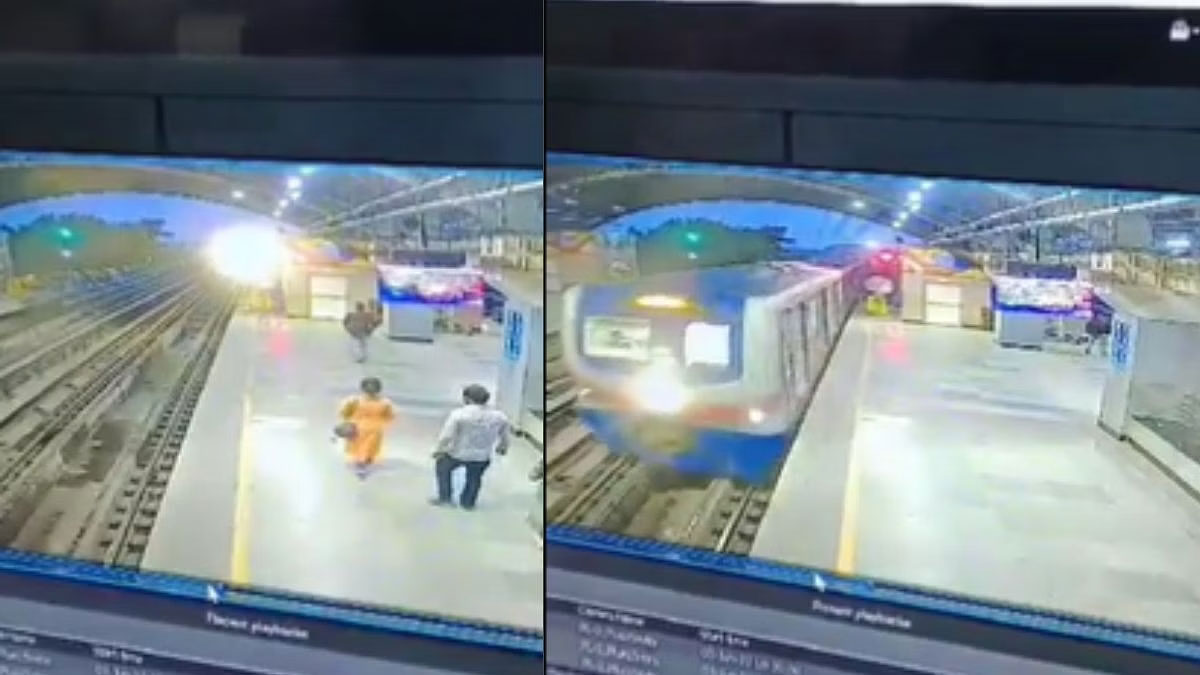 In a horrific incident in West Bengal, a couple was seen trying to die by suicide on metro tracks. A man at the Noapara station platform of the Kolkata metro, on seeing the train's arrival, hugged and lifted his wife and jumped in front of the transport with her.
Couple jumps before metro rail trying to die by suicide
In the video, we can see a couple casually walking on the metro platform and no sooner taking a drastic decision to end their lives. As the metro coach entered the premises, the man rushed towards his wife and jumped to the tracks with her. The duo was seen coming under the moving train, however, were rescued by the metro staff there.
Rescued by staff
The incident reportedly took place at 6.34 pm on Saturday, leading to a service disruption on the Kolkata Metro's North-South Line. Within an hour of the suicide attempt, the services resumed in the entire stretch – from Kavi Subhas to Dakshineswar.