Israeli PM sacks Defence Minister who urged a halt to judicial overhaul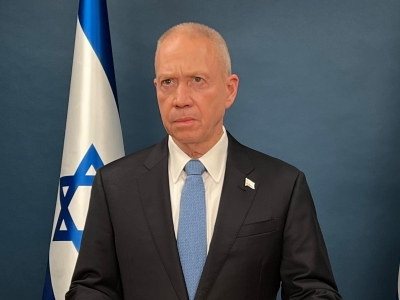 Israeli Prime Minister Benjamin Netanyahu has fired Defence Minister Yoav Gallant after the latter called on the government to halt its contentious judiciary overhaul plan.
Netanyahu's office issued a short statement late Sunday saying he decided to remove Gallant from his position, without citing any reasons, reports Xinhua news agency.
The move was largely seen as an indication that the Prime Minister's coalition tries to push through key reform bills that are expected to be brought to parliamentary votes later this week.
Gallant responded in a tweet that Israel's security "has always been and will always remain the mission of my life".
Itamar Ben-Gvir, Israeli national security minister and a staunch supporter of the reforms, welcomed the dismissal of Gallant.
Opposition leader and Chairman of the centrist Yesh Atid party Yair Lapid criticised Netanyahu for firing Gallant, warning swift moves to overhaul judicial system are a threat to Israel's security.
In a televised speech on Saturday, Gallant called for dialogue with opposition parties, and postponement of government efforts of pushing ahead with the plan until the Knesset reconvenes from its Passover holiday on April 30.
He was the first minister in Netanyahu's far-right cabinet to break ranks and call for a freeze of the divisive plan to weaken the Supreme Court.
Gallant, a senior minister with Netanyahu's Likud party, said that the overhaul plan has triggered turmoil in the Israeli society and military that poses a threat to national security.
Gallant was followed by two other Likud lawmakers and a minister, who issued similar calls to freeze the controversial plan.
The plan has sparked massive protests across Israel, and growing discontent in the Israeli military, with thousands of reservists with elite units, including combat pilots, intelligence officers, and cyber experts, announcing in open letters over the past weeks that they will not show up for duty if the reforms are passed in Parliament.
Netanyahu says the overhaul is needed in order to curb the "overly activist" Supreme Court.
Critics of the overhaul plan worry that the reform would undermine checks and balances within Israel's political system, and that the Prime Minister, who is on trial for fraud, breach of trust, and accepting bribes, is in a conflict of interests.
Pakistan's defence budget increased by 16%
The Pakistan government has proposed a roughly 16 per cent increase in the defence budget as the country continues to face internal and external security challenges, the media reported.
Interestingly, all three services — Army, Navy, Air Force — were given an equal increase in the budget, although the military takes the major share given its size and the role, The Express Tribune reported.
Pakistan's defence spending is now 1.7 per cent of its GDP, showing a decline compared to last year.
The defence spending in 2022-23 was around 2 per cent of the country's GDP, the size of which has grown due to the rebasing of the economy, The Express Tribune reported.
Defence spending has always been the subject of discussions with some seeking greater transparency and open debate about the military's budget.
In recent years, the government provides more details about the defence budget.
However, there has never been open debate within the parliament on the subject.
Observers believe that the increase in the defence budget is justified given the impending external and internal security challenges, The Express Tribune reported.
Despite the US troops withdrawal from neighbouring Afghanistan, Pakistan still deploys thousands of troops along the western border as well as in the erstwhile tribal areas to deal with the threat of terrorism.
The budget document shows that defence outlay for 2023-24 would be 1,804 billion PKR compared to the revised defence spending of 1,591 billion PKR earmarked for the outgoing fiscal year.
PM Narendra Modi, Saudi Crown Prince Mohammed Bin Salman Discuss Defence & Global Issues On Call
Prime Minister Narendra Modi held a telephone conversation with Saudi's Crown Prince Mohammed bin Salman. A number of issues were discussed, said a tweet by PM Modi. "Spoke to Saudi Arabia's Crown Prince & PM HRH Prince Mohammed bin Salman. Discussed boosting ties in connectivity, energy, defense, trade & investment, and exchanged views on regional and global issues," said PM Modi in his tweet.
The Prime Minister also lauded Crown Prince Mohammed bin Salman's support in the evacuation of Indians from the conflict torn Sudan. "Appreciated his support in safe evacuation of Indians from Sudan and for Haj," the tweet by PM Modi read.
Recently, India had launched Operation Kaveri to rescue the Indians stranded in Sudan. Close to 3,000 people were rescued by India from Sudan.
At an MEA press briefing, foreign secretary Vinay Mohan Kwatra had said in May regarding the rescue efforts, "What we did was that as soon as the fighting broke out in Khartoum, our Embassy in Khartoum immediately alerted. As it turns out, they pretty much reached out to almost all of them by and large."
The government of India had put to task a high-level diplomatic team. India's Foreign Minister S Jaishankar and Minister of State for External Affairs V Muraleedharan were overlooking the rescue efforts carried on by the Indian Air Force and security forces.
Erdogan calls for promoting dialogue over Turkey's accession to EU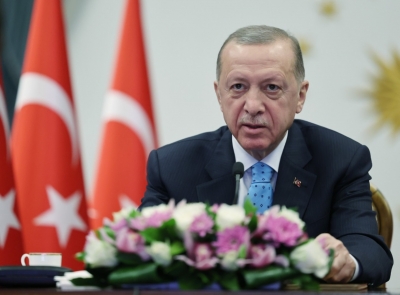 Turkish President Recep Tayyip Erdogan highlighted the necessity of promoting dialogue for his country's accession to the European Union (EU) in a phone talk with Charles Michel, the president of the European Council.
"It is necessary to increase contacts at all levels with a concrete and positive agenda in the direction of Turkey's full membership to the EU, which has great strategic value for Europe," an official statement quoted Erdogan as saying.
The EU's "fair treatment and supportive perspective" for Turkey's full EU membership would open up new horizons in relations between Ankara and the block, the statement said.
During the phone conversation, Erdogan also underlined the importance of updating the customs union agreement between Ankara and Brussels, ensuring visa-free for Turkish citizens within the EU, and strengthening bilateral cooperation on migration management and counterterrorism, it added.
Turkey started accession talks with Brussels in 2005, which have been at a standstill for several years following a prolonged state of emergency declared by Erdogan in the wake of a botched coup aiming to topple his government in 2016.