MSD's secret to success is he remains 'emotionless' and 'reactionless', says Badrinath
Former Chennai Super Kings cricketer S. Badrinath has said that skipper Mahendra Singh Dhoni's trait of remaining 'emotionless' and 'reactionless' no matter what the situation is something he likes about the celebrated wicketkeeper-batter, and added that those were the reasons for his success as well.
CSK have emerged as one of the most successful teams in the IPL, lifting the trophy four times — one less than Mumbai Indians — and Dhoni has had a hand in each winning campaign.
"There is one thing that I like and dislike about Dhoni. It is… We would have won a thrilling match. We would have played superbly and won it. He will remain reactionless. He'll take the trophy in hand and give it and go away," said Badrinath, a former India player who also played six seasons for CSK.
"Then we would lose matches very poorly. Against RCB we failed to score 120 runs in one match in Chennai. We lost. He will still remain emotionless. I'd think in surprise — what kind of a person is Dhoni, how does he stay calm and reactionless through all ups and downs! That's the thing I like about him, and that's the reason for his success too. I have learnt a lot from him. By controlling the emotions, you can get a lot of clarity.
"So say for example someone is bowling, and I don't like him. Or I don't like his school. Inside, you'll feel a rage to attack him when you're batting. That is an emotion. That can lead to a false shot and you can get out. No, you should not have emotions. You should play the ball, not the bowler."
Badrinath, who played 95 matches for CSK scoring 1441 runs, said the learning he'd got under Dhoni's captaincy was to never get caught up in emotions.
"Be in the moment, don't get caught up in your emotions. That's what I've learnt from MS Dhoni. It's a big, big thing. I'm trying to implement it. Mahendra Singh Dhoni is born with that ability!" added Badrinath.
CSK vs GT, IPL 2023 Final: What is the weather forecast for reserve day in Ahmedabad? Details inside
With the IPL 2023 final between the Chennai Super Kings and Gujarat Titans postponed to Monday (May 29th) due to persistent rain on Sunday (May 28th), the fans are highly curious about what the weather prospects are for the reserve day in Ahmedabad. Despite an extended cut-off time for the game, it couldn't go ahead and the stakeholders had to postpone it.
According to weather, day temperature will reach a high of 38 degrees on Monday in Ahmedabad as the climate is mostly sunny. Yet there is 1% chance of thunderstorms. Even then, there is full probability of a 20-over game per side between the finalists of IPL 2023. The temperature will also linger around 28 degrees at night. As per weather, there remained possibility of a few evening thunderstorms in Ahmedabad on Sunday, with the temperature expected to hover around 28 degrees at night. There were also 59 % chances of thunderstorms.
Just before the toss on Sunday, showers started and delayed the toss considerably. The match was shifted to Monday as the game did not start until 12:06 am, which was the cut-off time for a five-over contest.
IPL 2023 comes full circle:
Meanwhile, the IPL 2023 has come full circle as Chennai Super Kings and Gujarat Titans faced one another in the opening match of the season as well. The Titans won the home fixture by five wickets, chasing down 180 relatively comfortably.
However, the Super Kings, who have won the title four times, will take confidence from beating the defending champions in Qualifier 1 at the Chepauk. All eyes will be on Gujarat Titans opener Shubman Gill, who overtook Faf du Plessis as the leading run-getter of IPL 2023. He has the Orange Cap currently with 851 runs in 16 matches. Equally, MS Dhoni is also on the spotlight as his IPL future is a massive point of speculation.
'Shubman Gill on a mission for deforestation': Netizens and cricketers react to the Prince's onslaught during GT vs MI IPL 2023 match
Shubman Gill, showcased his exceptional form once again during the IPL 2023 Qualifier 2 clash between the Gujarat Titans (GT) and the Mumbai Indians (MI) at the Narendra Modi Stadium in Ahmedabad on Friday. Gill's magnificent display of batting prowess resulted in him scoring his third century of the season.
Chasing runs and record
Having already impressed with centuries against the Sunrisers Hyderabad and the Royal Challengers Bangalore in consecutive matches during the IPL 2023 league phase, the 23-year-old continued to dazzle on the field. Gill's ability to consistently deliver exceptional performances has made him a standout player in the tournament.
However, after a scintillating innings, Gill's fine run came to an end when he was caught in the deep by Tim David. David had earlier missed an opportunity to dismiss Gill but made amends with a crucial catch. Gill's final score stood at an impressive 129 runs from just 60 balls, which included seven fours and an incredible ten sixes.
Netizens, cricketer and former cricketers reacted wildly to the exceptional batting by Shubman Gill.
One fan hilariously Tweeted: "BCCI plants trees for every dot ball, but Shubman Gill is on a mission for deforestation."
This was in reference to the BCCI's initiative to plant trees for every dot ball thrown in the four IPL playoff games.
IPL 2023: Everything started when I played that shot, LSG's Krunal Pandya blames himself for defeat in Eliminator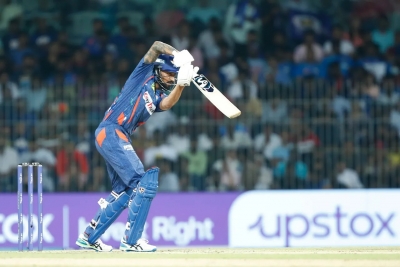 Lucknow Super Giants' skipper Krunal Pandya has taken all blame for his team's defeat in the Eliminator match of Indian Premier League (IPL) 2023 as his untimely dismissal to an atrocious shot into motion a sequence of events that resulted in team's eventual defeat.
Krunal Pandya promoted himself in the batting order and came in at No.4 but was out for eight runs, jumping out to attempt a big one against veteran spinner Piyush Chawla but ended up finding Tim David at long-on.
Though Chawla played his role, Krunal Pandya too contributed to his own downfall as playing the shot was totally unnecessary.
"We were in a really good position. Everything started when I played that shot… that was not on, and I completely take all the blame. The wicket was the same. We just had to bat better, just take that responsibility. But we didn't do it after that break (the first time-out)," Krunal Pandya said during the post-match presentation on Wednesday night.
Pacer Akash Madhwal picked a sensational five-wicket haul (5/5) and helped Mumbai Indians advance to Qualifier 2 of IPL 2023 with a thumping 81-win over LSG at the MA Chidambaram Stadium, here on Wednesday.
Batting first, Mumbai made 182/8, with Cameron Green and Suryakumar Yadav chipping in with 41 and 33 respectively. Tilak Varma hit a 22-ball 26 and Nehal Wadhera, who slammed a crucial 23 off 12 balls, provided the late impetus to the innings.
Madhwal turned the tide effectively in Mumbai's favour, finishing with an exceptional 5/5 in 3.1 overs, which is the best-ever bowling figure in IPL playoffs history as well as the most economical five-fer in the tournament and, the best bowling performance by an uncapped Indian player.
Krunal defended their decision to include Kyle Myers ahead of South African opener Quinton de Kock.
"It's always a tough decision; it's just Kyle had a better record here [than de Kock]. We just felt we could go with Kyle," he said.
He said he opened the bowling with himself and fellow spinner Krishnappa Gowtham because he wanted to do something different.