Hitler too had won elections: Rahul
Rahul Gandhi on Friday alleged that all the institutions in the country are being controlled by the Rashtriya Swayamsevak Sangh (RSS). While launching an attack on the ruling Bharatiya Janata Party (BJP), he said that even "Hitler used to win elections".
"Hitler had also won elections, he too used to win elections. How did he used to do it? He had control of all of Germany's institutions…Give me the entire system, then I will show you how elections are won," said the Congress leader while addressing a press conference ahead of the party's nationwide protest against unemployment and price hike.
Gandhi said that the more he talks about the issues of people, the more he would be attacked.
He further said, "Democracy is dying, what do you think, what do you feel? What this country built in 70 years was finished in 8 years, there is no democracy in the country, 4 people's dictatorship is going on. We want to raise the issue of inflation, we want to discuss, but we are being detained and are not allowed to discuss in the House also."
"I will do my work and I will be attacked more. The one who threatens, is the one who is scared. They are scared of the condition of the country. The promises that they have not been able to meet. They are liars. They lie 24 hours a day," Gandhi said.
Rahul Gandhi also claimed that the BJP attacks the Gandhi family. "Why do they attack the Gandhi family? They do it because we fight for an ideology and there are crores of people like us. We fight for democracy, for communal harmony and we have been doing this for years. It's not just me who did that, it has been happening for years."
He claimed that what India has built brick by brick, starting almost a century ago, is being destroyed. "Anybody who stands against this idea of onset of dictatorship is viciously attacked, jailed, arrested and beaten up," Rahul Gandhi said.
Bihar: 7-yr-old boy dies after brutal assault by teacher
A seven-year-old boy died in Bihar's Saharsa district on Friday after an alleged brutal assault by his teacher.
The victim, Aditya Kumar, was an LKG student at a private school in a village under the Sadar police station. He had been living in a hostel since the last 10 days.
His parents are residents of the adjoining Madhepura district.
According to the police, the school administration informed Aditya's parents that he became unconscious and was admitted to a private hospital.
By the time his parents arrived, the victim died.
"We sent our child to the school cum hostel in Saharsa district on March 14. We received a phone call on Friday that Aditya became unconscious and was admitted to a private hospital. When we reached the hospital, he was already dead," said Prakash Yadav, Aditya's father.
"We have sent the body for post-mortem to ascertain the actual cause of death. The family members alleged that he died due to the physical assault. We are also trying to arrest the owner of the school. He is absconding. We have lodged an FIR and efforts are on to nab him," said Brajesh Chauhan, Sub-inspector of Sadar police station.
Maharashtra: 4 killed as truck rams into tempo on Ahmednagar-Pune highway
The accident, in which the truck driver also suffered injuries, took place near Kamargaon on the Ahmednagar-Pune highway in western Maharashtra.Four people were killed and seven others injured after a truck collided with their tempo on a highway in Ahmednagar district of Maharashtra in the early hours of Thursday, said police.
The accident, in which the truck driver also suffered injuries, took place near Kamargaon on the Ahmednagar-Pune highway in western Maharashtra.
According to the police, approximately 15 people were returning to their native place in Shirur tehsil of Pune district in a vehicle after visiting some religious sites in Ahmednagar district.
A truck coming from Pune suddenly veered off from its path, jumped the divider and collided with their vehicle. Three people died on the spot, while another person succumbed to his injuries in hospital," said an officer from the Ahmednagar police.
He said seven other passengers in the ill-fated vehicle were injured and were being treated at a hospital.
According to the police officer, a case has been filed against the truck driver under relevant sections of the Indian Penal Code.
Supreme Court: Being a member of unlawful association is an offence under UAPA.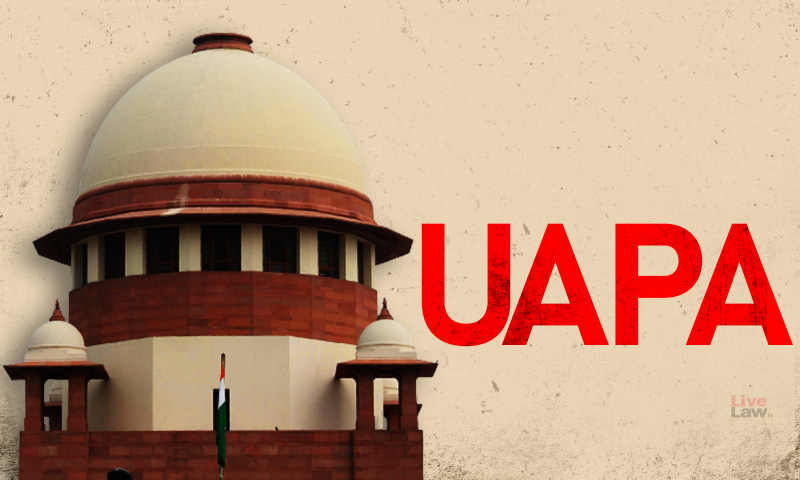 The Supreme Court on Friday held that mere membership of unlawful association is sufficient to constitute an offence under UAPA. The apex court upheld the Section 10 (a) (i) of the Unlawful Activities Prevent Act.The apex court, according to Bar and Bench report, also said all High Court decisions to the contrary are overruled. A bench of Justices MR Shah, CT Ravikumar and Sanjay Karol pronounced the verdict.
While allowing petitions of the Union government and the Assam government seeking review of the apex court's 2011 verdicts on membership of banned outfits, the court said the Union government was required to be heard when a provision enacted by Parliament is read down.
The top court said the 2011 verdicts were passed while relying on American court decisions which cannot be done without considering the condition prevailing in India.In India right to freedom of speech and expressions is not absolute and is subject to reasonable restriction. However, decisions of the American court can be guiding light", the bench said.
On February 9, the top court while reserving its verdict on batch of review pleas had noted that the Union of India was not heard by its two-judge benches when the 2011 verdict was passed reading down section 3 (5) of Terrorist and Disruptive Activities (Prevention) Act, 1987 (now repealed).
The top court on February 3, 2011, had acquitted suspected ULFA member Arup Bhuyan, who was held guilty by a TADA court on the basis of his alleged confessional statement before the Superintendent of Police, and said mere membership of a banned organisation will not make a person a criminal unless he resorts to violence or incites people to violence or creates public disorder by violence or incitement to violence.
Similar views were taken by the apex court in two other verdicts of 2011 in Indra Das versus State of Assam and state of Kerala versus Raneef, where the bench relied upon the three US Supreme Court decisions which have rejected the doctrine of 'guilt by association'.