Erdogan vows to protect Turkey's rights against Greece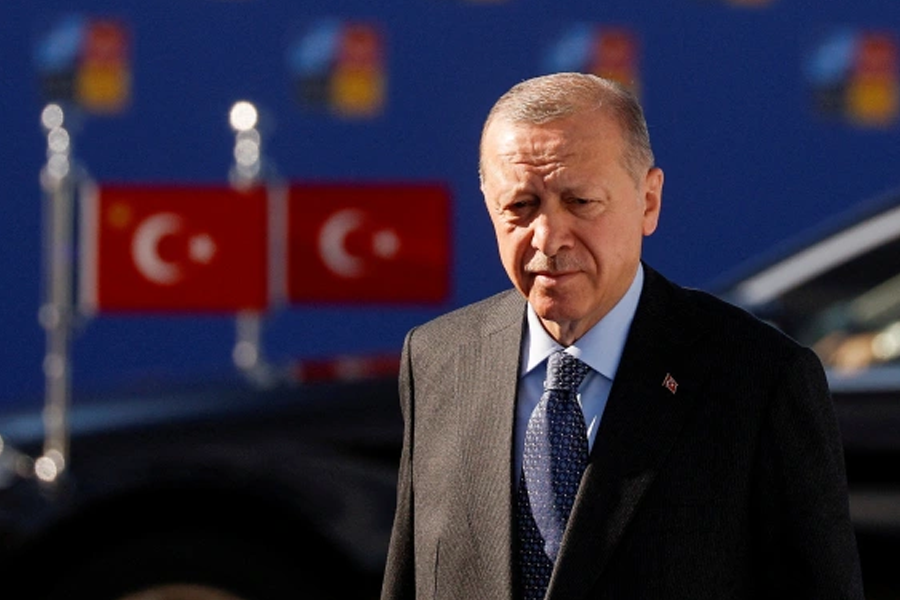 Turkish President Recep Tayyip Erdogan vowed to "use all means" to protect Ankara's rights and interests against Greece.
"We will not fail to use all the means to defend our country's rights and interests against Greece, when necessary," Erdogan said at a press conference after a cabinet meeting on Monday.
His remarks came amid a recent escalation of tension between two neighbours over their disputes in the Aegean Sea, reports Xinhua news agency.
He accused Athens of making policies based on "provocative actions" and suggested that Greece is being "dragged into a swamp with military build-ups".
"This is a dangerous game for both the Greek politicians, the Greek state, the Greek people," Erdogan said.
Relations between the two countries have long been tense over a series of issues, including territory and energy disputes in the Aegean and the Mediterranean Seas.
The semi-official Anadolu Agency reported on Sunday the footage of Greek ships, carrying military vehicles, landed on Lesbos and Samos islands on September 18 and 21, respectively.
Turkey warned Greece that these islands have non-military status according to international treaties.
Earlier this month, Erdogan accused Greece of "harassing" Turkish fighter jets in the Aegean Sea and the eastern Mediterranean, a claim that Greece has rejected.
Greek Prime Minister Kyriakos Mitsotakis on September 11 said despite the recent "unacceptable" comments of Erdogan, he was "always available and open to a meeting with the Turkish leader".
Opening bell: Markets open in green amid positive global cues; Sensex at 62,889.90, Nifty at 18,609.90
The markets on Monday opened higher with Sensex at 62,889.90, up by 388.21 points and Nifty was at 18,609.90 with a gain of 110.55 points. Mahindra and Mahindra, TCS, HDFC, IndusInd Bank and Wipro were the top gainers in the morning session.
The stocks of Adani Transmission, Rail Vikas Nigam, IRCTC, Torrent Power and NHPC will be in focus as the companies are announcing the results for the last quarter today.
Markets on Friday
Thanks to increased buying by Foreign Institutional Investors, Sensex surged 623 points to end the week at 62,496. Nifty also went up by 0.94 per cent to hit 18,495 points at close, buoyed by a rebound for global markets and gains made by US stocks.
Global markets
Wall Street shares on Friday after being on the lower end rose sharply as the US debt ceiling progressed and chip stocks gained for a second straight day due to optimism surrounding AI. The Nasdaq Composite rose by 2.19 per cent to 12,975.69, S&P 500 closed higher at 4,205.45 and the Dow Jones Industrial Average rose to 33,093.34.
With the US debt negotiations reaching closer to a deal the Asian markets on Monday were in green. Singapore's SGX Nifty saw a gain of 159 points at 18,707, South Korea's KOSPI was comparatively flat with a gain of 4.12 points at 2,558.81 and Japan's Nikkei 225 was in the green with a gain of 159 points at 31,330.63. However, Hong Kong's Hang Seng was at 18,723.72 with a drop of 23.20 points.
Oil prices
Oil prices on Monday were were higher after as United States leaders reached a tentative decision to avoid debt default. Brent crude futures went up by 39 cents to $77.34 per barrel and US West Texas Intermediate crude was at $73.12 per barrel with a gain of 45 cents.
Rupee
Indian rupee on Monday opened flat at 82.58 per dollar against Friday's close of 82.57.
16 wounded as blast rocks Afghan city
At least 16 people have been confirmed wounded after a blast rocked Pul-e-Khumri city, the capital of Afghanistan's northern Baghlan province, local media reported.
Quoting an anonymous source, private media outlet the Salam Watandar reported that at least 16 people had been taken to a hospital for medical treatment on Friday, news agency reported.
Eyewitnesses who declined to give their names told the news agency that security forces had cordoned off the area and ambulances were seen running around the city to transport the wounded.
The Taliban administration has yet to make a comment. No group or individual has claimed responsibility.
Saudi Arabia restores diplomatic ties with Canada
Saudi Arabia and Canada have agreed to restore diplomatic relations and appoint ambassadors, the Saudi foreign ministry announced.
The Ministry said on Wednesday in a statement that the decision was made based on the two sides' wishes to restore ties on the basis of mutual respect and common interests, news agency reported.
"Canada has appointed a new ambassador to the Kingdom of Saudi Arabia, Jean-Philippe Linteau," the Canadian Foreign Ministry said in a statement while announcing the decision.
The move follows discussions between Saudi Arabian Crown Prince Mohammed bin Salman bin Abdulaziz Al Saud and Canadian Prime Minister Justin Trudeau during the APEC summit in the Thai capital of Bangkok in November 2022, the Ministry added.
Saudi Arabia recalled its ambassador from Canada in 2018 after a dispute over Canada's demand for Saudi Arabia to release detained activists.