Dhankhar directs action against Trinamool MP Abhishek Banerjee over his 'anti-judiciary' remarks
West Bengal Governor Jagdeep Dhankhar on Monday said that he has instructed the state chief secretary to initiate action against Trinamool Congress Lok Sabha MP from Diamond Harbour Abhishek Banerjee over his anti-judiciary comments on May 28.
The Governor has asked Chief Secretary H.K. Dwivedia to initiate action and submit all necessary updates on this count by June 6.
"Chief secretary is called upon to initiate all expected action and update by June 6, 2022 as regards public targeting of judiciary by Diamond Harbour MP (over judiciary entrusting investigation to CBI in cases, including in the infamous unprecedented SSC recruitment scam), prominently reflected in credible public domain, that can neither be overlooked nor countenanced," Dhankhar tweeted.
The governor also observed that the MP's accusing and targeting the judiciary interferes with the due course of justice process and reflects scant respect for the rule of law. "The obvious intent of such an attack is to browbeat the judiciary, apart from signaling law of ruler and not rule of law holding the field. Such attacks on judiciary are worrisome as those sound death knell of democracy. Such pernicious stance seeks to undermine the rule of law and propagates 'Law of the Ruler'," he said in his Twitter message.
On May 28, while addressing a public rally at the industrial township of Haldia in East Midnapore district of the state, Abhishek Banerjee, also the party's national general secretary, launched a scathing attack against a section of the judiciary in the backdrop of consecutive orders of Calcutta High Court for CBI probe that have gone against the state government.
"I feel bad to say that a couple of members of the judiciary are acting at the behest of others and as agents. They are ordering for CBI verdicts in petty cases. They are putting a stay in murder cases. This is unthinkable," Banerjee said at a public rally in Haldia.
He also said that he is aware that he can be legally pulled up by the judiciary for such comments. "Some people might take offence. There can be legal suits against me as well. But I am not scared to speak the truth. I will say the same thing in future as well," he said.
Bihar: 7-yr-old boy dies after brutal assault by teacher
A seven-year-old boy died in Bihar's Saharsa district on Friday after an alleged brutal assault by his teacher.
The victim, Aditya Kumar, was an LKG student at a private school in a village under the Sadar police station. He had been living in a hostel since the last 10 days.
His parents are residents of the adjoining Madhepura district.
According to the police, the school administration informed Aditya's parents that he became unconscious and was admitted to a private hospital.
By the time his parents arrived, the victim died.
"We sent our child to the school cum hostel in Saharsa district on March 14. We received a phone call on Friday that Aditya became unconscious and was admitted to a private hospital. When we reached the hospital, he was already dead," said Prakash Yadav, Aditya's father.
"We have sent the body for post-mortem to ascertain the actual cause of death. The family members alleged that he died due to the physical assault. We are also trying to arrest the owner of the school. He is absconding. We have lodged an FIR and efforts are on to nab him," said Brajesh Chauhan, Sub-inspector of Sadar police station.
Maharashtra: 4 killed as truck rams into tempo on Ahmednagar-Pune highway
The accident, in which the truck driver also suffered injuries, took place near Kamargaon on the Ahmednagar-Pune highway in western Maharashtra.Four people were killed and seven others injured after a truck collided with their tempo on a highway in Ahmednagar district of Maharashtra in the early hours of Thursday, said police.
The accident, in which the truck driver also suffered injuries, took place near Kamargaon on the Ahmednagar-Pune highway in western Maharashtra.
According to the police, approximately 15 people were returning to their native place in Shirur tehsil of Pune district in a vehicle after visiting some religious sites in Ahmednagar district.
A truck coming from Pune suddenly veered off from its path, jumped the divider and collided with their vehicle. Three people died on the spot, while another person succumbed to his injuries in hospital," said an officer from the Ahmednagar police.
He said seven other passengers in the ill-fated vehicle were injured and were being treated at a hospital.
According to the police officer, a case has been filed against the truck driver under relevant sections of the Indian Penal Code.
Supreme Court: Being a member of unlawful association is an offence under UAPA.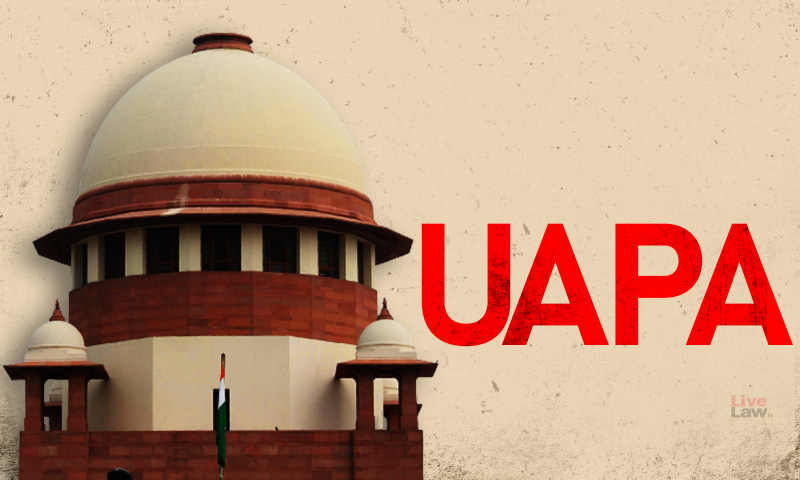 The Supreme Court on Friday held that mere membership of unlawful association is sufficient to constitute an offence under UAPA. The apex court upheld the Section 10 (a) (i) of the Unlawful Activities Prevent Act.The apex court, according to Bar and Bench report, also said all High Court decisions to the contrary are overruled. A bench of Justices MR Shah, CT Ravikumar and Sanjay Karol pronounced the verdict.
While allowing petitions of the Union government and the Assam government seeking review of the apex court's 2011 verdicts on membership of banned outfits, the court said the Union government was required to be heard when a provision enacted by Parliament is read down.
The top court said the 2011 verdicts were passed while relying on American court decisions which cannot be done without considering the condition prevailing in India.In India right to freedom of speech and expressions is not absolute and is subject to reasonable restriction. However, decisions of the American court can be guiding light", the bench said.
On February 9, the top court while reserving its verdict on batch of review pleas had noted that the Union of India was not heard by its two-judge benches when the 2011 verdict was passed reading down section 3 (5) of Terrorist and Disruptive Activities (Prevention) Act, 1987 (now repealed).
The top court on February 3, 2011, had acquitted suspected ULFA member Arup Bhuyan, who was held guilty by a TADA court on the basis of his alleged confessional statement before the Superintendent of Police, and said mere membership of a banned organisation will not make a person a criminal unless he resorts to violence or incites people to violence or creates public disorder by violence or incitement to violence.
Similar views were taken by the apex court in two other verdicts of 2011 in Indra Das versus State of Assam and state of Kerala versus Raneef, where the bench relied upon the three US Supreme Court decisions which have rejected the doctrine of 'guilt by association'.