CSK win not an offshoot of captaincy change; Jadeja was perhaps over-thinking: Dhoni
Chennai Super Kings skipper Mahendra Singh Dhoni, who found himself back in the hot seat after Ravindra Jadeja relinquished the post, attributed the good start and sublime performances from Ruturaj Gaikwad and Devon Conway with the bat on Sunday night against SRH to just "one of those coincidence", adding that change in captaincy doesn't alter the dynamics of the dressing room.
Following a string of poor performances in IPL 2022, Jadeja who was entrusted the task of leading the side, stepped down for Dhoni to be back at the helm marshalling his Boys in Yellow. CSK gave one of its most assertive performances with the bat and ball as they defeated Sunrisers Hyderabad by 13 runs at the MCA Stadium, with Gaikwad smashing 99 and New Zealand's Conway hitting an unbeaten 85 to lay the platform for a 200-plus score.
Dhnoi said the team didn't do anything different on the day, adding that the start given by the openers did the trick.
"I think it was a good score to start. Nothing different. When you're in the same dressing room, you keep saying the same thing. It's not like when you change the captain a lot of things change. It's one of those coincidences where we got off to a good start and forced the bowlers to bowl the areas where we wanted to hit. The kind of target we got was a very good one.
"After that you needed very good bowling because a bit of dew makes it slightly difficult. The phase that really worked for us was where the spinners were bowling after six overs. It started holding a bit. I knew it wouldn't be there for a very long period so it was important to get the spinners off and build the required run rate. We were able to do that and later on we had surplus runs that we could defend. With the dew, if the opposition get off to a good start, they chase 200," averred Dhoni.
Dhoni confirmed that Jadeja knew last season itself that he would be leading the side in IPL 2022 and got enough time to prepare. The veteran cricketer added that for the first couple of games, he was guiding Jadeja but later one the all-rounder was taking decisions.
"Right from the very start, between me and Jadeja, he knew last season itself that he will be given a chance to captain this year. He knew and got enough time to prepare, what is important is you want him to lead the side and I wanted that transition to happen. In the first two games there was information going in towards Jaddu (Jadeja). But after that I left it to him to decide which angle… because at the end of the five games or the end of the season, you don't want him to feel as if the captaincy was done by someone else and I'm just going for a toss. So it was a gradual transition where I said okay this is what I'll do, I'll take care of the fielding angles and everything for the first two games. After that if it comes to me, no, you have to decide on your own because that's the only way you'll learn what captaincy is.
"Spoon-feeding doesn't really help captain, on the field you have to take those crucial decisions and you have to take responsibility for those decisions," opined Dhoni.
Dhoni added that the task entrusted to Jadeja had started taking a tool on him, where he was probably over-thinking about preparations and trying to contribute more.
"Once you become the captain, we have to take care of a lot many things and that also includes your own game. With him, his mind was working a lot. It's not easy to control your mind, it's the strongest feature. Once your mind starts working, it wants to contribute more. Ok what's the combination I can play with, who can bowl at what point of time, it doesn't really stop. What happens is, the individual is not able to relax. Even when he closes his eyes and wants to sleep, the mind is still working.
"What I felt was it was having an effect on his game, when he was going in to bat or his preparation. Because I would love to have Jadeja as a bowler, batter and a fielder. Even if you relieve captainship and if you are at your best and that's what we want," added Dhoni.
Dhawan named captain for India's upcoming ODI series against South Africa, maiden call-ups for Patidar, Mukesh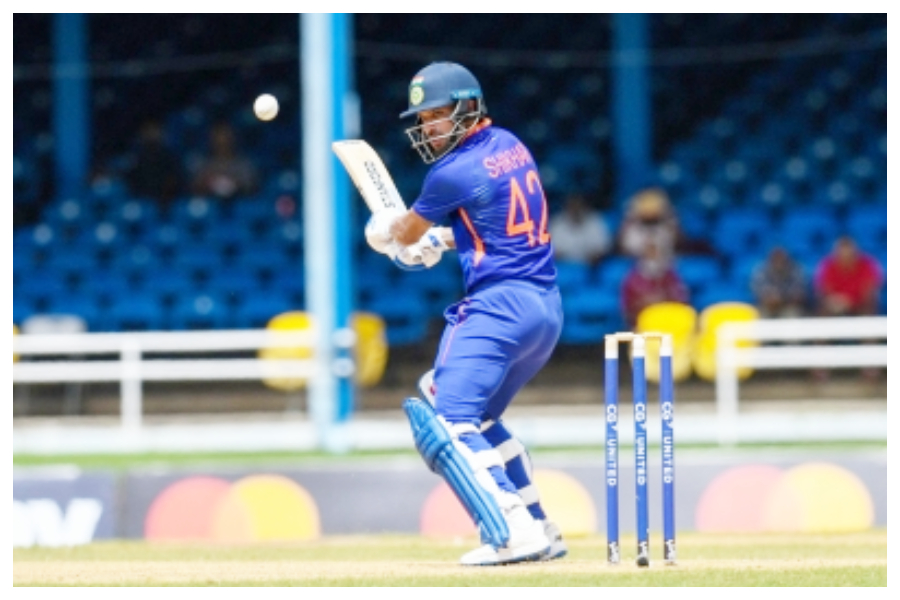 Senior left-handed opener Shikhar Dhawan on Sunday was named captain of India's squad which will play three ODIs against South Africa on October 6, 9 and 11 in Lucknow, Ranchi and New Delhi respectively.
The All-India Senior Selection Committee has also given maiden ODI call-ups to middle-order batter Rajat Patidar and pacer Mukesh Kumar. Patidar's career has been on an upswing since making a breathtaking 112 for Royal Challengers Bangalore in IPL 2022 Eliminator against the Lucknow Super Giants at Kolkata.
Patidar went on to score 122 and 30 not out in Madhya Pradesh's Ranji Trophy final win over Mumbai at Bengaluru. Recently, he scored two centuries, one of which was a mammoth 176, in four innings of India A's multi-day series against New Zealand A to be the top run-scorer for the hosts with 319 runs at an average of 106.33. He also made 45 not out and 20 in one-day matches against New Zealand A in Chennai.
Mukesh, the right-arm medium pacer who represents Bengal in domestic cricket, picked up nine wickets at an average of 21.78 in the multi-day series against New Zealand A, including taking 5/86 on day one of the series. More recently, he rattled a famed Saurashtra batting line-up with his deadly spell of 4/23 for the Rest of India in the ongoing Irani Cup final in Rajkot.
Interestingly, batter Shreyas Iyer, pace all-rounder Deepak Chahar and leg-spinner Ravi Bishnoi, who are travelling reserves in India's squad for the Men's T20 World Cup to be held later in Australia, have been included in the ODI squad with no member of the main squad to take part in the series as they depart for Australia on October 6.
Left-arm spin all-rounder Shahbaz Ahmed, who had been called in as a replacement for the injured Washington Sundar in the 3-0 ODI series triumph in Zimbabwe but didn't get a game, retains his place in the squad, and so does right-handed batter, Rahul Tripathi. Pacer Avesh Khan also comes back into the ODI fold after missing the last few matches of the T20 Asia Cup 2022 due to illness.
India's ODI squad: Shikhar Dhawan (captain), Ruturaj Gaikwad, Shubman Gill, Shreyas Iyer (vice-captain), Rajat Patidar, Rahul Tripathi, Ishan Kishan (wicket-keeper), Sanju Samson (wicket-keeper), Shahbaz Ahmed, Shardul Thakur, Kuldeep Yadav, Ravi Bishnoi, Mukesh Kumar, Avesh Khan, Mohammed Siraj, Deepak Chahar
Stampede at football match in Indonesia, death toll reaches 174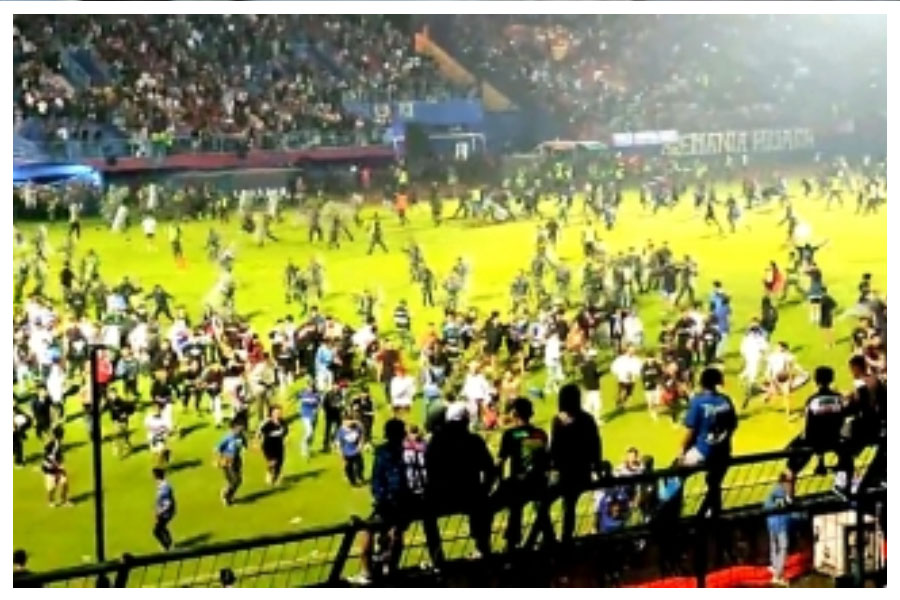 At least 174 people have died and 180 others are injured in a stampede at a football match in Indonesia's Malang in East Java province, Indonesian Police said on Sunday.
The incident took place after police tear-gassed supporters who invaded the pitch late on Saturday evening, BBC reported.
It is one of the world's worst stadium disasters after local team Arema FC lost 2-3 to bitter rivals Persebaya Surabaya in East Java.
The country's Chief Security Minister said that spectators exceeded the stadium's 38,000 capacity by around 4,000, BBC reported.
President Joko Widodo has ordered that all matches in Indonesia's top league must be stopped until an investigation is done.
Videos show fans running on to the pitch after the final whistle.
Police then fired tear gas, leading to a crowd stampede and cases of suffocation, said Nico Afinta, Police Chief in East Java.
"It had gotten anarchic. They started attacking officers, they damaged cars," he said, adding that two police officers were among the deceased.
"We would like to convey that not all of them were anarchic. Only about 3,000 who entered the pitch," he said.
Fleeing fans "went out to one point at the exit. Then there was a build-up, in the process of accumulation, there was shortness of breath, lack of oxygen", he added.
Videos on social media show fans clambering over fences to escape. Separate videos appear to show lifeless bodies on the floor.
FIFA, the world's governing football body, states that no "crowd control gas" should be carried or used by stewards or police at matches.
The Indonesian football association (PSSI) said it had launched an investigation, adding that the incident had "tarnished the face of Indonesian football".
Violence at football matches is not new in Indonesia, and Arema FC and Persebaya Surabaya are long-time rivals.
Persebaya Surabaya fans were banned from buying tickets for the game because of fears of clashes.
But Chief Security Minister Mahfud MD posted on Instagram that 42,000 tickets had been sold for the match at the Kanjuruhan stadium.
President Widodo called for this to be the "last soccer tragedy in the nation" after ordering that all Liga 1 games should be paused pending an investigation.
The stampede is the latest in a long line of disasters at stadiums.
In 1964, a total of 320 people were killed and more than 1,000 injured during a stampede at a Peru-Argentina Olympic qualifier in Lima.
In 1985, 39 people died and 600 were hurt at the Heysel stadium in Brussels, Belgium, when fans were crushed against a wall that then collapsed during the European Cup final between Liverpool (England) and Juventus (Italy).
In the UK, a crush developed at the Hillsborough stadium in Sheffield, resulting in the deaths of 97 Liverpool fans attending the club's FA Cup semi-final against Nottingham Forest.
Hayley Matthews to lead West Indies women in white-ball series against New Zealand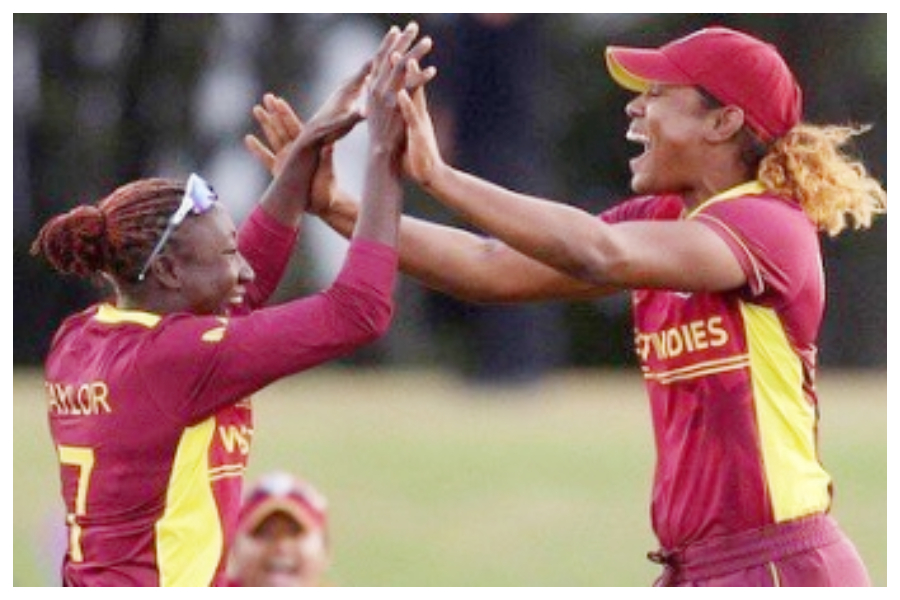 Newly-appointed captain Hayley Matthews will lead the West Indies side to take on New Zealand Women in three ODIs from September 16-22 at the Sir Vivian Richards Stadium here.
The side sees the return of the experienced wicketkeeper-batter Natasha McLean. The squad was selected based on the performances in the recently concluded 6ixty and the Women's Caribbean Premier League (WCPL) tournaments.
The 17-member provisional squad will be pruned down to 13 a day before the start of the series.
The five T20 Internationals are scheduled for September 25 to October 6.
For the ODI series, West Indies will be looking to build on the progress after reaching the semifinals of the ICC Women's Cricket World Cup in New Zealand earlier this year. The team will then look to the five T20I matches as part of their preparations for the 2023 ICC Women's T20 World Cup in South Africa in January.
Mandy Mangru and Kaysia Schultz have also joined the players in Antigua for a 10-day training camp led by head coach Courtney Walsh.
"The New Zealand series is very important on the women's cricket landscape not only because it starts a new cycle, but also because it is part of the preparation leading towards the T20 World Cup in South Africa," CWI's lead selector for women's cricket, Ann Browne-John, said.
"With a few senior players unavailable at this time, for different reasons, like the experienced Anisa Mohammed, Kycia Knight and recently retired Deandra Dottin, the selectors were still able to get a blend of senior and developing players including Under-19 player Jannillea Glasgow and returning players Natasha McLean and Sheneta Grimmond. Ultimately, we believe that captain Hayley Matthews, in her first series, will have a promising squad of players to start building with," added Browne-John
Full squad: Hayley Matthews (C), Aaliyah Alleyne, Shemaine Campbelle, Shamilia Connell, Afy Fletcher, Cherry Ann Fraser, Shabika Gajnabi, Jannillea Glasgow, Sheneta Grimmond, Chinelle Henry, Kyshona Knight, Natasha McLean, Chedean Nation, Karishma Ramharack, Shakera Selman, Stafanie Taylor, Rashada Williams.
Schedule: ODI Series – September 16, 18 and 22. T20I Series – September 25, 28, Oct 1, 4 and 6.