Clash at Afghanistan-Iran border a misunderstanding: Taliban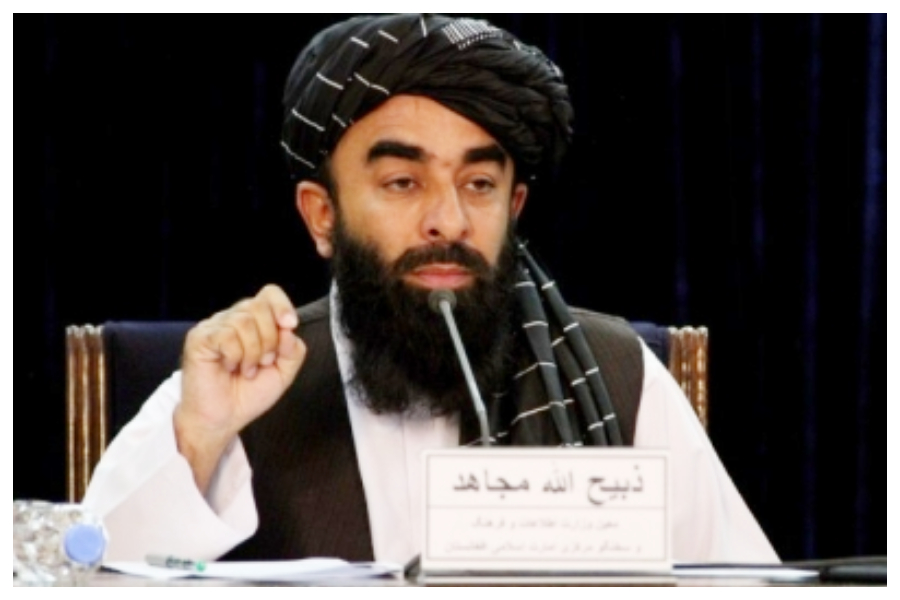 Taliban spokesman Zabihullah Mujahid has confirmed a clash between the border forces of Iran and Afghanistan and described the incident as a "misunderstanding."
According to media reports, a clash broke out between the forces of the two countries at a border point between Iran and Afghanistan's western Nimroz province.
"The clash in border area of Kang district in Nimroz province between border forces of Afghan and Iran was a misunderstanding at local level and has been solved," Mujahid tweeted on Wednesday, Xinhua news agency reported.
"To prevent such incidents in future, the leadership of the Islamic Emirate has issued necessary directives," Mujahid said.
Iran will restrict Internet access in country until calm is restored to streets
Iranian authorities said they will restrict Internet access in the country until calm is restored to the streets, as protests over the death of a young woman in the custody of the morality police rocked the Islamic Republic, media reported.
Thousands of Iranians have taken to the streets in protest since the death last week of 22-year-old Mahsa Amini, who was apprehended in Tehran and taken to a 're-education centre', apparently for not wearing her Hijab properly.
Since Friday, demonstrations have taken place in at least 40 cities nationwide, including the capital Tehran, with protesters demanding an end to violence and discrimination against women as well as an end to compulsory wearing of the Hijab, CNN reported.
Dozens of protesters have reportedly been killed in the resulting clashes with security forces.
Amnesty International said on Friday that at least 30 people, including four children, had died. According to state media the Islamic Republic of Iran Broadcasting (IRIB), 35 people have died.
Authorities hope that by restricting the Internet, they can bring the protests under control, CNN reported.
Speaking to state broadcaster IRIB on Friday, Iran's Minister of Communications Ahmad Vahidi said, "Until the riots end, the Internet will have limitations. To prevent riot organization through social media, we are obliged to create Internet limitations."
Vahidi's comments came after videos on social media showed scenes of public defiance, with women removing and burning their headscarves and demonstrators chanting such slogans as, "women, life, freedom."
The move to further restrict the Internet also followed a call by the United Nations for an independent investigation into Amini's death and for Iran's security forces to refrain from using 'disproportionate force' on the protesters.
Amini's death has now become a symbol of the violent oppression women have faced in Iran for decades, and her name has spread around the globe, with world leaders invoking her even at the United Nations General Assembly in New York City this week, CNN reported.
Israel no longer partner of Palestine in peace process: Abbas
Palestinian President Mahmoud Abbas said that Israel has decided not to be a partner of Palestine in the peace process and that it will be treated as such.
"It is clear that Israel, which is ignoring the resolutions of international legitimacy, has decided not to be our partner in the peace process," said Abbas in his speech to the General Debate of the UN General Assembly.
Israel has undermined the Oslo Accords, which it signed with the Palestine Liberation Organization (PLO), he said, adding that it has and still is, through its premeditated and deliberate policies, destroying the two-state solution, he said.
"This proves unequivocally that Israel does not believe in peace. It believes in imposing a status quo by force and by aggression.
"Therefore, we do not have an Israeli partner anymore to whom we can talk. Israel is thus ending its contractual relationship with us," said Abbas.
Palestine does not accept to remain the only party respecting the agreements it has signed with Israel in 1993. Those agreements are not valid anymore because of the persisting violations of Israel, he said.
"Therefore, it is our right, rather, our obligation to look for other means, to recover our rights and to achieve a peace built on justice, including the implementation of the resolutions that were adopted by our leadership, especially our parliament," said Abbas.
The state of Palestine will also start the accession process to join other international organizations, he said.
Abbas called on the UN Secretary-General to work relentlessly to elaborate on an international plan to end the occupation of the land of Palestine to achieve peace, security and stability in the region, in line with UN resolutions and with the Arab Peace Initiative.
"The state of Palestine is looking forward to peace. Let us make this peace to live in security, stability, and prosperity for the benefit of our generation and all the people of the region," he said.
Dozens of Palestinians injured in clashes with Israeli soldiers in West Bank
Dozens of Palestinian protesters were injured during clashes with Israeli soldiers in several West Bank cities and villages.
Among the injured were three shot by live ammunition and nine by rubber bullets, while the others inhaled teargas fired by Israeli soldiers, the Palestinian Red Crescent Society said in a statement on Friday.
In the village of Beita, south of the northern West Bank city of Nablus, two Palestinians were injured by rubber-coated metal gunshots, and 28 others inhaled teargas, said the statement, adding Israeli soldiers opened fire at the medical crews in the area, reports Xinhua news agency.
Since May 2021, the village of Beita has been witnessing daily clashes between the two sides over the establishment of Israeli settlement outpost near the village and the confiscation of Palestinian land.
Fierce clashes also broke out in the villages of Beit Dajan and Kafr Qaddum.
Israeli authorities have not commented on the incidents yet.
Israel occupied the West Bank and East Jerusalem, both claimed by the Palestinians, in the 1967 Middle East war, and has controlled them ever since.
Official Palestinian reports said more than 700,000 Israeli settlers live in 151 settlements established on Palestinian lands in East Jerusalem and the West Bank since 1967.
Tension in the West Bank has been mounting over the past few days after the Israeli army intensified its military actions against Palestinian militants and activists.