BJP can talk to Taliban but not Farmers, says Congress
The Congress has mounted further attack on the BJP-led government in Haryana for suppressing the voice of the farmers by blocking internet in Karnal.
Congress chief spokesperson, Randeep Surjewala said in a statement, "The Khattar government has lost the confidence and the mandate of the people and it should leave. When your party can talk to the Taliban, why not farmers."
He added that it's dictatorship to block the internet.
Multi-layer security has been deployed at the spot where Mahapanchayat is to be held. Around 30 battalions, including the central forces have been deployed to ensure security and to avoid any untoward incident.
Though there are multi-layer barricading to stop people from moving towards the Karnal mandi, the agitating farmers said they will reach the spot at any cost. "If needed, we will break the barricades. No security can stop farmers from attending the mahapanchayat," said Jagdeep Singh Chaduni, a Karnal-based Bhartiya Kisan Union (BKU).
Chaduni told IANS that a large number of farmers across the State will gather for the meet. "People have started coming and they will reach the mandi soon. All farm leaders will reach the spot by noon and then mahapanchayat will start," he added.
Farmers gathered here at Karnal mandi said they want action against the IAS officer who had ordered police action on August 28. They said the official should be suspended and the families of all the farmers who have sacrificed their lives during the protest should be compensated.
The farmers mahapanchayat is at the grain market of Karnal and then they will take out a protest march on NH 44 before proceeding towards the mini-secretariat.
Former servicemen said idea of Agniveer came from RSS: Rahul
Congress leader Rahul Gandhi on Tuesday hit out at the Modi government over Agnipath scheme and said that it was imposed on Army by the RSS and Home Ministry.
New Delhi, Feb 7 : Congress leader Rahul Gandhi on Tuesday hit out at the Modi government over Agnipath scheme and said that it was imposed on Army by the RSS and Home Ministry.
"During the Bharat Jodo Yatra, retired officers of Indian Army told us that idea about Agniveer came from RSS and was thrust on the Army. They said we are training 1000s in weapons and then soon after, they will become civilians amid high unemployment. The officers told me that Ajit Doval is the man behind this idea," Rahul Gandhi said in the Motion of Thanks on President's address.
"How is it that the Agniveer Yojana was mentioned only once in the President's speech? There was no word on unemployment and inflation in the address. So all the issues that people told me about during the yatra, we didn't hear in the President's address," he added amid uproar.
"During 'Bharat Jodo Yatra', we heard people's voices while we also kept our voices. We talked to children, women, and the elderly during the yatra. We asked the youth about their jobs… Many said they are unemployed or drive Uber. Farmers talked about not getting money under PM-BIMA Yojana and their land being snatched away, while tribals talked about Tribal Bill."
"When we first started walking (referring to Bharat Jodo Yatra), we wanted to play the opposition and tell people about issues facing the country. However, as we progressed, after 500-600 kms, there was a major change. Instead of us telling the people the source of their problems, they themselves started speaking to us," he said.
'Stretching it too much', SC on hate speech claims against Madras HC judge appointment
The Supreme Court on Tuesday said it has a fairly robust scrutiny process and petitioners may be stretching it too much, as their counsel questioned the recommendation to appoint Lekshmana Chandra Victoria Gowri as an additional judge of the Madras High Court by saying that her "views are antithetical to the values of the Constitution, it is hate speech pure and simple".
A bench comprising Justices Sanjeev Khanna and B.R. Gavai told senior advocate Raju Ramachandran, representing the petitioners, that there is a difference between eligibility and suitability, as far as suitability is concerned one can say it can be made subject matter of writ petition, and the aspect of eligibility is the only issue as required under the Constitution.
Ramachandran said a person, who is not in sync with the ideals of the Constitution or basic principles of the Constitution, is unfit to take the oath. He added that Gowri has rendered herself as incapable of taking oath by her own public utterances.
Gowri was administered the oath of office during the hearing before the top court.
The bench said there have been cases when people of political background have taken oath over here as judges of the Supreme Court and the high court. "You placed on record utterances of 2018 and we have seen it, and it must have been placed before the collegium…," it added.
Justice Gavai said when collegium takes a decision, it also takes the opinion of consultee judges who have come from that particular high court and you cannot assume that judges of the particular high court are also not aware of all these things.
Ramachandran said the consultee judges may not be aware of social media posts and cannot presume every judge reads every tweet in public domain.
Justice Gavai said, "We have also been consultee judges and when we give our opinion it is based on all the factors…I also have a political background and I have been a judge for the last 20 years. I do not think my political views at any point of time have come in the way…"
Emphasizing that he is not on the aspect of political background, Ramachandran said political background brings a totally new element into judicial discourse, and added that judges can be of conservative or radical persuasion which adds to the richness of judicial discourse. "It is hate speech, you may be a member of the party…hate speech runs antithetical to the basic tenets of the Constitution, renders you unfit to take the oath…," said Ramachandran.
The bench replied that "for us to go into all these aspects of suitability, merit or selection process would be like opening a new jurisdiction, which we have always refrained from doing."
Ramachandran said her views are antithetical to the values of the Constitution, it is hate speech pure and simple and therefore, it is a clear case of ineligibility. "That will be stretching it too much, if the facts are known to the collegium, they must have examined it…facts not known, that it is not possible you cannot say that issues, background of the person were not known," said Justice Khanna.
The bench said, "This is an aspect related to more suitability of the person, and not about the eligibility of the person…we can't direct the collegium to reconsidera."
There is a certain threshold of requirements, the collegium was stymied as certain information, we assume, were not put before it in view of an open court statement by the Chief Justice of India D.Y. Chandrachud on Monday, Raju said.
"We have a fairly robust scrutiny process…assuming collegium may have not taken into consideration…," said Justice Khanna.
Senior advocate Anand Grover, also representing the petitioners, said her views are extreme in nature making her ex facie ineligible to be judge. "We would be setting up a very wrong precedent, if we entertain the plea," the bench said.
Senior advocate Manan Kumar Mishra submitted that there has been no complaint against her by the Tamil Nadu State Bar Council.
The court also noted that she has been appointed as additional judge only and there have been instances where the candidates have not been made permanent in view of inadequacies of performance. "We are not entertaining the petitions, the reasons will follow," the bench said, after hearing detailed arguments.
The top court order came on petitions filed by Anna Mathew, R. Vaigai, and others challenging Gowri's appointment as an additional judge of the Madras High Court.
The Supreme Court collegium on January 17 had proposed the elevation of advocate Lekshmana Chandra Victoria Gowri as judge of the Madras High Court.
A group of Madras High Court lawyers have opposed Gowri's proposed appointment after reports emerged about her affiliation to the BJP and also certain alleged statements about Muslims and Christians, including 'Love Jihad' and illegal conversion.
Delhi HC grants more time to Centre to file reply on barring Professor Swain's OCI card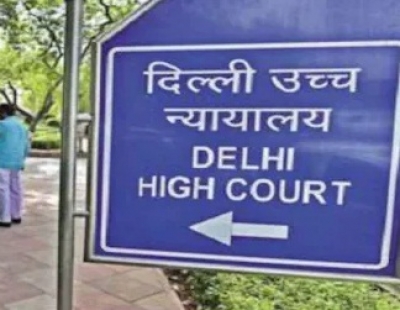 The Delhi High Court on Tuesday while granting four weeks time to the Centre to response on a plea by Sweden-based Professor of Indian origin, Ashok Swain, against barring of his Overseas Citizen of India card (OCI card), listed the matter for the next hearing on April 27.
The court granted time after the counsel for the Central government sought more time to file its reply.
On December 8, a single-judge bench of Justice Prathiba M. Singh had asked the Centre to respond within four weeks and had posted the matter for hearing on Tuesday.
Swain is a faculty member of peace and conflict research at the Department of Peace and Conflict Research at Sweden's Uppsala University.
In his plea, he has mentioned that his OCI card was cancelled in February 2022 as he criticised the current Indian government.
He states that he has not delivered any inflammatory speech.
An OCI card is issued to a foreign national of Indian origin, who is allowed to live and work in India for an indefinite period.
Swain had argued that his card was cancelled on the alleged premise that he was indulging in inflammatory speeches and anti-India activities, however, there were no specific instances or materials to prove the same.
"It is submitted that the petitioner has never engaged in any inflammatory speeches or Anti-India activities. As a scholar it is his role in society to discuss and criticise the policies of government through his work," Swain's petition read.
It added: "Being an Academician, he analyses and criticises certain policies of the present government, mere criticism of the policies of the current ruling dispensation shall not tantamount to anti-India activities under Section 7D(e) of the Citizenship Act, 1955."