Cervical cancer 4th most common among women, policymakers should urgently move to eliminate: WHO
The World Health Organization and its member states in the South-East Asia Region and across the world marked the second Cervical Cancer Elimination Day of Action on Thursday.
The cervical cancer is the fourth most common cancer among women with an estimated 604,000 new cases and 342,000 deaths in 2020, of which the South East Region accounted for 32 per cent and 34 per cent, respectively, said Dr Poonam Khetrapal Singh, WHO Regional Director for South-East Asia.
"Vaccination of girls against human papillomavirus (HPV), screening and treatment of pre-cancer lesions, and improved access to diagnosis and treatment of invasive cancers are critical, cost-effective measures that policy makers should urgently apply to eliminate cervical cancer as a public health problem," WHO Regional Director for South-East Asia said on the occasion.
Dr Singh said that the countries of the region continue to make steady and sustained progress against cervical cancer, in line with the Region's Flagship Priority on preventing and controlling non-communicable diseases, as well as the 2021 Regional Implementation Framework on eliminating cervical cancer as a public health problem.
"Five Member States – Bhutan, Maldives, Myanmar, Sri Lanka and Thailand – have introduced nation-wide HPV vaccination, which Bangladesh, India and Timor-Leste will soon also introduce. HPV vaccination has been introduced in several provinces of Indonesia, protecting tens of millions of girls," Dr Singh said.
The gaps and challenges nevertheless persist, which if unaddressed, will prevent the Region from achieving the global 90-70-90 targets: that is, by 2030, ensure that 90 per cent of girls are fully vaccinated with HPV vaccine; that 70 per cent of women are screened using a high-performance test by 35 years of age, and again by 45 years of age; that 90 per cent of women identified with cervical disease or pre-cancer are treated; and that 90 per cent of women with invasive cancer are effectively managed, said South East Director.
Dr Singh said that WHO has called for action in several key areas to achieve the elimination target of four or less cases per 100,000 women.
Jawaharlal Nehru Death Anniversary: PM Modi, Rahul Gandhi, Kharge & others pay tribute to the former prime minister of India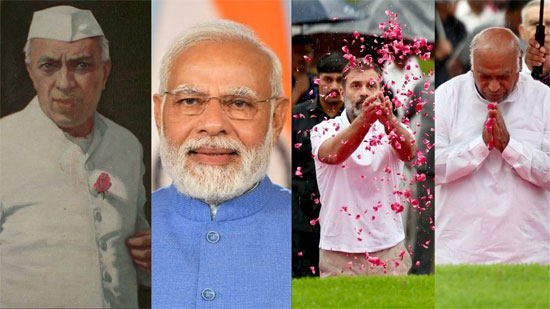 On May 27 in 1964, India's first prime minister Jawaharlal Nehru, fondly known as 'Chacha Nehru' breathed his last after suffering a cardiac arrest. On his death anniversary, several leaders paid their tributes to Nehru and offered their respects to him. While Congress leaders Rahul Gandhi and Mallikarjun Kharge offered flowers and prayed at the Shanti Van memorial in New Delhi on Saturday. Meanwhile, present PM Narendra Modi shared tweet marking the day.
PM Modi on Nehru's death anniversary
"On his death anniversary, I pay tributes to our former PM Pandit Jawaharlal Nehru," PM Modi tweeted in memory of the former leader on his 59th death anniversary.
Congress pays floral tribute
Congress President Mallikarjun Kharge and former party leader Rahul Gandhi paid floral tributes along with party treasurer Pawan Bansal, and others at the Shanti Van memorial in the national capital.
The party shared several tweets to remember Nehru on his death anniversary. After sharing visuals from the memorial, Congress on Twitter shared quote-based greetings to mark the significant day.
About the first PM of India
Nehru played a prominent role in India's freedom struggle. He also went on to become India's first Prime Minister after Independence in 1947. He was among the key leaders of the Indian National Congress (INC).
On May 27, 1964, the first Prime Minister of India took his last breath. He served for over 16 years from 1947 to 1964 till he died at the age of 74.
He had a great fondness for kids, and children use to call him Chacha Nehru and his birthday is celebrated as Children's Day every year.
CM Shinde inaugurates 2nd phase of Mumbai-Nagpur Samruddhi Expressway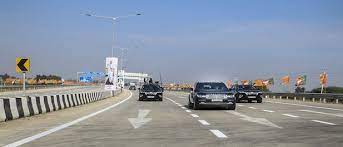 Shirdi: The second phase of Mumbai – Nagpur Expressway, between Shirdi and Bharvir (17 kms off Igatpuri) was inaugurated on Friday by Chief Minister Eknath Shinde. The stretch opened on Friday spans 80 km, of the 701 km of overall Expressway between Mumbai and Nagpur. Now, only 100 km of portion between Bharvir and Mumbai remains to be completed. The first phase was inaugurated by Prime Minister Narendra Modi in December 2022.
Cost of the 2nd phase of 80 km Rs 3,200 crore
The second phase of the Expressway has 7 major bridges, 18 minor bridges, 53 underpasses, 3 interchanges, 56 toll booths, 6 weigh bridges among others.
The cost of the second phase of 80 km is Rs 3,200 crore.
Touted as a game changer project as it connects 24 districts of Maharashtra from the regions of North Maharashtra, Marathwada and Vidarbha. This green field alignment passes through 392 villages in 26 talukas of 10 districts.
With the opening of the second phase, the travel time taken between Shirdi and Nashik will come down by half to five to six hours instead of over 12 hours, so far.
"It is proposed to set up 18 agricultural development centres along the entire Expressway stretch," said a Maharashtra State Road Development Corporation (MSRDC) official.
RRR on Wheels: NMMC launches initiative to encourage 'Reduce, Recycle & Reuse'
The Navi Mumbai Municipal Corporation (NMMC) launched its campaign named "RRR on Wheels" as part of the "Meri Life, Mera Swachh Shahar" initiative directed by the Swachh Bharat Mission.
The NMMC's recent move was hosted on the vehicles of Skrap Nest, an e-commerce site to facilitate the buying and selling of old and used products.
It is noted that ScrapNest's vehicles will come to the doorstep of citizens and collect waste from their homes, and in return would be paid according to rates fixed on the basis of the weight of the waste.
Recycle Mart, another initiative by NMMC
The civic body is taking a number of initiatives including 'Recycle Mart' that has been set up at D'Mart in Belapur under the '21 Days Challenge' of the central government.
Zero waste campaign
While launching the service, NMMC Chief Rajesh Narvekar praised the concept of "Three R on Wheels" and mentioned that through this facility the citizens of Navi Mumbai would be helped in waste management. "People of Navi Mumbai would be getting the facility to dispose off various types of dry waste right from their homes. This will speed up the zero waste campaign in the region," he said.