Australia scraps requirement to declare Covid vax status for int'l arrivals
The Australian government has announced an end to requirements for international travellers to declare Covid-19 vaccination status.
Home Affairs Minister Clare O'Neil and Health Minister Mark Butler on Sunday announced that, from Wednesday, travellers arriving in Australia will no longer have to complete a Digital Passenger Declaration (DPD) to declare vaccination status, reports Xinhua news agency.
It marks an end to all Australia's international travel restrictions more than two years after they were first introduced in March 2020 to prevent the spread of Covid-19.
"As more and more of us travel internationally and we get more confident in managing our risk of COVID, our airports are getting busier," O'Neil said in a statement.
"Removing these requirements will not only reduce delays in our airports but will encourage more visitors and skilled workers to choose Australia as a destination."
All people flying to Australia will still be required to wear face masks for the duration of the flight.
The announcement came when Covid-19 case numbers continue to rise in Australia.
On Monday morning, Australia reported more than 25,000 new Covid-19 cases and 25 deaths, 24 in Victoria and one in New South Wales.
Butler said "it is pretty clear" that the cases are going to rise in the next couple of months.
"It is putting pressure on hospitals with more than 3,000 people in hospital today with Covid. We are still seeing around 300 or more deaths every week with Covid," Butler told reporter on Sunday.
"We are not through this virus yet so that's why I continue to reinforce to people to get their third dose of the vaccine."
Hanzla Adnan, Dreaded Lashkar Terrorist & Master Mind Of 2015 Udhampur Attack, Killed In Karachi
Karachi, Pakistan: Lashkar-e-Taiba (LeT) terrorist Hanzla Adnan, considered to be a close aide of terror group chief Hafiz Saeed, was killed by unknown gunmen in Pakistan's Karachi. He was the mastermind of the 2015 Udhampur attack, in which 2 BSF jawans were martyred.
Hanzla Adnan shot dead
Hanzla Adnan is believed to be close to LeT chief Hafiz Saeed, the mastermind of the 26/11 Mumbai attacks. He was shot outside his house on the intervening nights of December 2 and 3. Four bullets were found in his body. As per media reports the LeT terrorist was secretly taken to a hospital in Karachi by the Pakistani army. He later died in the hospital on on December 5. Hanzla Adnan had his operation base in Karachi.
On August 5, 2015, two Pakistani LeT terrorists, clad in civilian clothes, attacked a BSF convoy on the Jammu-Srinagar Highway near Narsoo Nallah, Tehsil Chenani, District. Udhampur. Two BSF personnel died in the attack and 14 BSF personnel were injured. One of the two militants involved in the attack was killed, while one was subsequently apprehended by the local people and the police. Interrogation of the captured terrorist revealed his identity as Md. Naveed Yakub @ Usman, Resident of Faisalabad, Pakistan.
Besides, he was also considered a mastermind of the Pampore attack wherein at least eight security personnel were killed.
December 5: Sajid Mir allegedly poisoned in Pak jail
The incident was reported just a day after Sajid Mir, one of the masterminds of the dastardly 26/11 Mumbai terror attacks, was allegedly poisoned in the Central Jail of Dera Ghazi Khan in Pakistan, according to unconfirmed reports. This is not the first such killing of a terrorist having links with past terror attacks in India. Data has revealed that since past one year over 15 terrorists have been killed by unknown assailants in Pakistan. It was later revealed that those terrorists were involved in spreading terror in India.
3 New Projects Inaugurated Between India & Bangladesh
Kolkata: Prime Minister Narendra Modi and Bangladesh Prime Minister Sheikh Hasina on Wednesday virtually inaugurated three new projects between the two countries.
Inaugurating the new projects Modi said, "The work that is done in the past nine years between India and Bangladesh's cooperation has not been done in decades."
Rail link between 2 countries
The first project that was inaugurated was a rail link between India's Northeastern state Tripura and Gangasagar railway station in Bangladesh's Brahmanbaria district.
The trail run of the rail project of 12. 24 km was completed on Monday.
"It is indeed a matter of joy as it is a historic moment because it is the first rail link between Northeast and Bangladesh," further added Modi.
Bangladesh Prime Minister Sheikh Hasina said the new projects will strengthen the infrastructural development of the two countries.
Strengthening bilateral ties between India & Bangladesh
"The efforts between the two neighbouring countries established connectivity from India's Northeastern states and Bangladesh's Chittagong and Mongla part. The inauguration of the new projects shows the friendship between the two countries," mentioned Hasina also thanking Modi for inviting and showing hospitality in G20 Summit.
The other two projects include the 65 km Khulna Mongla Port railway line which is expected to give a boost to cross-border trading.
The traveling timing from Akhura to Tripura's Agartala and Kolkata via Dhaka will be less than earlier as 1600km will be just 500km.
The third project that was inaugurated was unit 2 of the1320 MW Maitree Super Thermal Powerplant which is the 50:50 joint venture between India's NTPC and Bangladesh Power Development Board.
Israeli Airstrikes On Gaza's Jabalia Refugee Camp Kills At Least 50; Arab League, Egypt, Jordan Condemn Attack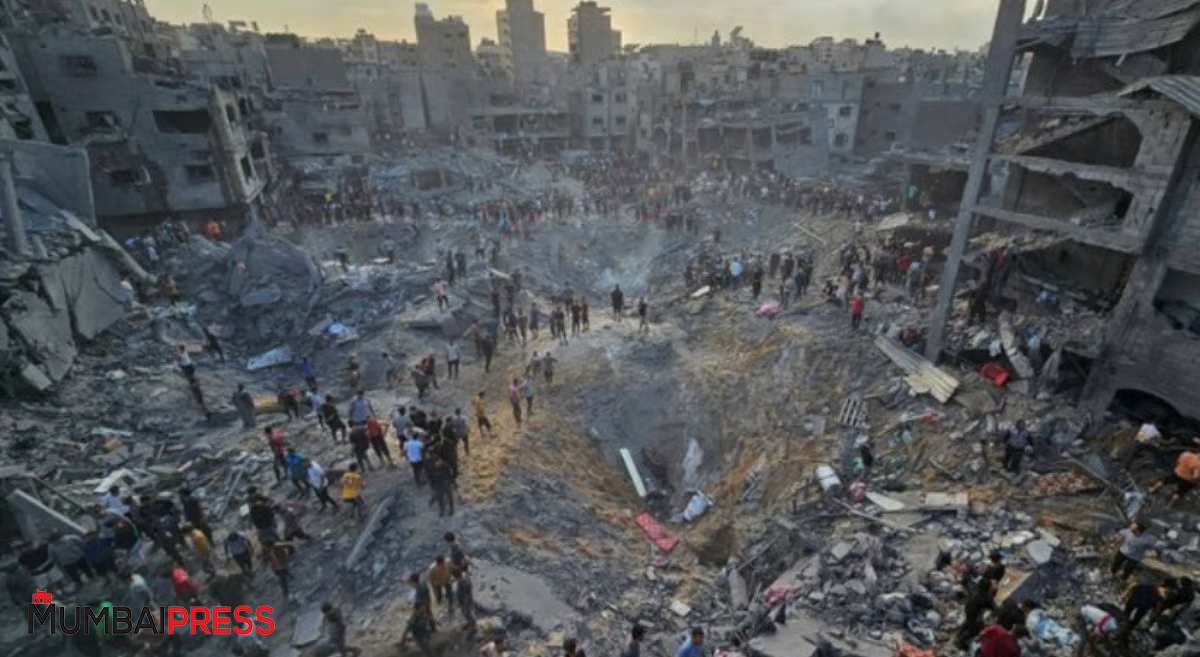 Arab League (AL) Secretary-General Ahmed Aboul-Gheit has strongly condemned the deadly Israeli airstrike on the Jabalia refugee camp in the northern Gaza Strip. In a statement on Tuesday, the AL chief said that it was "a new crime" in Gaza and that the international community should no longer remain silent, Xinhua news agency reported.
"Flagrant violation of international laws"
Meanwhile, the Egyptian Foreign Ministry said in a statement the attack was a "flagrant violation of international laws". Jordan's Foreign Ministry also condemned the attack and said Jordan held Israel responsible for the dangerous development.
It also denounced Israel's ongoing escalation of tension in the West Bank and Israeli settlers' increasing attacks on Palestinian civilians. It also called on the international community to assume its responsibility, stop the ongoing conflict, and provide international protection for Palestinians.
Densely populated Jabalia refugee camp
Israeli warplanes hit the densely populated Jabalia refugee camp on Tuesday. After the attack, the Gaza-based Health Ministry said in a statement that more than 50 people were killed, approximately 150 others injured, and "dozens" of others buried under the rubble.