Ahead of Harish Rawat's visit to Punjab, factionalism escalates in Congress
Ahead of Congress General Secretary Harish Rawat's visit to Punjab to de-escalate tension between the two factions, the Navjot Singh Sidhu's camp has opened a front against Rawat and challenged his statement on Amarinder.
In a statement, Punjab Congress General Secretary Pargat Singh had posed a challenge that Harish Rawat should tell when it was decided that Punjab elections will be fought under the leadership of Chief Minister Amarinder Singh.
"Election will be fought under the leadership of Sonia Gandhi and Rahul Gandhi," Pargat Singh said.
Harish Rawat had met Rahul Gandhi on Saturday and briefed him about the situation there which has arisen after the statement of Navjot Singh Sidhu.
Rawat is scheduled to visit Punjab in a day or two and will talk to Chief Minister Amarinder Singh and state president Navjot Singh Sidhu and sort out the issues arising out of the differences between the two leaders.
Rawat had on Friday met interim President Sonia Gandhi and apprised her of the situation in the state.
"Punjab situation is under control… I have apprised her about the situation in the state," he told reporters after the meeting.
Sidhu speaking at a party function in Amritsar last week had said, "If he is allowed to work according to his own policy of hope and faith, he will ensure the Congress rule in the state for 20 years.
"But if you won't let me take decisions, eint naal eint bi kharkaonga (it will be disastrous for the party). There's no point in becoming a showpiece," Sidhu had said without mincing words.
Speaking about the Punjab model, Sidhu said, "Punjab model means people make policies for trade, industry and power. Giving power back to the people."
The meeting happened in wake of some "rebel" MLAs seeking time from Sonia Gandhi to press for the removal of Chief Minister Amarinder Singh.
Rawat has been facing a tough task to balance both sides in Punjab as Sidhu and Amarinder Singh are at loggerheads.
Meanwhile, Amarinder Singh's confidante and Cabinet minister Rana Gurmit Singh Sodhi hosted a dinner at his residence on Thursday.
A total of 58 MLAs and eight MPs attended the dinner and expressed confidence that the party would win the 2022 polls under the leadership of Amarinder Singh. "The journey has started today," Sodhi informed in a tweet.
Bihar: 7-yr-old boy dies after brutal assault by teacher
A seven-year-old boy died in Bihar's Saharsa district on Friday after an alleged brutal assault by his teacher.
The victim, Aditya Kumar, was an LKG student at a private school in a village under the Sadar police station. He had been living in a hostel since the last 10 days.
His parents are residents of the adjoining Madhepura district.
According to the police, the school administration informed Aditya's parents that he became unconscious and was admitted to a private hospital.
By the time his parents arrived, the victim died.
"We sent our child to the school cum hostel in Saharsa district on March 14. We received a phone call on Friday that Aditya became unconscious and was admitted to a private hospital. When we reached the hospital, he was already dead," said Prakash Yadav, Aditya's father.
"We have sent the body for post-mortem to ascertain the actual cause of death. The family members alleged that he died due to the physical assault. We are also trying to arrest the owner of the school. He is absconding. We have lodged an FIR and efforts are on to nab him," said Brajesh Chauhan, Sub-inspector of Sadar police station.
Maharashtra: 4 killed as truck rams into tempo on Ahmednagar-Pune highway
The accident, in which the truck driver also suffered injuries, took place near Kamargaon on the Ahmednagar-Pune highway in western Maharashtra.Four people were killed and seven others injured after a truck collided with their tempo on a highway in Ahmednagar district of Maharashtra in the early hours of Thursday, said police.
The accident, in which the truck driver also suffered injuries, took place near Kamargaon on the Ahmednagar-Pune highway in western Maharashtra.
According to the police, approximately 15 people were returning to their native place in Shirur tehsil of Pune district in a vehicle after visiting some religious sites in Ahmednagar district.
A truck coming from Pune suddenly veered off from its path, jumped the divider and collided with their vehicle. Three people died on the spot, while another person succumbed to his injuries in hospital," said an officer from the Ahmednagar police.
He said seven other passengers in the ill-fated vehicle were injured and were being treated at a hospital.
According to the police officer, a case has been filed against the truck driver under relevant sections of the Indian Penal Code.
Supreme Court: Being a member of unlawful association is an offence under UAPA.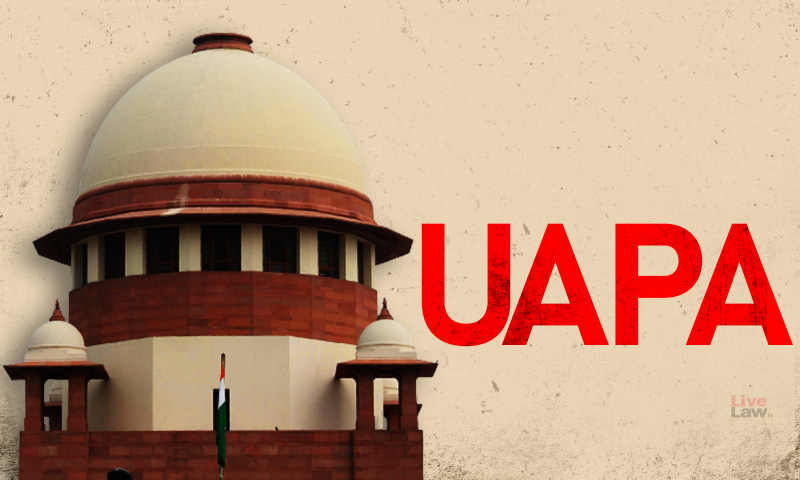 The Supreme Court on Friday held that mere membership of unlawful association is sufficient to constitute an offence under UAPA. The apex court upheld the Section 10 (a) (i) of the Unlawful Activities Prevent Act.The apex court, according to Bar and Bench report, also said all High Court decisions to the contrary are overruled. A bench of Justices MR Shah, CT Ravikumar and Sanjay Karol pronounced the verdict.
While allowing petitions of the Union government and the Assam government seeking review of the apex court's 2011 verdicts on membership of banned outfits, the court said the Union government was required to be heard when a provision enacted by Parliament is read down.
The top court said the 2011 verdicts were passed while relying on American court decisions which cannot be done without considering the condition prevailing in India.In India right to freedom of speech and expressions is not absolute and is subject to reasonable restriction. However, decisions of the American court can be guiding light", the bench said.
On February 9, the top court while reserving its verdict on batch of review pleas had noted that the Union of India was not heard by its two-judge benches when the 2011 verdict was passed reading down section 3 (5) of Terrorist and Disruptive Activities (Prevention) Act, 1987 (now repealed).
The top court on February 3, 2011, had acquitted suspected ULFA member Arup Bhuyan, who was held guilty by a TADA court on the basis of his alleged confessional statement before the Superintendent of Police, and said mere membership of a banned organisation will not make a person a criminal unless he resorts to violence or incites people to violence or creates public disorder by violence or incitement to violence.
Similar views were taken by the apex court in two other verdicts of 2011 in Indra Das versus State of Assam and state of Kerala versus Raneef, where the bench relied upon the three US Supreme Court decisions which have rejected the doctrine of 'guilt by association'.