Ahead of Harish Rawat's visit to Punjab, factionalism escalates in Congress
Ahead of Congress General Secretary Harish Rawat's visit to Punjab to de-escalate tension between the two factions, the Navjot Singh Sidhu's camp has opened a front against Rawat and challenged his statement on Amarinder.
In a statement, Punjab Congress General Secretary Pargat Singh had posed a challenge that Harish Rawat should tell when it was decided that Punjab elections will be fought under the leadership of Chief Minister Amarinder Singh.
"Election will be fought under the leadership of Sonia Gandhi and Rahul Gandhi," Pargat Singh said.
Harish Rawat had met Rahul Gandhi on Saturday and briefed him about the situation there which has arisen after the statement of Navjot Singh Sidhu.
Rawat is scheduled to visit Punjab in a day or two and will talk to Chief Minister Amarinder Singh and state president Navjot Singh Sidhu and sort out the issues arising out of the differences between the two leaders.
Rawat had on Friday met interim President Sonia Gandhi and apprised her of the situation in the state.
"Punjab situation is under control… I have apprised her about the situation in the state," he told reporters after the meeting.
Sidhu speaking at a party function in Amritsar last week had said, "If he is allowed to work according to his own policy of hope and faith, he will ensure the Congress rule in the state for 20 years.
"But if you won't let me take decisions, eint naal eint bi kharkaonga (it will be disastrous for the party). There's no point in becoming a showpiece," Sidhu had said without mincing words.
Speaking about the Punjab model, Sidhu said, "Punjab model means people make policies for trade, industry and power. Giving power back to the people."
The meeting happened in wake of some "rebel" MLAs seeking time from Sonia Gandhi to press for the removal of Chief Minister Amarinder Singh.
Rawat has been facing a tough task to balance both sides in Punjab as Sidhu and Amarinder Singh are at loggerheads.
Meanwhile, Amarinder Singh's confidante and Cabinet minister Rana Gurmit Singh Sodhi hosted a dinner at his residence on Thursday.
A total of 58 MLAs and eight MPs attended the dinner and expressed confidence that the party would win the 2022 polls under the leadership of Amarinder Singh. "The journey has started today," Sodhi informed in a tweet.
Farmers blasts govt's attempt to 'divide' unions, say way forward decision on Dec 4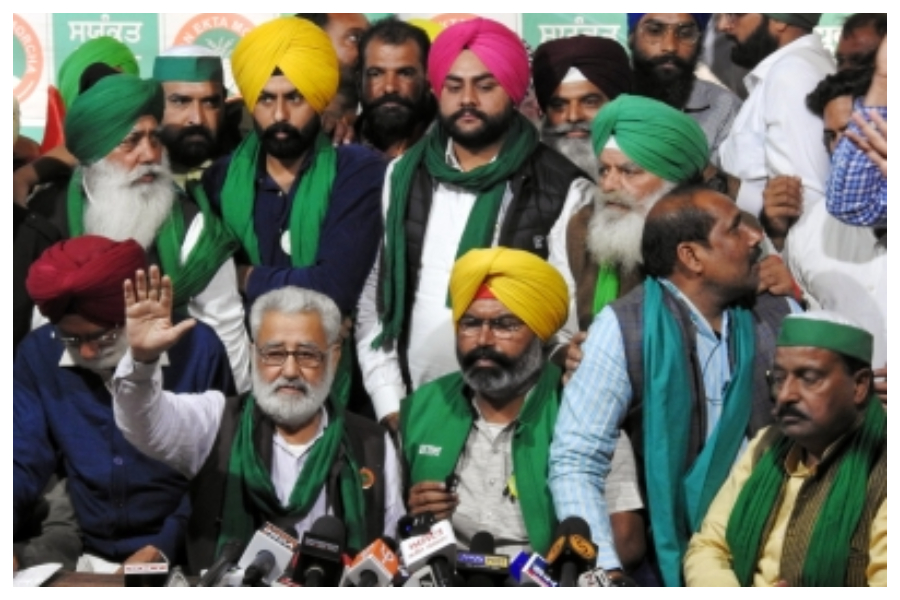 Stating that the BJP government should stop attempting to divide farmers even at this stage – two days after the three farm laws were repealed in the Parliament, the Samyukt Kisan Morcha on Wednesday on condemned the government's statement that it does not have data about farmers' death.
"The SKM condemns the response of the government of India in the Parliament saying that it has no information about deaths in the farmers' movement and therefore, the question of financial assistance does not arise! SKM reiterates its demand for compensation and rehabilitation of the kin of more than 689 martyrs in the ongoing agitation," the SKM – which has spearheaded the farmers' agitation for over a year – said in a statement.
It also criticized Prime Minister Narendra Modi for not re-initiating formal dialogue and not responding formally to the letter sent by the SKM reminding the government about the pending demands. "Farm unions stand united in their demands to the Government and SKM is awaiting formal communication with all required details from the Government," it said.
The SKM statement came in wake of the fact that there were informal attempts to reach out to the farmers on Tuesday by the government asking for five names to be included in a Committee purportedly for discussing farm related issues, including the Minimum Support Price (MSP).
Asserting that the farmers' unions are all united, the SKM – a consortium of 40-odd organisations – said, morchas/campsites around Delhi borders will continue with more tractor-trolleys reaching the protest sites and the struggle will continue.
"More farmers are coming so that everyone can go back together victorious – SKM appeals to farmers and media not to believe falsehoods being spread about protests winding down – SKM will hold its meeting on December 4 as announced earlier," the statement said.
There is no meeting that has happened between Haryana Chief Minister Manohar Lal Khattar and farm union leaders of that state, the SKM claimed. "In the Haryana SKM meeting, it was reiterated that the agitation will continue until the pending demands are met by the government, and until formal communication is received regarding the same. Haryana farmers' organisations will join the SKM meeting on December 4 like other constituents and a collective stock-taking will take place on that day."
Meanwhile, the All India Kisan Sabha, a component of SKM, said: "The BJP Government has been incessantly peddling lies to cover up for their loss of face, having suffered a humiliating defeat at the hands of the united Kisan movement. Narendra Modi is graceless in defeat and insincere in the apology tendered, he has no remorse for the death of over 700 farmers and immense hardship farmers have had to undergo."
BJP 'victimised' Shah Rukh, Mahesh Bhatt, says Mamata
In a sharp attack on the Bharatiya Janata Party, West Bengal Chief Minister Mamata Banerjee on Wednesday said that the country is facing "cruel and undemocratic" party which "victimised" Bollywood personalities like actor Shah Rukh Khan and director Mahesh Bhatt.
"We are facing a cruel undemocratic party – the BJP. If we come together, we will win," Banerjee said at a large gathering of around 50 prominent civil society members including political and social leaders, retired judges, intellectuals, film celebs and other luminaries.
To a question, she said: "Mahesh ji has been victimised, even Shah Rukh Khan… and many others. But, if we have to win, we must speak out and fight it out wherever needed. You guide and advise us as a political party."
Stressing the need for putting up a united front before the BJP's challenge, Banerjee said: "India loves manpower, not muscle-power."
She said regional parties like Shiv Sena in Maharashtra which are strong in their respective states must join hands to unitedly dislodge the BJP from power.
On the occasion, the Trinamool Congress chief, currently on a two-day visit to Mumbai, recalled the Nobel Prize laureate Rabindranath Tagore's poem on Chhatrapati Shivaji Maharaj to say that "there is already a bridge between Bengal and Maharashtra".
Senior NCP leader and lawyer Majeed Memon cited the Supreme Court's observations how in the recent past, many laws have been rushed through the parliament which do not augur well for the people plus they are open to challenges before the courts.
He said that the West Bengal and Maharashtra together account for 90 seats in Lok Sabha and "Jai Bangla, Jai Maharashtra" can put up a formidable challenge to dislodge the BJP at the Centre, akin to the alliance of Shiv Sena-NCP-Congress in Maharashtra with the guidance of NCP President Sharad Pawar, with the BJP kept out of power.
"The Maharashtra model where parties like the Sena and Congress managed to keep their differences aside and worked on common goals, can be replicated elsewhere in the country with similar results," Memon urged.
The meeting was attended by former high court judges Shafi Sayeed Parkar and Abhay M. Thipsay, senior lawyer Memon, lyricist Javed Akhtar, director Bhatt, intellectuals Bhalchandra Mungekar, Sudheendra Kulkarni, S. Balakrishnan, and Ayaz Memon, Bollywood actors Shatrughan Sinha, Swara Bhaskar, and Richa Chaddha, comedian Munawar Farooqui, social activists Vidya Chavan, Javed Anand and Medha Patkar, author Shobha De, among many others.
The meeting with leading lights from various fields was part of Banerjee's 2-day high-profile visit to the state during which she met NCP chief Pawar, Sena leaders, MP Sanjay Raut, Tourism Minister Aditya Thackeray, the highlight of her trip, and she is likely to return home on Thursday morning.
Another cabinet reshuffle in Raj on the cards, hints Gehlot
Rajasthan may see another cabinet reshuffle in the coming months. Chief Minister Ashok Gehlot has indicated this possibility in a meeting of the party at its headquarters, said Congress sources.
The meeting was held on Tuesday.
The Rajasthan CM said that many MLAs, who have stood by the Congress during tough times, could not be accommodated in the recent cabinet expansion and reshuffle carried out in November. "However, we will ensure that work should not face any hindrance in their constituencies. They will be accommodated in the cabinet during another reshuffle if party high command allows," said CM in the meeting, which was confirmed by party sources.
The CM was addressing party workers during a meeting to discuss the protest to be staged in Delhi against rising inflation on December 12.
On this occasion, state Congress president Govind Singh Dotasra and Rajasthan in-charge Ajay Maken were also present.
It needs to be mentioned here that five out of the six BSP MLAs, who had joined Congress, and 13 independents, who supported the Congress during the rebellion could not be accommodated in the cabinet reshuffle.
Rajendra Guda, one of the six former BSP MLAs had already expressed his displeasure on five of his team members being left unattended. Similarly, Ramkesh Meena, another independent also went vocal over the same issue. He has been appointed as advisor to the CM. But, the advisor posts would not hold cabinet rank, Gehlot clarified recently.