Supreme Court: Being a member of unlawful association is an offence under UAPA.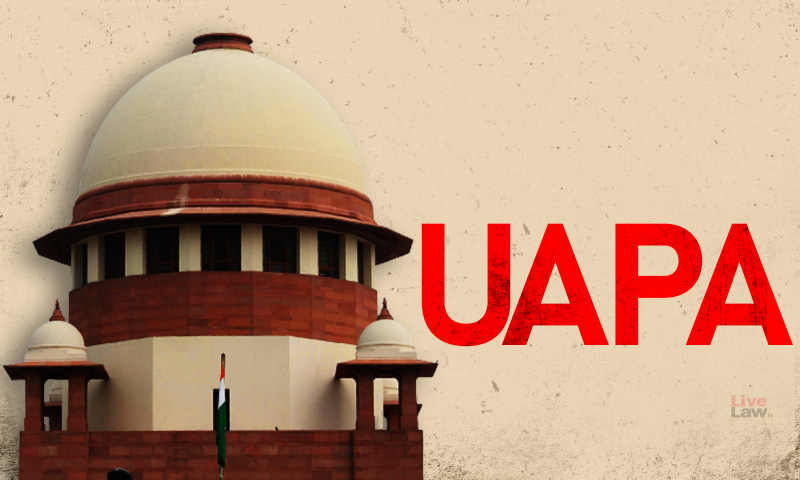 The Supreme Court on Friday held that mere membership of unlawful association is sufficient to constitute an offence under UAPA. The apex court upheld the Section 10 (a) (i) of the Unlawful Activities Prevent Act.The apex court, according to Bar and Bench report, also said all High Court decisions to the contrary are overruled. A bench of Justices MR Shah, CT Ravikumar and Sanjay Karol pronounced the verdict.
While allowing petitions of the Union government and the Assam government seeking review of the apex court's 2011 verdicts on membership of banned outfits, the court said the Union government was required to be heard when a provision enacted by Parliament is read down.
The top court said the 2011 verdicts were passed while relying on American court decisions which cannot be done without considering the condition prevailing in India.In India right to freedom of speech and expressions is not absolute and is subject to reasonable restriction. However, decisions of the American court can be guiding light", the bench said.
On February 9, the top court while reserving its verdict on batch of review pleas had noted that the Union of India was not heard by its two-judge benches when the 2011 verdict was passed reading down section 3 (5) of Terrorist and Disruptive Activities (Prevention) Act, 1987 (now repealed).
The top court on February 3, 2011, had acquitted suspected ULFA member Arup Bhuyan, who was held guilty by a TADA court on the basis of his alleged confessional statement before the Superintendent of Police, and said mere membership of a banned organisation will not make a person a criminal unless he resorts to violence or incites people to violence or creates public disorder by violence or incitement to violence.
Similar views were taken by the apex court in two other verdicts of 2011 in Indra Das versus State of Assam and state of Kerala versus Raneef, where the bench relied upon the three US Supreme Court decisions which have rejected the doctrine of 'guilt by association'.
Tata Motor (Singapore) To Acquire 25% Stake In Swiss E-Mobility Group
TVS Motor Company Limited's subsidiary, TVS Motor (Singapore) Pte Ltd, has agreed to acquire an additional 25% stake in Swiss E-Mobility Group (Holding) AG ("SEMG"), Switzerland by way of purchase of shares from the existing shareholders, the company announced today through an exchange filing.
SEMG is currently a subsidiary of TVS Motor (Singapore) Pte Ltd and the Company and consequent to the additional acquisition, SEMG will become a wholly owned subsidiary of TVS Motor (Singapore) Pte Ltd and also the Company.
Tata Motors Shares
The shares of Tata Motors Ltd on Friday at 3:30pm IST were at Rs 562.15, up by 0.44 percent.
Opening Bell: Markets Trade Flat Amid Mixed Global Cues; Sensex At 63,182.52, Nifty At 18,738.55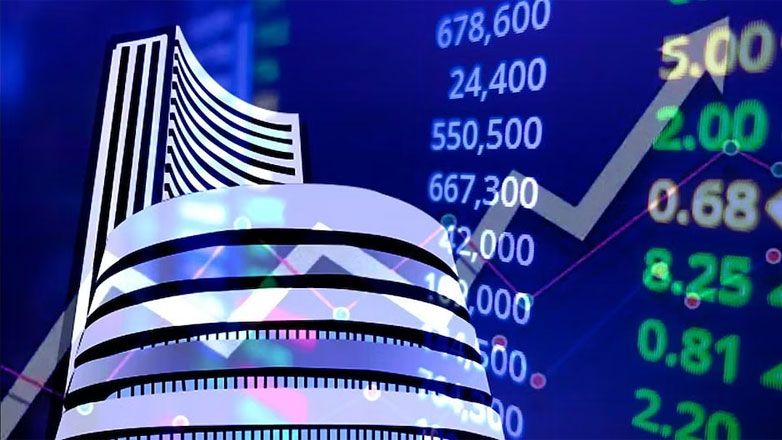 The markets on Thursday morning were trading flat with Sensex at 63,182.52, up by 39.56 points and Nifty was at 18,738.55 with a gain of 12.15 points. Nestle, Tata Motors, NTPC, Bharti Airtel and Power Grid were the top gainers in the morning session whereas Kotak Bank, Axis Bank, TCS, Hindustan Unilever and Tata Steel were the top losers.
Markets on Wednesday
The markets on Wednesday closed higher for the fourth straight session with Sensex at 63,142.96, up by 350.08 and Nifty at 18,726.40 with a gain of 127.40 points. All sectors were in the green with FMCG, Power, oil and gas, capital goods, realty and metal up by 1 per cent each.
Global markets
Ahead of key economic and policy events next week the Dow Jones Industrial Average added 91.74 points to 33,665.02. However, the S&P 500 dropped by 16.33 at 4,267.52 and Nasdaq ended lower at 13,104.90 down by 171.52 points.
The Asian stock markets on Thursday were mixed with Hong Kong's Hang Seng was at 19,227.84 with a loss of 24.16 points, South Korea's KOSPI was relatively flat at 2,610.52 with a dip of 5.08 points and Japan's Nikkei 225 dropped 6.83 points at 32,906.91. However, Singapore's SGX Nifty was higher with a gain of 11 points at 18,823.
Oil prices
After oil prices saw a jump of 1 per cent on Wednesday, they were relatively stable on Thursday as investors took into consideration the increasing demand concerns over a global economic slowdown in the backdrop of expected fall in supply from Saudi output cuts. Brent crude futures were down 1 cents at $76.94 per barrel and US West Texas Intermediate crude was at $72.58 per barrel with a gain of 11 cents.
Adani Groups Repays Loans Worth $2.65 Billion, Along With Interest Payment Of $203 Million
Embattled Adani Group on Monday said it has repaid loans aggregating USD 2.65 billion to complete a prepayment programme to cut overall leverage in an attempt to win back investor trust post a damning report of a US short seller. In a Credit Note released on Monday, Adani Group said it has made a full prepayment of USD 2.15 billion of loans that were taken by pledging shares in the conglomerate's listed firms and also another USD 700 million in loans taken for the acquisition of Ambuja Cement.
Interest Payment of $203 Million
"The prepayment was done along with interest payment of USD 203 million," it added. Further, the credit update states that the promoters completed the sale of shares in four listed group entities to GQG Partners, a leading global investment firm, for USD 1.87 billion (Rs 15,446 crore).
"The deleveraging programme testifies to the strong liquidity management and capital access at sponsor level even in volatile market conditions, supplementing the solid capital prudence adopted at all portfolio companies," Adani Group said in the credit update. US short-seller Hindenburg Research in January released a damning report alleging accounting fraud and stock price manipulation at Adani Group, triggering a stock market rout that had erased about USD 145 billion in the conglomerate's market value at its lowest point.
Adani Group's Comeback Strategy
Adani Group has denied all allegations by Hindenburg and is plotting a comeback strategy. The group has recast its ambitions as well as prepaid some loans to assuage investors. The credit update further highlights major improvements in key financial metrics – the portfolio's combined Net Debt to EBITDA ratio has decreased from 3.81 in FY22 to 3.27 in FY23, run rate EBITDA surged from Rs 50,706 crore in FY22 to Rs 66,566 crore in FY23.
The credit update further states that the banking lines of Adani Group continue to show confidence by disbursing new debt and rolling over existing lines of credit. Moreover, rating agencies both domestic and international rating agencies have reaffirmed their ratings in all the group companies.
Debt Service Cover Ratio (DSCR) has improved to 2.02x during FY23 from 1.47x during FY22. Gross Assets increased to Rs 4.23 lakh crore, up by Rs 1.06 lakh crore. Gross Asset / Net Debt cover has improved to 2.26x in FY23 from 1.98x in FY22.
Continued investments in core infra projects
Continued investments in core infra with gross assets of Rs 3.77 lakh crore (89 per cent of the portfolio) provide long-term multi-decadal visibility of cash flow, it said, adding cash balance was higher by 41.5 per cent at Rs 40,351 crore against Rs 28,519 crore. Free Flow from operations – FFO – (EBITDA less finance cost less tax paid) was Rs 37,538 crore.
Cash Balance and FFO (together at Rs 77,889 crore) are much higher than debt maturity cover for FY24, FY25 and FY26 of Rs 11,796 crore, Rs 32,373 crore and Rs 16,614 crore, respectively, at the combined portfolio level.