Shiv Sena MP Sanjay Raut gets judicial custody till Aug 22
A Special PMLA Court here on Monday sent Shiv Sena MP Sanjay Raut to a 14-days judicial custody till August 22, eight days after he was arrested by the Enforcement Directorate (ED) in an alleged money-laundering case.
PMLA Court Special Judge M.G. Deshpande granted Raut judicial custody after the ED said it did not require his additional custody.
The ED had raided Raut's residence in Bhandup on July 31 and arrested him in the wee hours of August 1 in connection with a money-laundering case detected from the redevelopment project of the Patra Chawl, Goregaon, by Guru Ashish Construction Pvt. Ltd., a subsidiary of the HDIL.
On Saturday, the ED interrogated the MP's wife, Varsha Raut for around 10 hours in the same case in which it had earlier arrested his close associate, Pravin Raut.
Sanjay Raut, 61, was earlier sent to a four-day ED remand which was extended by three more days till August 8, followed by the two-week long judicial custody granted on Monday.
Mumbai Viral Video: Cop Picks Up Father And His 5-Month-Old Son In Police Vehicle Amidst Ganpati Visarjan-Led Traffic, Wins Hearts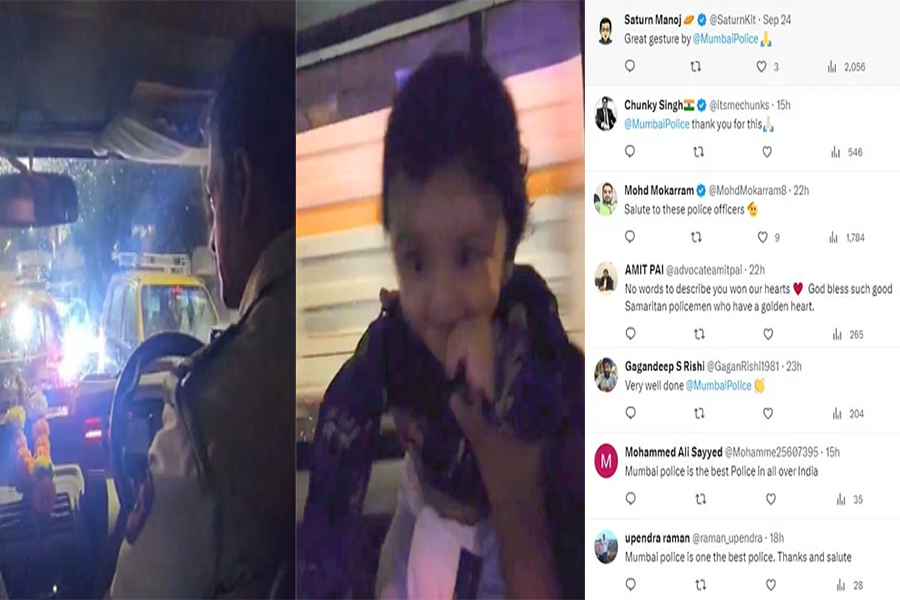 The official picked up the father-son duo in his police vehicle after they were refused a trip by several taxi drivers. It was learned that the police extended assistance after the other mode of transport refused a drive due to Ganesh Visarjan-led traffic in the area. 
Mumbai Police is known for its friendliness towards the public, not only due to their creative social media posts but also for their helping hand on the ground level. In an adorable case that has gone viral and left netizens impressed, a cop was seen providing a lift to a father and his five-month-old child in the city's Charni Road area.
Father thanks Mumbai Police
Identified as father Aman Vora shared the incident on X (formerly Twitter) and said, "We were at Charni Rd Station and it was raining. No taxi driver was ready to come because of Ganesh Visarjan and my 5 month old son was crying but @MumbaiPolice helped us to reach our destination. (sic)" He also thanked the police for the kind deed as he added, "My sincere gratitude❤️ Jay Maharashtra. Jay Hind."
Video goes viral & wins hearts
The clip was retweeted by the official X handle of Mumbai Police with a caption that read: "A child's happiness is a statement of its own. Words cannot adequately describe it." No sooner, the video caught the attention of netizens and attracted more than 340K views on the social media platform. The gesture was saluted by people as they hailed the cop for the help.
Mumbai: 'Don't Disrespect Our Father' Supriya Sule Warns BJP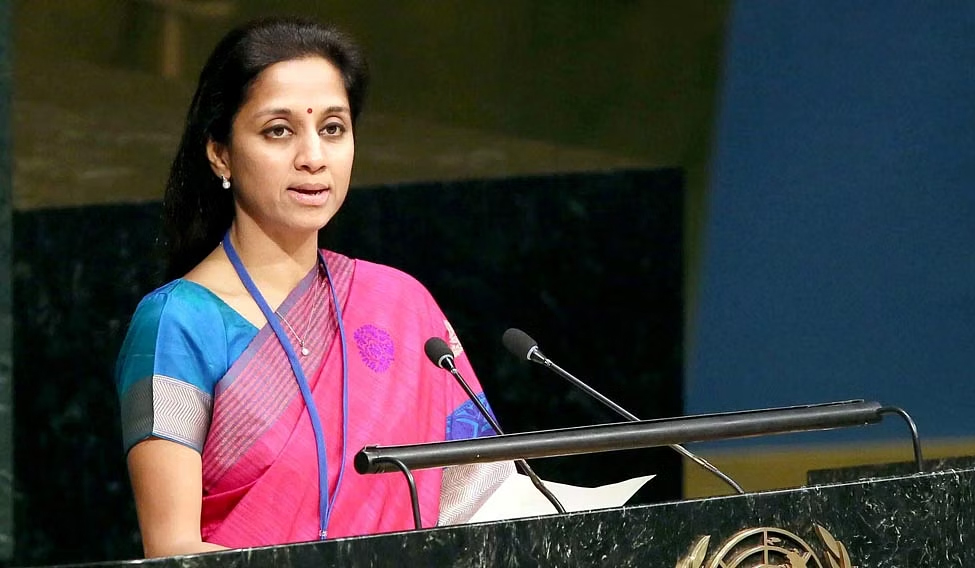 NCP Working President Supriya Sule issued a warning saying 'disrespect us, but not our father' while addressing the party gathering in Mumbai on Wednesday.

Slamming the BJP and referring to it as the most corrupt party in the country, she said, "Disrespect us, but not our father (Sharad Pawar). This fight is against the BJP government. BJP is the most corrupt party in the country."
Supriya Sule hits out at state govt
She also hit out at BJP, Ajit Pawar, and Eknath Shinde-led government and alleged that BJP is using Income Tax, CBI, and Enforcement Directorate to threaten the party MLAs. However, she claimed NCP will give an appropriate answer very soon.

Referring to Ajit Pawar's advise to Pawar Sr to retire while mentioning his age, Supriya Sule said, "Age is just a number." She also cited Ratan Tata, Amitabh Bachchan and Cyrus Punawala to prove her argument that a person can be active and work for the society if he has the will to do so.
Striking an emotional chord, Sharad Pawar's daughter also said that daughters are the best support for a father when it is required.

"Instead of asking them to sit at home and give blessings, daughters are better. They become the support system for their fathers when the house is in danger," she said.
Mumbai News: Just 32k Legal Hawkers But Over 1L Availed Loan Scheme
If there are only 32,000 legal hawkers in the city then how come Prime Minister Narendra Modi distributed loans under PM SVANidhi Yojana to more than one lakh hawkers, asked former opposition leader in BMC Ravi Raja. On January 19, 2023, PM Modi distributed a loan of ₹10,000 each to 1.10 lakh hawkers. The grant was provided based on the certificates issued by the BMC.
Ravi Raja fumes over PM Modi
The ex-Congress corporator fumed over the civic body's decision to allow 32,000 hawkers, who were termed as legal vendors after a survey, to vote in the Town Vending Committee (TVC) election. The committee, which comprises civic chief, representatives from traffic police and various BMC departments, members of hawker association and civic society, plays a crucial role in implementing the rules pertaining to hawkers as well as identifying eligible hawkers. Hence, 32,000 hawkers have been allowed to vote for TVC elections as it's a question of their livelihood.
Averring that the BMC is "messing up" with the hawkers policy, Raja further said that rules say that 2.5 per cent of the total population can do hawking business.
The BMC is in the process of sending the list of 32,000 hawkers to the labor commissioner for getting their names stamped for TVC election. However, Raja has demanded that the civic administration should wait till the election of corporators, which is long overdue.