Sharad Pawar joins MVA mega-procession to protest insults to icons in Mumbai
Senior-most leader and Nationalist Congress Party (NCP) President Sharad Pawar on Saturday morning joined the Opposition Maha Vikas Aghadi's mega-procession to protest against the repeated slurs on iconic personalities.
Others who will march with him include Shiv Sena (UBT) President Uddhav Thackeray, Congress state President Nana Patole, NCP state President Jayanta Patil, Leader of Opposition (Assembly) Ajit Pawar and Leader of Opposition (Council) Ambadas Danve, Congress Legislative Party Leader Balasaeb Thorat and others.
Thousands of activists of various political parties, trade unions, workers, women, youth and social groups, teachers, auto-rickshaw unions, NGOs and others have gathered at a spot near Byculla flyover for the march which will go upto the Chhatrapati Shivaji Maharaj Terminus, around 5 kms away.
The Mumbai Police have deployed extra-tight security for the maha-morcha with over 2,500 personnel posted en route, drones and CCTVs monitoring all aspects of the procession and kept on standby other agencies.
This is the second biggest show of strength coming after the massive procession with some 80 parties and groups organised in Pune (December 13) along with a shutdown.
The other prominent leaders joining the procession are Samajwadi Party state President Abu Asim Azmi, Naseem Khan, Aditya Thackeray, Sanjay Raut, Dr. Jitendra Awhad, Dilip Walse-Patil, Bhai Jagtap, Dr. Raghunath Kuchik, Vinayak Raut, Supriya Sule, Chhagan Bhujbal, Sanjay Nirupam, Anil Parab, Arvind Sawant, Anil Desai, MPs, MLAs, some Maratha groups' leaders, and representatives of other organisations.
Leaders of various parties optimistically claim that the todays' procession could attract over three lakh people, with thousands of workers trooping in from all over the state since Thursday evening.
The main points of protest are the continuous insults to great personalities, the removal of the state Governor for his recent remarks, the flight of industries to Gujarat, and the Maharashtra-Karnataka border row which has suddenly flared-up.
The marchers are also highlighting the steep inflation suffered by the masses, the growing unemployment figures, lack of jobs for the youth, the derogatory statements used by certain ruling alliance ministers against women, and other burning issues.
Coming just ahead of the Winter Session of Legislature next week, today's procession, along with a series of protests held across the state in the past fortnight has apparently unnerved the ruling Balasahebanchi Shiv Sena-Bharatiya Janata Party, and it has 'appealed' to the Opposition parties to ensure that the demonstration is peaceful.
26/11 Mumbai Attack: Crime Branch's Probe Reveals That Tahawwur Rana Visited Crowded Places Across City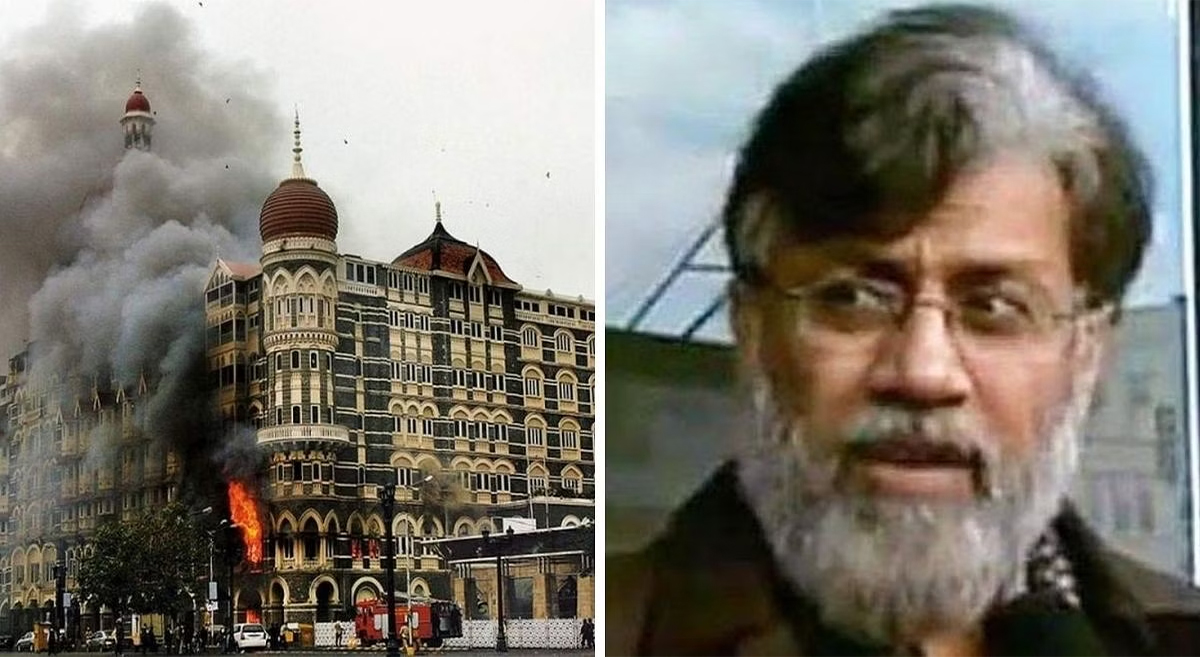 Mumbai: The Crime Branch on Tuesday submitted an application in the Mumbai Special Court for issuance of a non-bailable warrant (NBW) against Tahawwur Rana, who is currently lodged in a California jail and has been found eligible for extradition to India. Rana has already challenged the order in a higher court, further delaying the extradition process.
According to the 405-page supplementary charge sheet filed against the 26/11 co-conspirator, Rana has revealed that he had discussed crowded places in south Mumbai with the staff of a hotel in Powai. The charge sheet states that Rana visited some of those places, where later attacks took place.
Rana Stayed In A Powai Hotel
According to the charge sheet, police found that he had stayed in a hotel in Powai in November 2008. He had deposited a copy of his passport and visa at the hotel. An official said the statement of a hotel employee was recorded and "we found that he discussed crowded places in the city and some of them were targeted by the attackers, including CSMT."
Thane Crime: Man Held For Strangling His Mentally-Challenged Daughter To Death In Dombivli
Thane, September 25: A 35-year-old man has been arrested for allegedly strangling his 10-year-old mentally-challenged daughter to death in their house in Thane district of Maharashtra a day before, police said on Monday. The couple has four daughters, aged between 5 to 14, and the youngest of them lives with her grandparents in their native village, a police official said.
Agrahari is an alcoholic and used to beat his wife
The accused Manoj Agrahari allegedly strangled his daughter, Lovely, at their home in Dombivli when other members had gone out, an official said quoting the FIR. Agrahari is an alcoholic and used to beat his wife, he said.
The accused works at a grocery shop while his wife is employed at a company
The accused works at a grocery shop while his wife is employed at a company in the MIDC area of Dombivli. The victim, Lovely, has been mentally challenged and also speech and hearing impaired since her birth.
When the girl rushed home she saw her sister lying dead on bed and alerted her mother
According to the complaint, Agrahari went to the scrap shop where his 14-year-old daughter was working on Sunday and told her that Lovely was dead. When the girl rushed home she saw her sister lying dead on bed and alerted her mother, the official said. Police have registered a case of murder under the Indian Penal Code and conducting further investigation.
Bombay HC To Hear Fresh Plea Challenging Renaming Of Aurangabad, Osmanabad; Case Listed On Sept 29
Mumbai: Bombay High Court has agreed to hear a fresh petition challenging the renaming of Aurangabad, Osmanabad districts, revenue areas. The hearing for the same has been scheduled on September 29. Earlier, a plea was withdrawn as the Maharashtra government said it had not issued final notifications for their renaming.
This is a breaking news. More details are awaited.