Ranbir, Ayan on 'Brahmastra': We had the opportunity to create our own Marvel
Filmmaker Ayan Mukerji's upcoming magnum opus 'Brahmastra Part One: Shiva,' is now moving towards the finishing line after years in the making.
The film stars Amitabh Bachchan, Ranbir Kapoor, Alia Bhatt, Nagarjuna Akkineni and Mouni Roy.
Based on Indian mythology, the film is set in contemporary India, where a secret society called the Brahmansh has guarded 'Astras' created in ancient India for generations. The most powerful among these, the Brahmastra, is now waking up and it threatens to destroy the universe, reports 'Variety'.
Constructed as a trilogy, which is part of an 'Astraverse' created by Mukerji, the first part follows the protagonist Shiva (Kapoor), who is in love with Isha (Bhatt). Their lives are changed forever when Shiva learns that he has a mysterious connection to the 'Brahmastra' and a great power within him that he doesn't understand just yet – the power of fire.
"It's deep rooted in Indian culture, and we had the opportunity to create our own Marvel, which Ayan is trying to do with his Astraverse," Ranbir told Variety.
He added: "Any film, any good compelling story, made in your culture, in an authentic way, in a true form, will connect to a large audience."
"There is a little luck to play to it – like what kind of release you get, what kind of exposure you get. And in our case, we have Disney. And there's nothing better than that. So, I believe that 'Brahmastra' is in a great place where we have that opportunity, where a world audience can witness it."
"We were just three best friends, Alia and I, sitting and dreaming this film with Ayan, and being soldiers to him," said Kapoor. "We were really excited and really privileged to be part of this film and part of this vision so selfishly as an actor that I would do it over and over again."
Kapoor will get to do it at least twice again in the remaining two parts of the 'Brahmastra' trilogy.
"'Brahmastra' is not an end in itself, but it's a means to a larger end. We have part two and part three ahead of us, we have the potential to really take the storytelling in many diverse directions even beyond 'Brahmastra,' and there is no way to do it at the scale at which I hope to do it, unless our audience base does not increase. So that's definitely part of the ambition," Mukerji told Variety.
"Let's start with some strong baby steps with part one. I think we've gotten far enough with this with having, over time, gotten Disney to lay their attention on the film, help us to push the release a little wider, and I'm hoping that can bring in bigger and wider returns for us."
According to 'Variety', the benchmarks for Indian action films this year have been set by 'K.G.F: Chapter 2' which collected USD 161 million and 'RRR', which has grossed USD 155 million so far. The latter is directed by S.S. Rajamouli, also known for the 'Baahubali' franchise. Rajamouli is presenting the Telugu, Tamil, Kannada and Malayalam language versions of 'Brahmastra' which will also release in its original Hindi language.
"Certainly, with all humility, definitely, I think our ambition is larger than that ('RRR') number overseas. And I hope that, as a key step with Disney coming on board, just our overseas distribution before it even crosses over to the western audience, I hope it's able to reach the subcontinent audience in the western world in a much wider fashion, so that we can actually see that return on box office numbers," says Mukerji.
Watch Tiger 3 Teaser: Salman Khan Goes All Guns Blazing & He Has A Special Message For India
Bollywood superstar Salman Khan is finally back with the third film of his blockbuster 'Tiger' franchise. On Wednesday, the actor, at last, unveiled the teaser of his highly anticipated Tiger 3, and within minutes, it took the internet by storm. In the film, he will be seen returning as the menacing RAW agent Tiger once again after six long years.
Sharing the teaser of Tiger 3, Salman wrote, "Jab tak Tiger mara nahi, tab tak Tiger haara nahi. #TigerKaMessage. #Tiger3 arriving in cinemas this Diwali. Releasing in Hindi, Tamil & Telugu."
Tiger's special message for India
In the teaser, he can be heard saying that he has returned, and this time, he has a special message for India.
He then proceeds to state that he has been labelled as a traitor in his own country, and now, India herself will tell his son that his father was not a traitor, but in fact, a true patriot.
Tiger 3 will also mark the return of Katrina Kaif as Zoya, however, the actress was missing in the teaser. The video only had a blink and miss appearance of the actress, and that too, in a flashback scene which showed her still from the 2017 film, Tiger Zinda Hai.
Besides, Tiger 3 is all set to introduce a brand new villain in the YRF Spy Universe. Emraan Hashmi will be seen playing the main antagonist in the film, and fans are excited to witness the showdown between Salman and Emraan for the first time ever.
And if that wasn't enough, then Tiger 3 will also have a special cameo by none other than Shah Rukh Khan himself, who will assume his Pathaan avatar and come to the rescue of Tiger.
The uber-successful Tiger franchise
Salman Khan's 'Tiger' franchise has given him two of the most successful films of his career. The very first film of the franchise, Ek Tha Tiger, released in the year 2012, followed by Tiger Zinda Hai in 2017.
The YRF Spy Universe kicked off back in 2012 with Ek Tha Tiger followed by Tiger Zinda Hai (2017), War (2019), and Pathaan (2023). It was Ek Tha Tiger and Tiger Zinda Hai's humongous success that cemented Aditya Chopra's belief that he could introduce two more larger-than-life spy agents, Kabir aka Hrithik Roshan in War and Pathaan aka Shah Rukh Khan in the YRF Spy Universe.
Directed by Maneesh Sharma, Tiger 3 is all set to hit the silver screens on Diwali this year.
Mission Raniganj Trailer: Witness The Glimpse Of Most Thrilling Rescue Starring Akshay Kumar, Parineeti Chopra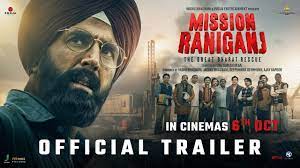 And the wait is finally over! The makers have unveiled the highly anticipated trailer of 'Mission Raniganj' and it has not only lived up to its promise and hype but has exceeded all expectations! Jaswant Singh Gill played a significant role in rescuing surviving miners trapped inside a flooded coal mine in Raniganj in November 1989 which was a successful rescue mission in Bharat against all odds.
Sharing the trailer, Akshay captioned it, "Sardar Jaswant Singh Gill ji, eh trailer twahdi yaad vich twahdi bahaduri nu samarpit hai. In your memory, saluting your courage. Rab rakha. #MissionRaniganjTrailer out now. #MissionRaniganj in cinemas on 6th October!"
Birthday Boy Rahul Vaidya, Disha Parmar Make FIRST Public Appearance With Newborn Daughter In Mumbai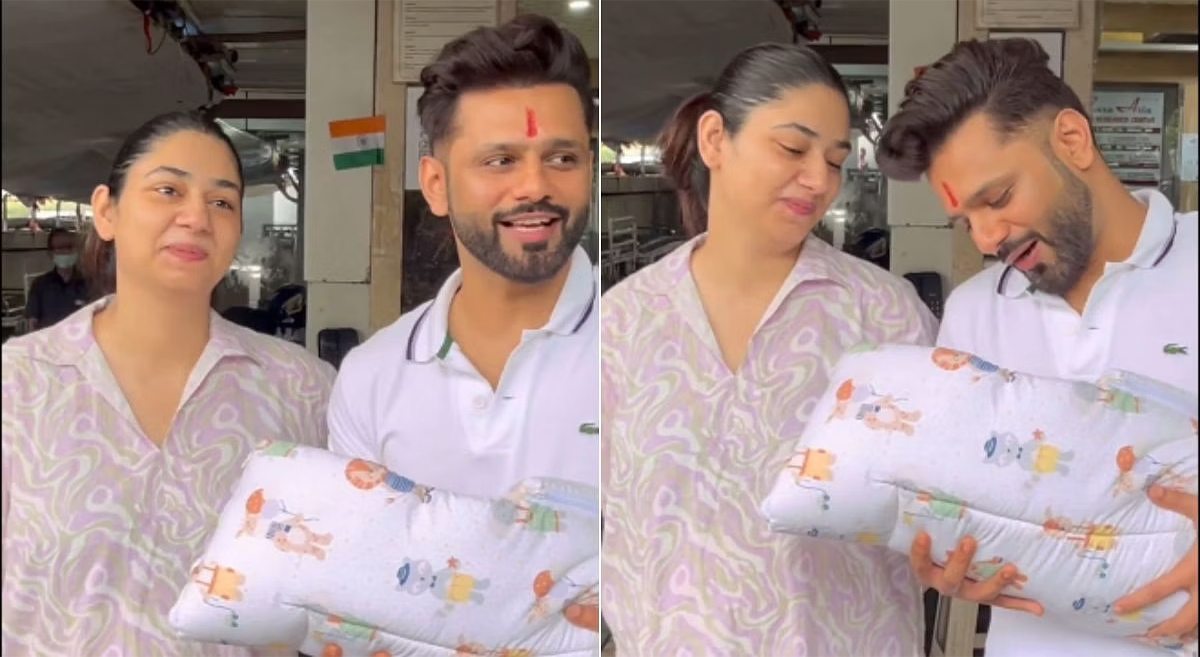 Playback singer and Bigg Boss 14 fame Rahul Vaidya and actress Disha Parmar welcomed their first child, a baby girl, on September 20, Wednesday. And on Saturday, the couple stepped out for the first time with their little one, and the day was even more special as it was Rahul's birthday.
Rahul and Disha became proud parents to their baby girl on September 20, and soon after her birth, the new parents had taken to their social media handle to share the good news and pen a heartfelt note.
"We are blessed with a Baby GIRL! The mummy and baby both are healthy and doing perfectly well. And we are elated!" the joint statement read.
Rahul-Disha's first appearance with newborn
On Saturday afternoon, Rahul and Disha were seen stepping out of the hospital, all set to go home with their newborn daughter.
The elated parents posed for the paparazzi with the baby girl nestled in the singer's arms.
As the shutterbugs congratulated the new parents, Rahul said, "Goddess Lakshmi came to our house on Ganesh Chaturthi. Today, it's my birthday and my baby and wife are coming home. This is the best birthday gift one can get in this world. Thank you God. Please bless our daughter."
He was also seen thanking Disha for giving him the gift of his life.
Rahul-Disha's love story
Rahul and Disha had been friends for quite a few years and it was during his stint on Bigg Boss 14 that the singer proposed the 'Bade Achhe Lagte Hain 2' actress on national television.