Rajasthan CM Ashok Gehlot gets heart treatment as 'common man' in Jaipur hospital
Rajasthan Chief Minister Ashok Gehlot, known for his simplicity, got his angioplasty done on Friday after registering himself with the new-launched state health services scheme as a common citizen.
Suffering from chest pain since Thursday night, Gehlot underwent coronary angiography, angioplasty, and stenting at the Sawai Mansingh Hospital here.
Giving information about the Chief Minister's health, SMS Medical College Principal Dr Sudhir Bhandari said Gehlot had mild discomfort in chest along with cervical spondylosis and radiculopathy.
"He was having atypical symptoms of heaviness on right side of chest, back and right arm. His ECGs were normal."
With his atypical symptom, Bhandari advised him to do cardiac work out.
"As a disciplined patient, Gehlot agreed for all the investigations with a request that 'I would like to get everything done in SMS', because of his utmost faith in SMS doctors and infrastructure," said Bhandari.
He was registered as a common man, in newly-launched Rajathan Government Health Scheme Scheme and was subjected for CT Coronary Angiography and was found to have 90 per cent blockage in one of the main arteries.
"This finding was matching with his non-specific symptoms and he was advised cardiac intervention. Hon'ble CM immediately consented to go ahead and he was shifted to cardiac cath lab where he was subjected to coronary angiography, angioplasty and stenting.
"The procedure was uneventful and post procedure he is recovering well. He is asymptomatic and cheerful," Bhandari said, adding that Gehlot has been suffering from Post-Covid syndrome and this cardiac complication seems to be a part of post-Covid complication.
"Otherwise his cardiac status was absolutely healthy before the pandemic with CT coronary angiography normal."
The CM expressed his gratitude for all the wishes which was receiving for speedy recovery.
Dilip Ghosh's comment on Mamata triggers controversy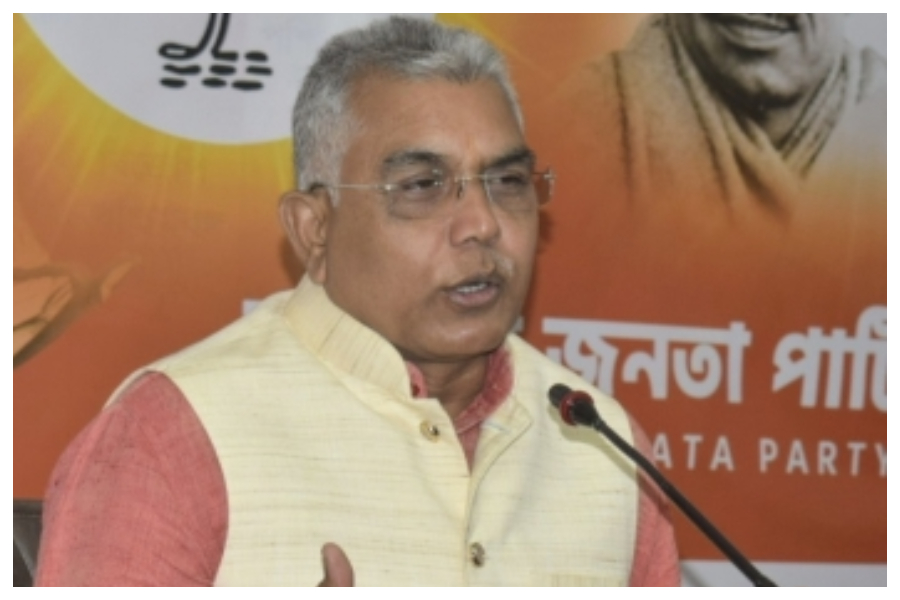 After Trinamool Congress decided not to attend the meeting of the opposition parties called by Mallikarjun Kharge of the Congress before the winter session of the Parliament, Dilip Ghosh's comment on West Bengal Chief Minister Mamata Banerjee triggered a controversy.
Ghosh said, "Mamata Banerjee is trying to become the leader. The days of Sonia Gandhi are over".
He went on to say, "Let them decide who will stay with whom. BJP has no interest in this. This is a drama by the opposition".
"Who will call the meeting — Congress or Trinamool Congress? Which is the main party – the session will be over before they come to any decision," Ghosh added.
Ghosh's comment met with serious criticism both from the Congress and Trinamool Congress. Senior MP Sougata Roy said, "We had an important meeting in Kolkata and so we had to come back. We will have to stay there. It is insignificant to make any comment on the observation of Dilip Ghosh. Let them think over their defeat in the assembly elections without spending time on unnecessary things".
Congress leader Pradip Bhattacharya said, "The problem with these people is that they don't know the history of Indian parliamentary politics. When BJP was in the opposition they also called for the meeting of the opposition. Now Congress has called it. This is parliamentary protocol. He is trying to deny that".
Meanwhile Congress leader in the Lok Sabha, Adhir Ranjan Chowdhury without naming Trinamool Congress said, "There are some opposition parties who pose to be opposition but in reality, they are with the ruling party. Whenever there is a clash with the government they back out. Congress never behaves in this way".
Hitting back at Chowdhury, Derek O'Brien wrote in his tweet: "Yes there will be Opposition unity in #Parliament. Common ISSUES will unite the Opposition. RJD, DMK, CPI-M are all electoral allies of Congress. NCP, Shiv Sena, JMM run a government with them. Congress is not our electoral ally nor are we running a government with them. That's the distinction".
Amarinder meets Khattar, terms it courtesy call
Former Punjab Chief Minister and Congress rebel Amarinder Singh on Monday called on Haryana Chief Minister and BJP leader Manohar Lal Khattar here.
The duo described the surprise meeting as 'courtesy call'.
After the meeting, Amarinder Singh told the media that his party will form the next government in Punjab along with the BJP and a breakaway Akali faction.
"There was no political interaction. It was a courtesy meeting. I had a nice cup of coffee with the Chief Minister," Smarinder Singh said.
On his former party colleagues joining his Punjab Lok Congress ahead of next year's Assembly elections in Punjab, Amarinder Singh said, "Wait for the time. Everything is going fine. People are very upbeat and our membership drive is going string.
"With our seat adjustment with the BJP and with (Sukhdev Singh) Dhindsa party, we will form the government."
Amarinder Singh had earlier said that any seat arrangement he made with the Bharatiya Janata Party (BJP) would be subject to a resolution of the farmers' issues in their interest.
On November 2, Amarinder Singh had resigned from the Congress and sent a seven-page letter to interim party President Sonia Gandhi.
He named his party Punjab Lok Congress.
Amarinder Singh had quit as the Chief Minister in September after a power tussle with state Congress chief Navjot Singh Sidhu.
Nawab Malik granted bail in defamation case filed by BJP activist
A Mumbai court on Monday granted bail to Maharashtra Minister Nawab Malik in a Rs 100 crore defamation suit filed by Bharatiya Janata Party activist Mohit (Kamboj) Bhartiya.
Malik, who responded to a notice by the Mazagaon Magistrate Court three weeks ago, was granted a bail of Rs 15,000 and the matter has been posted for further hearing on December 30.
Last month, the BJP functionary had filed the defamation case against the NCP leader for allegedly defaming him by revelations that his brother-in-law Rishabh Sachdev was among the persons detained by the Narcotics Control Bureau after it raided the Cordelia Cruise on October 2 and was released later.
Bhartiya contended that the minister allegedly used his power and position to raise doubts and spread canards about the release of his brother-in-law, and has spoiled his image and reputation.
After examining the evidence provided by Bhartiya, the Magistrate ruled that prima facie, Malik's statements at his media briefings on October 9 and 11 pointed at defamation and issued the process against him.
Interacting with media, Malik said that he had honoured the court notice and appeared before the Magistrate in the defamation suit filed by Bhartiya, but denied the all contentions of the complainant.
"We have also brought on record how Bhartiya himself is a fraudulent person involved in a scam of Rs 1,100 crore and the raids by the Central Bureau of Investigations on him. When the scam started coming out, he changed his name from Kamboj to Bhartiya, we have submitted all evidence to the court and will provide more later," he said.
Soon after the ministera¿s expose, Bhartiya had sent him a couple of legal notices and when the allegations continued, he filed the defamation case against Malik before the Mazagaon Magistrate Court.