Rajamouli does it again: Ram Charan, Jr NTR-starrer 'RRR' encompass brotherhood despite divergent goals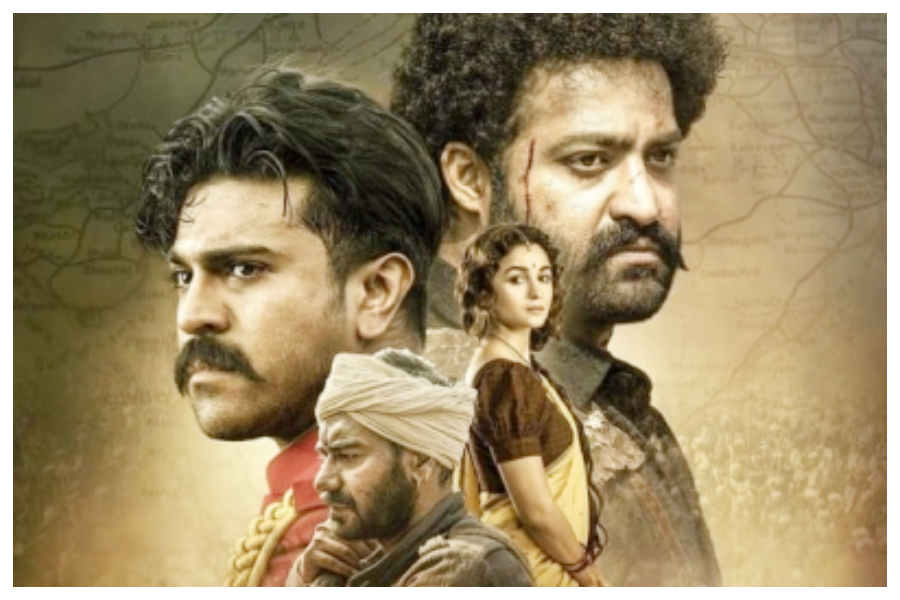 Film: 'RRR' (Running in Theatres)
Director: SS Rajamouli
Cast: Jr NTR, Ram Charan, Alia Bhatt, Olivia Morris, Ajay Devgn, Shriya Saran.
Music: M. M. Keeravani, Producer: D. V. V. Danayya
IANS Rating: ****
After being postponed multiple times, SS Rajamouli's 'RRR' finally hit the screens on Friday. Ram Charan and NTR essaying the fictional roles of Alluri Sitarama Raju and Komaram Bheem respectively are exemplary in their acting abilities.
'RRR' story runs in the pre-independence era, which has the fictional alignment of two real-life heroes, who fought against the British, in different timelines of Indian history. Komaram Bheem and Alluri Sitarama Raju's fictional characters are well-established, with a mutual purpose, which is kept under the wraps first.
Introducing Ram Charan as Rama Raju, the ruthless sepoy, who works to impress the oppressive British, his real intentions are kept undercover.
On the other hand, Komaram Bheem, who is the protector of his tribe, starts his journey towards revolting against the British. In search of a missing girl from his tribe, he travels to bring her back at any cost.
Rama Raju and Bheem bond well, as their destiny, unite them. But, their individual purposes result in them going against each other. The rest of the story is about how the duo meets their destiny, with their real goals leading to a mutual target.
Performances: Ram Charan, who had played an innocent, yet aggressive village boy in 'Rangasthalam', appears as a demonic, ruthless sepoy, who works under the oppressive British.
NTR, on the other hand, whose introduction blows everyone's minds, is seen bringing down a huge tiger. His innocence reflects his tribe as he starts his journey to protect a little girl who goes missing.
Ram Charan and NTR, whenever on the screen together, emote brotherhood, and patriotic values, subtly.
Alia Bhatt, in her limited role, has done a fantastic job. Olivia Morris, on the other hand, looks apt. Ajay Devgn's role is like an icing on the cake, as his role imbibes patriotism as well as fortitude. All the other actors have justified their roles well.
Analysis: Rajamouli's screenplay is tricky, yet neat. He deals with the subject, brilliantly, and emotes the patriotic essence of the story in a subtle manner. With an excellent, well-paced first half, the second half has some tiny flaws.
All the songs, placed rightly, the most popular 'Naatu Naatu' takes the audience to trance, as it passes the euphoric wave across.
A decently high-octane interval, which does half of the job. A few minutes of lag in the second half, but the climax justifies it all.
The movie is an action entertainer with stellar performances and a multi-layered story.
SRK's Mumbai bungalow Mannat gets a diamond-studded nameplate
Superstar Shah Rukh Khan, who is known as the king of Bollywood, has added more jewels to his crown – quite literally. His bungalow, Mannat is one of the iconic places in Mumbai, and now he has cranked it up a notch by getting a diamond studded nameplate for his residence.
Several fan clubs of the 'Chak De! India' star recently shared the pictures of the nameplate on their social media as they swarmed to the King's castle to take a glimpse of the shimmery nameplate, which surfaced roughly two months after the previous nameplate.
In the pictures, two diamond nameplates could be seen with Mannat written on the left side and Landsend written on the right. Previously, it was a blackboard with Mannat Landsend embossed on it.
Landsend because the sea-facing bungalow is situated in the land's end part of Bandstand in Bandra.
SRK often greets his fans from his balcony as he did recently on his birthday on November 2. Fans now have all the more reason to put the camera shutter sound in action with the installation of the new nameplate.
On the work front, SRK has three big-ticket releases in the pipeline first of which is 'Pathaan' from the YRF spy universe. The film will mark SRK's return to the silver screen after a hiatus of 4 years. Additionally, he also has Rajkumar Hirani's 'Dunki' in which he will share the screen with Taapsee Pannu and south director Atlee's 'Jawan'.
Alia Bhatt, Ranbir Kapoor bring home their baby girl
Bollywood star couple Alia Bhatt and Ranbir Kapoor were seen bringing home their baby girl on Thursday.
The new proud parents reached their home Vastu on Thursday morning. Alia was glowing in an all black outfit while Ranbir was seen sitting in the car cradling their bundle of joy as they travelled from Sir HN Reliance Hospital to their home.
Alia, who delivered her first baby on November 6, had announced the birth of her first child in a joint note by her and Ranbir on Instagram.
It read: "And in the best news of our lives: Our baby is here.. and what a magical girl she is. We are officially bursting with love – blessed and obsessed PARENTS!!!!! love, love, love. Alia and Ranbir."
The couple, who started dating in 2018 on the sets of 'Brahmastra Part One: Shiva', got married earlier this year in April.
Khan Squared: SRK to appear in Salman Khan's 'Tiger 3' as Pathaan
The daredevilry of 'Pathaan' is going to spill into 'Tiger 3'. That Salman Khan will appear in 'Pathaan' in his Tiger avatar had been confirmed some time back, but now comes the news that Shah Rukh Khan will show up in 'Tiger 3' to enact a thrilling sequence.
'Pathaan' as well as the 'Tiger' and 'War' franchises ('War' being the superhit film where Hrithik Roshan plays RAW agent Major Kabir Dhaliwal) are three important pieces of the spy universe unspooled by Yash Raj Films.
"Shah Rukh Khan will shoot for 'Tiger 3' immediately after the release of 'Pathaan', thus confirming his presence in the Tiger franchise. In Aditya Chopra's spy universe, the paths of SRK, Salman and Hrithik will constantly cross to build up the grand finale of the spy universe," a well-placed source reveals.
SRK's shoot schedule for 'Tiger 3' is being planned immediately after January 25, 2023.
The source added: "This will be a massively mounted action sequence where Pathaan and Tiger come together for a very crucial scene. This will also be a huge cinematic moment for audiences to love."
"The spy universe is turning out to be deliciously thrilling because it brings the biggest superstars together in a riveting, edge of the seat sequences that are important for the plot to move forward. Now, all eyes are on when Hrithik Roshan will enter the spy universe."