Raj Thackeray puts off Ayodhya trip in political setback for MNS
In a self-inflicted political blow, Maharashtra Navnirman Sena President Raj Thackeray on Friday morning tersely announced that he has temporarily "postponed" his proposed visit to Ayodhya on June 5.
He himself made the announcement via social media but didn't spell out any reasons for the move, leading to wild speculations in political circles.
MNS spokesperson Sandip Deshpande and party leader Bala Nandgaonkar were at a loss to explain what actually prompted the unexpected decision, but assured that Raj Thackeray will enlighten the people about it at his planned public rally in Pune on Sunday.
Adding to the MNS' awkwardness, ruling Maha Vikas allies' leaders like Shiv Sena's Tourism Minister Aditya Thackeray and state Congress President Nana Patole announced that their upcoming tours for 'darshan' of Ram Lalla would proceed as per schedule and their trips would be "non-political".
Taking a swipe at the MNS chief, Shiv Sena chief spokesperson Sanjay Raut said that he heard about it from the media, "but we would have supported him".
"There's a large number of Shiv Sainiks and Sena supporters in Ayodhya, and we would have supported him… He is being used by the Bharatiya Janata Party, but some people get delayed wisdom," he said.
Nationalist Congress Party spokesperson Clyde Crasto expressed hope that Raj Thackeray would now realise how he was being exploited by the BJP politically.
"They propped him to propagate their agenda and when their message was delivered, they have cut him down to size. He was used as a pawn and he allowed himself to be used to revive his failed political career," he claimed.
Congress General Secretary Sachin Sawant squarely blamed the BJP for Raj Thackeray's current predicament.
"First, the BJP pumped up air into him, but when it feared that the Hindutva vote-bank would be divided, they snipped him off," he said.
Sena MoS and spokesperson Kishore Tiwari alleged that the BJP-MNS and Rana couple were competing to prove whose Hindutva brand is the worst and Raj Thackeray got trapped in their machinations.
"He had harassed North Indians and when the BJP felt this cannot continue as it would have repercussions (in the upcoming civic elections), they ejected him… Anyways, his planned Ayodhya trip was purely political as there people have nothing to do with religion or Hindutva," he added.
Leader of Opposition Devendra Fadnavis merely said: "Raj has postponed his visit now, but whenever he plans to go there, he will be given full support and nobody will touch him."
Raj Thackeray's abrupt decision came amid massive protests by certain BJP leaders and activists in Uttar Pradesh and other northern states opposing his Ayodhya trip.
They have been vociferously demanding his unconditional apology for the treatment meted out to North Indians in the MNS agitation in 2008.
The anti-Raj Thackeray protests were spearheaded by Uttar Pradesh BJP MP Brijbhushan Sharan Singh who warned that unless he apologises, lakhs of his supporters would block his entry to Ayodhya.
Though Raj Thackeray has not revealed anything, there's speculation that the postponement may have been due to health reasons, but MNS leaders declined comments.
Back in Uttar Pradesh, Brijbhushan Sharan Singh dismissed the MNS claims of "postponement due to illness" and asserted that Raj Thackeray has "cancelled" his trip, and vowed to continue his agitation till the MNS chief tenders an apology.
Earlier, apprehending threats, MNS' Nandgaonkar had called on Maharashtra Home Minister Dilip Walse-Patil and demanded security for Raj Thackeray either from the state government or the Centre.
Simultaneously, he warned that "even if a hair of Raj was harmed, Maharashtra would burn", though preparations for the Ayodhya trip continued.
Since a month, Raj Thackeray has been in the limelight after he launched an agitation demanding removal of loudspeakers from all mosques in the state failing which his activists would blare Hanuman Chalisa at double-decibel levels.
Mira Bhayandar: 266 properties sealed as MBMC struggles to meet ₹200 Cr property tax collection target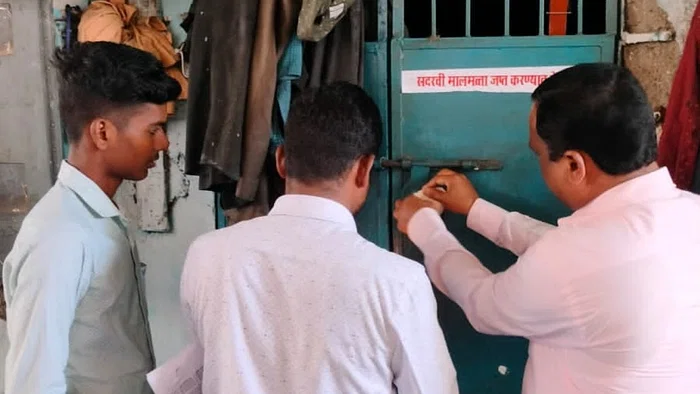 Mira Bhayandar: With just two days left in the ongoing financial year, the Mira Bhayandar Municipal Corporation (MBMC) is facing a herculean task of collecting at least ₹28 crore to keep itself qualified for receiving grants under the 15th finance commission.
Stung by the cold shoulder response to notices and warnings, the MBMC's tax department has sealed more than 266 properties of chronic tax defaulters who owe more than ₹5 crore. The MBMC  had managed to recover a little over ₹172.58 crore till Tuesday evening which hovers below 79 percent of the total amount billed by the civic body towards property tax collections.
Surge in collection through digital payments
As per information sourced from the tax department, the target was set at ₹190 crore for the financial year 2021-22. However, the MBMC had managed to mop up just ₹161 crore. Against this year's demand of around ₹222 crore, the MBMC has so far managed to recover a little over ₹172.58 crore 1 April 2022 to 28, March, 2023. The collections were limited to ₹150 crore in the corresponding period last year.
Notably, there has been a surge in collections through digital modes of payments including links on the municipal website and mobile application facilitated by the civic administration. Till now, more than ₹65.12 crore has been received from 1,24,715 taxpayers via digital payments. The assessed number of properties in the twin-city is currently pegged at around 3,68,501 including 63,498 commercial and 3,05,003 residential units. While the actual target is ₹222 crore, the MBMC needs to recover at least ₹200 crore to keep itself qualified for receiving grants under the 15th finance commission. Apart from this the shortfall in revenue generation is all set to put a negative effect on the ongoing developmental projects in the twin city.
Delhi HC stays FIR registration against Max Group owner's son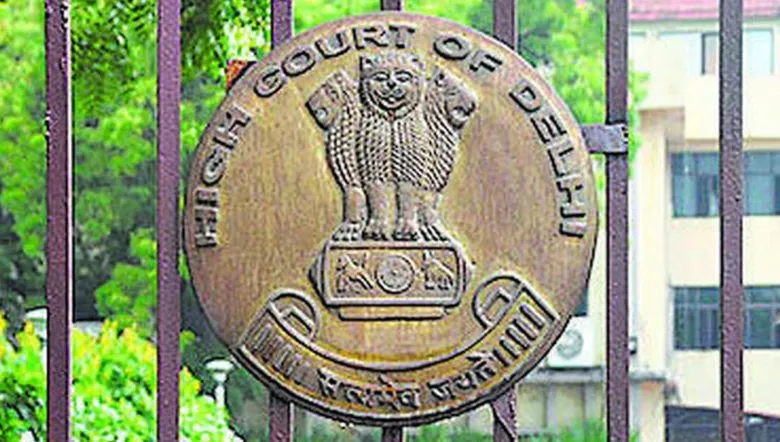 The Delhi High Court on Wednesday stayed a sessions court order that had directed the police to register an FIR against Veer Singh, the son of Max Group founder-chairman Analjit Singh, for inducing a woman to cohabit with him and to establish sexual relations with him after performing a sham marriage ceremony.
Justice Anup Jairam Bhambhani stayed the order after Singh moved to the High Court.
The court has also issued notices on the plea and the case has been scheduled to come up for next hearing on May 29.
On March 27, Additional Sessions Judge of Saket Courts, Arul Verma, had directed the police to register an FIR under Sections 376, 493, 496, 417, 341, 342 and 354C of the IPC for inducing the woman to cohabit and have sexual relations with him (Veer Singh) without her consent.
The woman has alleged that Singh has "committed rape upon her" as she entered into a sexual relationship with him on the belief that she is "lawfully married" to him and that he is her husband.
The present case pivots around the allegation that Singh induced the revisionist to reel under a misconception of fact that she is lawfully married to him and it is on the basis of this "misconception" of fact that Singh established sexual relations with her.
At the outset, the court noted that the judgments relied upon by Singh's counsel pertain to instances where there was sexual intercourse on the pretext of false promise of marriage. The court said that it is a case where prima facie there are allegations of commission of sexual intercourse without the consent of the woman.
It has been alleged that Singh and his family members had organised a wedding ceremony on December 4, 2018, in Taiwan and post-wedding rituals like 'griha pravesh' (when a newly-wed bride enters her new home with her husband) and 'dhol' ceremony.
It is to be noted that a child was begotten from this relationship and it is the revisionist's case that in May 2020, Singh first got her and the child moved to a rented accommodation and later expressed that he did not want to cohabit with her any more.
The woman represented by advocates Shivani Luthra Lohiya and Nitin Saluja has claimed that Singh has also asked for the child's custody and is disowning the factum of marriage.
It is alleged that after a sham ceremony was orchestrated by Singh and his family members, the woman has been deceived, followed and observed without her consent. It is alleged that Singh placed CCTV cameras and baby monitors in the bedrooms and the lobby, and recorded her movements without her consent and knowledge.
The court said that by perusing the records, it is revealed that a ceremony was conducted between the parties (the revisionist and respondent Singh) in Taiwan followed by post-wedding functions.
"A perusal of the photographs and videos produced on record reveals prima facie certain essential ceremonies of a de rigueur (proper) marriage were performed viz applying vermilion on the forehead, garlanding each other, applying mehndi and griha pravesh," the court said.
Verma said that such a ceremony is "bound to induce" the revisionist to believe that a lawful marriage was entered into, and on this basis she agreed to cohabit and have sexual intercourse with Singh.
Singh's sister had also congratulated the parties via Facebook on their marriage while his father had sent her a voice note welcoming her into the family.
However, Singh's counsel adverted to certain emails exchanged between the parties to contend that Singh had no intention to marry the revisionist and that both of them had agreed to be in this relationship without a marriage.
To this, the court said that these contentions cannot be countenanced in as much as the abstruse personal messages exchanged between the parties do not unequivocally establish the claim of the respondent and that the messages were exchanged prior in time from the date of the marriage.
In the present case, allegations have been levelled by the revisionist that Singh has committed the offence of voyeurism against her and she placed reliance on her letter dated February 20, 2021, to the SHO of Defence Colony police station.
"Veer and staff members had also video recorded me while I was changing my clothes or when I was breastfeeding my son," the woman alleged.
"This allegation, which prima facie crosses all bounds of decency and makes a woman feel unsafe in her own abode, definitely needs to be probed by the police," the court noted.
"CCTV footage to establish incidents of stalking or voyeurism have to be obtained. Even the victim's statement under Section 164 CrPC has to be recorded and medical examination conducted in order to unearth the truth of the matter," the court said.
"The allegations as brought forth at this juncture paint a portrait of a hapless woman left in a lurch. Such an affront to the dignity of a woman cannot be brushed under the carpet for it will compound her ignominy," the court said.
Disrespect of national anthem complaint: Bombay HC refuses to grant relief to West Bengal CM Mamata Banerjee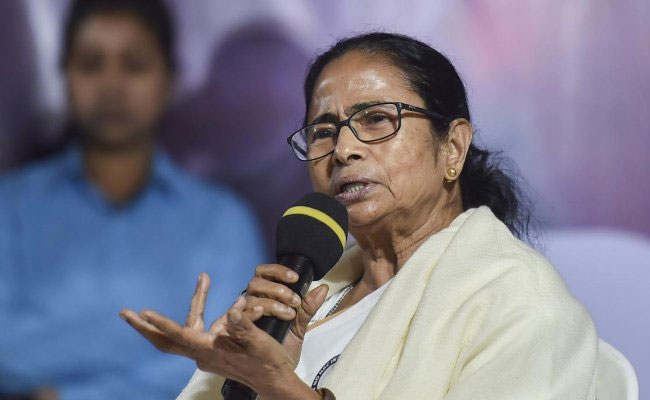 The Bombay High Court dismissed a plea by West Bengal CM Mamata Banerjee seeking the quashing of a criminal complaint filed against her by a BJP leader for allegedly disrespecting the National Anthem.
The HC said there was no patent illegality in the session's court order.
A single bench of Justice Amit Borkar dismissed the application filed by Banerjee challenging a sessions court's order of January 2023 remitting the matter back to the magistrate's court for inquiry and on the issue of issuance of summons.
Banerjee in her application said the sessions court, instead of quashing the summons and remitting the matter, ought to have quashed the entire complaint.
Justice Borkar, however, noted there was illegality in the sessions court's order and hence the HC need not interfere.
A magistrate's court in March 2022 issued a summons to Banerjee on the complaint filed by activist Vivekanand Gupta alleging that during a public function at Yashwantrao Chavan Auditorium at Cuffe Parade in Mumbai, Banerjee had started singing the National Anthem in the sitting position, and later standing up and singing two verses before abruptly stopping and leaving the venue.
The West Bengal chief minister had challenged the summons before the special court.
In January 2023, Special Judge R N Rokade set aside the summons issued by the magistrate on procedural grounds and asked the magistrate to consider the complaint afresh.
In her application in the HC, Banerjee challenged this order claiming that the summons ought to have been quashed instead of directing the magistrate to consider the same afresh.
Gupta in his complaint claimed that Banerjee's acts amounted to an insult and disrespect to the national anthem, and hence they are an offence under the Prevention of Insults to National Honour Act of 1971.
He had lodged a complaint in the Cuffe Parade police station but moved the court of the metropolitan magistrate after the police failed to take any action.