Pakistan Drones Dropping Drugs In Punjab, Admits PM Shehbaz Sharif's Close Aide On TV Show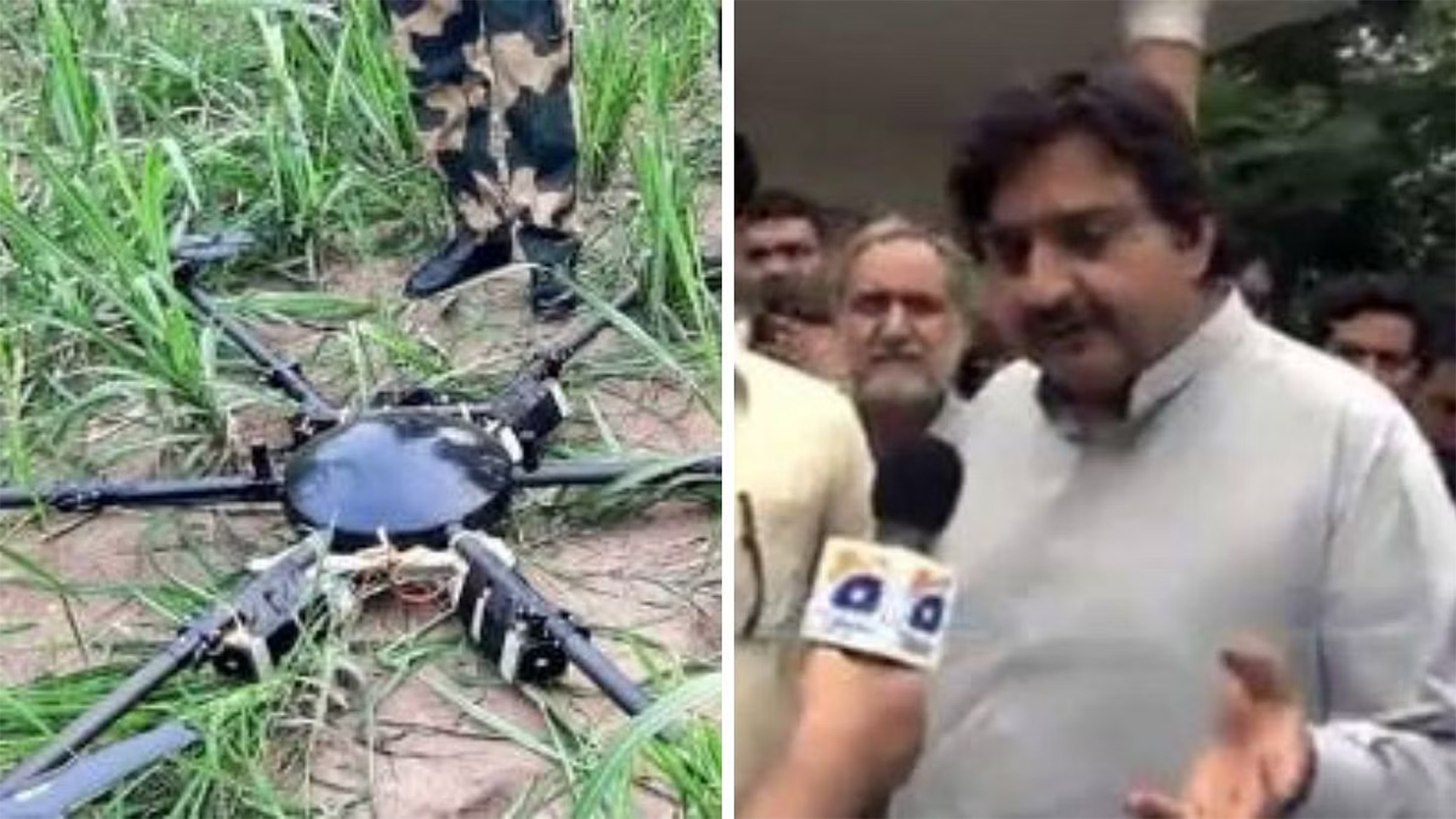 A senior official in the Pakistan government has admitted that Pakistani smugglers are using drones to smuggle illicit drugs, mostly heroin into Indian territory. Malik Muhammad Ahmad Khan, the Special Assistant on Defence to Pakistan Prime Minister Shehbaz Sharif made these remarks to Hamid Mir, a journalist associated with Pakistan's News.
Mir has posted a video on his Twitter handle of the interview with Khan, who is also the Member of Provincial Assembly (MPA) representing Kasur city, which borders the state of Punjab in India.
The Pakistani journalist tweeted on July 17, captioned as, "Big disclosure by PM's advisor Malik Muhammad Ahmad Khan. Smugglers using drones in the flood-affected areas of Kasur near Pakistan-India border to transport heroin. He demanded a special package for the rehabilitation of the flood victims otherwise victims will join smugglers."
Malik Khan Admits About Cross-Border Smuggling
In the video clip of the interview posted by the Pakistani journalist, Malik Khan is heard saying, "This (Kasur near LOC) is a rangers area. Due to some border regulations, there is some sensitivity." When the journalist asks the special advisor to Pakistan PM about the issue of cross-border smuggling of narcotics in Kasur he affirms the development. "Sure, it (smuggling via drone) is happening and it is very unfortunate. Recently there have been two incidents where 10 kg of heroin was tied to each drone and thrown across. Agencies are working on it." Indian security forces have brought down a number of drones in recent times carrying contraband.
Drug Smuggling Incidents In Border Areas This Year
In April this year, Jammu and Kashmir Director General of Police Dilbag Singh said that security forces have taken many counter-measures to tackle incidents of dropping of weapons and drugs by drones sent by Pakistan.
Earlier this month, on July 21, BSF and Punjab Police troops recovered a drone in broken condition from the farming field near Mastgarh village in Punjab's Tarn Taran district.
On specific information, BSF and Punjab Police launched a search operation and recovered the Pakistani drone from the outskirts of Mastgarh village. "The recovered drone belongs to Quadcopter, DJI Matrice 300 RTK model," officials said.
Multiple Drones Shot Down, Contrabands Seized
Earlier, the Border Security Force (BSF) foiled the nefarious design of smugglers by seizing 2.35 kg of heroin dropped by a Pakistani drone near the International Border in Punjab's Tarn Taran district.
During the detailed search, the BSF troops recovered one packet of narcotics suspected to be heroin weighing 2.35 kg wrapped with yellow adhesive tape from the farming field ahead of border fencing.
On June 29, BSF troops recovered approximately 5.120 kg of suspected heroin dropped by a Pakistani drone near the International Border in farming fields of Village- Khalra in Tarn Taran district.
Earlier, on June 24, the troops of the BSF shot down a Pakistani drone that had intruded into the Indian airspace in Punjab's Tarn Taran sector. Also, the BSF shot and brought down a Pakistani drone in Punjab's Tarn Taran district.
On June 22, the BSF in Punajb's Fazilka recovered a drone originating from the Pakistan side and two packets of suspected narcotics near the Abohar border.
"On specific information, alert BSF troops recovered a Pakistani drone (DJI Matrice 300 RTK) on June 22, during morning hours along with 2 kg (appx) suspected heroin near the international border in Jodhawala village of Fazilka district," BSF Punjab Frontier said.
BSF personnel in Rajasthan's Bikaner recovered a drone originating from the Pakistan side and two packets of suspected narcotics near the Rawla border.
Hanzla Adnan, Dreaded Lashkar Terrorist & Master Mind Of 2015 Udhampur Attack, Killed In Karachi
Karachi, Pakistan: Lashkar-e-Taiba (LeT) terrorist Hanzla Adnan, considered to be a close aide of terror group chief Hafiz Saeed, was killed by unknown gunmen in Pakistan's Karachi. He was the mastermind of the 2015 Udhampur attack, in which 2 BSF jawans were martyred.
Hanzla Adnan shot dead
Hanzla Adnan is believed to be close to LeT chief Hafiz Saeed, the mastermind of the 26/11 Mumbai attacks. He was shot outside his house on the intervening nights of December 2 and 3. Four bullets were found in his body. As per media reports the LeT terrorist was secretly taken to a hospital in Karachi by the Pakistani army. He later died in the hospital on on December 5. Hanzla Adnan had his operation base in Karachi.
On August 5, 2015, two Pakistani LeT terrorists, clad in civilian clothes, attacked a BSF convoy on the Jammu-Srinagar Highway near Narsoo Nallah, Tehsil Chenani, District. Udhampur. Two BSF personnel died in the attack and 14 BSF personnel were injured. One of the two militants involved in the attack was killed, while one was subsequently apprehended by the local people and the police. Interrogation of the captured terrorist revealed his identity as Md. Naveed Yakub @ Usman, Resident of Faisalabad, Pakistan.
Besides, he was also considered a mastermind of the Pampore attack wherein at least eight security personnel were killed.
December 5: Sajid Mir allegedly poisoned in Pak jail
The incident was reported just a day after Sajid Mir, one of the masterminds of the dastardly 26/11 Mumbai terror attacks, was allegedly poisoned in the Central Jail of Dera Ghazi Khan in Pakistan, according to unconfirmed reports. This is not the first such killing of a terrorist having links with past terror attacks in India. Data has revealed that since past one year over 15 terrorists have been killed by unknown assailants in Pakistan. It was later revealed that those terrorists were involved in spreading terror in India.
3 New Projects Inaugurated Between India & Bangladesh
Kolkata: Prime Minister Narendra Modi and Bangladesh Prime Minister Sheikh Hasina on Wednesday virtually inaugurated three new projects between the two countries.
Inaugurating the new projects Modi said, "The work that is done in the past nine years between India and Bangladesh's cooperation has not been done in decades."
Rail link between 2 countries
The first project that was inaugurated was a rail link between India's Northeastern state Tripura and Gangasagar railway station in Bangladesh's Brahmanbaria district.
The trail run of the rail project of 12. 24 km was completed on Monday.
"It is indeed a matter of joy as it is a historic moment because it is the first rail link between Northeast and Bangladesh," further added Modi.
Bangladesh Prime Minister Sheikh Hasina said the new projects will strengthen the infrastructural development of the two countries.
Strengthening bilateral ties between India & Bangladesh
"The efforts between the two neighbouring countries established connectivity from India's Northeastern states and Bangladesh's Chittagong and Mongla part. The inauguration of the new projects shows the friendship between the two countries," mentioned Hasina also thanking Modi for inviting and showing hospitality in G20 Summit.
The other two projects include the 65 km Khulna Mongla Port railway line which is expected to give a boost to cross-border trading.
The traveling timing from Akhura to Tripura's Agartala and Kolkata via Dhaka will be less than earlier as 1600km will be just 500km.
The third project that was inaugurated was unit 2 of the1320 MW Maitree Super Thermal Powerplant which is the 50:50 joint venture between India's NTPC and Bangladesh Power Development Board.
Israeli Airstrikes On Gaza's Jabalia Refugee Camp Kills At Least 50; Arab League, Egypt, Jordan Condemn Attack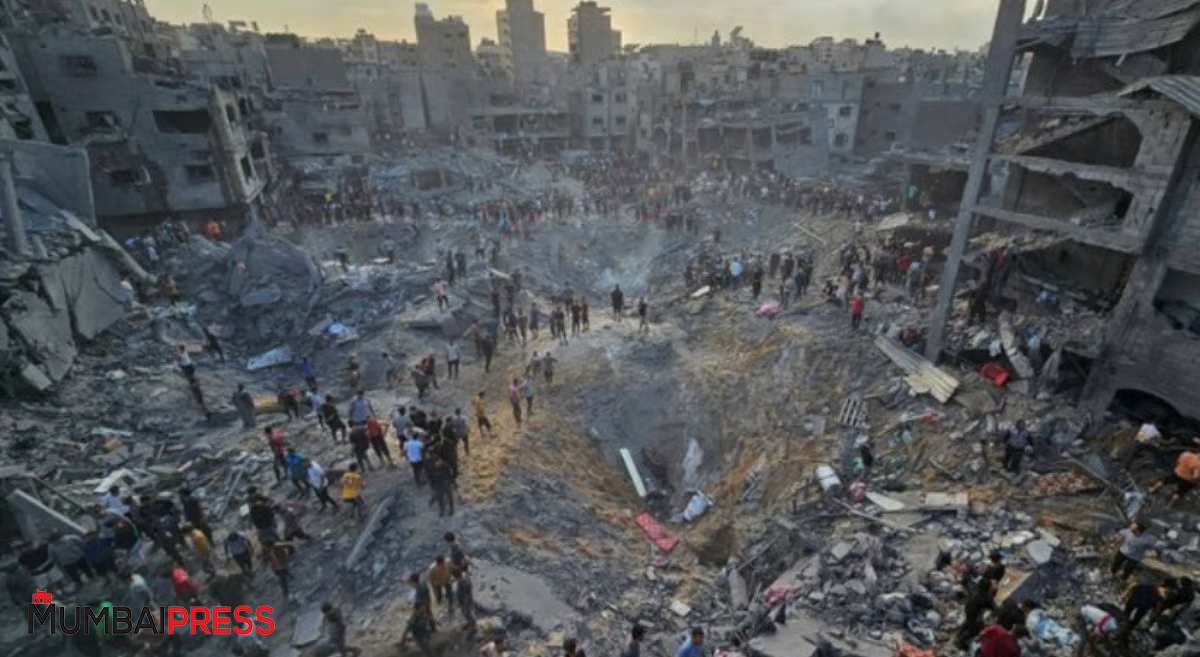 Arab League (AL) Secretary-General Ahmed Aboul-Gheit has strongly condemned the deadly Israeli airstrike on the Jabalia refugee camp in the northern Gaza Strip. In a statement on Tuesday, the AL chief said that it was "a new crime" in Gaza and that the international community should no longer remain silent, Xinhua news agency reported.
"Flagrant violation of international laws"
Meanwhile, the Egyptian Foreign Ministry said in a statement the attack was a "flagrant violation of international laws". Jordan's Foreign Ministry also condemned the attack and said Jordan held Israel responsible for the dangerous development.
It also denounced Israel's ongoing escalation of tension in the West Bank and Israeli settlers' increasing attacks on Palestinian civilians. It also called on the international community to assume its responsibility, stop the ongoing conflict, and provide international protection for Palestinians.
Densely populated Jabalia refugee camp
Israeli warplanes hit the densely populated Jabalia refugee camp on Tuesday. After the attack, the Gaza-based Health Ministry said in a statement that more than 50 people were killed, approximately 150 others injured, and "dozens" of others buried under the rubble.