Now or never – yank off mosques' loudspeakers by Wednesday: Raj Thackeray
Terming loudspeakers on mosques as "a social and not a religious issue", Maharashtra Navnirman Sena (MNS) President Raj Thackeray demanded that the Maha Vikas Aghadi must bring down all loudspeakers by his stipulated deadline of May 3.
"It's now or never…. All loudspeakers must be removed after May 3. After (Ramzan) Eid…. From May 4, I will not listen to anybody. All Hindus will blare out Hanuman Chalisa outside mosques at double volume," Raj thundered, at a well-attended rally in the tourist centre of Aurangabad late on Sunday.
Taking the demand on a bigger scale, he urged that loudspeakers must be taken off from all religious places all over the country, even from temples, but only after they are removed from the mosques.
Raj further warned that "if the government fails to heed his ultimatum by May 3", then he would not be responsible for the consequences, adding that he was neither interested nor keen to have disturbances in the state.
Reiterating that loudspeakers were a "social" and not a "religious" matter, he made it clear that if Muslims try to make it a 'religious' issue, then Hindus would also reply to it with religion.
"I request the police personnel here…. Go and start removing those loudspeakers right now…. This is not a new issue, it was always there, but I am giving the solutions…. It's now or never," he declared amid intermittent rounds of applause.
Claiming that all loudspeakers in the state are illegal, he asked if Uttar Pradesh could bring them down, then why not Maharashtra.
He again slammed Nationalist Congress Party President Sharad Pawar for starting casteist politics in Maharashtra which has done huge harm and has now percolated even to educational institutions where students first think of their caste before making friends.
"Pawar regularly invoked Shahu-Ambedkar-Phule, but never Chhatrapati Shivaji Maharaj…. After I raised the issue, he started doing it and speaks of the Maratha King…. He is an atheist as per his own daughter (Baramati MP Supriya Sule)'s statement in the parliament…. After I pointed it out, photos of the family doing prayers are now going viral," Raj claimed.
The MNS chief said he held just two rallies in Mumbai and Thane last month and "look how they are blabbering", and announced that in the coming days, he would hold rallies in each of the (36) districts in the state.
Maharashtra: Locomotive Detaches From Borivali-Ahmedabad Express At Vaitarna Station
Palghar: A locomotive attached to the tail end of a long-distance train decoupled when it departed after halting at the Vaitarna station on Saturday. A mishap was averted as the train hadn't attained speed, but the episode resulted in one-hour delay.
The incident took place at around 2.15 pm when the 19417 Borivali-Ahmedabad Express stopped at the Western Railway's (WR) Vaitarna station. As it started to pull out, the locomotive detached and skidded 20 metres away from the train.
The passengers experienced a strong jerk and heard a loud noise due to decoupling, said Jitu Mehta who was onboard at the time of incident. The shocked travellers converged at the tracks and platform. Passenger activist Shilpa Jain said, "Although most passenger trains have been upgraded to express category, the standard of coaches and locomotives remains the same. Despite paying extra fares, passengers are deprived of express train facilities. The condition is same with the Valsad Express which is a lifeline for thousands of daily passengers commuting from Gujarat to Mumbai."
However, WR chief spokesperson was unavailable for comments.
Goods Train Derails In Raigad District; Operations On Panvel-Vasai Route Hit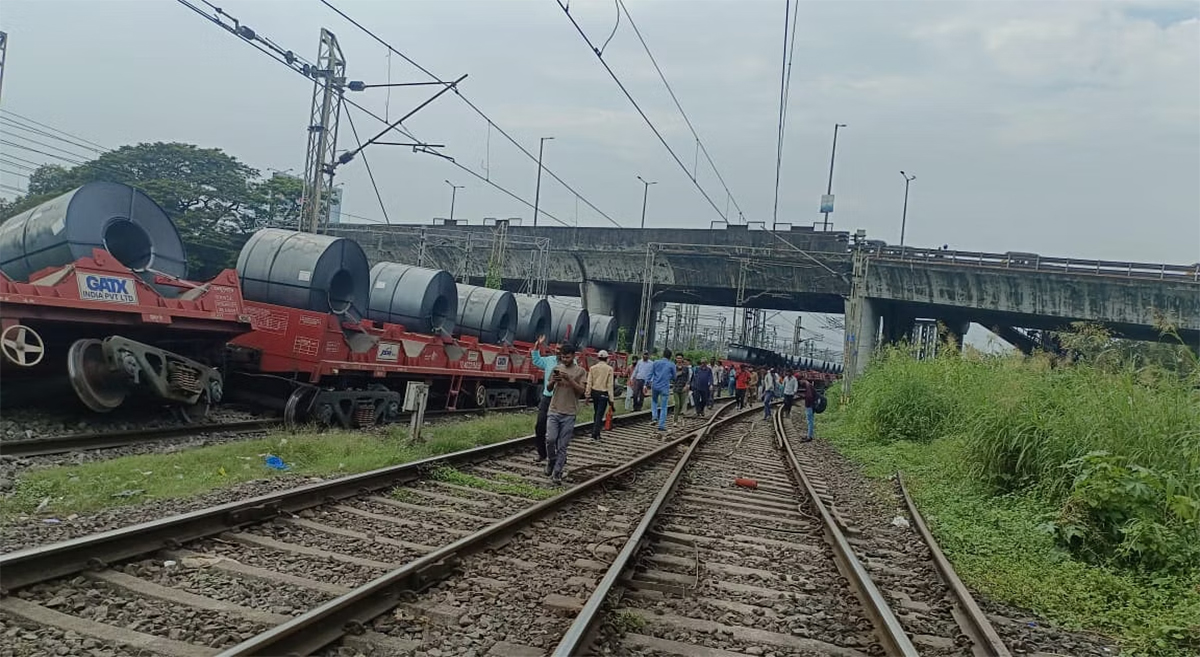 Raigad: A goods train derailed on Saturday afternoon in Maharashtra's Raigad district, disrupting operations on the Panvel-Vasai route, the Central Railway said.
Nobody was injured in the incident, as per the preliminary information.
Central Railway Chief Public Relations Office (CPRO) Shivraj Manaspure said four wagons, including a brake van, of the freight train, headed to Vasai (in Palghar district) from Panvel (in Raigad district), derailed on the Panvel-Kalamboli section at around 3.05 pm.
Restoration work to start soon
"ART (Accident relief train) from Kalyan and Kurla stations is being sent to the accident site," Manaspure said, adding that a Road ART has been sent from Panvel to the accident site.
He said the restoration work will start soon. 
After the incident, at least five passenger trains were detained at various spots on the Konkan-Mumbai route. 
However, Navi Mumbai suburban services between the Panvel-CSMT section were unaffected as the incident occurred on the Panvel-Kalamboli railway line, which further leads to Mumbai and Vasai.
Notably, Railway authorities have planned a 38-hour mega block between Panvel and Belapur stations of Harbour and Trans-Harbour corridors beginning Saturday night for laying two new lines under the Dedicated Freight Corridor.
Mumbai News: BMC To Spend ₹315 Cr For Underground Tunnels Of GMLR Project For 10 Years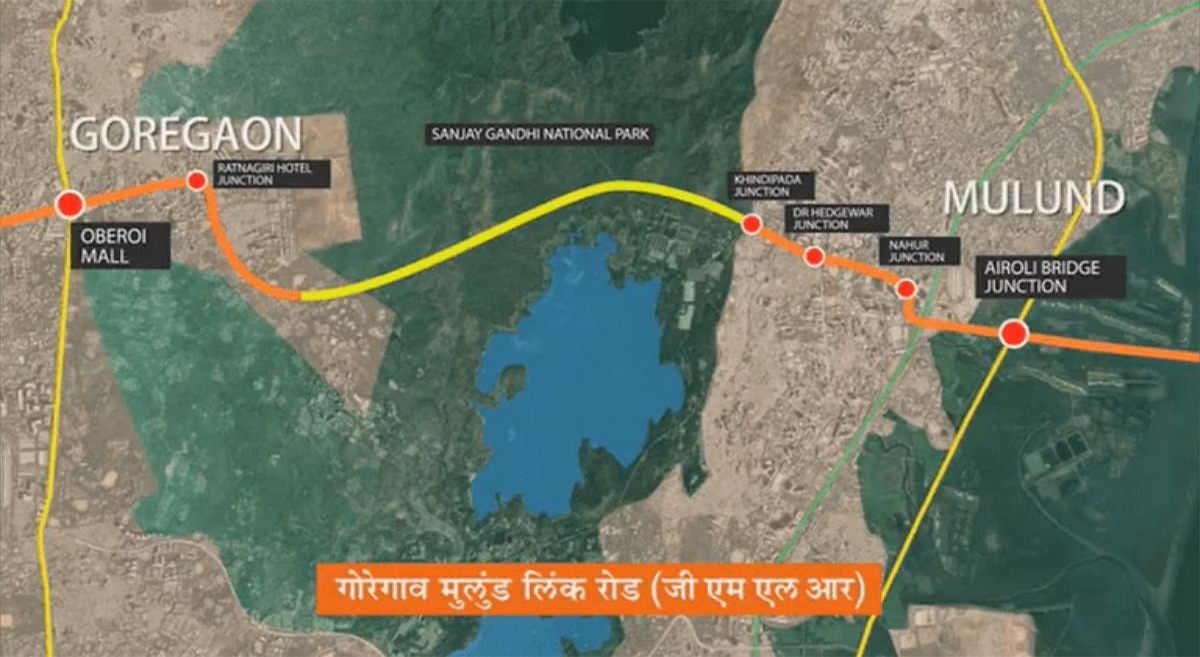 Mumbai: The BMC will be spending Rs 315 crore on the repair and maintenance of underground tunnels of the Goregaon Mulund Link Road (GMLR) for 10 years. A contract of Rs 6,301 crore has been allotted to construct 4.7km long twin tunnels in July. The tunnel is expected to be completed in five years.
The 12.2km road – connecting the Western Express Highway at Goregaon to the Eastern Express Highway at Mulund – will be crucial in decongesting other prominent pathways like the Santacruz-Chembur Link Road, Andheri-Ghatkopar Link Road and Jogeshwari-Vikhroli Link Road. The total cost of GMLR is around Rs 12,013 crore including all taxes.
Details On The Project
As part of the GMLR project, the civic body will be constructing a twin tunnel and a box tunnel under Sanjay Gandhi National Park (SGNP) and Film City. Each tunnel will be 4.7km in length, while the box tunnel will measure 1.6km. It will have a diameter of around 13 metre and the distance between both tunnels is 15 metre and they will be connected via cross passages every 300 metre.
The BMC appointed a joint venture comprising J Kumar Infra Project and Nagarjuna Construction Company as the contractors. The contract includes maintenance of the tunnels for 10 years. "The twin tunnels will be constructed with state-of-the-art systems and regular maintenance will be required. Annually Rs 32 crore will be spent on the maintenance of ventilation, fire fighting, CCTV, communication system in the tunnel," said a civic official.