Net zero emissions by 2070, India's strong pledge: Climate advocates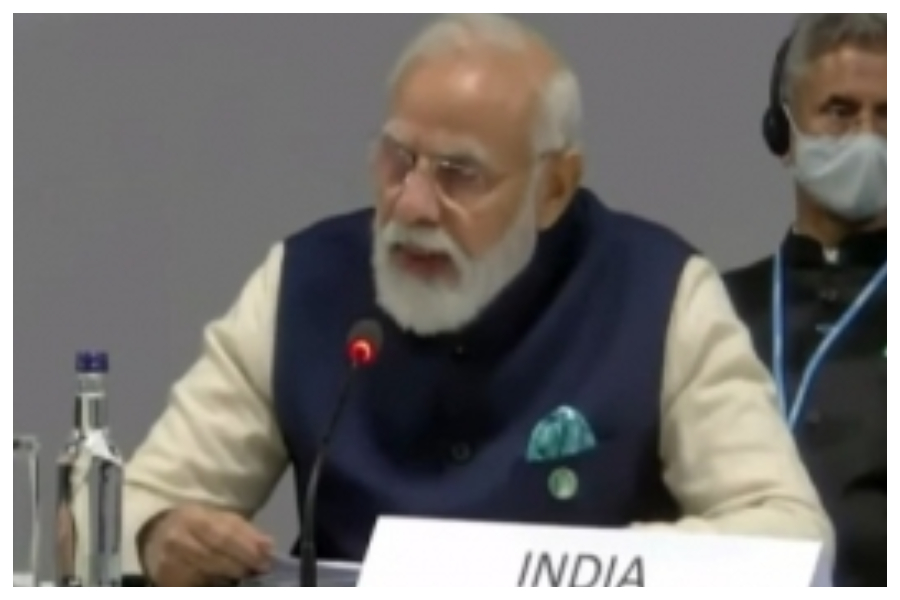 Prime Minister Narendra Modi at the global climate talks in Glasgow announced net zero by 2070 for India. This makes India as one of the last major economies to join the countries committing to net zero goals, climate experts said on Tuesday.
In addition, Modi called on developed countries to dramatically raise their financial help to developing countries for the transition to clean energy and protection against climate impacts.
Responding to announcements made on Monday at World Leaders Summit of a stronger climate target with 50 per cent of its energy requirements to be met by renewables by 2030 and a commitment to cut one billion tonnes of carbon dioxide emissions by 2030, NRDC (Natural Resources Defense Council) President and CEO Manish Bapna told IANS India is making a vital contribution in the global march against climate change, which disproportionately harms the world's vulnerable people the most.
"Its bold pledges to cut climate pollution by a billion tonnes, in large part by meeting 50 per cent of its energy requirements with renewable energy by 2030, signals India's resolute commitment to a healthier and clean future, for the people of India and the world.
"The world's fifth-largest economy and fourth-largest carbon emitter has set a high bar for stronger climate commitments by key countries at COP26."
Rhetorics ran high as the UN Climate Change Conference named COP26 in Glasgow on Monday.
There is a deficit of credibility and surplus of confusion over emissions reductions, said the UN Secretary General. Leaders' speeches spoke about how climate change "is tearing us apart, and we need a new momentum, a quantum leap in the fight against climate change".
On India's bold announcemets, International Solar Alliance Director General Ajay Mathur said: "Prime Minister Modi cut through the rhetoric and delivered a big promise of climate action from India.
"Reducing 1 billion tonnes of emissions by 2030 and expanding non-fossils capacity to 500 GW are enormous and transformative steps. Fifty per cent of electricity generation from renewable energy sources speaks to India's leadership and commitment to climate action."
Describing it the real climate action, Council for Energy, Environment and Water (CEEW) CEO Arunabha Ghosh told IANS: "India has clearly put the ball in the court of the developed world. Now India demands $1 trillion in climate finance as soon as possible, and will monitor not just climate action but also climate finance.
"Most importantly, India has called once again for a change in lifestyle. If we cannot fix how we live, we can't fix how we live on this planet."
Chandra Bhushan, CEO, iForest, said: "India's announcement of an ambitious 2030 target and a net zero target is a big step for climate collaboration."
It's a tremendous leadership gesture, says R.R. Rashmi, Distinguished Fellow, TERI.
"One billion tonne of reduction in absolute terms is massive. Compare this with the entire GHG inventory which is less than three billion tonne today, and will be 4.5 billion tonne in 2030. Committing to one billion is 25 per cent of the inventory in 2030.
"This shows a tremendous leadership gesture and commitment to act now and fix the road to 2030. It also sets the stage for carbon markets. In a way this means absolute emission reductions and this also means that India has set itself to commit to a peak in emissions without saying so explicitly."
Dave Jones, Global Lead, Ember, said: "The world's top 10 coal power countries have now all committed to net zero, as India announces a net zero pledge at COP26. But coal will need to end one, two or even three decades before the net zero dates that have been laid out. These net zero ambitions now need to transform into near-term action on coal. Failing to act on coal will undermine the credibility of net zero pledges."
For Vibhuti Garg, Energy Economist and India lead with IEEFA, India's pledge to increase the share of electricity generation from renewable energy sources to 50 per cent by 2030 would also reduce the emissions intensity of the economy by at least 45 per cent from its 2005 levels.
New Delhi-based Climate Trends Director Aarti Khosla said by announcing a commitment for achieving net zero targets by 2070, India has responded positively to the global call and it was the best climate action in Glasgow.
The commitment of 500GW of renewable energy by 2030, which is more than twice the installed capacity of coal currently, should set the stage for a quick transformation of the energy sector, the kind of which hasn't been witnessed so far, she added.
Palestine to attend meeting of Assembly of States Parties of ICC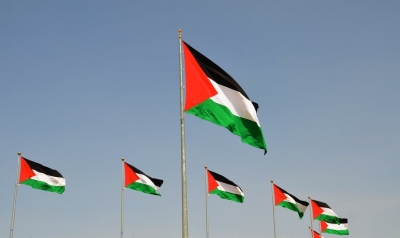 Palestine will attend a meeting of the Assembly of States Parties of the International Criminal Court (ICC) scheduled for Monday in The Hague, a senior official announced here.
Palestinian Foreign Minister Riyad Al-Maliki told the local media that he will deliver a speech at the meeting and meet other officials in The Hague to discuss the "Israeli escalation in the West Bank, Gaza and East Jerusalem", reports Xinhua news agency.
He added that he will meet with ICC Prosecutor Karim Khan on the sidelines of the meeting to discuss violations committed by the Israeli army and settler groups.
Al-Maliki noted that the Palestinian delegation would ask Khan about the reasons that "prevent him, until this moment, from launching an official investigation into those crimes committed by Israel against the Palestinian people".
In November, the Fourth Committee of the UN General Assembly adopted a draft Palestinian resolution to request a legal advisory opinion from the International Court of Justice regarding Israeli malpractice.
The draft resolution is expected to be voted on December 15.
China protects four key 26/11 perpetrators from UN sanctions
China continues to defy the other members of the Security Council and the overwhelming anti-terrorism sentiments by protecting from UN sanctions four key leaders of the Lashkar-e-Taiba (LeT) that carried out the 26/11 Mumbai attack.
Fourteen years after the attack that killed at least 166 people, Beijing works with Islamabad to undermine anti-terrorism measures against Pakistan-based terrorists behind the carnage.
The four from LeT who got China's umbrella this year were the group's commander Sajid Mir, who orchestrated the 26/11 attack; deputy chief Abdur Rehman Makki; deputy chief of the LeT front Falah-I-Insaniyat Foundation Shahid Mahmood, and LeT commander Hafiz Talha Saeed, who is LeT chief Hafiz Muhammed Saeed's son.
China also put a hold on sanctions on the Jaish-e-Mohammed terror group's deputy leader Abdul Rauf.
China had initially allowed eight LeT leaders to be sanctioned, four in the month after the 26/11 attack, and four later, before taking a hardline in support of other LeT leaders in a show of solidarity with Pakistan.
"Our efforts to sanction the perpetrators and facilitators of these terror attacks were blocked in the past for political reasons," India's Permanent Representative Ruchira Kamboj said last week at the Security Council.
"These actors continue to walk free and have been organising further cross-border attacks against my country," she said.
US Permanent Mission's Political Coordinator John Kelley at the same meeting regretted that only one entity was added to the sanctions list this year and said, "The important work of this committee must remain free from politicisation that only benefits the terrorists."
The committee paralysed by China's intransigence was only able to add Khatiba al-Tawhid wal-Jihad, a terror group operating in Syria to the sanctions list this year, while the LeT leaders and another Pakistan-based terrorist have been spared.
The Security Council's panel, known as the 1267 Sanctions Committee for the resolution setting it up, places individuals and groups under sanctions that include travel bans and financial restrictions for terrorist activities involving the al-Qaeda, the Islamic State and affiliated organisations like the LeT.
The committee includes all the 15 members of the Security Council and gives every one of them the right to place a hold on sanctions, which amounts to a veto.
When the Security Council's Counter-Terrorism Committee (CTC) met in Mumbai last month, an audio clip of Mir directing the 26/11 terrorists at the Jewish centre was played to focus on the role of the terrorist under Beijing protection at the UN.
At the CTC's special session in the terrorists' killing field, the Taj Mahal Palace Hotel, External Affairs Minister S. Jaishankar said, "The key conspirators and planners of the 26/11 attacks continue to remain protected and unpunished."
This, he said, "undermines our collective credibility and our collective interests" and until "the masterminds and perpetrators of this attack" are brought "to justice, this task remains unfinished".
In a video message to the meeting, US Secretary of State Antony Blinken said, "That is what the US has been working to do, together with India and other partners for the last 14 years because when we allow the architects of these attacks to go unpunished, we send a message to terrorists everywhere that their heinous crimes will be tolerated."
In the first flush of global fury against the horror of the 26/11 attack, China in December 2008 did not stand in the way of sanctioning LeT boss Saeed, operations head Zaki-ur-Rehman Lakhvi, finance chief Haji Muhammad Ashraf and financier Mahmoud Mohammad Ahmed Bahaziq.
Later, four others from the LeT were added to the list: Muhammad Arif Qasmani and Mohammad Yahya Aziz in 2009, and Hafiz Abdul Salam Bhattvi and Malik Zafar Iqbal Shahbaz in 2012.
Lt Gen Asim Munir named Pakistan's new army chief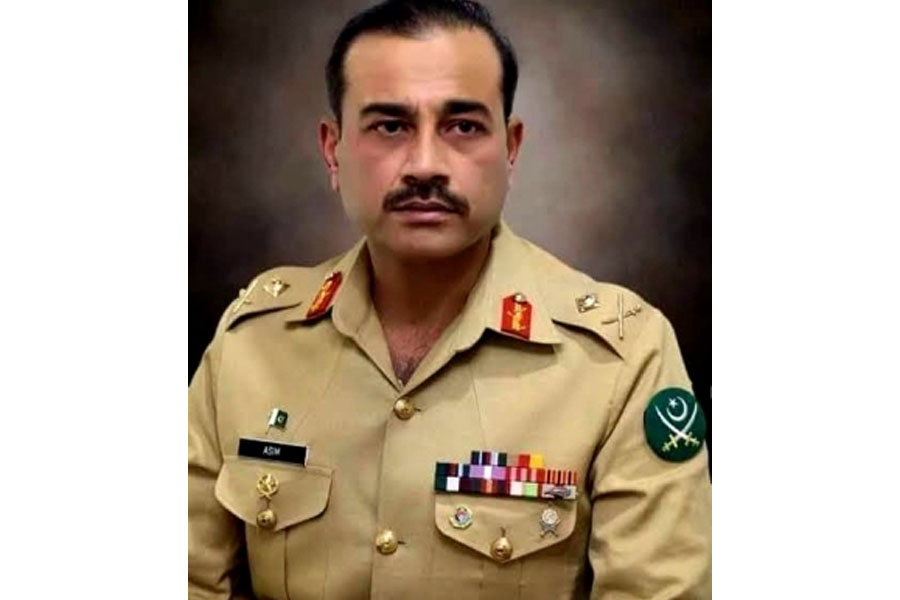 The Pakistan government on Thursday announced that Lieutenant General Asim Munir will replace General Qamar Javed Bajwa as the country's new Chief of the Army Staff (COAS).
Information Minister Marriyum Aurangzeb said Prime Minister Shehbaz Sharif, using his Constitutional right, has also appointed Lt Gen Sahir Shamshad Mirza as Chairman of the Joint Chiefs of Staff Committee (CJCSC), reports Geo News.
Aurangzeb added that the summary of the appointments has been sent to President Arif Alvi for ratification.
The decision was announced after the Prime Minister held a federal cabinet meeting to mull over the appointments after the allied parties authorised him to pick the officers for the top slots, Geo News reported.
Both the officers picked for the slots were the senior-most military officials.
Although the summary has been sent to the president, who belongs to the PTI, the coalition allies had warned him beforehand that he should avoid being loyal to his party and work in the interests of the state.
In his conversation with reporters after the meeting of the federal cabinet, Defence Minister Khawaja Asif also confirmed that the summary has been sent to the president.
"All the matters have been settled in line with the Constitution of Pakistan and hopefully the president will not create a controversy," Asif said.
The minister added that he expects President Alvi to approve the premier's advice.
He also expressed hope that the said appointments would not be viewed politically.
The minister refused to comment on PTI Chairman Imran Khan's consultation with President Alvi over the matter.
He said that the Pakistan Air Force, navy, and army shouldn't be made controversial.
Asif said that a detailed press release regarding the development will be issued.