Mumbai Police detain Jodhpur man for sending threat mail to Salman Khan
Mumbai Police have detained a 21-year-old man from Rajasthan's Jodhpur for sending a threat email to Bollywood star Salman Khan.
The man has been identified as Dhankad Ram Vishnoi.
The accused had also threatened Punjabi singer Sidhu Moosewala's father, and hence a police team from Punjab was also in Jodhpur recently.
Police officials said that the Mumbai Police tracked down Dhakad through technical assistance after they got hold of his Internet protocol addresses that showed his location in Luni village of jodhpur district.
A case was registered against the accused by the Bandra Circle Mumbai City Police Station for sending an email threatening to kill film actor Salman Khan. In this regard, a team from Mumbai came to Jodhpur on Sunday under the leadership of ASI Bajrang Jagtap.
On the instructions of Jodhpur Commissioner Ravidutt Gaur, aid was made available from Luni police station (Jodhpur) under the supervision of ADCP Boranada Jayaprakash Atal, said DCP West Gaurav Yadav.
He further said that the father of singer Siddu Moosewala of Punjab was recently threatened by the Jodhpur-based accused Dhakad Ram Vishnoi. A team of Sadar police station in Punjab's Mansa district came to Jodhpur on Friday, March 24, to arrest the accused.
A Luni SHO Ishwar Chandra Pareek team detained the accused Dhakad Ram Vishnoi and handed over to the Mumbai Police. The accused has also been arrested under the Arms Act earlier. On September 12, 2022, the team of police station Sardarpura arrested Dhakad Ram along with illegal weapons.
Police officials said that Dhakad sent the email impersonating gangster Lawrence Bishnoi's associate Goldy Brar. He mailed the threat letter after gangster Bishnoi in an interview said that his goal was to eliminate Salman Khan. He also added that the matter will conclude after Khan apologises to the Bishnoi community for allegedly killing blackbuck, an endangered species protected under the Wildlife Protection Act.
Pregnant Ileana D'Cruz Shares FIRST Picture With Baby Daddy: 'This Lovely Man Has Been My Rock'
Bollywood actress Ileana D'Cruz who surprised her fans in April this year by announcing her pregnancy has finally shared a mushy picture with the father of her child. Ileana, who has remained secretive about her personal life, took to Instagram and posted a blurry black and white picture with her mystery man.
Ileana shared the ups and down of being and wrote, Being pregnant is such a beautiful beautiful blessing…I didn't think I'd be fortunate enough to ever experience this so I consider myself so incredibly lucky to be on this journey. I can't even begin to describe how lovely it is to feel a life growing inside of you. Most days I'm just overwhelmed staring down at my bump going wow – I get to meet you soon – and then there's some days that are so inexplicably hard. So trying. They're overwhelming. All consuming. And things just feel hopeless."
She also stated that pregnancy has made her question what kind of mother she will be. "And there's tears. Then follows the guilt. And this voice in my head puts me down. I should be thankful, not be crying over something so trivial. I should be stronger. What kind of mother will I be if I'm not strong enough…And I don't know what kind of mother I will be. I really don't. All I do know is that I love this little human so darned much already I could explode. And for now – I think that's enough," she added.
Ileana ended her post by appreciating the support and love she has received from the father of her child. Without revealing his identity, the actress wrote, "And on the days I forget be kind to myself, this lovely man has been my rock. He's held me when he feels me starting to crack. And wipes the tears away. And cracks goofy jokes to make me smile. Or just offers a hug when he knows that's exactly what I need in that moment. And everything doesn't seem so hard anymore."
Earlier several reports suggested that Ileana is dating Katrina Kaif's brother Sebastian Laurent Michel. The duo's relationship rumours surfaced after the two were spotted vacationing with Vicky Kaushal and Katrina Kaif in the Maldives. Although the couple has still not made their relationship official.
Ileana was earlier in a relationship with photographer Andrew Kneebone for quite a few years.
Meanwhile, on the work front, Ileana was last seen in The Big Bull, co-starring Abhishek Bachchan. The film was directed by filmmaker Kookie Gulati and was produced by Ajay Devgn. She will be next seen in Unfair And Lovely with Randeep Hooda.
Did Kamya Panjabi MOCK Sonakshi Sinha Over Her Acting In Dahaad?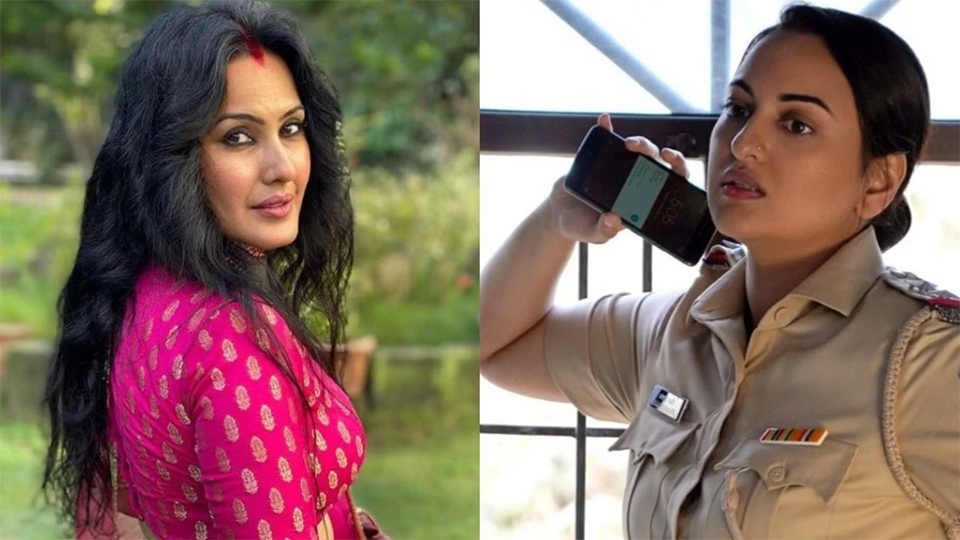 Television actress Kamya Panjabi recently voiced her opinion on the acting skills displayed in the realm of web series, taking a subtle dig at actress Sonakshi Sinha.
Panjabi, known for her roles in daily soaps like 'Dulhan', 'Sanjog', 'Piya Ka Ghar', 'Doli Armaanon Ki',, and 'Shakti Astitva Ke Ehsaas Ki', expressed her conscious decision to stay away from the OTT space explaining her love & dedication for TV.
KAMYA POINTS OUT AT SONAKSHI SINHA WITHOUT NAMING HER
Responding to fellow actor Eijaz Khan's revelation about facing bias from casting directors and the difficulties TV actors encounter when attempting to break into the web domain, Panjabi candidly shared her perspective in an interview with a news portal. She made it clear that she is not willing to sacrifice her thriving TV career to venture into OTT.
Panjabi further highlighted her concerns about the quality of acting displayed by some actors in web series, without explicitly naming anyone. She cited an example of a recent web series she watched, where the debutant daughter of a popular veteran actor had a lead role.
The acclaimed actress admitted her disappointment as she struggled to continue watching beyond the first episode, emphasizing the subpar acting skills of the veteran actor's daughter.
Raising questions about the selection process employed by casting directors and producers, Panjabi criticized the tendency to cast actors lacking proficient acting abilities.
Video: Vicky-Sara Inhaling Helium And Singing Phir Aur Kya Chahiye Will Make You ROFL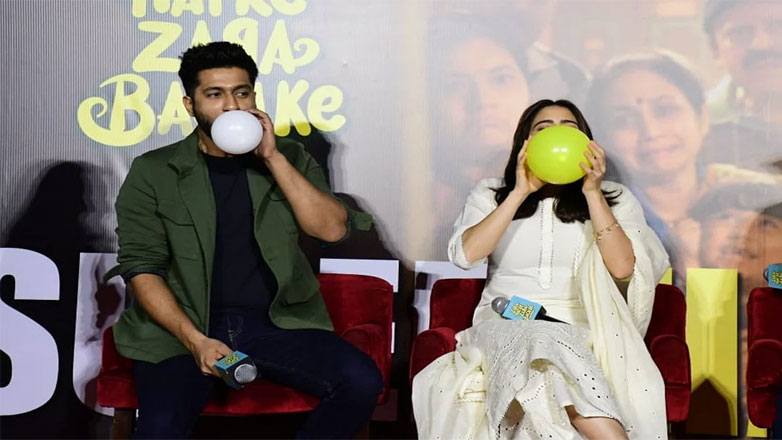 The team of Zara Hatke Zara Bachke starring Vicky Kaushal and Sara Ali Khan gathered at a suburban multiplex in Mumbai to greet and thank the media members and the audience for the overwhelming response to the film at the box office. The event saw a round of fun and games that drew enthusiastic participation from the media and the star cast.
A video shared by the paparazzi shows Vicky and Sara inhaling helium and singing a rendition of Arijit Singh's Phir Aur Kya Chahiye. Watch the clip below.
Directed by Laxman Utekar, best known for Luka Chuppi and Mimi, the film was released in theatres on June 2.
Kaushal told reporters, "The film was narrated to us right after the second wave of COVID when the situation was a lot more tense. It was like, 'What will happen to Bollywood? What kind of films are coming, not coming?' Then a simple story like this came to me. I just knew this will connect with people."
"In the last five days, we have realised that this is what we would feel in all our meetings that people will connect with it. Now, that people are loving it, for us, it's even beyond numbers…To see families coming and watching the film is the real joy. Now that the film has worked in cinema halls, we are here to thank all of you," he added.
Sara, 27, also thanked her director for giving her the opportunity to play the role of Somya and co-star Vicky Kaushal for being the "most superb partner".
"It was outstanding to work with you. I don't want to talk about how talented you are because everyone knows that. You are so humble, gracious," she said.
Co-produced by Maddock Films and Jio Studios, 'Zara Hatke Zara Bachke' also stars Inaamulhaq, Sushmita Mukherjee, Neeraj Sood, Rakesh Bedi, and Sharib Hashmi.