Mika recalls pranks he played on elder bro Daler Mehndi
Rapper Mika Singh, who is judging the 'Zee Comedy Show', shared an interesting anecdote about how his elder brother Daler Mehndi is so afraid of darkness that he always needs someone around him in the evening, even if it is to use the restroom.
Mika Singh revealed: "Not many people know about this, but Daler Paaji is very scared of darkness. In fact, when he uses the restroom, even during the day, he keeps the door open. During the evenings, whenever he would go to the washroom or any place which is not lit up, he expects us to sit outside, and he would continuously ask from inside if we're still waiting outside (laughs)."
The hilarious gossip act by Chitrashi Rawat (as Kareena Kapoor Khan), Sugandha Mishra Bhosle (as Aishwarya Rai Bachchan) and Sidharth Sagar (as Rakhi Sawant) left everyone in splits. In fact, the things that they gossiped about during the act not just made everyone laugh out loud but also reminded Mika Singh of some funny pranks that he used to play on his brother Daler Mehndi.
Mika Singh also opened up about why Daler Mehndi and he didn't pass out of school, while also revealing some more spicy anecdotes from their lives.
'Zee Comedy Show' airs on Zee TV.
Samantha could simply seek apology rather than filing defamation cases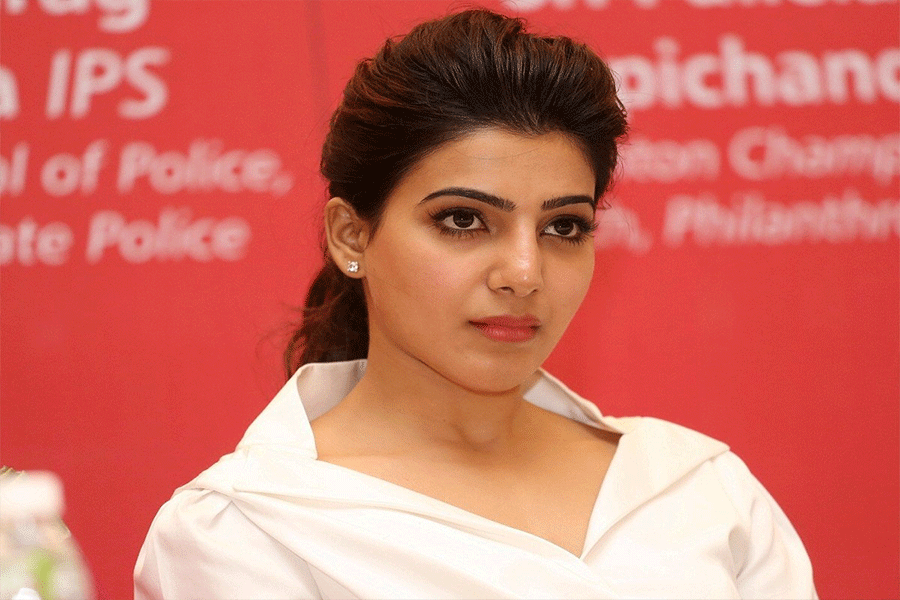 South India's most happening actress Samantha Ruth Prabhu, who recently filed defamation cases against a couple of YouTube channels and an individual for streaming malignant content about her, has apparently received a legal blow.
Samantha had filed legal cases, which come under Kukatpally court in Hyderabad. After listening to her side of the case, the court apparently ordered that the actress could simply seek an apology from her opponents, rather than filing defamation cases.
"The actress can seek a word of apology from the content owners of the concerned YouTube channels, individuals and media outlets, rather than filing defamation cases on them," the court suggested, as per reports.
The court went on to school the actress and apparently indicated that celebrities share personal details on public domain and then file defamation suits.
"In court, everyone is equal before the law. There is no sense of some being high and others being low. We will hear Samantha's case as per the procedure," the court concluded.
Samantha's announcement about her divorce from Naga Chaitanya had invited unwanted comments and speculation about their relationship, and some channels went forward and linked her up with random colleagues.
NCB 'visits' SRK, Ananya Pandey's homes; conducts raids in Andheri
In a major development, teams of Narcotics Control Bureau (NCB) paid a formal 'visit' to the residences of Bollywood megastar Shah Rukh Khan in Bandra west, and actress Ananya Panday in Khar west, and raided a location in Andheri on Thursday as part of the ongoing probe into the October 2 luxury cruiser rave party.
"The NCB Mumbai Zonal Unit officials visited 'Mannat', the residence of Aryan Khan in connection with the (Cr.94/21 case) for seeking certain material related to the investigation of the case from Shah Rukh Khan, by following due procedure of notice, etc.," said NCB Zonal Director Sameer Wankhede in a statement later.
He also dismissed reports in sections of the media dubbing the NCB trip to the superstar's sea-facing bungalow as a 'raid'.
The development, which grabbed national attention, came shortly after the Bombay High Court this morning decided to take up his son Aryan Khan's bail plea on next Tuesday, October 26.
Simultaneously, Ananya Panday — daughter of Bollywood actor Chunky Panday and granddaughter of the renowned heart surgeon, the late Dr. Sharad Panday — has been summoned to the NCB offices this day for the probe and the actress.
The NCB has claimed that her name apparently figures in some WhatsApp chats of Aryan Khan recovered by the agency, along with others.
As part of its probe into the cruise ship party raids, the NCB has arrested a total of 20 persons so far, and more arrests are not ruled out.
It may be recalled that Nationalist Congress Party National Spokesperson and Minister Nawab Malik had last week claimed that among various Bollywood bigwigs targeted, Shah Rukh Khan was also on the radar of the central probe agency with sleuths keeping a watch on 'Mannat' in recent weeks.
Bombay HC to hear Aryan Khan's bail plea on Oct 26
The Bombay High Court on Thursday posted to October 26 the hearing of the bail application of Aryan Khan, arrested in a drugs case by the Narcotics Control Bureau.
The matter came up before Justice N.W. Sambre with Khan's lawyer Satish Maneshinde seeking urgent hearing on Friday or Monday.
However, Justice Sambre decided to take up the matter on Tuesday next, and Aryan Khan may have to spend five more days in custody.
Khan, the son of Bollywood superstar Shah Rukh Khan, has challenged a ruling of the Special NDPS Court on Wednesday, rejecting his bail plea, along with co-accused Arbaaz Merchant and Munmun Dhamecha.