Apple's voice Sayani Gupta started with AIR at the age of five
Actress Sayani Gupta, who has been rocking the OTT platforms, besides wooing her fans on social media, be it with her dancing, singing or costume designing skills recently revealed her voice-over expertise.
The actress lent her voice to an audio show 'Buri Nazar' on Audible, however, it was not her first time at lending voice to characters.
She has been a pro at it right from her childhood. It's one of her skills people aren't aware of.
In an exclusive conversation with IANS, Sayani shared her journey as a voice-over artist.
"I have done a lot of audio work all my life. My father was part of the All India Radio. He was an announcer, music composer, singer and lyricist," said the 'Four More Shots!' actor.
Sayani shared how her early childhood years were spent in the AIR studio. "AIR was a place where I was taken as a child and I spent a lot of time there. My first paid job was when I was 5 when I did a radio advertisement where I got paid Rs 500."
'Buri Nazar', her latest, is the Hindi version of a much appreciated Audible Original 'Evil Eye' that is narrated by Sayani, Supriya Pathak and Ritvik Dhanjani.
Sayani plays the role of Pallavi, daughter of Supriya, while Ritivik is her fiance.
Talking about the storyline, Sayani said, "It's a relatable banter between daughter and mother. I play the daughter, Pallavi, who lives in New York. Her mother is constantly coaxing her to marry. And Pallavi is fed up with her mother. Finally, Pallavi meets a guy with whom she falls in love."
Sayani, shares she enjoys doing voice-overs. "I use to recite very long poems at live audio plays in front of audience. Audio performances have been part of my growing up years."
The actress revealed she has done a lot of professional voice-overs. "I was the voice for Apple for 2 years. I did all their advertisements in India and South East Asia. It's something that I enjoy thoroughly.
"I used to be able to enjoy voice modulation a lot, something that has helped me in acting in the later years. I think it's all related and part of the bigger tree."
Sayani has even lent her voice as a singer in 'Kahab To' in her film 'Article 15' opposite Ayushmaan Khurrana.
"As an actor, you are also continuously honing your voice, modulation skills, your control over your voice, etc. I have always believed that there is so much scope when you are working with your voice. You are working with your mind in this case. The microphone is literally your co-actor, your camera. It's a medium that captures your every breath. It's so powerful.
"It's almost like you are making love to the mic. It's really beautiful. I love it."
In 'Buri Nazar' Sayani has expressed varied emotions through her voice. "It's a long-distance mother-daughter call. There are lots of emotions, sometimes it's light, and at times there is cacophony. There is also a supernatural element in it."
Talking about evil eye in real life, the actress doesn't believe in it so much. "I don't really believe in evil eye. Sometimes I feel jinxed for small things. Like, sometimes I see myself and say that my skin is looking nice and then I will have a pimple. Sometimes after I laugh a lot I happen to cry a lot.
"I haven't understood why people put Kajal on babies. I find that horrifying. Perfectly cute-looking babies look like monsters. People do it for Nazar. I think we Indians give it too much of importance. Sometimes my makeup artist would very sweetly put a kaala tikaa (black spot) behind my ear."
However, the actor is cautious when it comes to her work. "If I get a project I don't talk about it before we start shooting," concluded Sayani.
Bipasha, Karan announce pregnancy: 'A creation manifested by our love'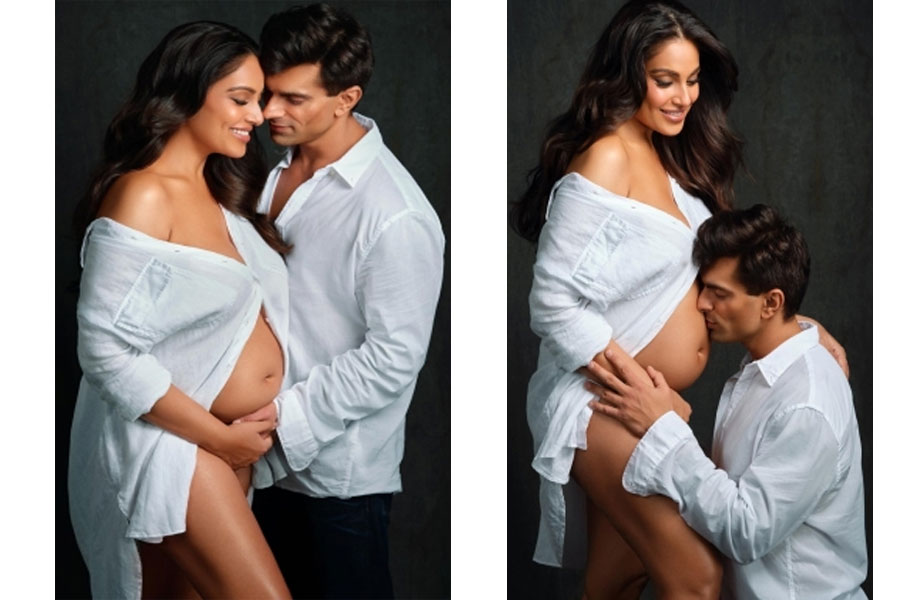 Bollywood actress Bipasha Basu and her actor husband Karan Singh Grover have announced that they are all set to welcome their first bundle of joy.
The 43-year-old actress took to Instagram, where she shared a motley of pictures from her pregnancy shoot. In one picture, Bipasha is seen dressed in a white shirt while her husband Karan is seen lovingly kissing her baby bump.
She captioned the images: "A new time, a new phase, a new light adds another unique shade to our prism of life. Making us a little more whole than we used to be. We began this life individually and then we met each other and from then we were two."
"Too much love for only two, seemed a little unfair for us to see… so soon, we who once were two will now become three. A creation manifested by our love, our baby will join us soon and add to our glee."
She added: "Thank you all, for your unconditional love, your prayers and good wishes as they are and will always be a part of us. Thank you for being a part of our lives and manifesting with us another beautiful life, our baby Durga Durga."
Bipasha met Karan on the sets of "Alone" in 2015. The two got married in 2016. The actress was earlier dating actor John Abraham.
Danny Boyle saw Anil Kapoor's 'Taal', offered him 'Slumdog Millionaire'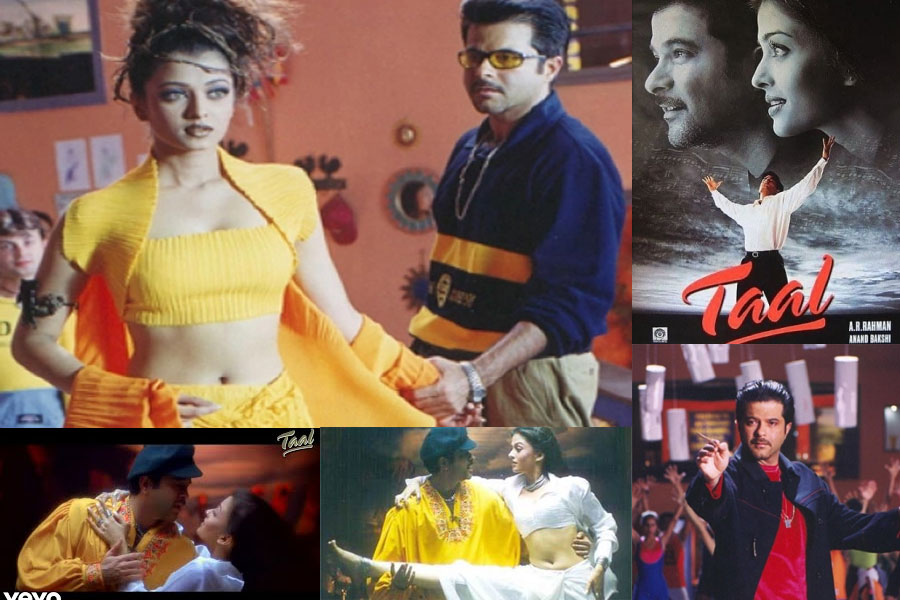 Actor Anil Kapoor revealed that Danny Boyle saw his film 'Taal' and his performance in it that made the Hollywood filmmaker offer him the hugely successful film 'Slumgod Millionaire'.
Anil also shared that he was destined to do this film as it was first offered to actor Govinda and then it came to him.
As the film, which also stars Aishwarya Rai Bachchan and Akshaye Khanna, completes 23 years of its release on Saturday, Anil took to social media to share some pictures from the shoot and pen a note.
"23 years of Taal! I will forever be grateful to have been a part of this iconic movie. In many ways, I was destined to do it, as my role was first offered to Govinda but ultimately came to me."
"It was Taal that Danny Boyle saw and my performance in it that made him offer me Slumdog Millionaire, I thank my lucky stars for the love and support of the phenomenally talented showman @subhashghai1 saab and for 4 hugely successful milestone films with him!"
'Taal' released in 1999. The musical romantic drama is directed by Subhash Gahi. It was also dubbed in Tamil as 'Thaalam'.
'Slumdog Millionaire' was nominated for ten Academy Awards in 2009 and won eight, the most for any film in 2008.
The British drama film is loosely adapted from the novel 'Q & A' by Indian author Vikas Swarup, telling the story of 18-year-old Jamal Malik from the Juhu slums of Mumbai. Starring Dev Patel as Jamal, and filmed in India, it also stars Freida Pinto.
As a contestant on 'Kaun Banega Crorepati', Jamal surprises everyone by being able to answer every question correctly, winning 20 million. Accused of cheating, Jamal recounts his life story to the police, illustrating how he is able to answer each question correctly.
Kareena opens up on her iconic character Poo having her own movie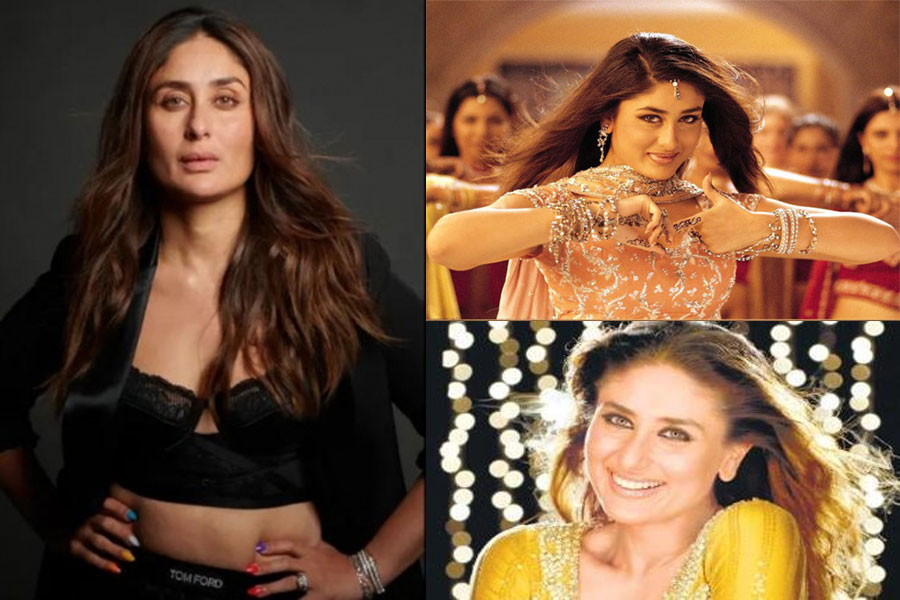 Kareena Kapoor Khan's over-the-top Poo from 'Kabhi Khushi Kabhie Gham' is one of the most memorable and loved roles from the actress's career. The Bollywood diva herself finds it unbelievable that even after 21 years of the film's release the character is still relevant amongst all age-groups.
Kareena's character Poo is not only known for her taste in fashion but also one liners such as "Kaun hai yeh jisne dobara mudke mujhe nahi dekha", 'P.H.A.T – Pretty, Hot And Tempting' and "Tumhe koi haq nahi banta ki tum itni khoobsurat lago. Not fair" among many others.
Asked if she feels that Poo deserves a movie to herself, Kareena, in conversation with IANS, said: "Oh God! Like I think now this character is so relevant with this generation more than it was then."
Kareena talks about what makes the character, which comes from Chandni Chowk in New Delhi and then moves to London with her sister essayed by Kajol and brother-in-law played by Shah Rukh Khan, have such a massive fan following.
"I think for the way she is, the way she talks, the kind of millennial Gen-Z kinda words that she uses connect somehow."
The 41-year-old actress added: "So, I think it is because of that more than anything else. Let's see a film someday, who knows."
Kareena's latest release is 'Laal Singh Chaddha' starring Aamir Khan. The film is an adaptation of Tom Hanks' iconic movie 'Forest Gump'. It also stars Mona Singh and Naga Chaitanya.