Maharashtra double tragedy: Man shoots girlfriend on road, gets killed by vehicle while fleeing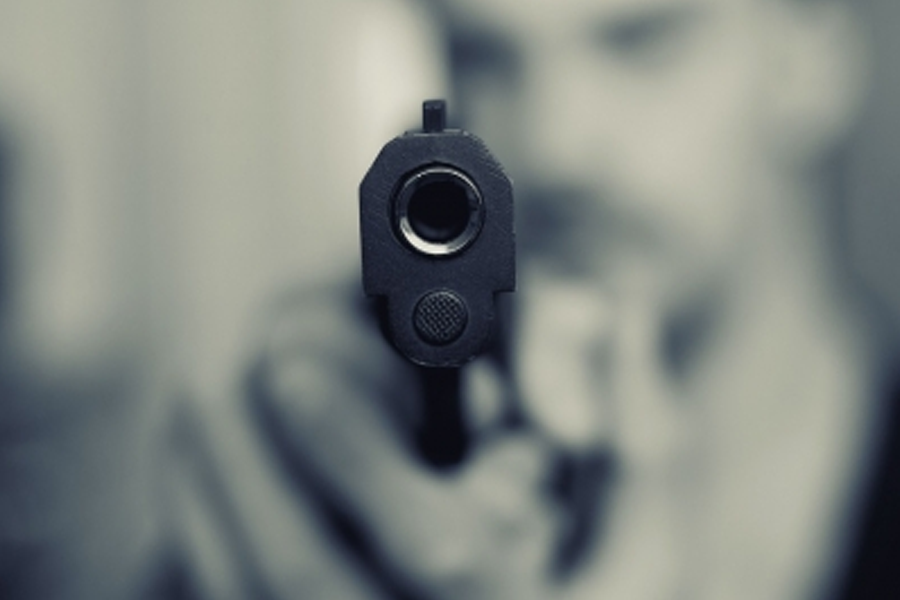 In a shocking double tragedy, a young woman was shot dead by her boyfriend in Boisar town, and as he was attempting to flee the spot, was knocked by a military truck and died later, police said here on Thursday.
The incident occurred on Wednesday afternoon when Neha Mahato, 21, and her boyfriend Krishna Yadav, 25, had a heated argument on the road near a private hospital in Saravali.
Suddenly, Yadav whipped out a revolver and shot Neha in the head from point blank range, killing her instantly.
As the shocked locals rushed there, Yadav panicked and fled the spot but barely a couple of hundred metres away was knocked down and crushed under the wheels of the military vehicle.
He was rushed to a local hospital by the Boisar Police, where he was pronounced dead.
The Boisar Police have recovered the weapon from Yadav and have sent it for a forensic analysis, and his autopsy report is awaited to ascertain if it was an accident or suicide.
As per police preliminary probe, Yadav and Neha had been going steady for a year but he was not willing to marry her.
Neha's family had given an ultimatum for marriage failing which they would fix her alliance elsewhere.
Police says no evidence traceable in rape case against BJP MLA Ganesh Naik; files 'a summary' report to HC
 The Navi Mumbai police on Friday informed the Bombay High Court it has not traced any evidence in the rape case lodged against Bharatiya Janata Party MLA Ganesh Naik and have submitted an 'A Summary' report to the local court.
An 'A Summary' report is filed in a case where the offence is made out but the evidence is not traceable or the accused persons are not found.
In April this year, a 42-year-old woman registered a case against Naik alleging he had raped and threatened her.
According to the complaint, the woman and Naik were in a live-in relationship since 1995 and they also have a child together.
Naik had, in May, approached HC seeking pre-arrest bail. He was granted interim bail at the time.
On Friday, when his plea came up for hearing before a division bench of Justices Revati Mohite Dere and R N Laddha, additional government pleader Prajakta Shinde said the police has submitted an 'A Summary' report in the case in September this year.
Naik's counsel Ashok Mundargi sought the bench to direct the local court to dispose of the matter expeditiously.
"The case has a political angle to it and in such cases the matter is kept deliberately pending. After the police submitted its report, the court issued notice to the complainant and since then the matter is pending," Mundargi said.
The bench then directed the magistrate's court to dispose of the case within three months. The 42 year old woman claimed in her complaint she was in a live-in relationship with Naik since 1995. They met in a club in 1993, where she was a receptionist, and fell in love.
The FIR also pointed out they had a sexual relationship and have a child. The woman alleged Naik was not treating her well and was avoiding her calls.
There were constant quarrels as well, and during one such incident Naik allegedly threatened her with a gun, as per the complaint. After this incident, she proceeded to file a complaint and an FIR was registered.
Naik had contended that for an incident which happened in 1995, the allegations were made in 2022, which was belated. He also pointed out the case was being backed by his political rivals for revenge against him.
Shraddha murder case: Aaftab's post-narco test concludes
The post-narco test of Aaftab Amin Poonawalla, the accused in the ghastly murder of his live-in partner Shraddha Walkar in Delhi's Mehrauli area, concluded on Friday. His test was conducted inside the Tihar prison by the FSL officials.
As per sources, the team from the Forensic Science Laboratory, Rohini had reached Tihar jail for the post-narco test at around 11.30 a.m.
"A four-member team had reached Tihar Jail No.-4 on Friday along with the investigating officer for a post-narco analysis session of Aaftab," said a senior FSL official.
"The test started around 12. He was again asked similar questions and his answers will be matched with the questions from the previous narco analysis session," said the sources.
If needed, the narco test will be done again, claimed the sources.
Further details were awaited.
Meanwhile, the prison authorities have also increased the security of his barrack after the police van was attacked by men, who were armed with swords.
Though his confessions in the narco test cannot be used in the court, yet it proved that the investigators were proceeding in the right direction.
Pertinent to mention here that the findings of both polygraph and narco test are not admissible in the court. These tests will only help the Delhi Police gather evidence, and thereby increase the possibility of prosecution of the guilty.
Shraddha murder case: Narco test process begins on Aaftab
The process of Narco test on Aaftab Amin Poonawalla, who is an accused in the ghastly murder of his live-in partner Shraddha Walkar in Delhi's Mehrauli area, began on Thursday morning, said Special Commissioner of Police (law & order), Sagar Preet Hooda.
According to sources, Aaftab was taken to the Ambedkar Hospital from Tihar at around 9 a.m.
Further details were awaited.
The polygraph test of Aaftab ended on Tuesday at the Forensic Science Laboratory (FSL) in Rohini.
According to a senior FSL official, Aaftab's polygraph test is now complete and a detailed report will be shared in a day or two with the Delhi Police.
The sources said that a polygraph and a narco test is imperative in this case, as Aaftab, during interrogation, was deceptive in nature and tried to mislead the interrogators.
Shraddha and Aaftab had met through the dating app 'Bumble' in 2018. They had come to Delhi on May 8 and shifted to the Chattarpur area on May 15. On May 18, Aaftab allegedly killed Shraddha and then chopped her body into 35 pieces and threw the body parts across various places over a period of 18 days.