Lalbaug murder case: Why matricide-accused Rimple couldn't dispose mother's corpse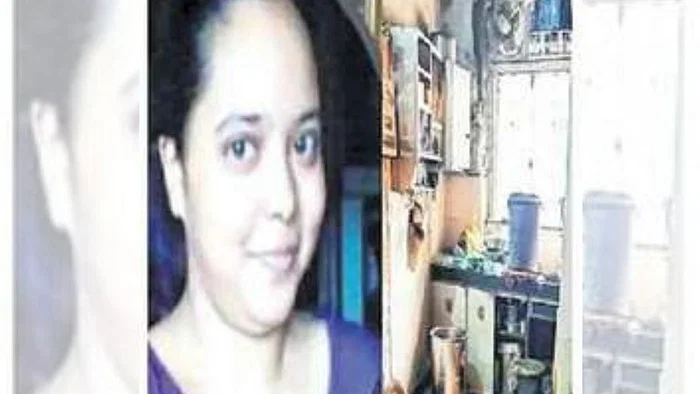 Matricide accused Rimple Jain was confined to her house for four months, even as the stench of the decomposing dismembered corpse grew stronger each day.
Veena, 55, and Rimple, 24, shared an apartment in Lalbaug's Ibrahim Kasim Chawl.
According to police, the bustling 100-year-old chawl is home to a large number of families and is located directly on the main road.
This meant that there are always people in and around the chawl until 2 am, and the tea stall outside the chawl opens at 4 am.
As a result, Rimple was unable to find a suitable time to dispose of the corpse because she was afraid of being discovered and apprehended.
According to sources from the Kalachowki police station, which is handling the case, Rimple did not intend to kill her mother Veena, however, it happened during a heated verbal argument between the two.
Rimple feared social ostracisation
After killing her mother, Rimple apparently had no idea what to do next. She feared that she would be ostracised by society, and whatever she did was an attempt to mask the situation. However, it only pushed her further into isolation and depression.
When her neighbours started inquiring about Veena, Rimple made up a story about her mother having gone to Kanpur.
Neighbours told that Veena's extended absence had got them concerned.
Rimple began to walk up and down the hallway outside her house every evening while pretending to talk on the phone to her mother in order to maintain the appearance of normalcy.
Chopping of body inspired after watching Crime Patrol episodes
While at home, she kept watching Crime Patrol, a show that depicts real-life crimes and this is where she got the idea of disposing of the body secretly.
She got an electric marble cutter, chopper and a knife from a store nearby, which she used to chop her mother's arms, legs, torso and bones. She then wrapped these and stored them in the cupboard – waiting for an opportunity to discard them far away.
UP Woman Critically Injured After Sub-Inspector Accidentally Shoots Her In Head At Aligarh Police Station
A police officer in Aligarh, Uttar Pradesh accidently shot a woman in her head from close range. A CCTV footage of the freak accident was circulated on social media on Friday.
In the video, the woman, who was accompanied by a man, was seen sitting at the police station for passport verification at the Crime and Criminal Tracking Network and Systems (CCTNS) office of Aligarh Kotwali Nagar. A police officer handed over the pistol to sub-inspector Manoj Sharma, who proceeded to load the gun. Suddenly, a bullet was fired and hit the woman's head. She was taken to Jawaharlal Nehru Medical College for urgent medical attention.
Law enforcement officials, including the Senior Superintendent of Police (SSP) and other police officers, arrived at the medical centre to inquire about the victim's condition and oversee the ongoing treatment, according to reports.
Sub-inspector Sharma reportedly fled the scene following the accidental shooting. "We are actively pursuing all necessary legal measures, including the immediate suspension of the accused inspector. The motive behind the accidental firing is currently unknown, and our priority is ensuring the victim receives the necessary medical care," said Kalanidhi Naithani, SSP, Aligarh.
Indore: 22-Year-Old Delivery Boy Ends Life After Alleged Girlfriend Forces Him To Leave Parents
Indore (Madhya Pradesh): A 22-year-old delivery man committed suicide after consuming a poisonous substance at his residence in the Banganga police station area on Thursday. The exact reason behind his extreme decision could not be established as no note was recovered from his place.
However, the family members alleged that he consumed the poisonous substance after his girlfriend forced him to leave his parents. She began living with him at his house after her family members threw her out. The police are investigating the case and recording statements from the family members.
According to the police, the deceased was identified as Sachin aka Kamal Jhala, a resident of Bhawani Nagar, who worked as a delivery boy. Sachin's father, Govind, alleged that Sachin committed suicide after a dispute with his girlfriend, who had been living at his house for the past month.
They had attempted a court marriage, but family members filed a complaint at the police station, stating that the girl is a minor, preventing the marriage.
His girlfriend lived in the same colony, and her parents had thrown her out after the incident. She began to live at Sachin's house from last one month. She was pressuring him to leave his parents and live elsewhere.
Sachin was tense over the dispute for a couple of days. He had a sister who is married in Rajasthan and he was the only son of his parents. The police have initiated an investigation to know the exact reason behind his decision to end life after sending the body for autopsy.
Indian Pharmacopoeia Commission (IPC) Issues Alert Against Adverse Reactions Of Painkiller Meftal
New Delhi: The Indian Pharmacopoeia Commission (IPC) has issued a drug safety alert advising healthcare professionals and patients to monitor adverse reactions of painkiller Meftal, commonly used for menstrual cramps and rheumatoid arthritis.
The mefenamic acid painkiller is prescribed in the treatment of rheumatoid arthritis, osteoarthritis, dysmenorrhoea, mild to moderate pain, inflammation, fever and dental pain.
The commission, in its alert, stated that a preliminary analysis of adverse drug reactions from the Pharmacovigilance Programme of India (PvPI) database revealed drug reactions with eosinophilia and systemic symptoms (DRESS) syndrome.
Alert sounded
"Healthcare professionals, patients/consumers are advised to closely monitor the possibility of the above adverse drug reaction (ADR) associated with the use of the suspected drug," according to the alert, issued on November 30.
If such reaction is encountered, the alert advised, people should report the matter to the national coordination centre of the PvPI under the commission by filing a form on the website – www.ipc.gov.in – or through android mobile app ADR PvPI and PvPI Helpline No. 1800-180-3024.
An autonomous institution of the Ministry of Health, the IPC sets standards for all drugs that are manufactured, sold and consumed in India.