Lakhimpur Kheri violence: Supreme Court seeks Uttar Pradesh govt reply in lynching FIR, directs protection of witnesses
The Supreme Court on Tuesday sought a separate report from the Uttar Pradesh Police on investigation in the second FIR in Lakhimpur Kheri violence in which four persons, including a journalist, were killed. The top court also ordered protection of witnesses in the case.
The widow of an accused-deceased told the top court that her husband's killers were roaming free, and no action has been taken against them.
Senior advocate Arun Bhardwaj, representing Ruby Devi, widow of Shyam Sundar, submitted before a bench headed by Chief Justice N.V. Ramana that there are three accused who are allegedly responsible for her husband's death and the police have not taken any action against them.
Bhardwaj said 'killers are roaming free and threatening his client'.
Another advocate representing the journalist, who was killed in the incident, also urged the court to direct the police to apprehend the accused involved.
The bench directed separate replies must be filed by Uttar Pradesh with respect to the counter-case of lynching of a person named Shyam Sundar, who was allegedly attacked after the car ploughed into farmers' protest, and also killing of journalist Raman Kashyap.
In Sundar's matter, Senior advocate Harish Salve, representing the Uttar Pradesh government, submitted he was an accused who was also killed in the incident and the police are also probing it along with the death of the journalist, who was in the car.
Chief Justice told Salve to file a separate reply in the matter. The bench noted there are two complainants before the court — one by Ruby Devi and the other in connection with the death of a journalist. "State is directed to file separate replies in the case," said the bench, fixing the matter for further hearing on November 8.
The bench also comprising Justices Surya Kant and Hima Kohli also sought forensic labs, examining the digital evidence in the matter, to expedite the process of submitting evidence in the case.
The bench expressed surprise that out of a gathering of 4,000-5,000 people, only 23 people are eyewitnesses to the incident, where a car ploughed into the farmers' protest.
Salve, at the outset submitted that out of 68, thirty witnesses have recorded their statements under 164 CrPC. Of these, 23 are eyewitnesses. Chief Justice queried that in a case where there were hundreds of farmers in a rally, only 23 people were there?
Salve replied that the government gave an advertisement and the people who saw the accused in the car are already there. "Digital media (large numbers) has been recovered. There are overlapping videos", he added.
Salve further contended that there was also a person who was conducting videography of the event, and the digital evidence would be sent to labs so that they can be admitted as evidence in the case.
On the aspect of few eyewitnesses in the matter, Justice Kant pointed out that mostly local people were there at the spot and after the incident most of them have been agitating for an inquiry. He told Salve that accessibility and identification of such persons in the vehicle should not be a major issue.
Salve replied 164 statements can be submitted to the top court in a sealed cover and added that 16 accused have been identified. The bench, in its order, said: "Regarding witness protection, we direct the witnesses to be provided protection by the state. We further direct that 164 statements… to be recorded expeditiously."
The top court had registered a petition based on a letter by two lawyers seeking a probe by the CBI in the Lakhimpur Kheri violence.
A total of eight people, including four farmers and a local journalist, apart from the two BJP men and their driver, were killed in the incident. Farmers were allegedly mowed down by a car of Ashish Misra, son of Union Minister of State Ajay Misra Teni.
Youth tries to climb Karnataka dam face, falls 30 feet
A youth, who tried to indulge in adventure by trying to climb a dam face in Karnataka's Chikkaballapur, fell after ascending just 30 feet, as per a video going viral on social media on Monday, and was seriously injured.
The incident had taken place at the Srinivasa Sagar dam located near Chikkaballapur city recently.
In the video, the youth is seen climbing the dam even as water is overflowing from it. He had climbed up 30 feet amid cheers from his friends, but then suddenly lost his balance and fell off, shocking everyone. The video shows the youth collapsing after the fall.
He had been shifted to hospital and his condition is said to be serious.
Tourists are flocking the Srinivasa Sagar dam which is overflowing following incessant rains.
Police have registered the case in this regard, and district authorities have tightened security at the spot.
Forex worth Rs 1.53 cr recovered from man at Kolkata Airport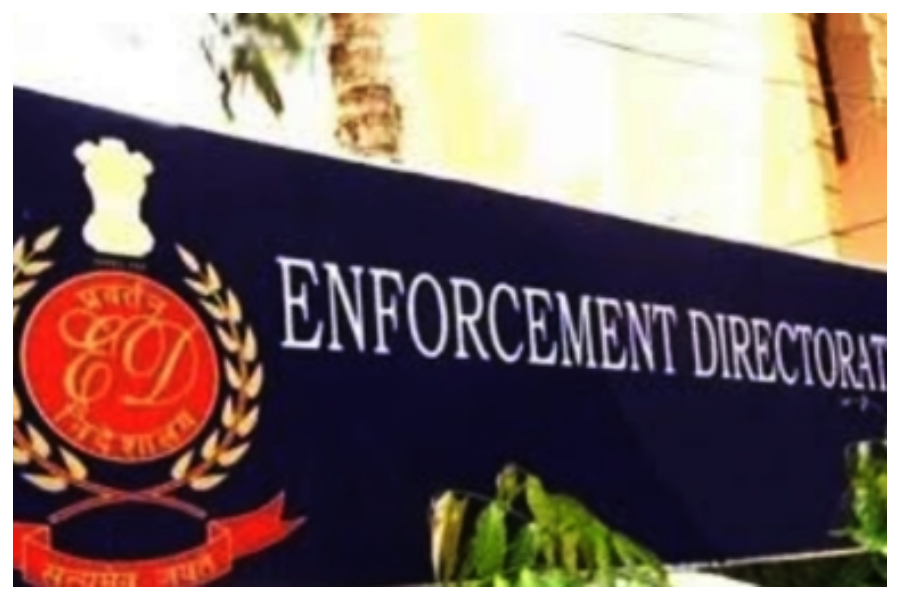 The Enforcement Directorate(ED) on Monday said that it has recovered foreign currency worth Rs 1.53 crore from a person at Kolkata Airport under Foreign Exchange Management Act(FEMA).
A senior ED official said that the search was conducted on the basis of Information received from the Airport Intelligence Unit, NSCBI Airport, Customs Kolkata on the night of May 21 that a passenger has been intercepted along with foreign exchange without any explanation.
"He had travelled from Gorakhpur to Kolkata by domestic Flight No 6E7306. During search, 1998 number of foreign currencies consisting of 1,65,000 USD and 30,460 Euro (Total equivalent to Rs 1.53 crore) were found in the possession of the passenger. However, he failed to provide the source of said foreign exchange and the purpose of travelling with such a huge amount of foreign exchange without any valid document," said the ED official.
The official said that the said amount of currency was seized under FEMA.
An ECIR (FIR) has been lodged in this connection by the ED.
Further investigation is under progress.
3 LeT militants, associate arrested for Jammu and Kashmir sarpanch's murder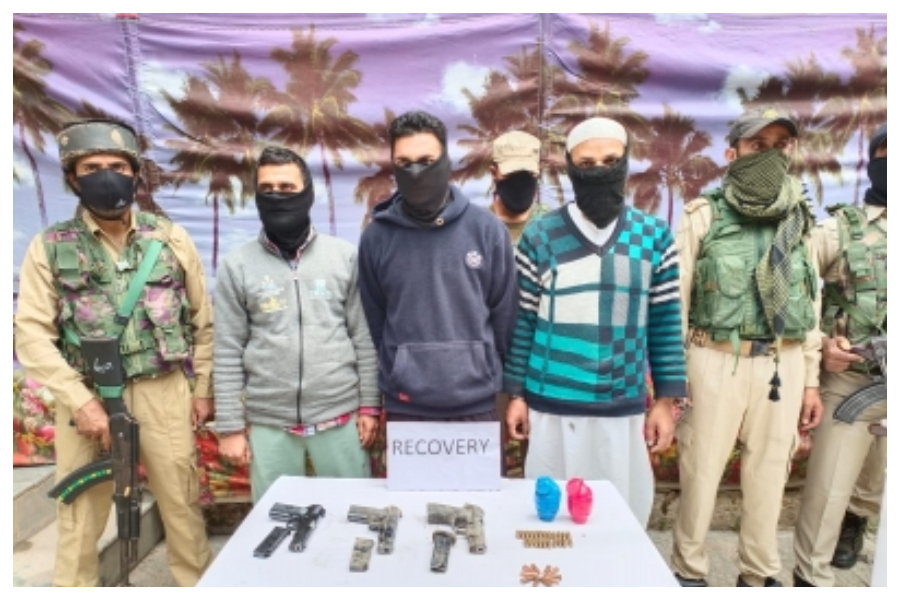 Three LeT militants and their associate were on Monday arrested for the murder of a sarpanch in Jammu and Kashmir's Baramulla district last month, police said.
Manzoor Ahmad Bangoo, the sarpanch of Goshbugh village in Pattan tehsil of Baramulla, was killed by militants on April 15.
"During investigation in the case of killing of sarpanch of Goshbugh, Manzoor Ahmad Bangoo, three suspects, namely Noor Mohammad Yatoo, Mohammad Rafiq Parray, and Ashiq Hussain Parray, all residents of Goshbugh Pattan, were arrested after receiving information from reliable sources about their involvement in militancy-related activities," a police official said.
"The arrested persons revealed that they were in contact with Mohammad Afzal Lone, an OGW of Lashkar-e-Toiba militant outfit, presently in judicial custody.
"Lone had directed his close aide Yatoo to motivate two persons from his area to join the militant ranks and he, in turn, contacted Mohammad Rafiq Parray and Ashiq Hussain Parray, both residents of Goshbugh, and motivated them to join militant ranks," the official said.
Yatoo had directed the duo, along with his brother-in-law Mehraj-ud-din Dar, to meet Lone personally.
"All the three met Lone who motivated them and set targets. He also gave different assignments to them.
"After few days, Lone sent arms and ammunition (two pistols, two hand grenades and two magazines with live bullets) to Yatoo through Dar for Rafiq Parray and Ashiq Parray with the directions to kill political affiliated persons, especially sarpanches, of the Pattan area," police said.
Police said Lone and his other three associates were arrested in connection with Palhalan grenade blast case.
"Their arrest delayed the actions of the three and they remained dormant until two local militants, namely Umer Lone and Gulzar Ganie of Wussan Pattan, who had recently infiltrated back from across the LoC after doing training of arms and ammunition, approached the trio and asked them about the arms and ammunition and the tasks given.
"They told them to complete the given assignments of killing the ssarpanches."
According to the police, the conspirators set the target and carried recee of the aarpanch Bangoo (now deceased) and set a particular date for his killing.
"On that particular day, Ashiq Parray talked to Umer Lone through Facebook Messenger and briefed him about the plan which the militants executed on April 15 by killing the sarpanch in the orchards of Chanderhama Pattan.
"Upon further interrogation, Yatoo revealed that he gave the arms and ammunition to Lone… however more arms and few live rounds are still with him which are in a sealed box in his house.
Police said adding that so far, three pistols, two grenades, three magazines, and 32 bullets have been recovered in this case.